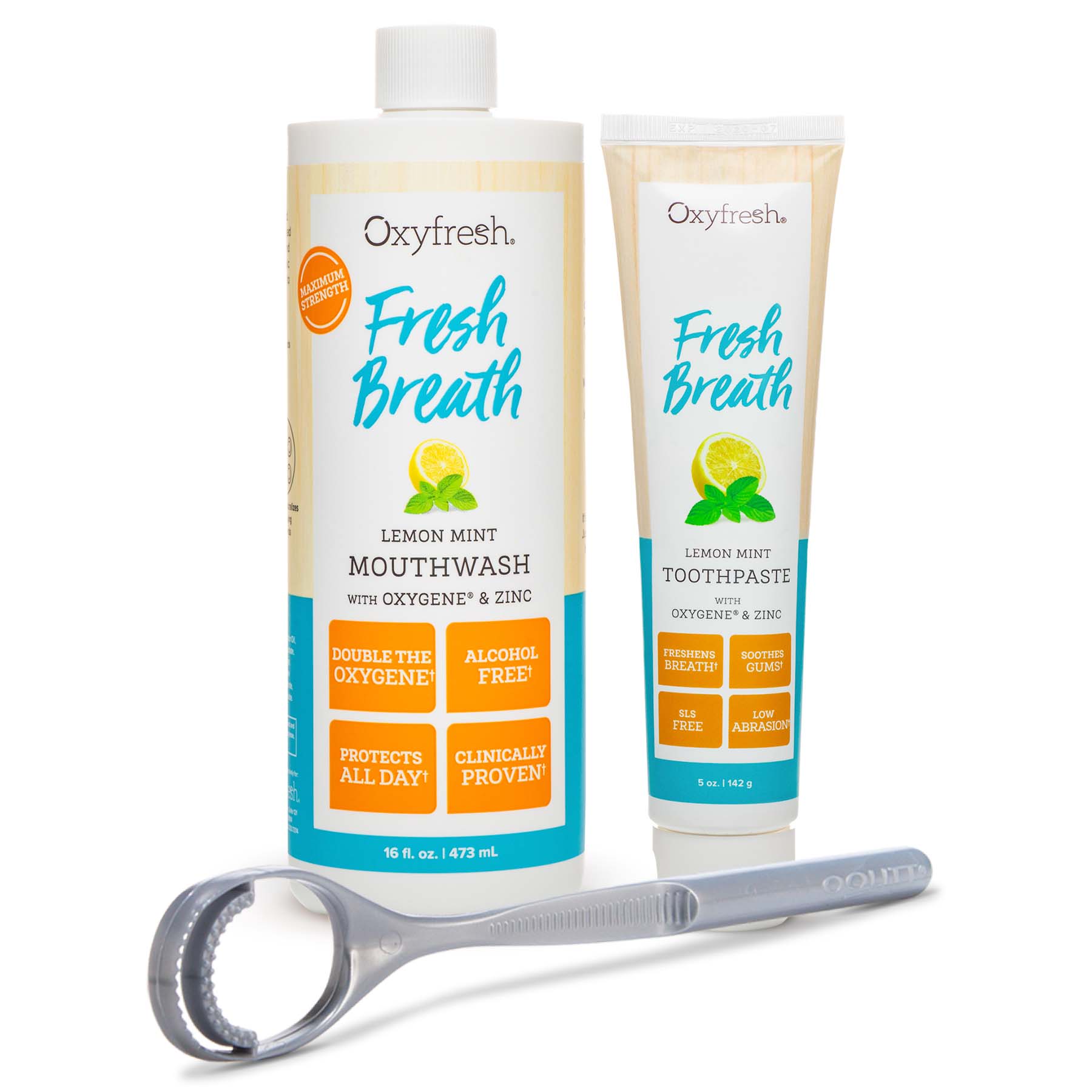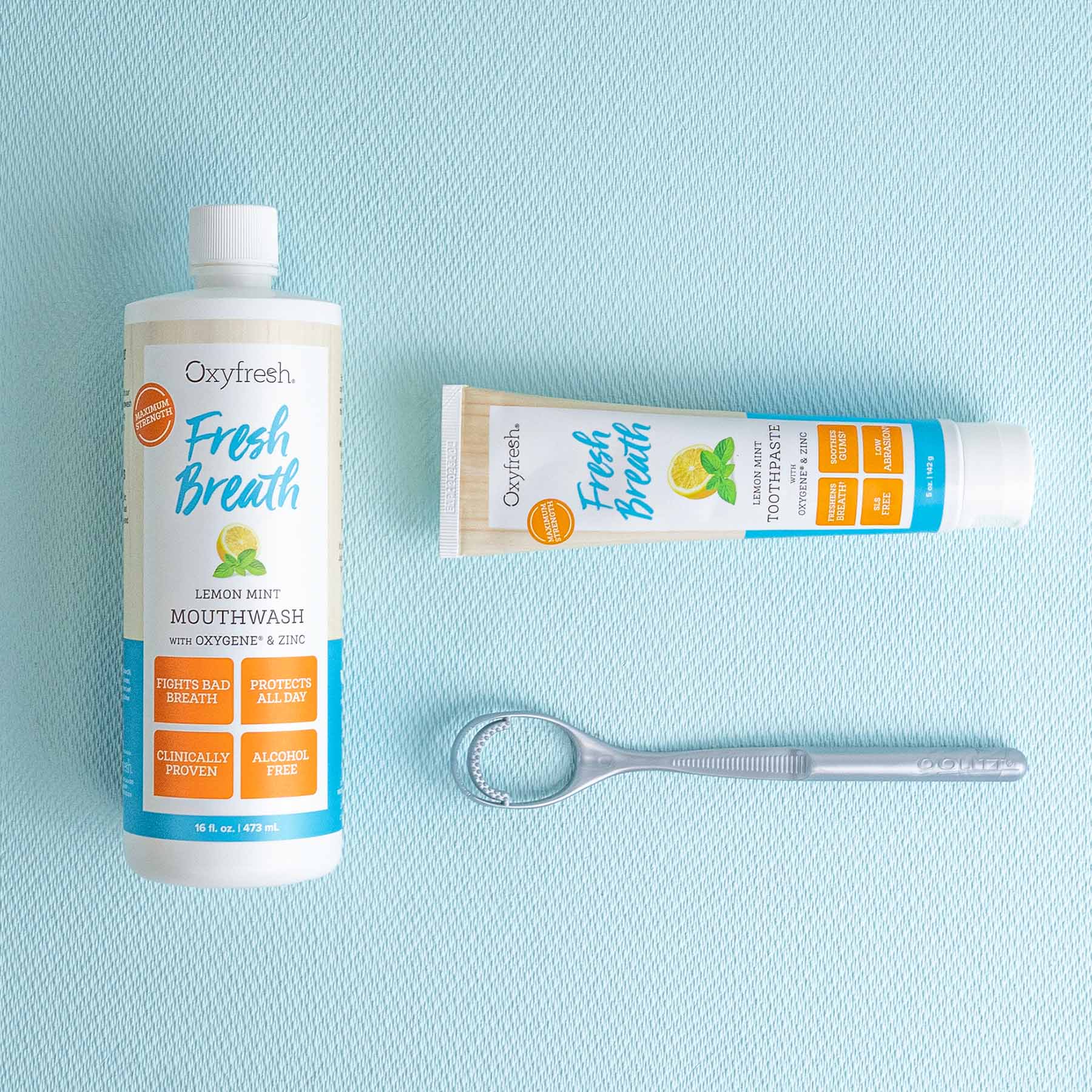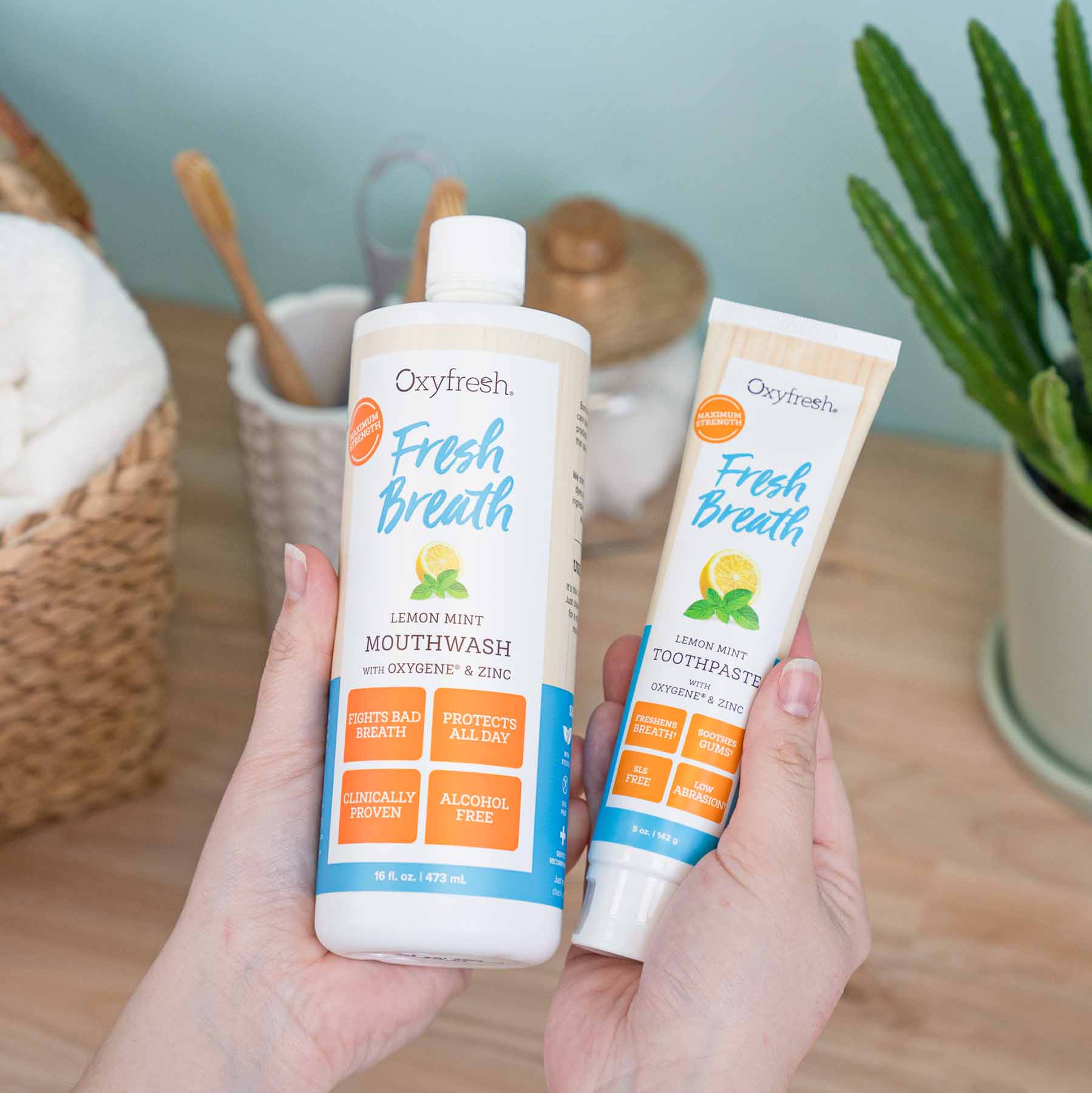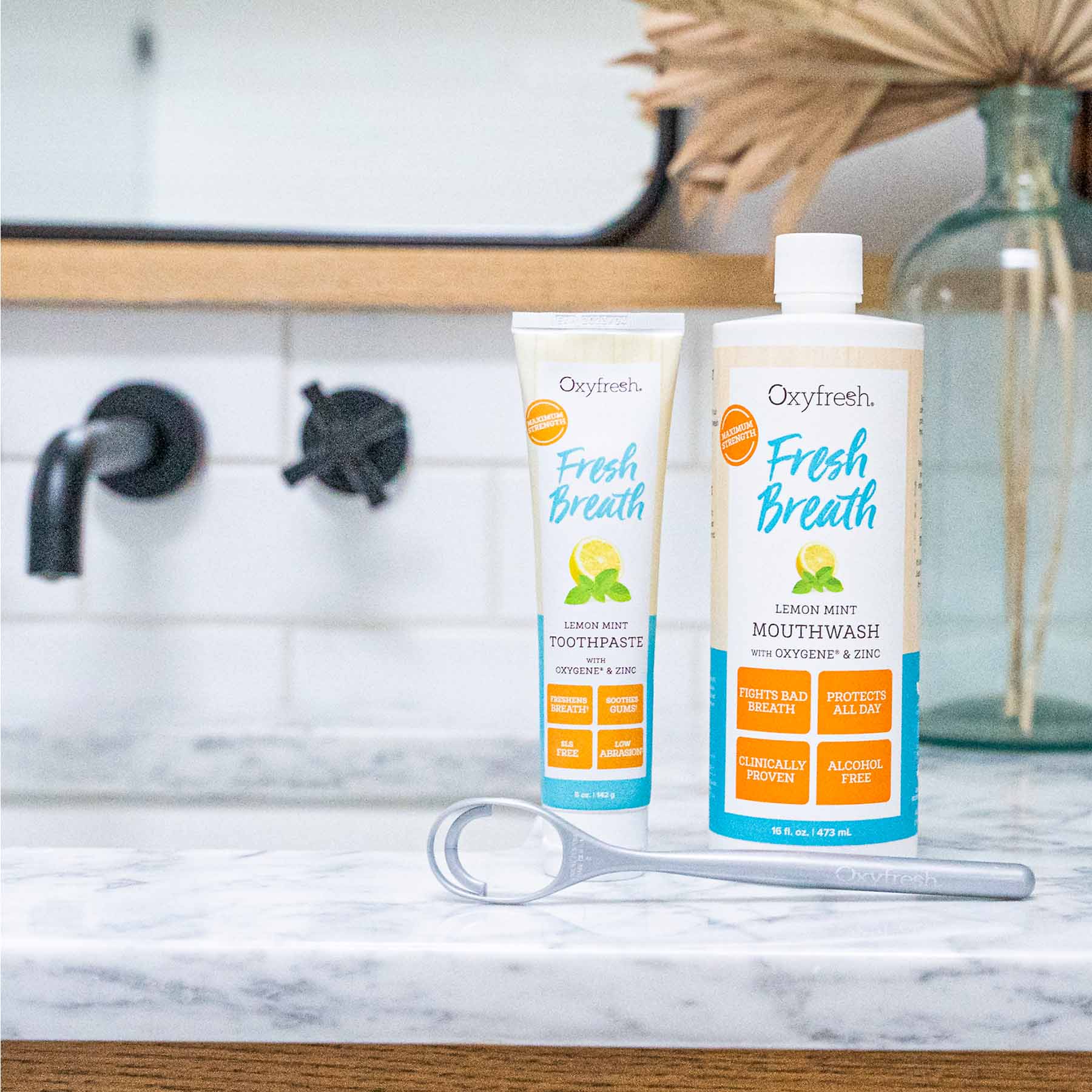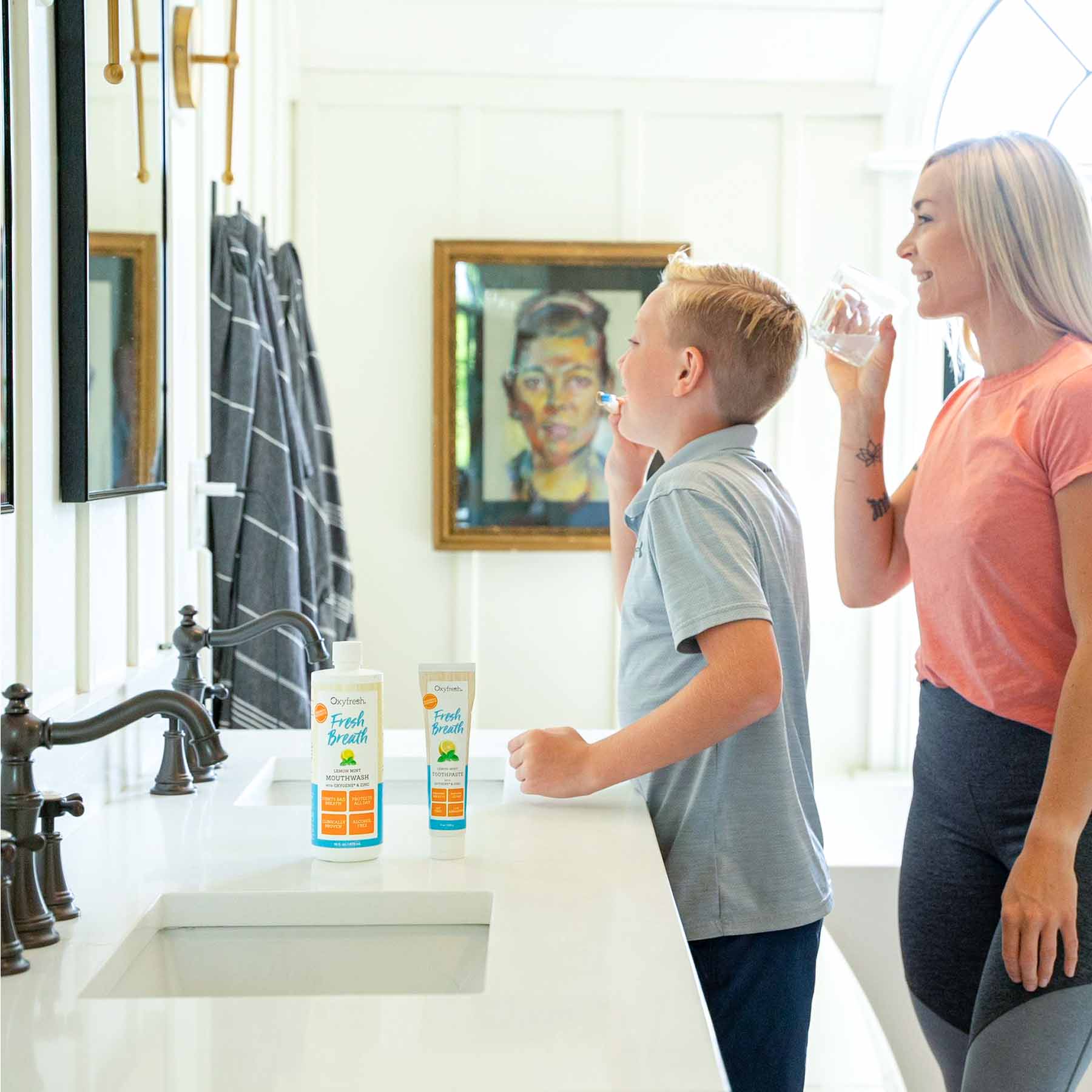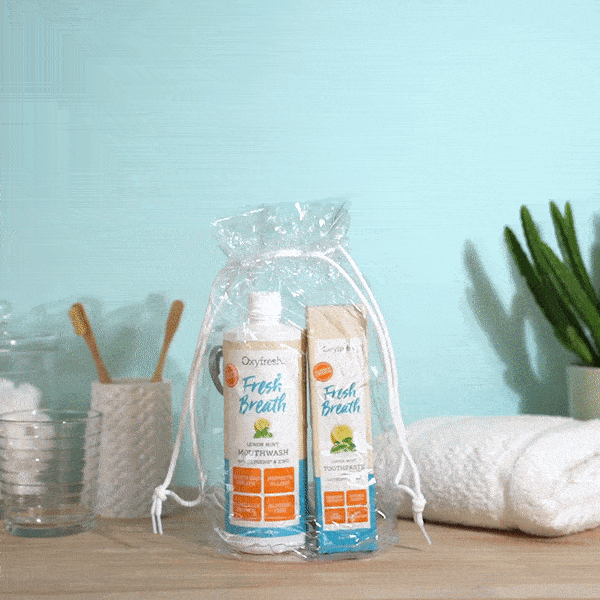 Ultimate Fresh Breath System | Fluoride Free
For fresh breath, all you need is love (and lemons!) You'll get plenty of both inside our most popular dental kit, featuring our maximum-strength Lemon Mint Mouthwash & Toothpaste, plus a top-rated tongue cleaner for even more freshening power.

ALL-IN-ONE KIT – It's everything you need to put your best smile forward: our patented Lemon Mint Mouthwash (16 oz.); low abrasion, SLS-free Lemon Mint Toothpaste (5 oz.); plus a top-rated tongue cleaner.
CLINICALLY PROVEN – These lemons walk the talk! Our Fresh Breath formulas beat the big boy brand in an independent clinical study, improving Gingival (Gum) Index by 76% & Plaque Index by 79%.
ULTIMATE FRESH BREATH – Our most popular (and powerful) mouthwash/toothpaste combo has Oxygene® and zinc to give you 24/7 fresh breath ... guaranteed. No coverups or mask jobs.
CRISP & REFRESHING – We've tasted a lot of lemons & mint ... trust us, we got it right! Plus with orange, grapefruit, bergamot & lime essential oils in the mix, it's a taste you can't resist!
IT WORKS – If you've tried everything else, you might as well try something that works! Trusted worldwide to gently clean teeth and just like all of Oxyfresh products, it is made in the U.S.A. with only the highest quality ingredients.

Lemon Mint Toothpaste Ingredients: Sorbitol, Water, Hydrated Silica, Glycerin, Sodium Methyl Cocoyl Taurate, Flavor*, Xylitol, Chondrus Crispus (Carrageenan), Sucralose, Stabilized Chlorine Dioxide (Oxygene®), Zinc Acetate
*Contains Lemon, Orange, Grapefruit, Bergamot, Lime, Peppermint, and Spearmint essential oil

Lemon Mint Mouthwash Ingredients: Water (Aqua), Zinc Acetate, Xylitol, PEG-40 Hydrogenated Castor Oil, Flavor*, Potassium Sorbate, Stabilized Chlorine Dioxide (Oxygene), Sucralose, Sodium Citrate, Sodium Hydroxide, Aloe Barbadensis Leaf Juice, Citric Acid
*Contains Lemon, Orange, Grapefruit, Bergamot, Lime, and Spearmint essential oils

Oolitt Elite Tongue Scraper: It's 75% more effective at removing odors than brushing alone.
Oxygene® (Stabilized Chlorine Dioxide): It's our special ingredient that makes us different. Safe and non-toxic, nothing works better to fight plaque and freshen your breath, fast.
Essential Oils: Our unique blend of citrus and mint essential oils helps hydrate, soothe, and give you that fresh-from-the-dentist feeling – no weird aftertaste!
Aloe Vera: Nature's long-favorite healing plant is used to help soothe and hydrate gum tissue.
Xylitol: X marks the spot! This natural plant-derived sweetener not only tastes great – it's clinically proven to help stop plaque.
Zinc: From coffee to onion breath, zinc helps get rid of every kind of bad-breath stink! Option 2 for zinc: This mighty mineral is a natural at keeping smiles clean, fresh and free of stinky "bad breath bugs."
Gluten Free
Easy 1-2-3 Routine
Clean, Brush & Swish for the ultimate fresh breath routine ... oh, and don't forget to floss. Gums love that!

Step 1: Clean
Stick your tongue out (we won't tell on you) and then with the ripple-edge facing down, gently run the Oolitt® Elite Tongue Cleaner down the length of your tongue. Repeat several times, then rinse debris.

Step 2: Brush
So refreshing, you may actually want to brush the full 2 minutes! Apply a pearl-sized drop and brush each tooth using a GENTLE, circular motion. (We know you're tough, but teeth love a soft touch.)

Step 3: Swish
When you're done brushing, pour a couple capfuls into your favorite mouthwash cup and swish away! It only takes a minute, but you'll enjoy every second of it.

Bet you've never seen this disclaimer before!
Paws off our lemon-mint products! Xylitol is awesome for people, but not for our furry friends. They're also not a fan of lemons or mint, so if you're looking to freshen your pet's breath, try our tasteless and odorless pet mouthwash instead.
Expensive
Love the products. Shipping very pricy to Canada. With exchange, products cost me $80.00
Very Satisfied So Far
I've been happy so far with the results. I've been using for 10 days.
Packaging was terrible
Not sure about the product yet, still haven't used. We ordered the kit and the bags literally fell apart in the box.
Totally satisfied
Even though I was brushing with Colgate, flossing, and gargling with a standard mouthwash, my wife saw my breath still stunk. So I bought your Oxyfresh system, and after the very first day my wife said my breath was much better. Thank you, Oxyfresh. I can kiss my wife again.
SOoooo clean and fresh!
I have been an OXYFRESH user for a little over a year. I will never return to any other product. My mouth and breath are the freshest ever.
New Oxyfresh User - Ultimate Fresh Breath System | Fluoride Free
I really like all the Oxyfresh products I recently purchased and am very glad I tried them. I love the Lemon-Mint toothpaste and mouthwash as they really make my teeth and mouth feel fresh and clean. The tongue scraper I'll have to get accustomed to as I've not used one before.
Love it for kids
I use the Lemon-Mint Power Paste and give it to my children and grandchildren for Christmas gifts. They love it and get excellent checkups from the dentist because of it.
Best I ever used
It was recommended by my clinic in Israel, and I bought them regularly until the supplier stopped marketing it. so now I import it myself from the net.
Love the freshness!
Out dogs have always loved this in their water and we love their lower teeth cleaning bills. The toothpaste and mouthwash for me, is so fresh and chemical free. You can actually taste the freshness!