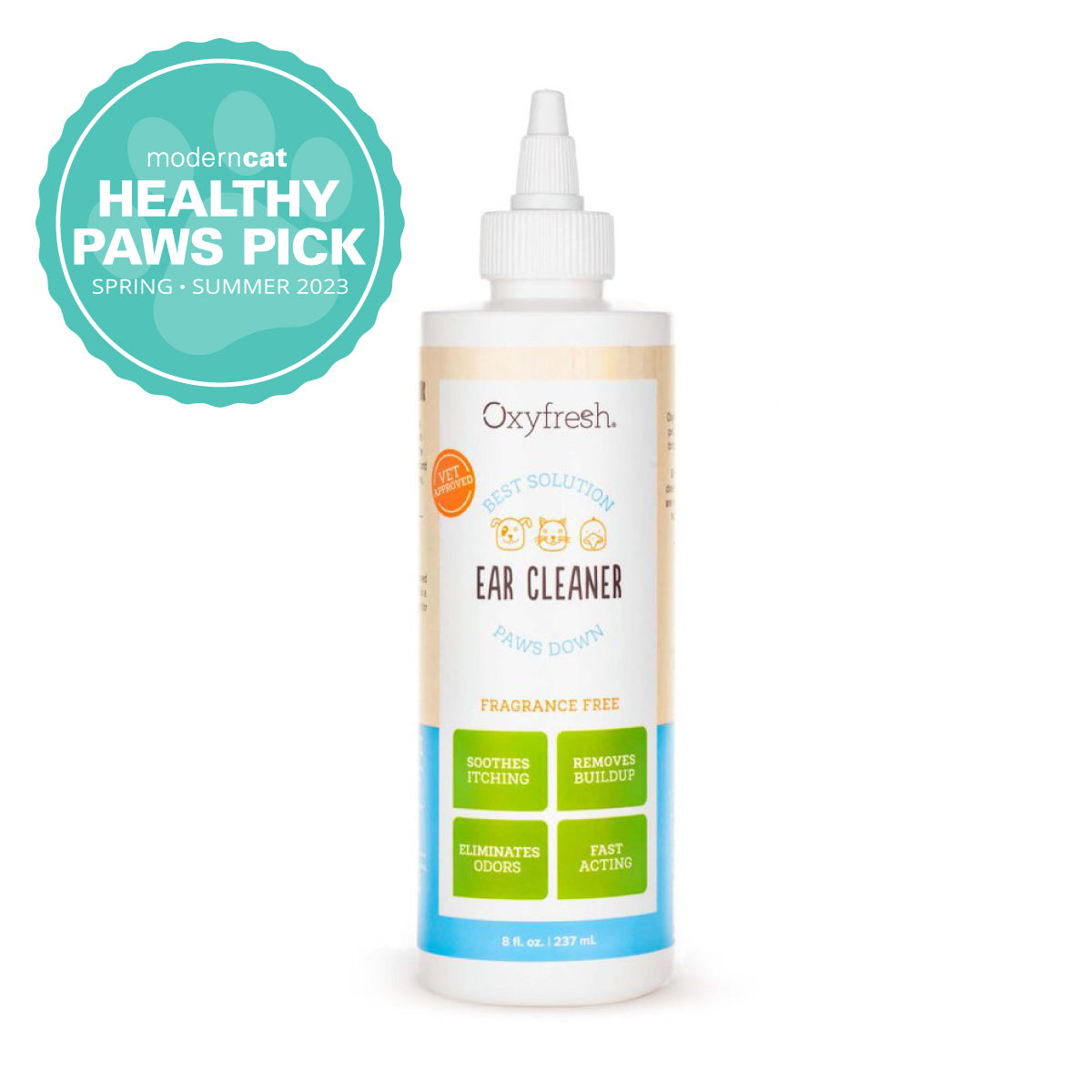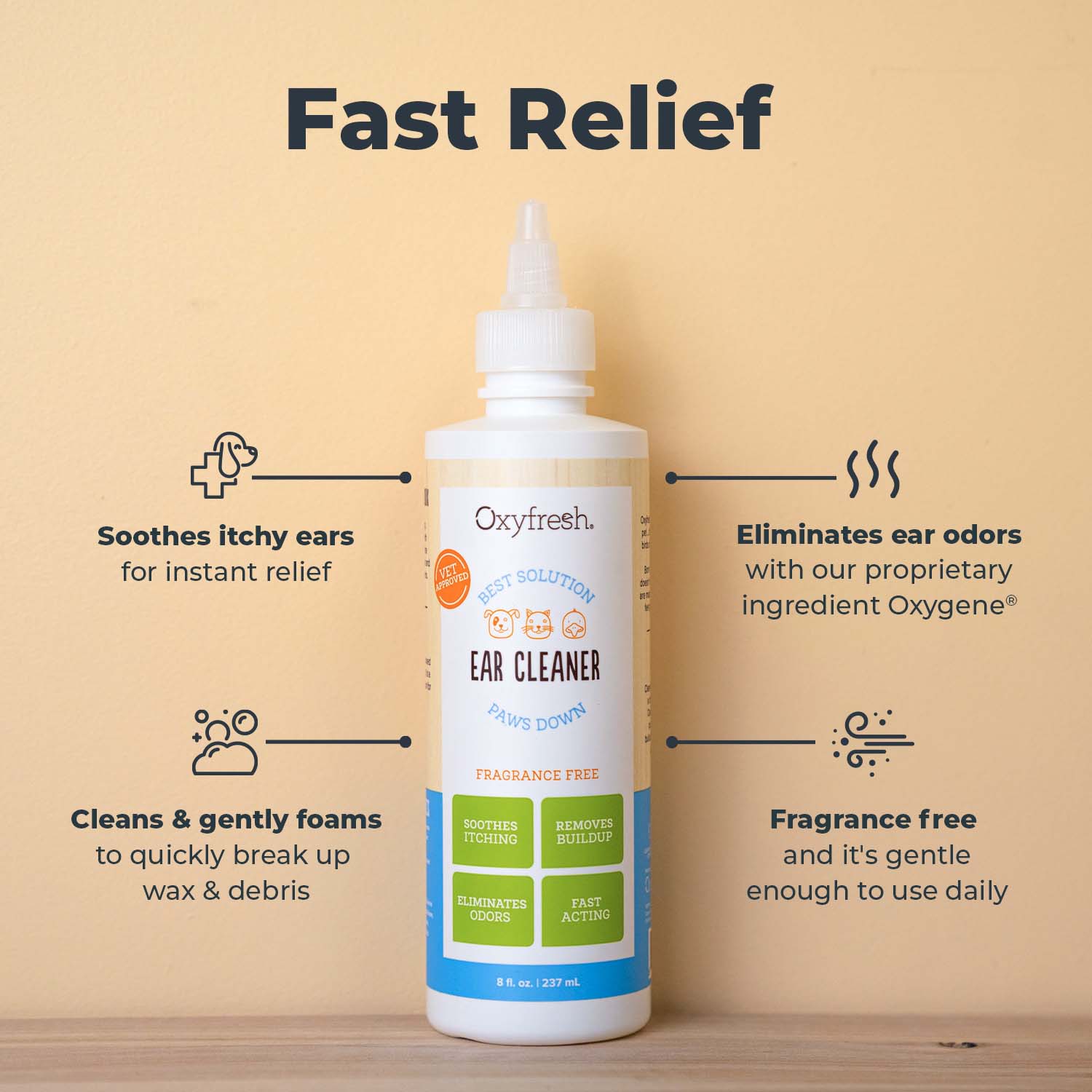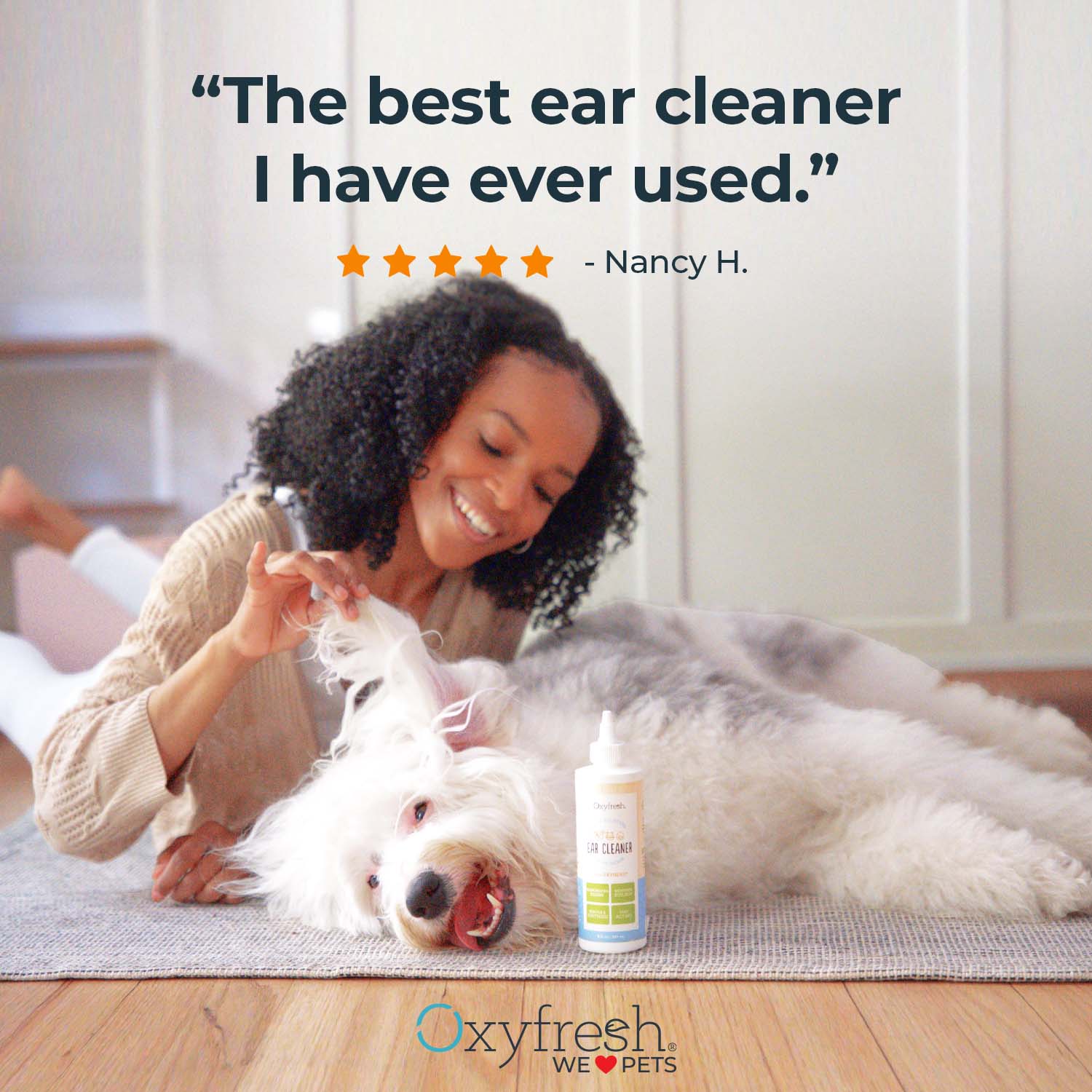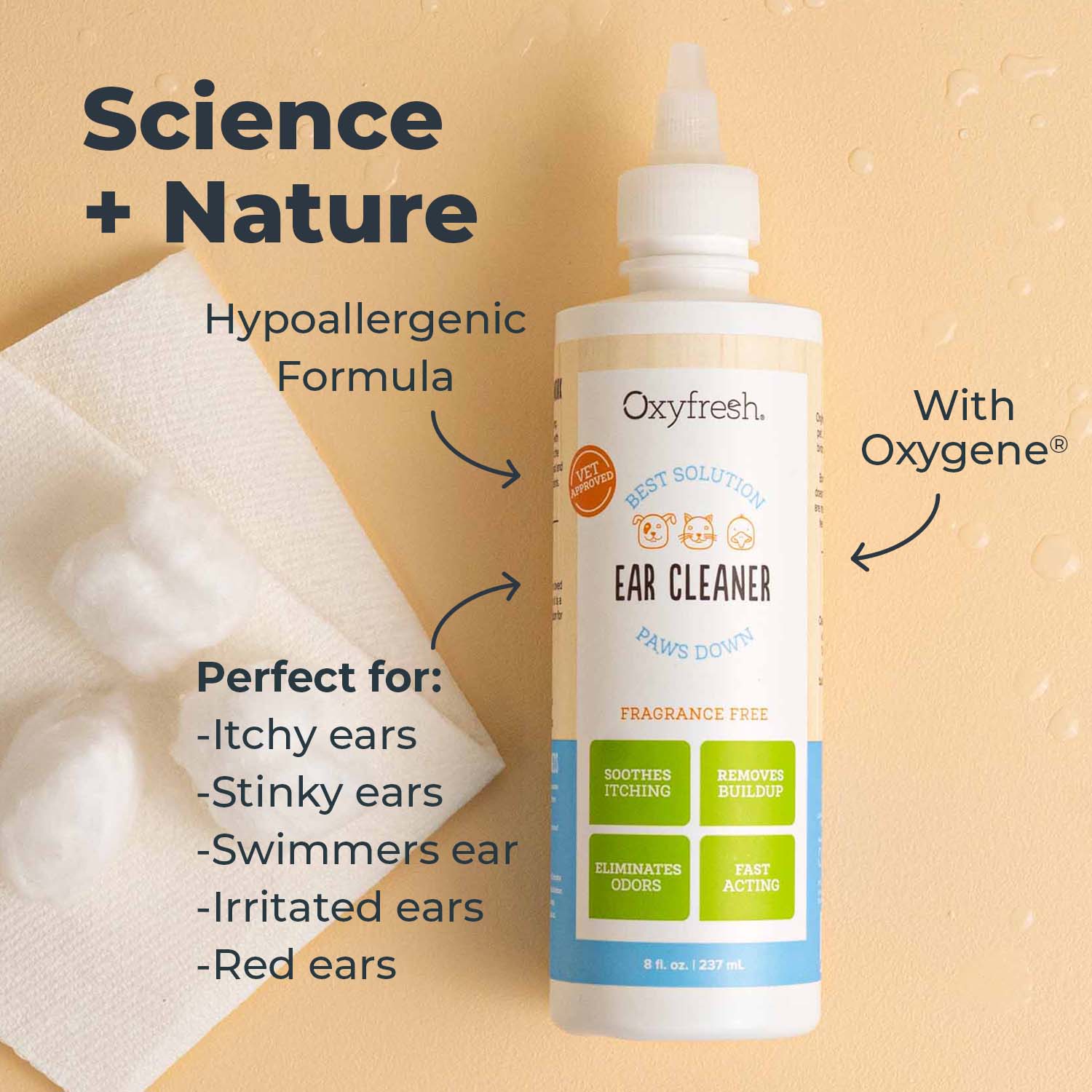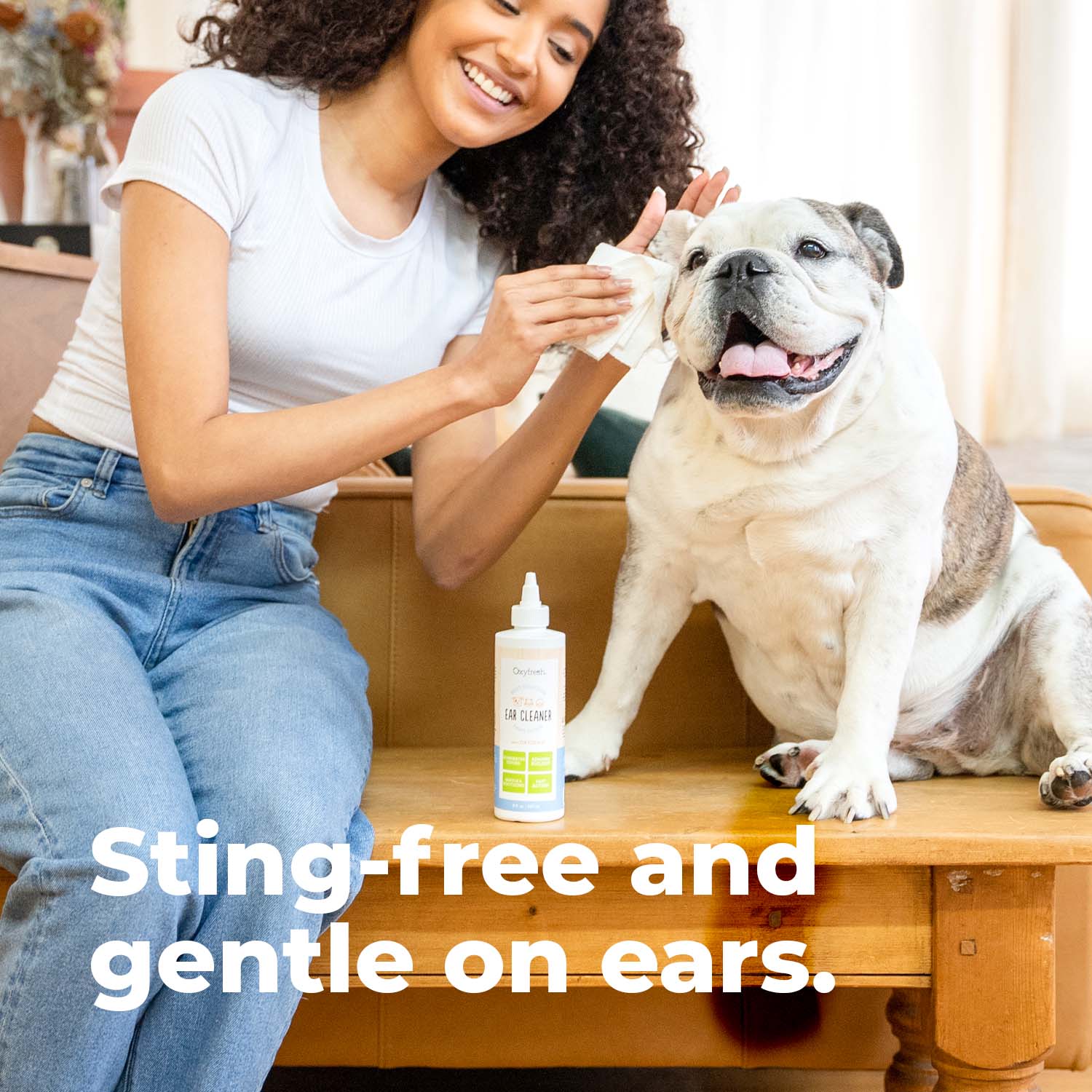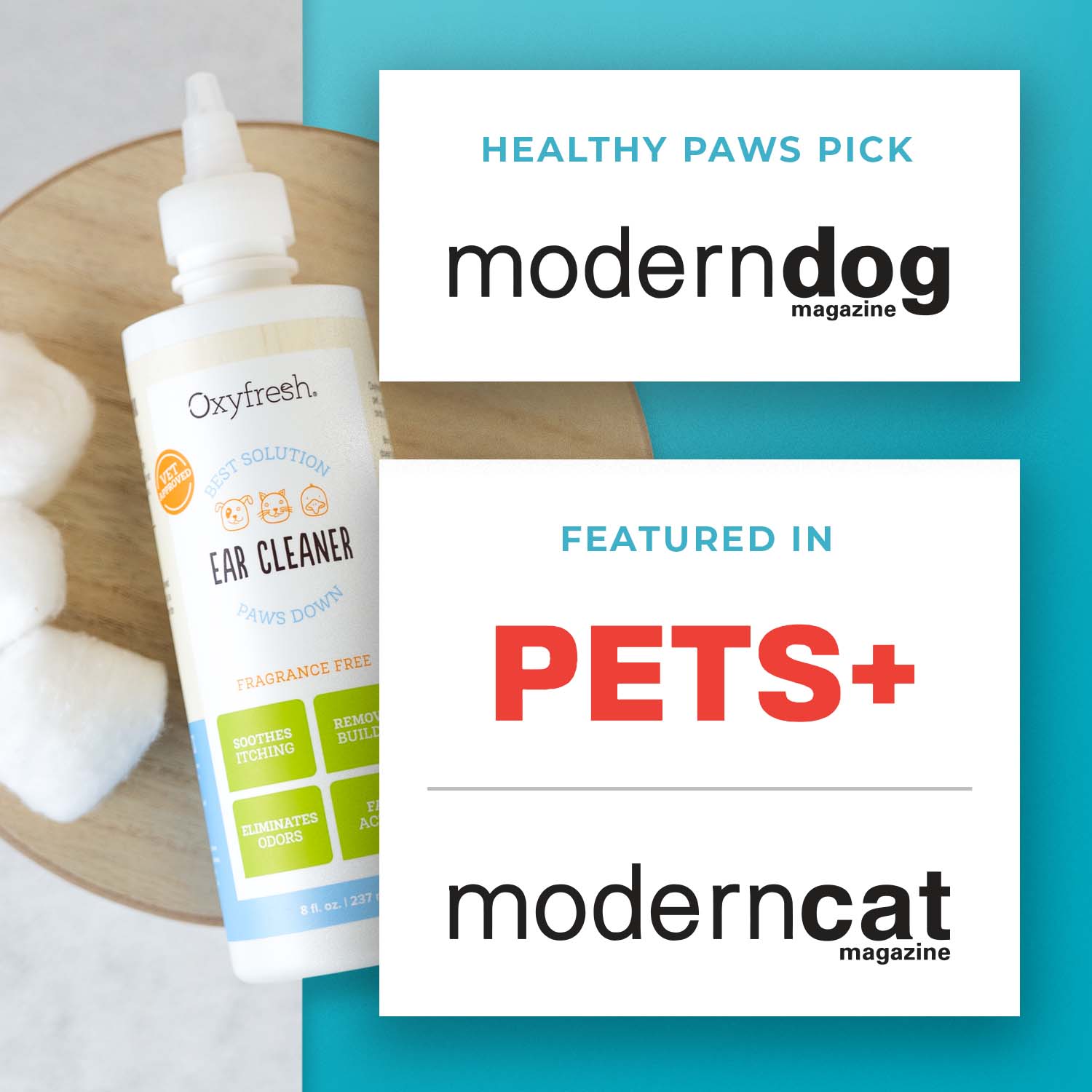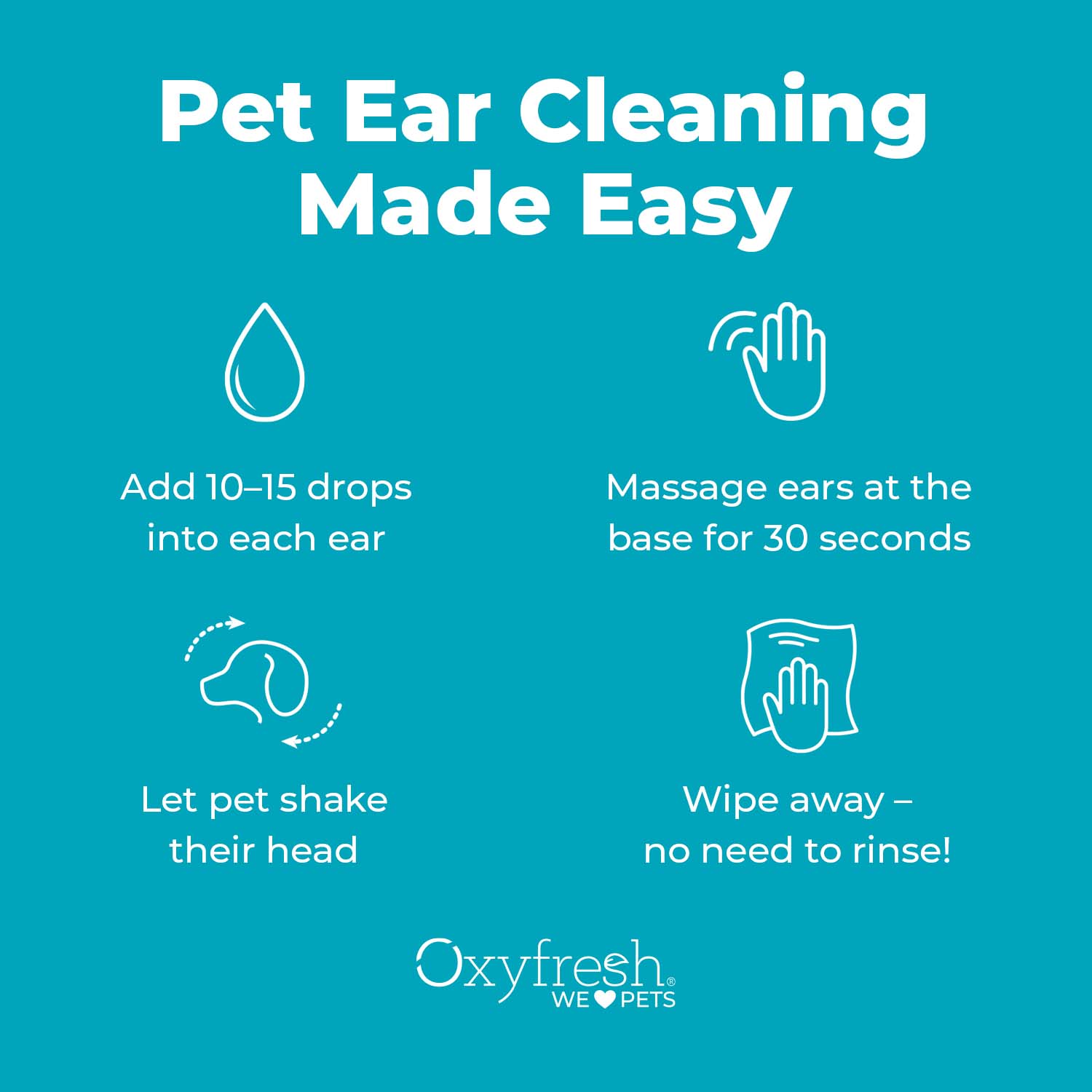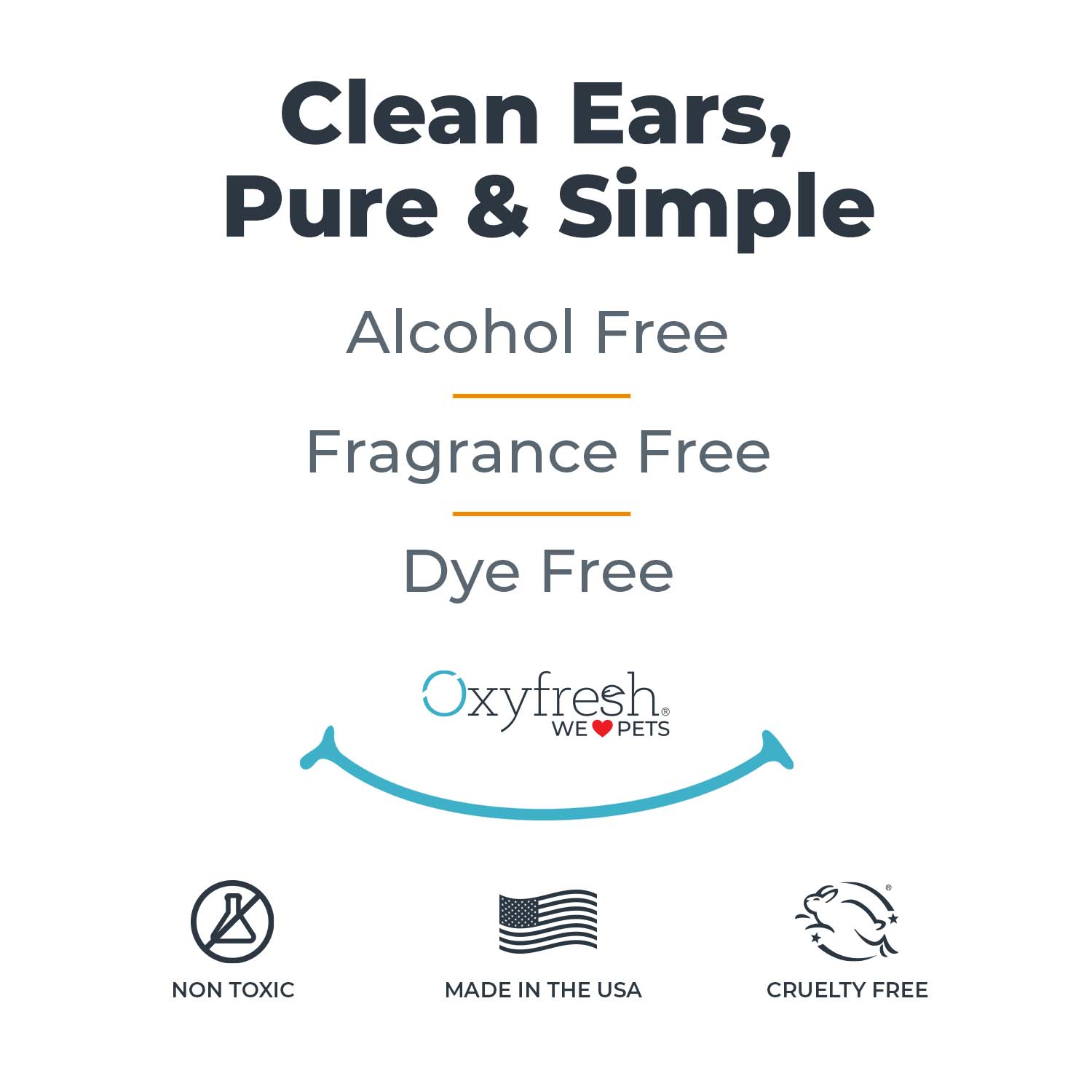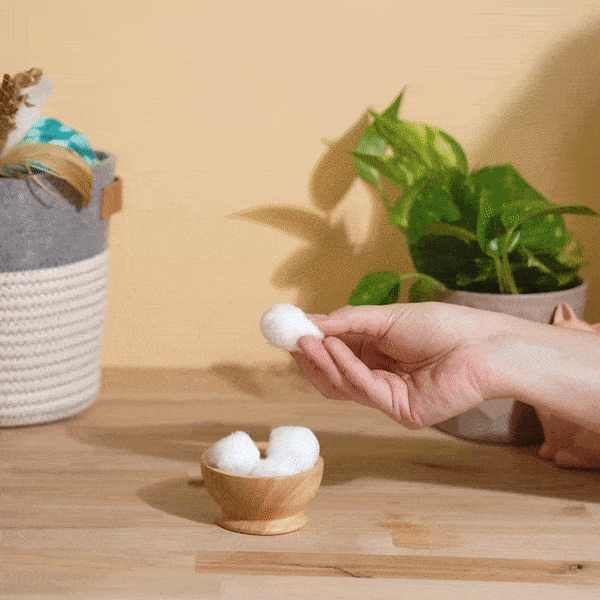 Advanced Pet Ear Cleaner | Fast Ear Itch Relief | Removes Dirt & Pet Ear Wax
A must-have for cleaning delicate dog & cat ears. Our gentle, hypoallergenic ear wash soothes itching & irritation without the burning effects of alcohol. And that stinky smelling brown stuff? It gets rid of that too.

FINALLY, IMMEDIATE RELIEF – Our fast-acting, gentle formula stops cat and dog ear itching right in its tracks, so your pet can enjoy fresh, clean ears. Formulated to promote healing inside delicate ears while gently cleansing away irritants.
REMOVES BUILDUP – Keeping your pet's ears clean is your best defense against costly ear infections. Gentle plant-based surfactants power through ear wax, dirt & gunk like magic ... no oily residue left behind.
ELIMINATES EAR ODORS – Yeast only smells good when it's baking in bread. But in your pet's ears? Gross. Our proprietary odor-eliminating ingredient Oxygene® freshens dog & cat ears, fast! No other ear cleaner has it!
HYPOALLERGENIC FORMULA – Worried that your pet will bolt when you bust out the bottle of ear cleaner? Not with our sting-free formula! It's incredibly gentle with no burning alcohol, irritating parabens, bubbling peroxides, or weird antiseptic fragrances or oils
IT WORKS – If you've tried everything else, you might as well try something that works! Trusted by pet parents to easily clean dog and cat ears, and just like all Oxyfresh products, it's made in the USA with only the highest-quality ingredients.

We bring pets a better kind of fresh ... because we love 'em!

Ingredients: Water (Aqua), Decyl Glucoside, Phenoxyethanol, Citric Acid, Sodium Hydroxide,Stabilized Chlorine Dioxide (Oxygene®), Potassium Sorbate, Monopotassium Phosphate, Hydroxypropyl Methylcellulose.
Followed by a treat, of course!

Liberally flush the ear canal with Oxyfresh Ear Cleaner, then massage the base of the ear for about 30 seconds. Then stand back and let your pet shake, shake, shake. Gently wipe away any debris from the ear with a cotton ball or soft cloth. Repeat process with the other ear, or if you're a superstar, do two at once!
Very effective and doesn't burn
Cat approved! Very effective on wax, cat didn't mind me cleaning an infected ear. I think other things I tried were stinging, but not this.
Our fast-acting, gentle formula stops cat and dog ear itching right in its tracks, so your pet can enjoy fresh, clean ears. Our ear was is formulated to promote healing inside delicate ears while gently cleansing away irritants. Thanks for the 5 stars!
Best for routine daily or weekly non irritating ear cleaner
I have used other cleaners & they are very irritating to our dogs ears. Our dog hates them. I started using Oxyfresh & it does not irritate our dogs ears. She stays very still when I put the liquid in her ears.
Fantastic!
My dog hates having her ears cleaned. Of course, she is a Jack Russell, so does she like having anything cleaned?? However, your ear cleaner doesn't leave a lingering annoyance in her ear like other cleansers do. It also helps clean debris easily and prevent any infections (she likes to rub her head in the dirt…just because, well, she's a Jack Russel). I love your products! Your dog toothpaste is the best too! She gets her teeth brushed daily and her vet is highly impressed! Being a JRT mom isn't easy, but using your products makes her hygiene MUCH easier but most importantly, it makes her healthier :)
awesome
My dog kept getting wax build up and this worked right away.
Amazing absolutely anazing
It works great the best I have that works for my dog s ear
FANTASTIC!
my boy is a Beagle and they always have ear problems and oxyfresh really does work well, what I love most about oxyfresh its alcohol free.
Great product
This has worked well for my dog. He has floppy ears and swims a lot in the summer and gets stinky ear gunk. When I use this, his ears don't smell and don't bother him.
Nice Product
My cat has terrible problems with dirty ears. This product is very well tolerated by him. It has not cleared the problem up, but it helps relieve his itching and scratching.
No More Itchy Ears
I noticed our little Maltese,Tina wasn't scratching her ears anymore. I am sold on Oxyfresh. I use the shampoo, tooth gel, water additive and now the ear cleaner.
Hooray for Oxyfresh!