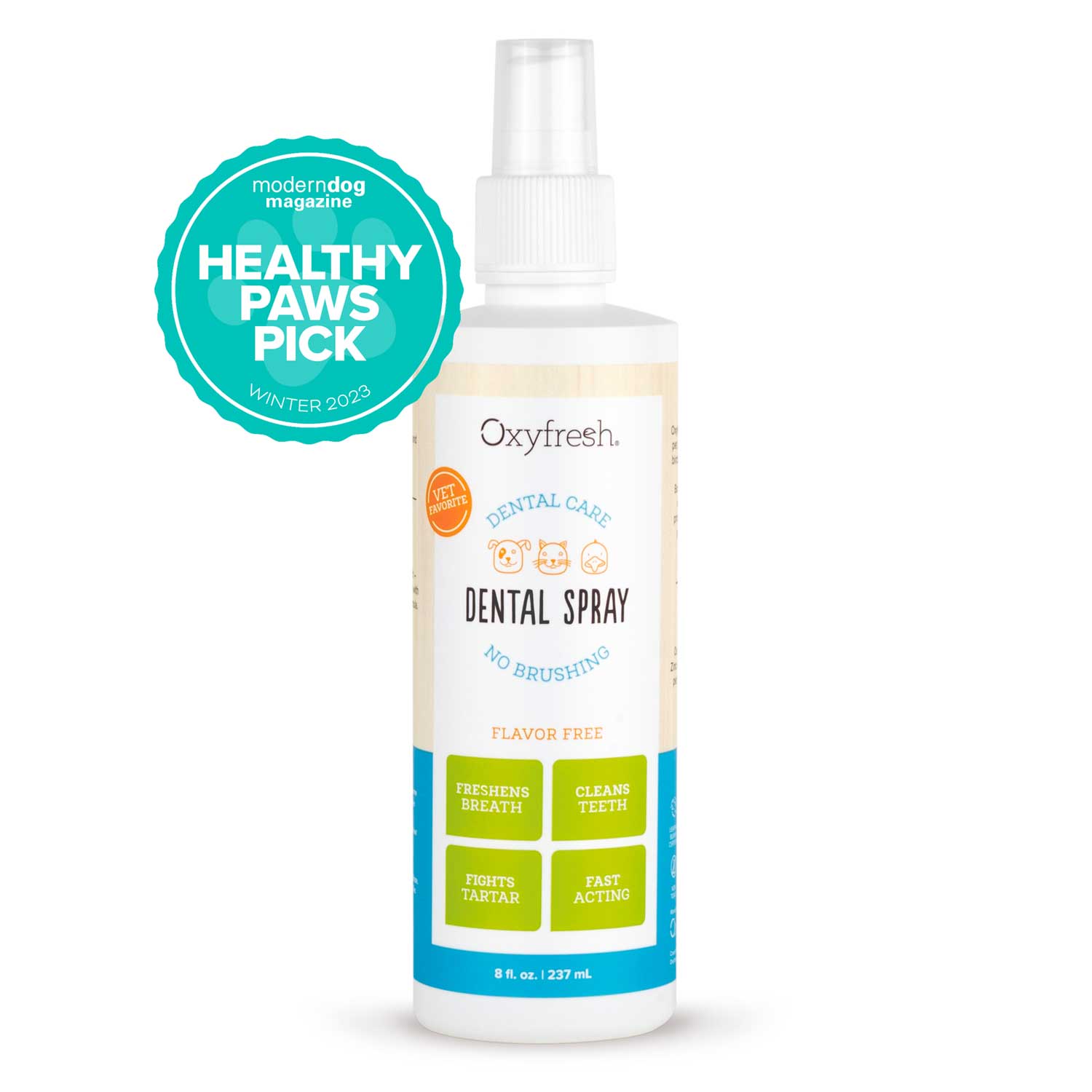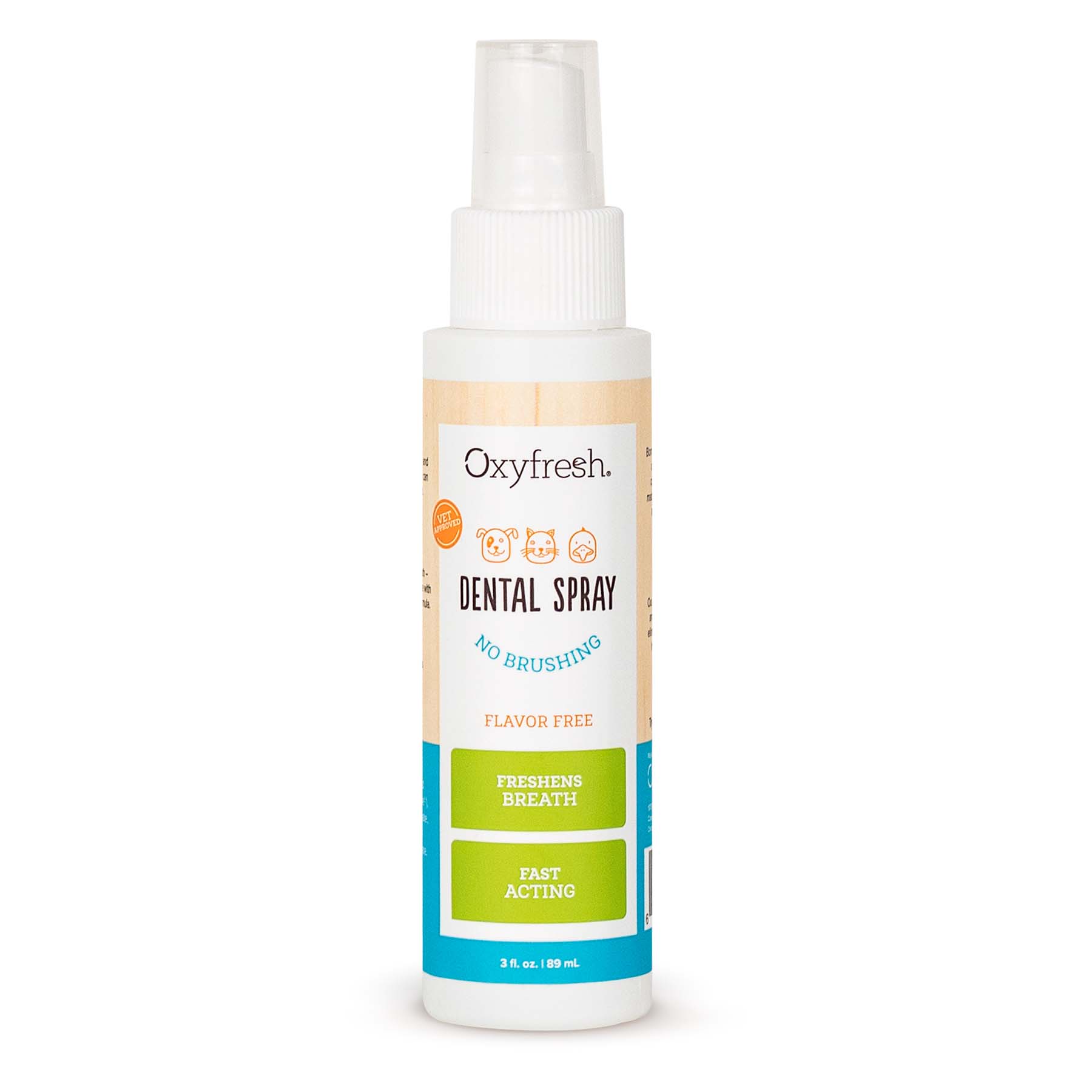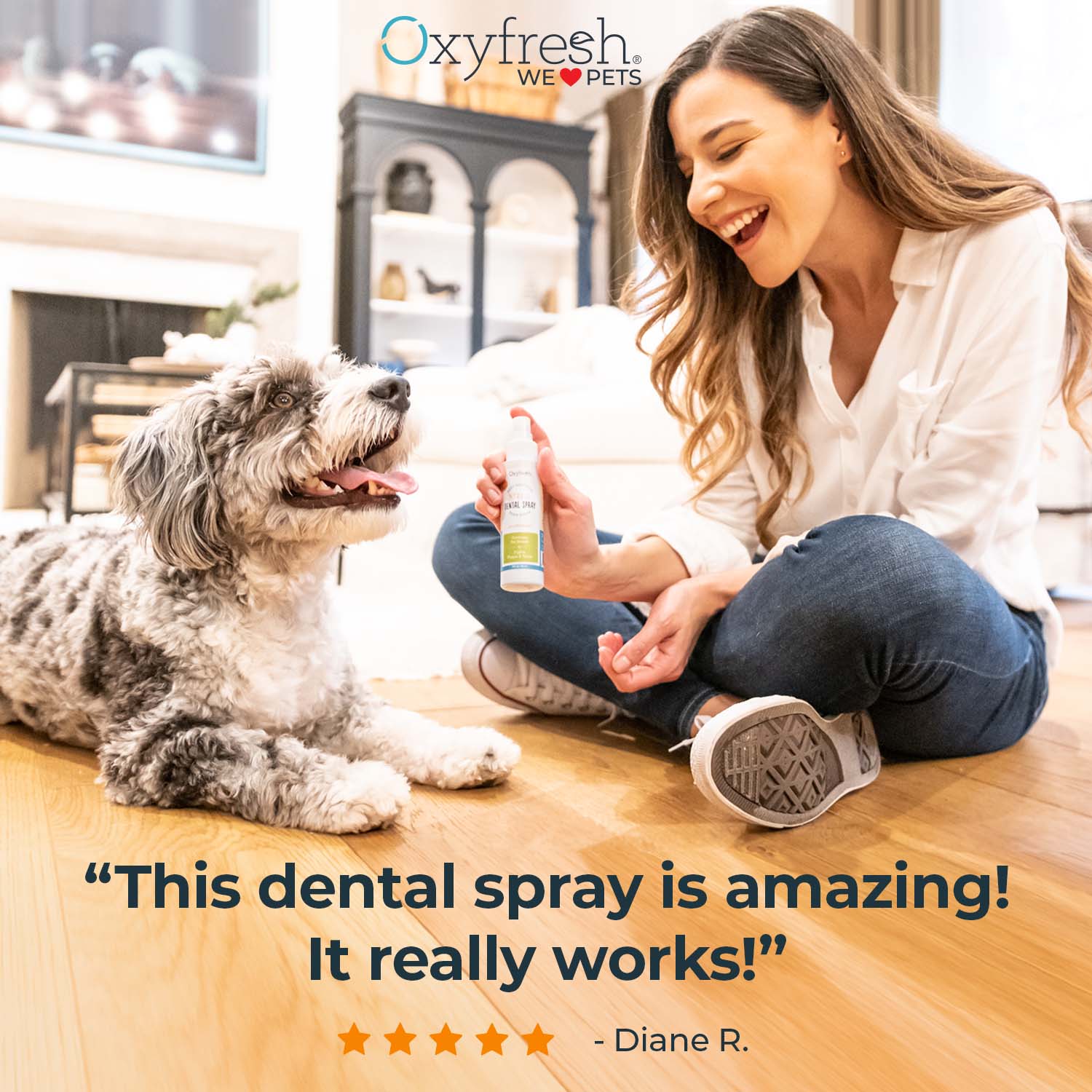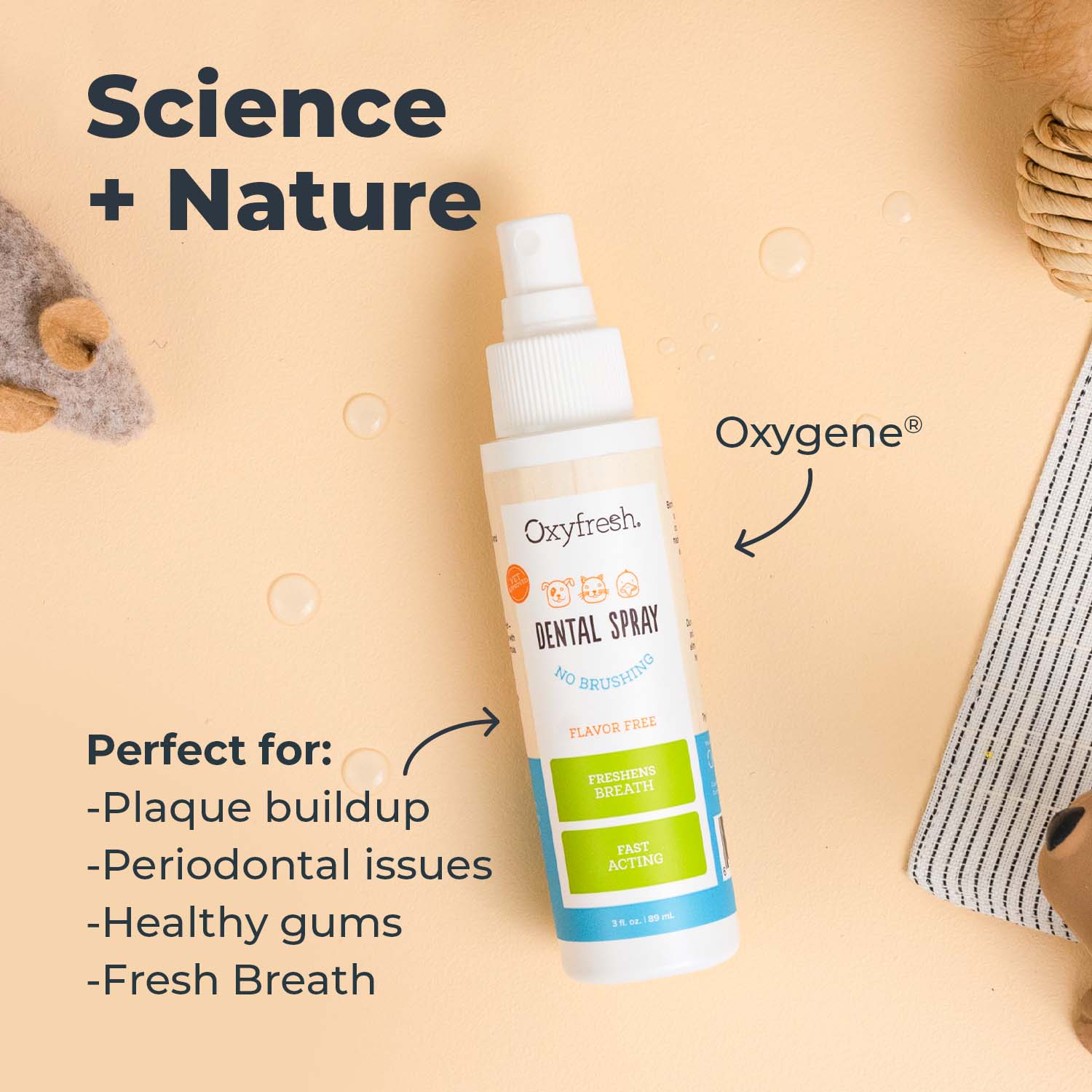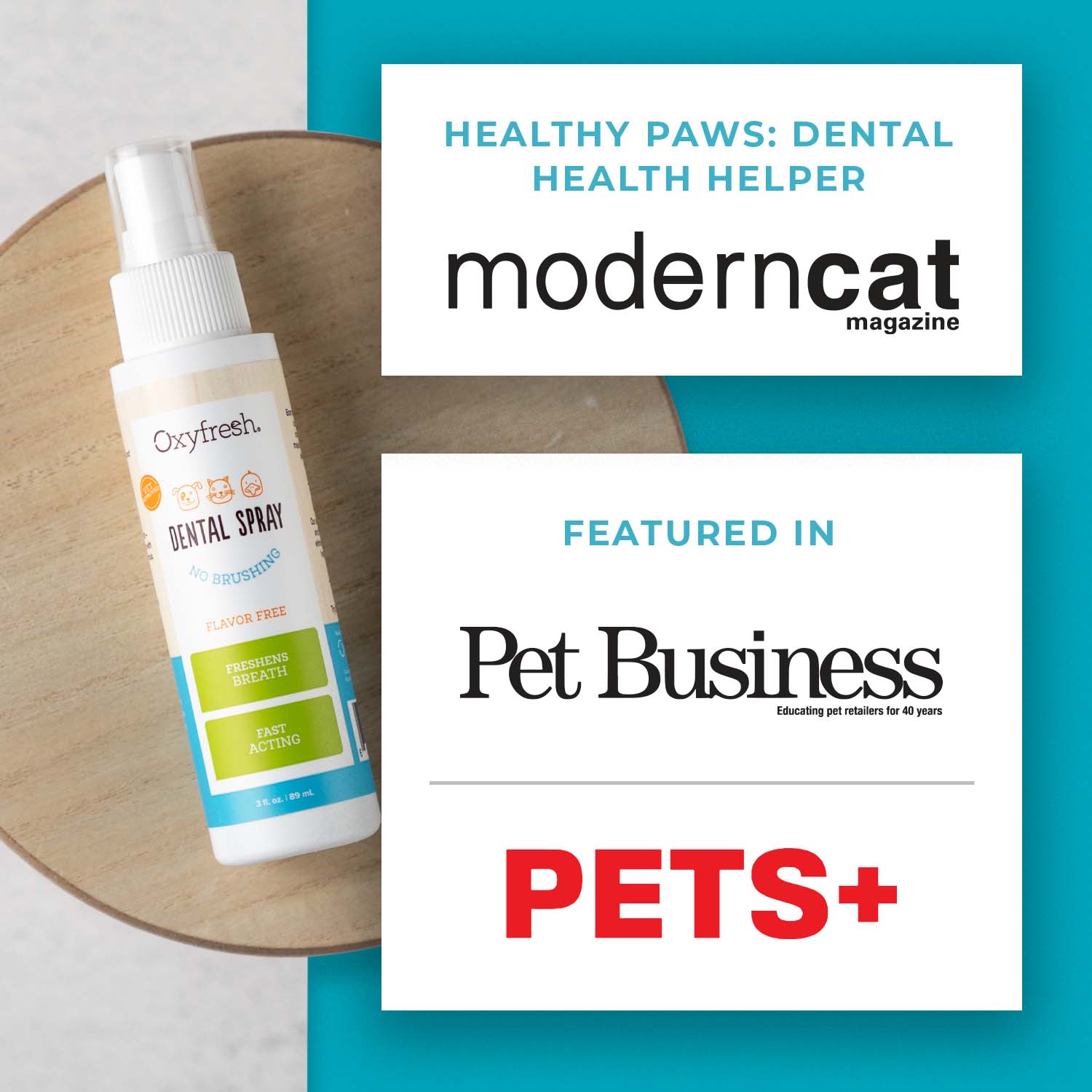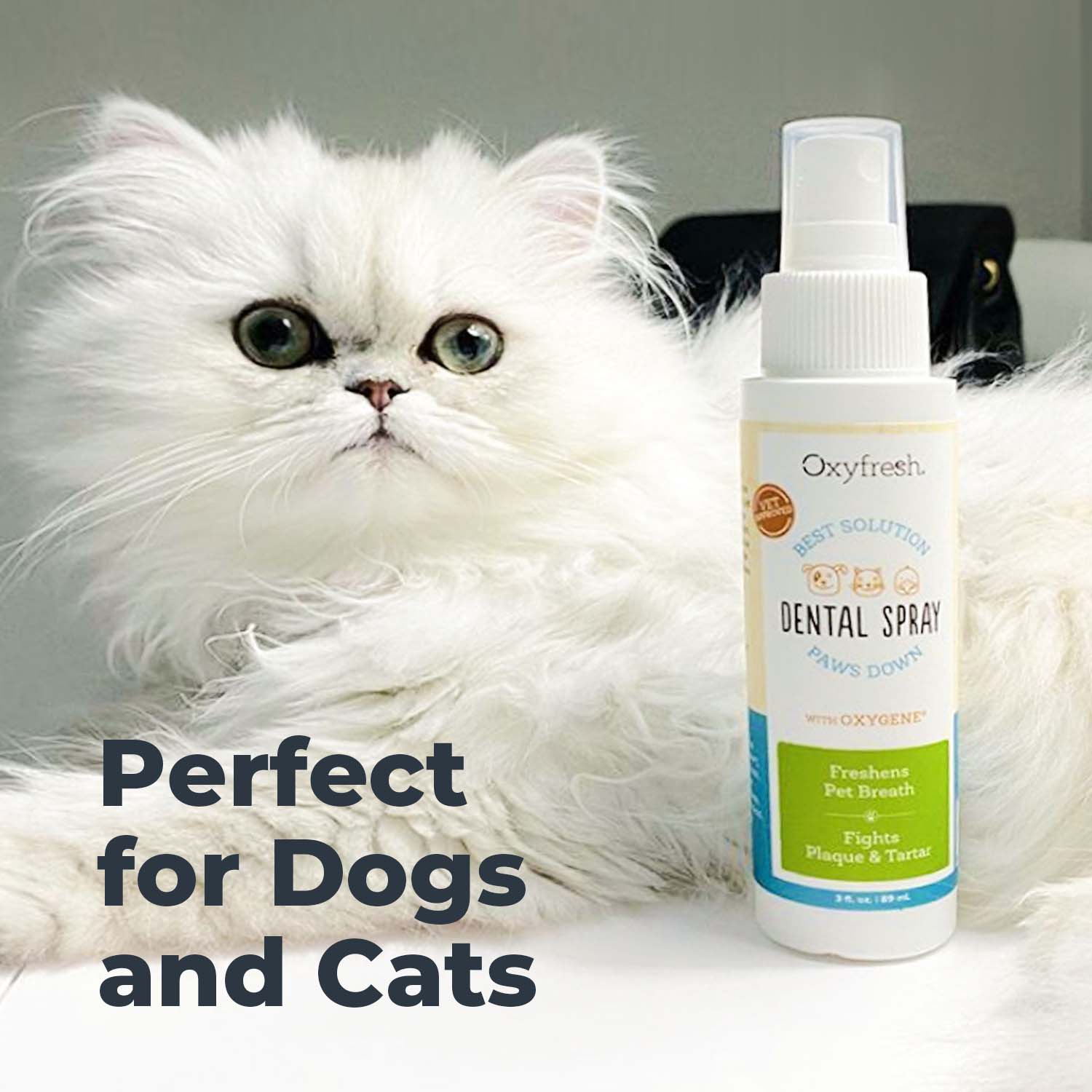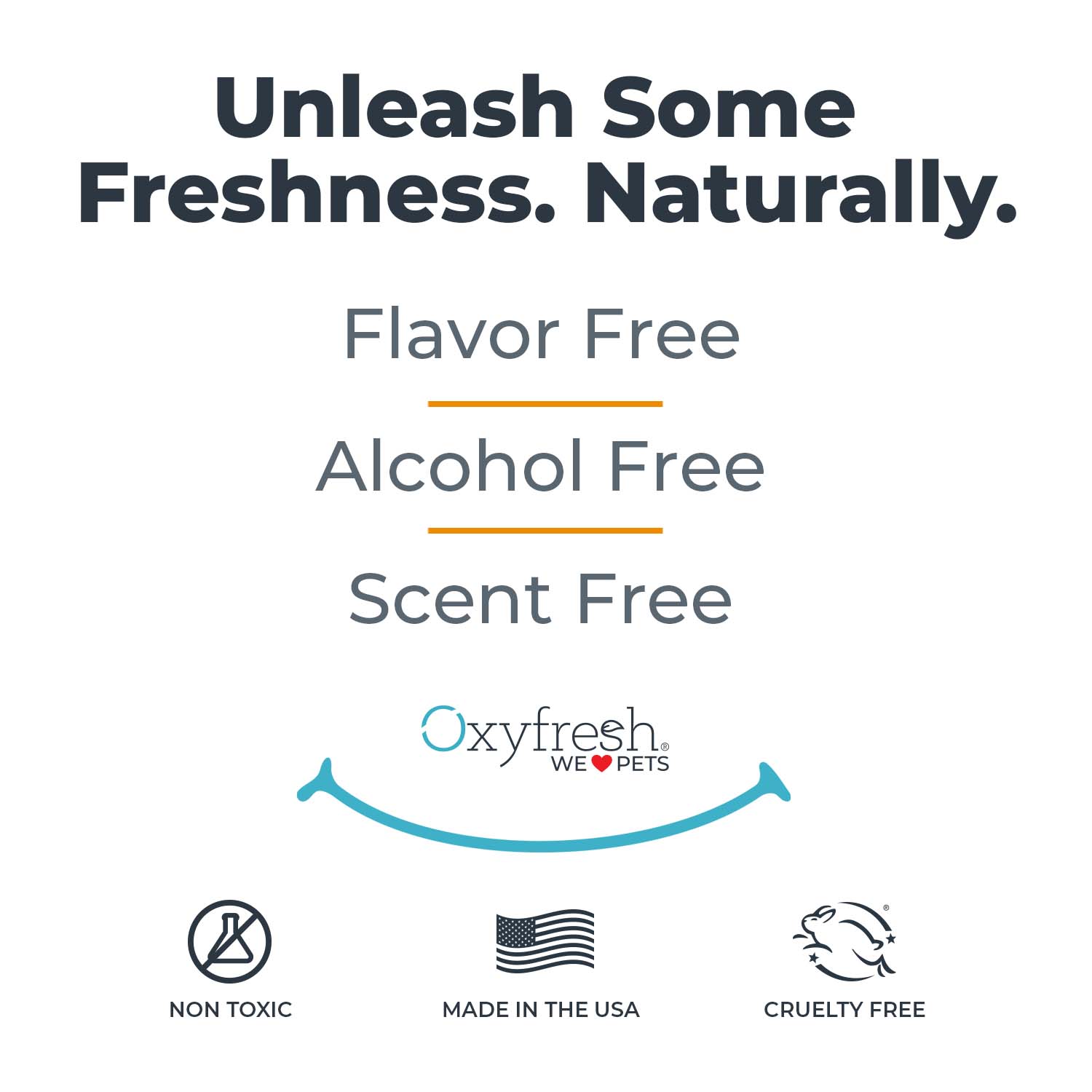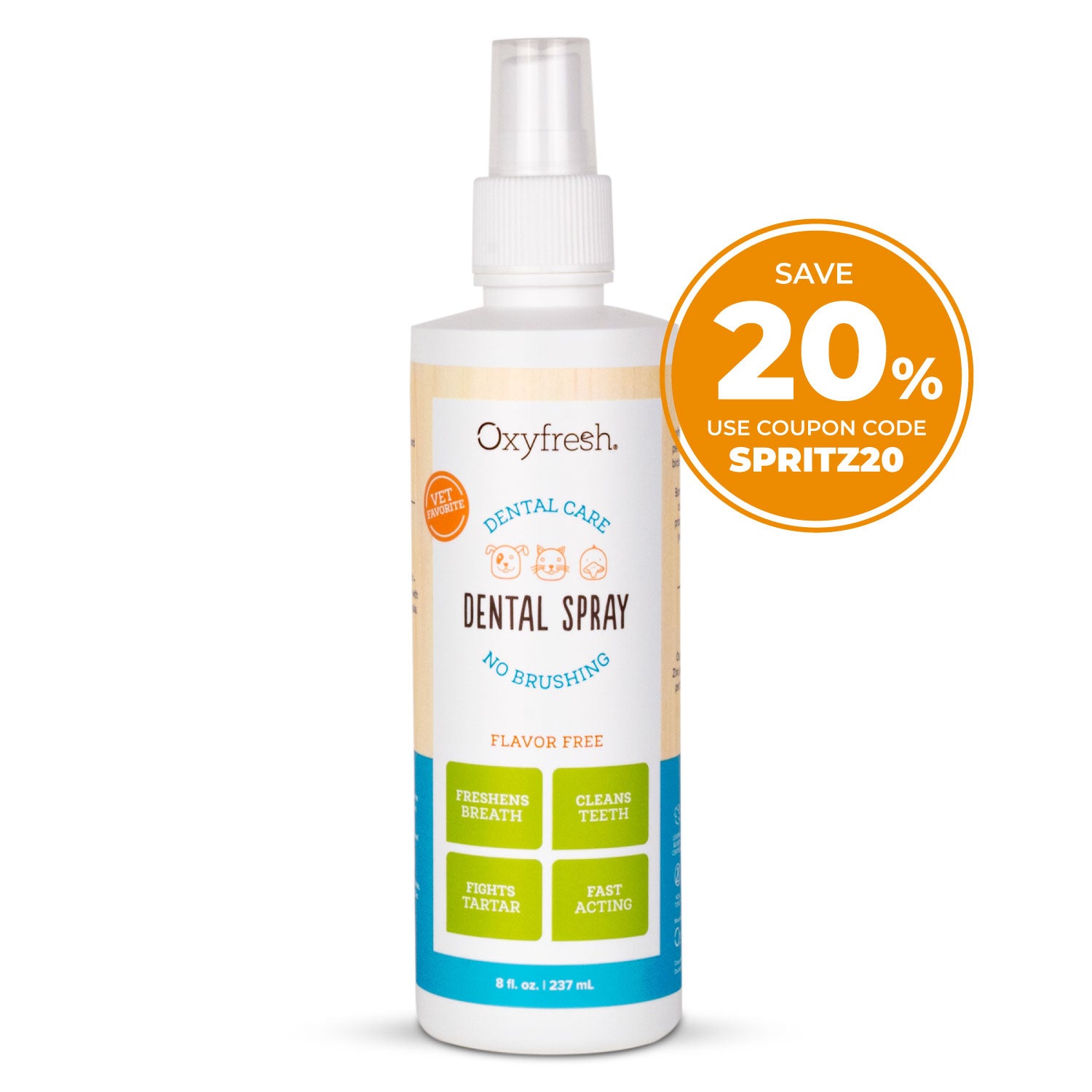 Premium Pet Dental Spray | Fastest Way to Eliminate Dog & Cat Bad Breath
Fast, easy, and it works ... what more could you ask for? Our dental spray is the most convenient way to stay on top of your pet's daily oral care routine. Just spritz away the bad breath and plaque with ease.
EASY & CONVENIENT – No time to fuss with a toothbrush? No problem! Just a few sprays along your pet's teeth & gums will help defend against plaque & tartar, while instantly freshening their breath.
IT WORKS – We took the same formula that dentists trust for hooomans and made it safe for pets. Used daily, our pet breath spray helps prevent plaque buildup, reduce periodontal issues, and maintain healthy gum tissue with no hassle.
FRESHENS PET BREATH, FAST – Our proprietary bad breath-fighting ingredient Oxygene® works on contact to safely eliminate odors caused by bacteria in your pet's mouth. No other breath spray for cats and dogs has it!
FLAVOR FREE – When a product works this good, there's no need for coverups. We never use mint, tea, clove, poultry, or top sirloin flavoring (yes, we've seen it all) in any of our dental products. Picky pet approved.
IT WORKS – If you've tried everything else, you might as well try something that works! Trusted by pet parents to clean dog and cat teeth and just like all of Oxyfresh products, it is made in the U.S.A. with only the highest quality ingredients.

We bring pets a better kind of fresh with every spray.

Ingredients: Water (Aqua), Sodium Benzoate, Sodium Citrate, Stabilized Chlorine Dioxide (Oxygene®), Zinc Acetate, Sodium Hydroxide, Chlorophyllin-Copper Complex.

Gluten Free
Just a few sprays

It's so easy! Simply spray along both sides of your pet's teeth and gums. Use daily or any time your pet needs a fresh breath pick-me-up.
Ok
I had used the water additive with no results than had dental work done on her
tried again with the water additive and spray so far not working, oh well
Effective product
Both my dogs used to have unpleasant breath smell before and after a week of constantly drinking their water w this solution, their breath smell has significantly improved; does not smell anything at all anymore. A whole bottle even lasts for 6 weeks!
Gives my dog better smelling breath. I haven't used it long enough to know if it helps tarter control yet. My dog isn't used to the spray part and jumps, or trys to get away from me. Hopefully she gets used to it.
Good lookin teeth!
Love LOVE this stuff! I use it faithfully every day! My dog is almost 14 and her teeth look great! Her breath is soooo much better too. I will use this always.
Like the taste
Dog's didn't like the spray sound, but love the taste
Relief
My dauschund is very ill and too old to have teeth cleaned at vet so this helps with bad breath.
No more bad breath!
After using Oxyfresh products for one week our dog no longer has bad breath! She tolerates the Oxyfresh products without any side effects and we are all loving the results so far!
Life saver
After the second day using the toothpaste and the spray on my little Lilly I noticed the difference I love it we give her more kisses before Oxyfresh her breath was terrible and today it smells great thank you Oxyfresh
New customer
I've been using the water and I also bought the spray and it has improved her breath in less than a week! It's wonderful and I will be buying more. Great product and safe to use as well. Thank you Oxyfresh
Amazing
This dog dental spray is amazing! It really works!