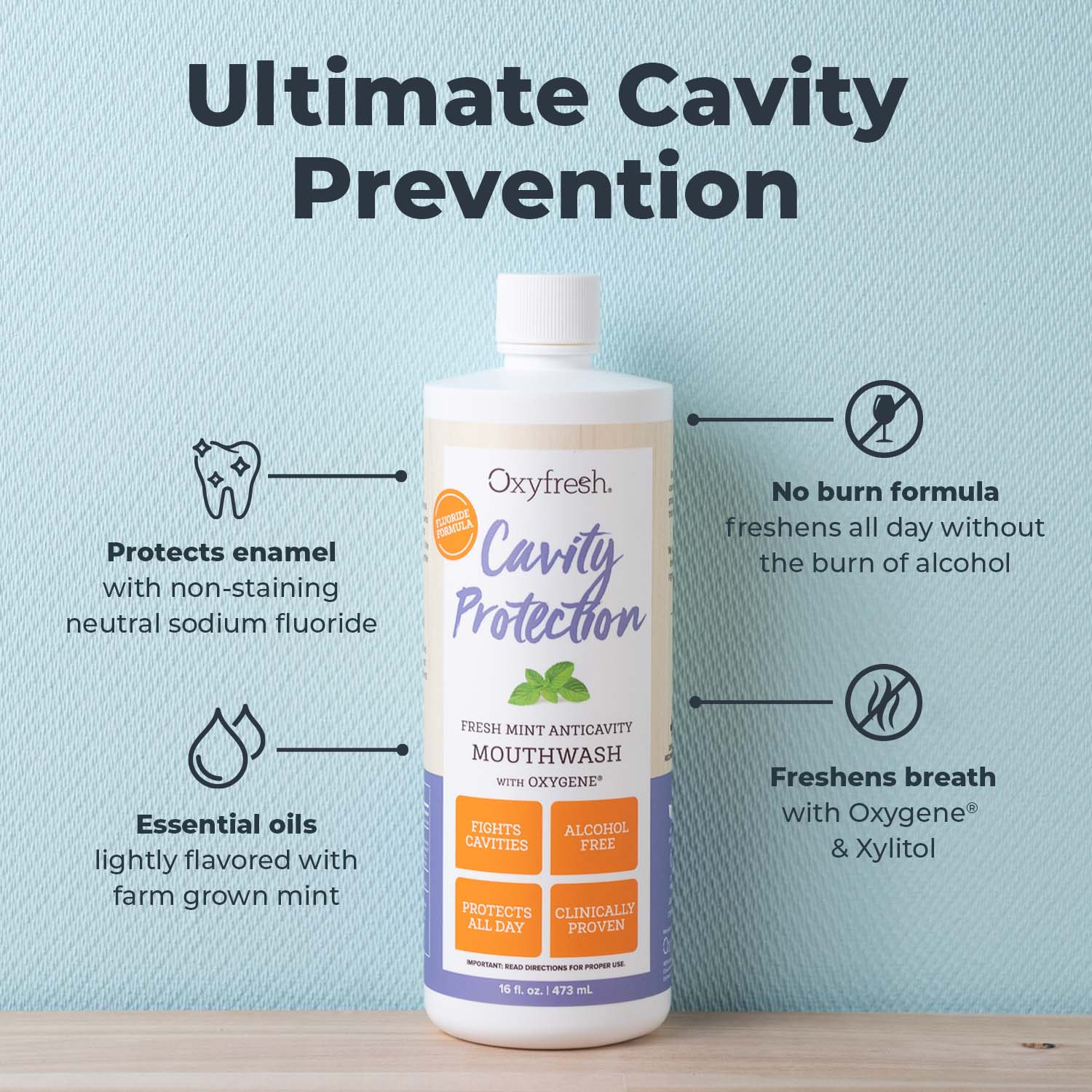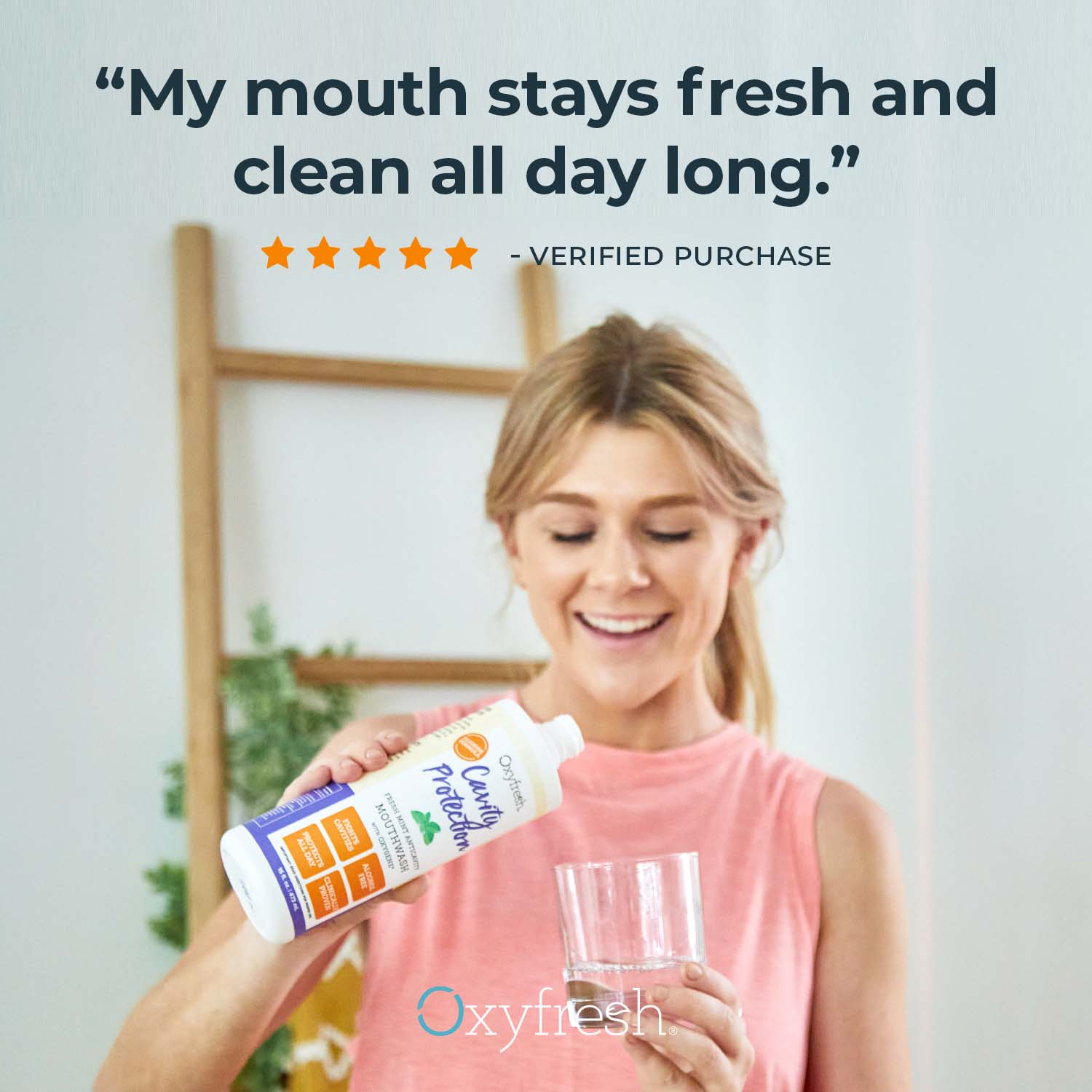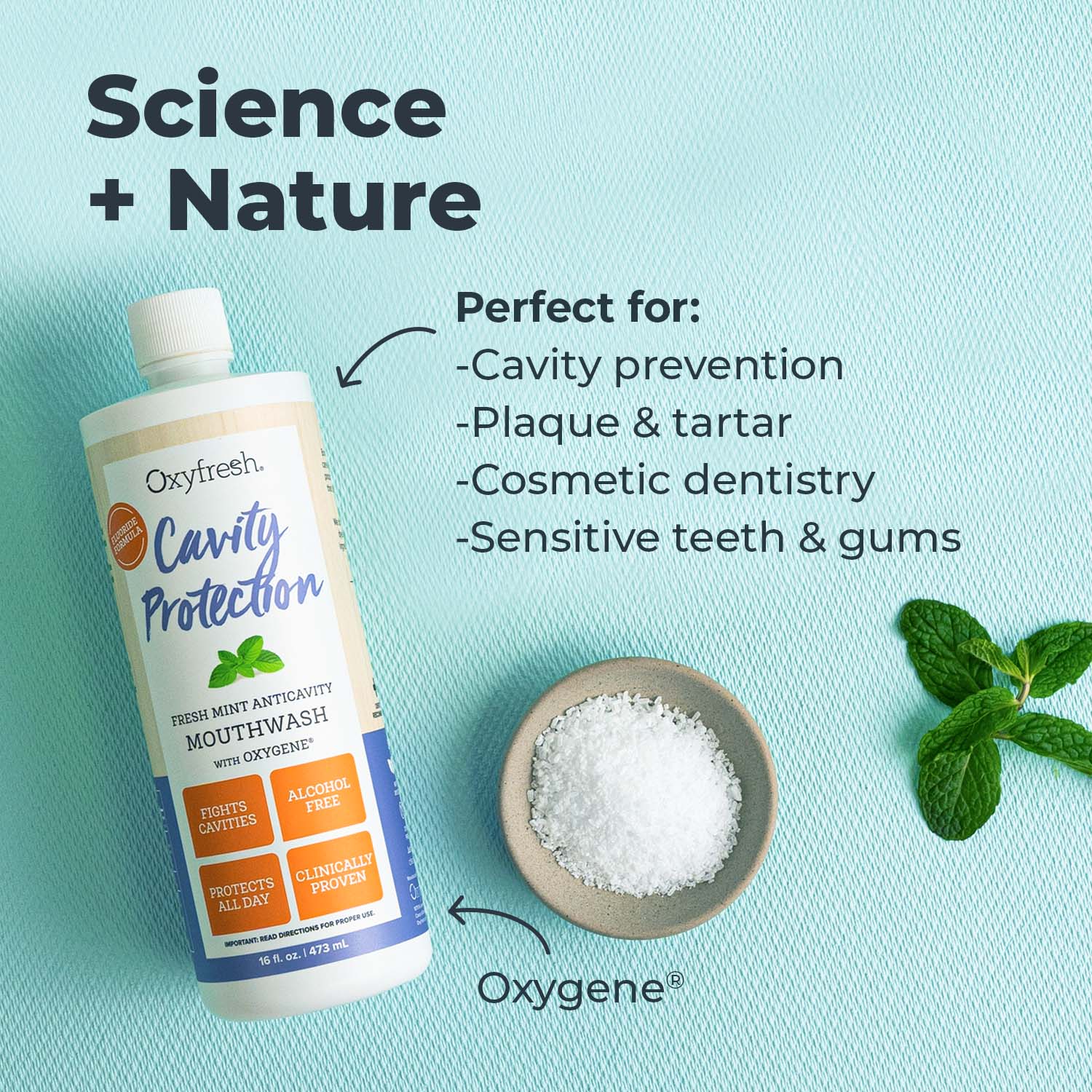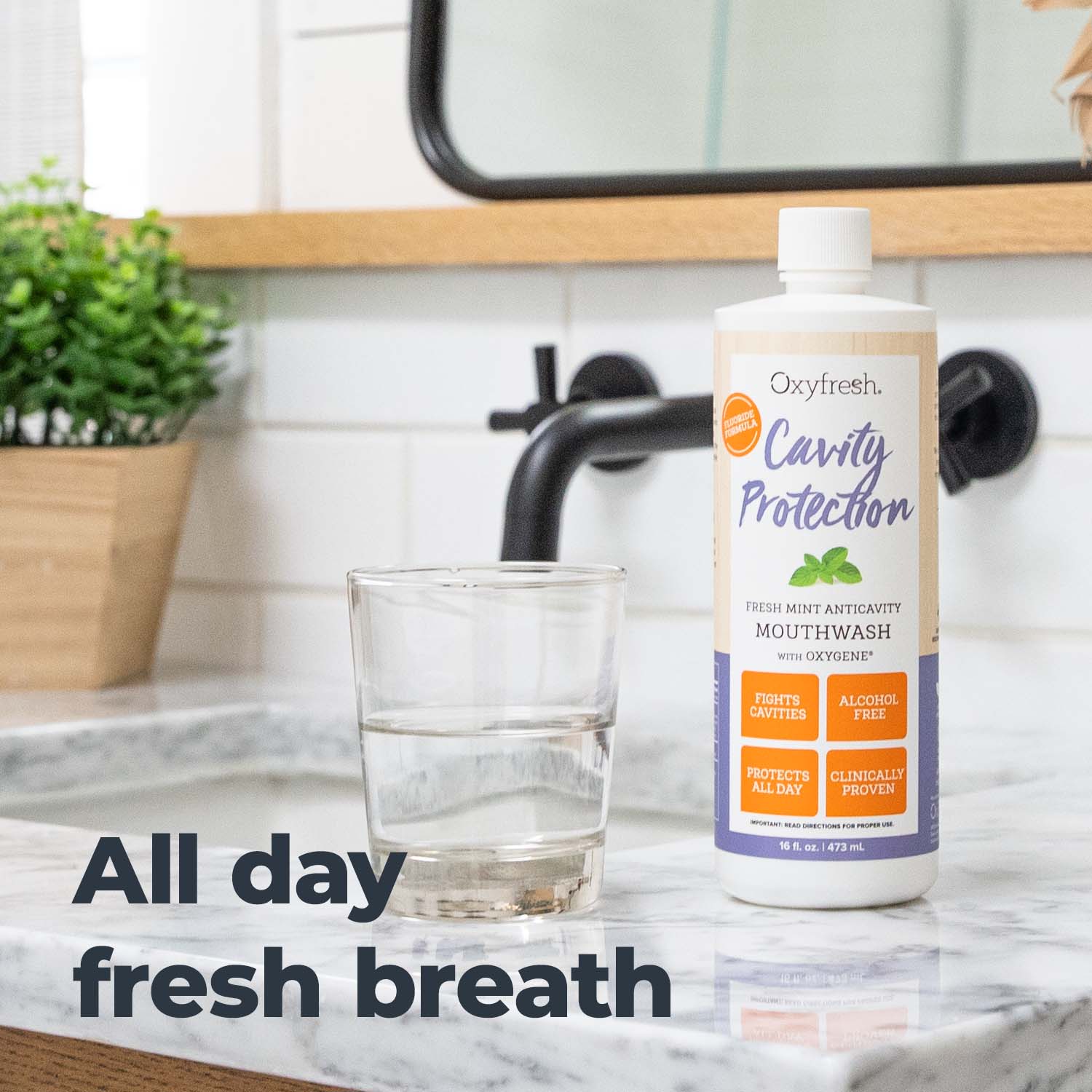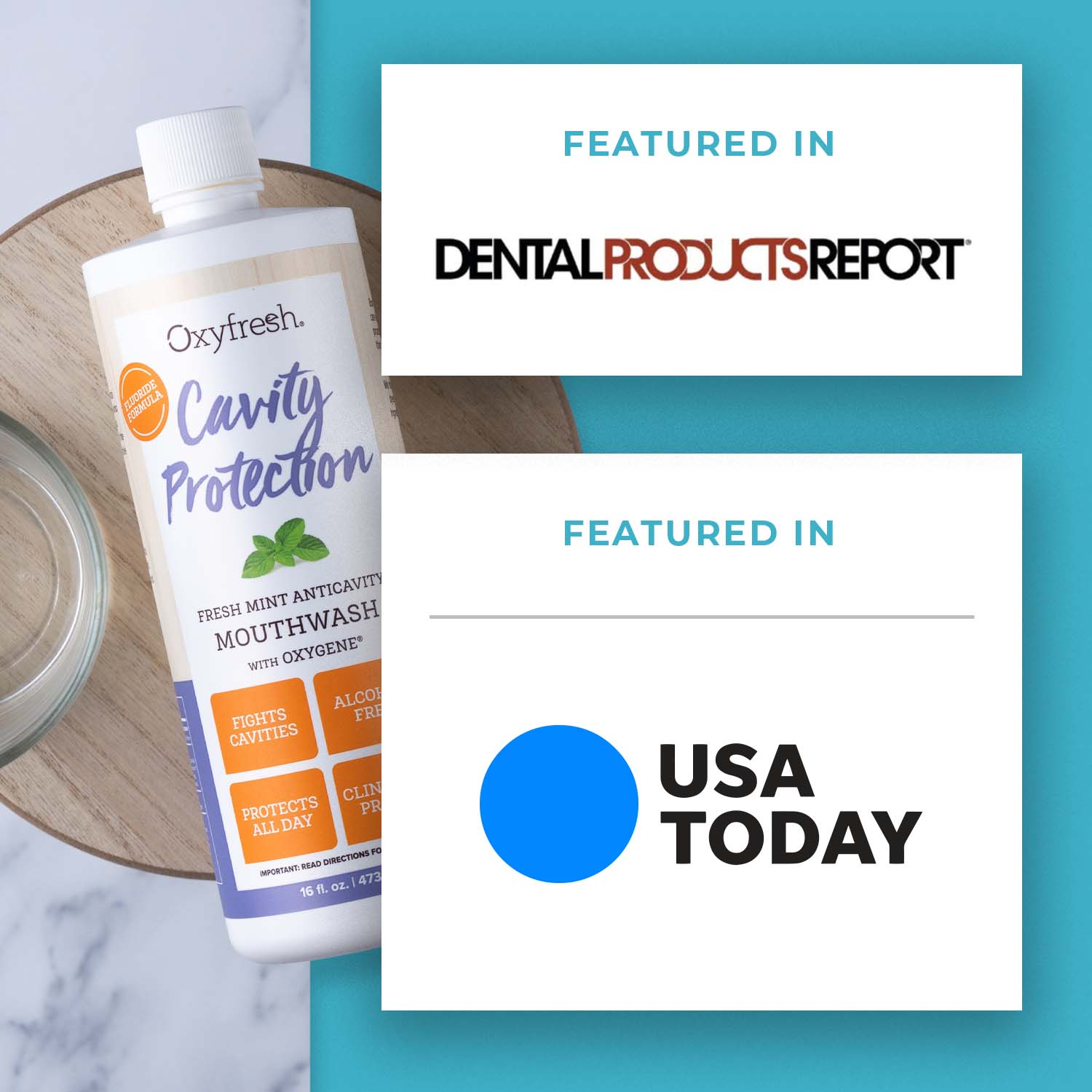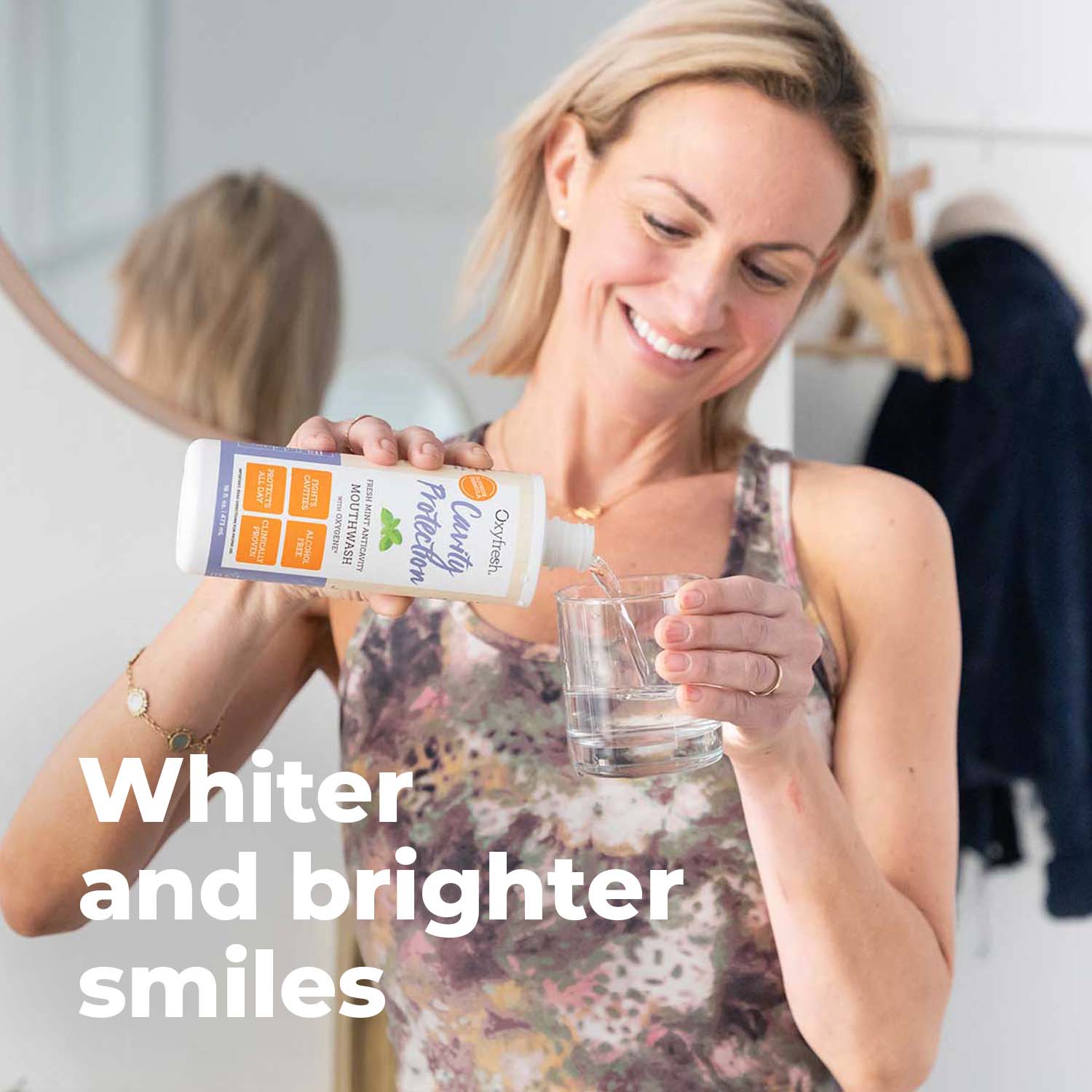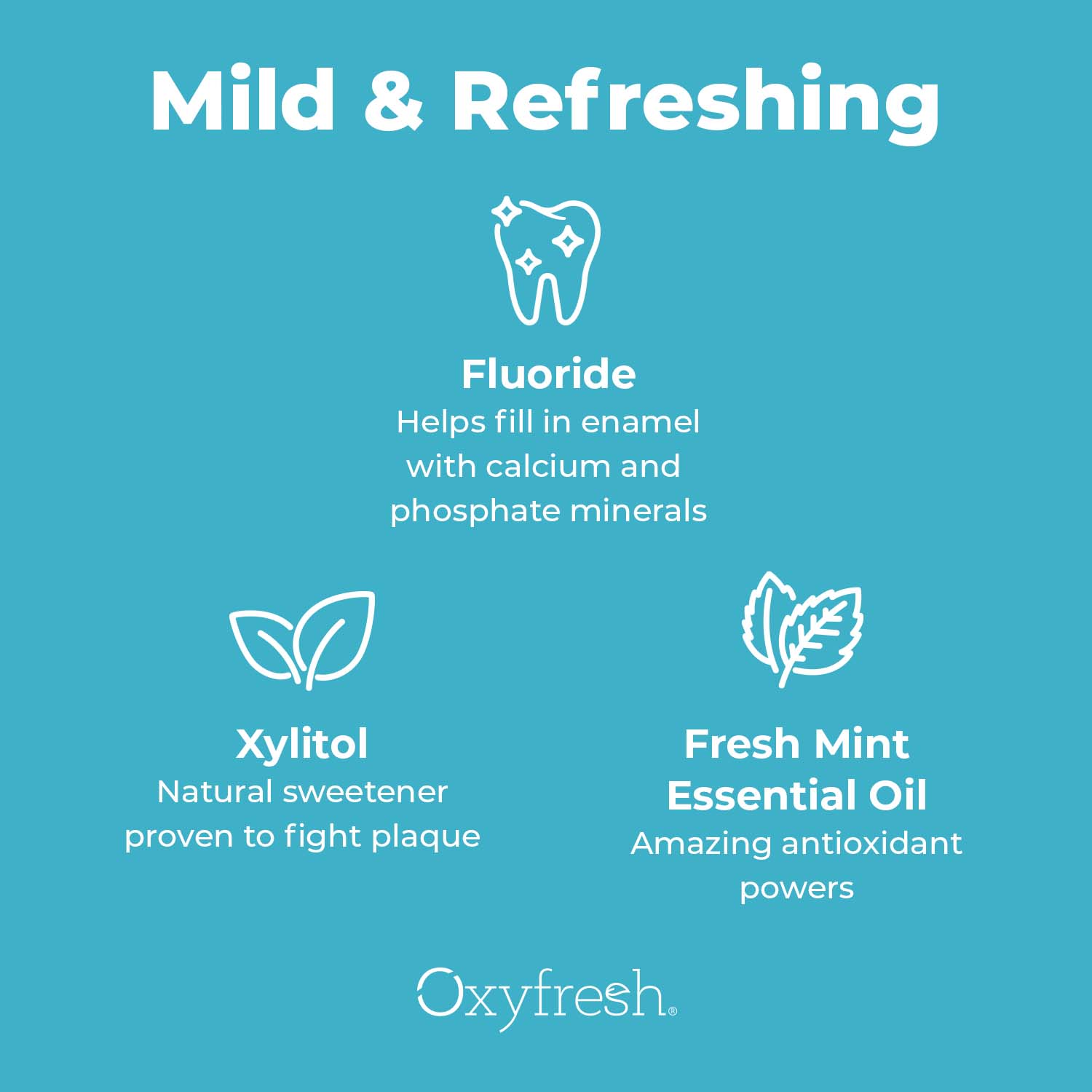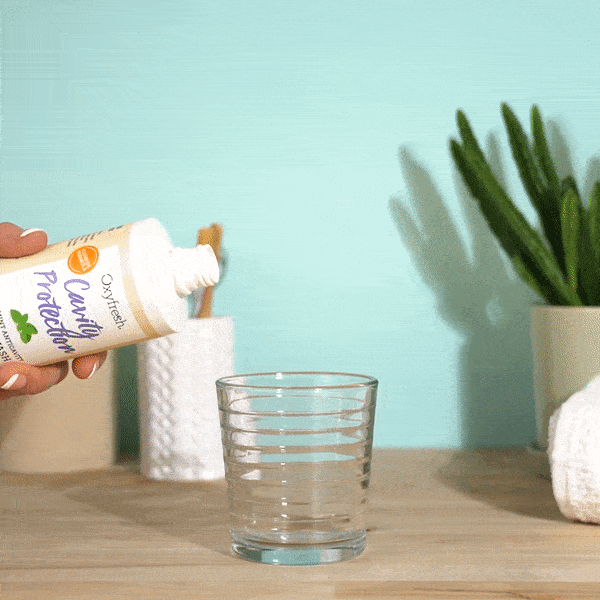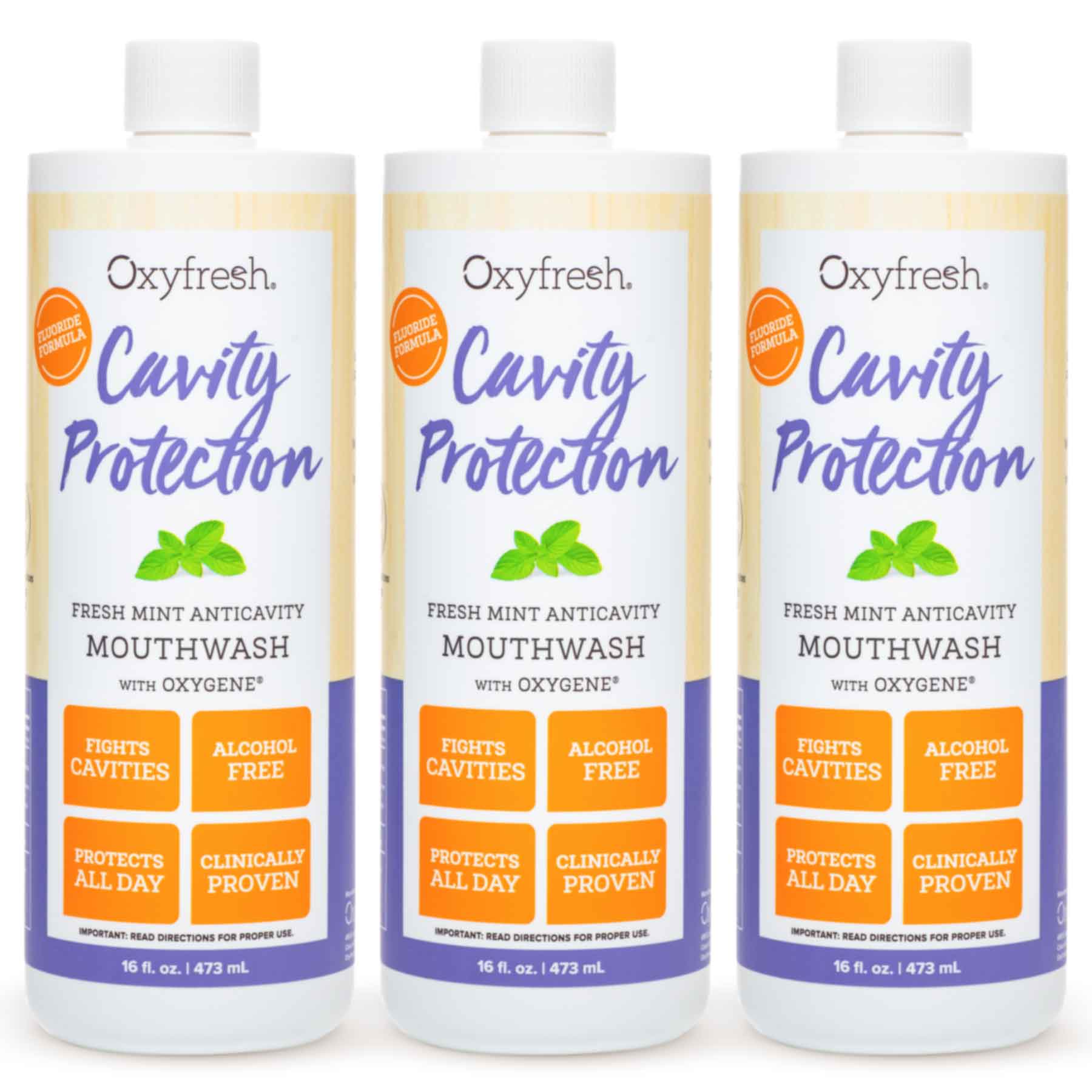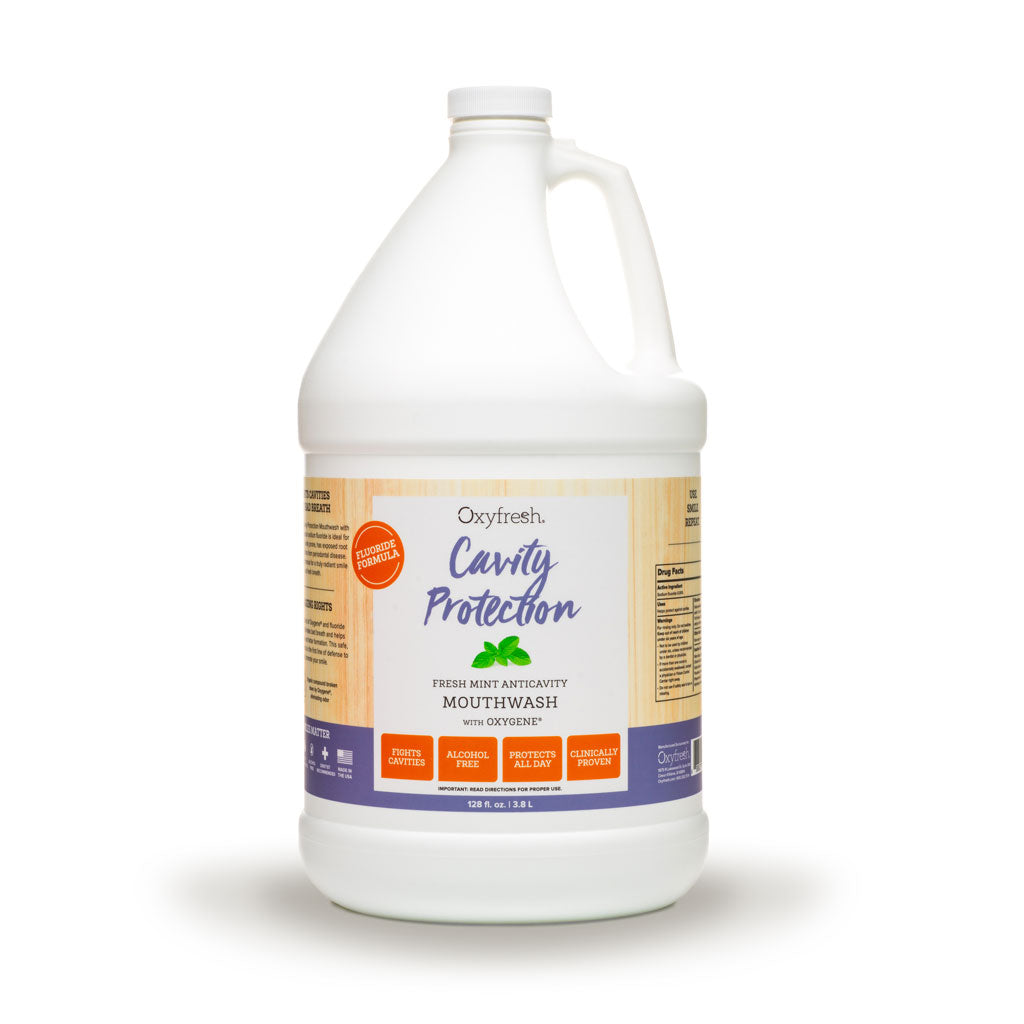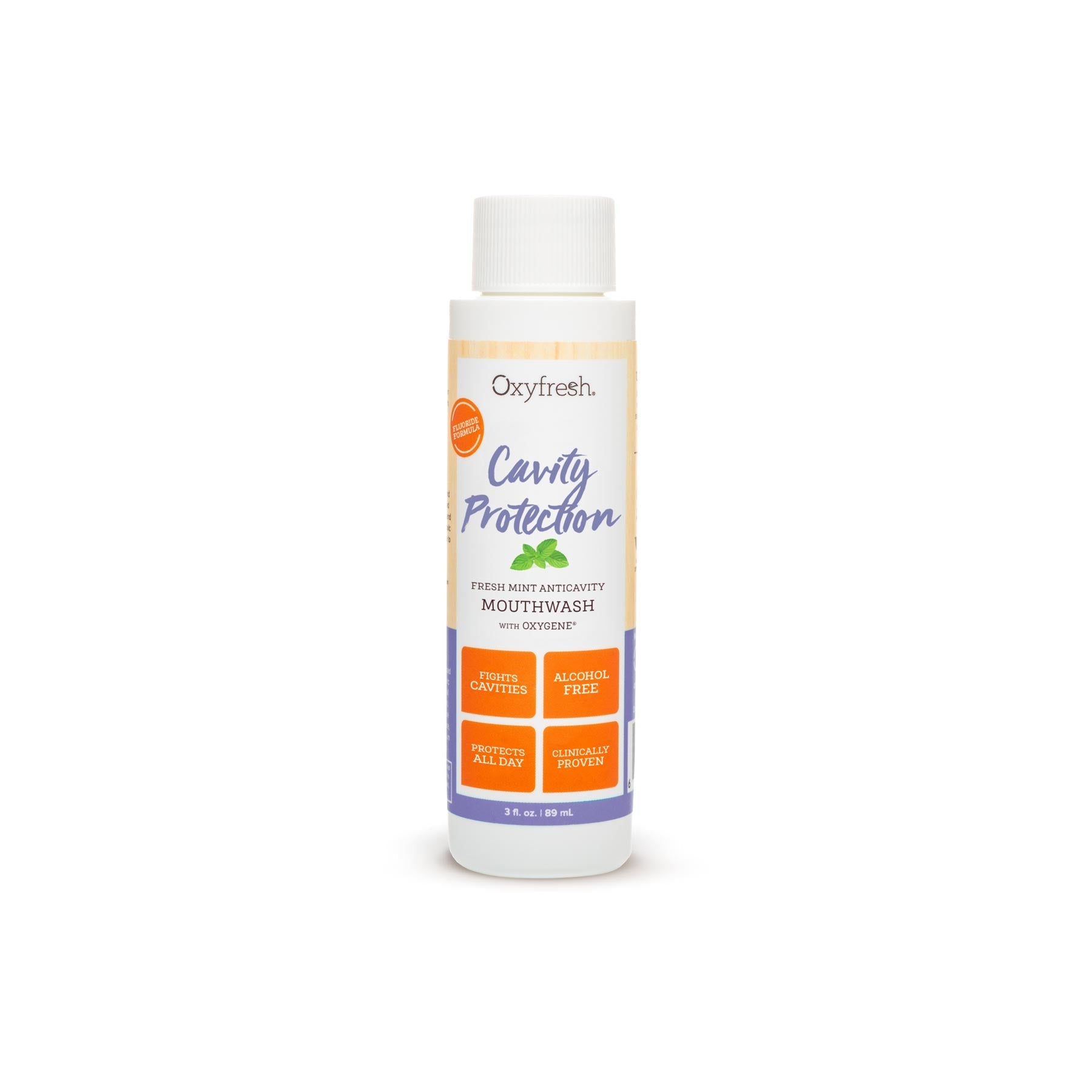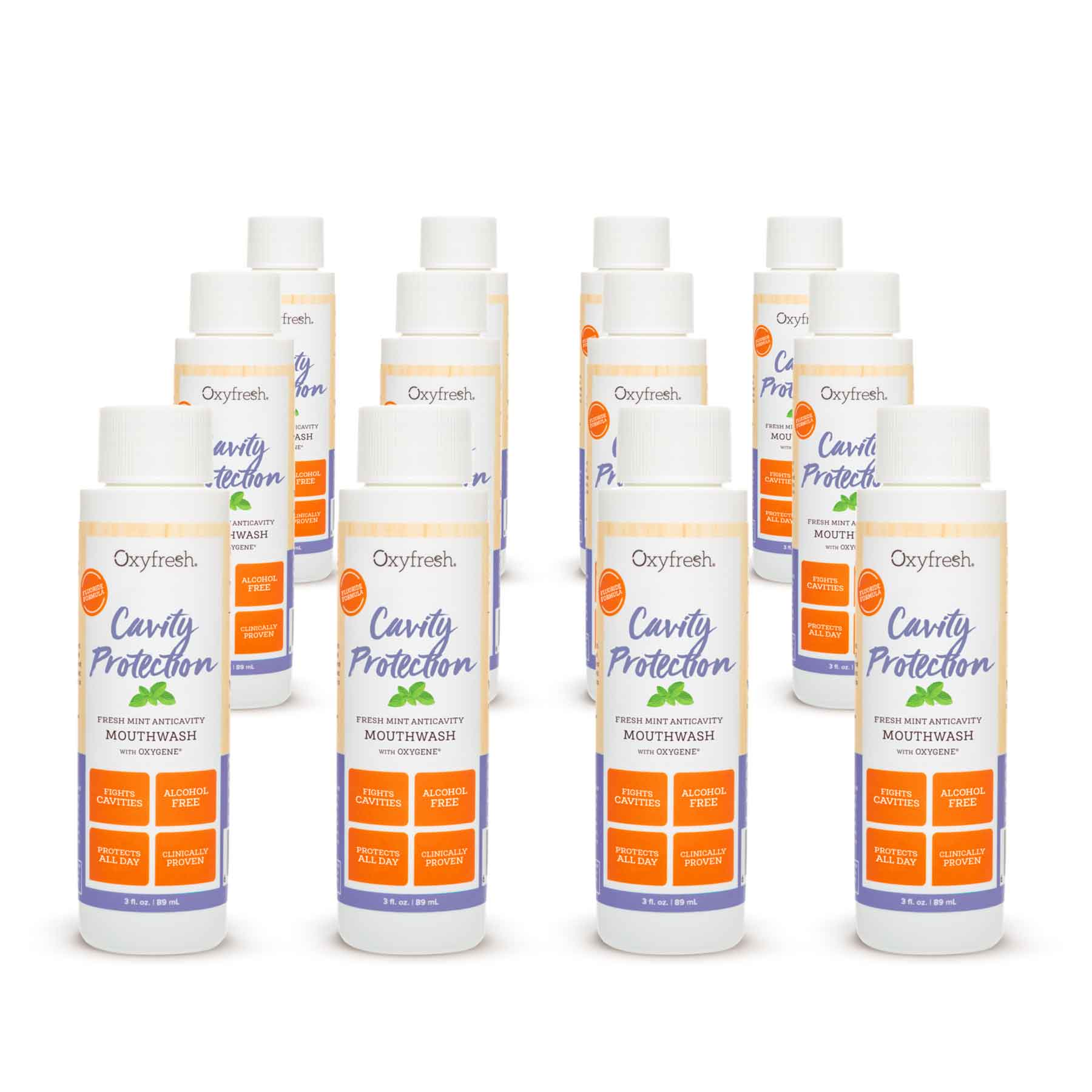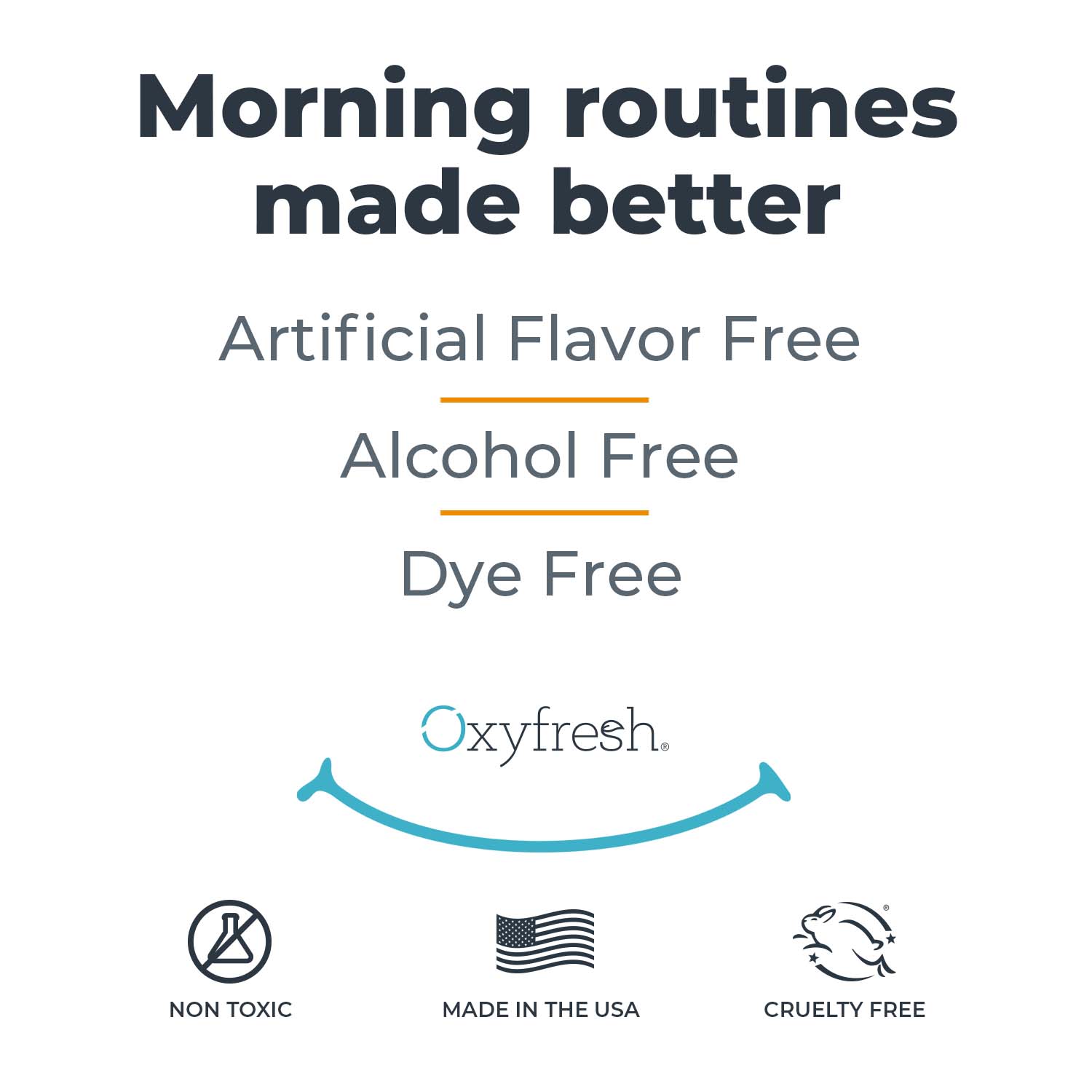 Cavity Protection Mouthwash | For Sensitive Teeth With Fluoride
An ounce of prevention is worth a pound of cure! Step up your game with our Cavity Protection Mouthwash with fluoride, and flash a sparkling smile rather than dragging around a dentist-numbed face.

ULTIMATE CAVITY PREVENTION – When it comes to preventing cavities, we picked what the pros use: non-staining neutral sodium fluoride. This tried-and-true active ingredient is proven to strengthen enamel for a cavity-free smile.
HELPS TOOTH SENSITIVITY – Ice cream or hot cocoa, anyone? Now you can enjoy your favorite hot & cold treats again with our ultra-soothing, remineralizing fluoride mouthwash.
ALL-DAY FRESH BREATH – This is where our special ingredient Oxygene® shines. It actively seeks out bad breath-causing compounds and makes them disappear, just like in the cartoons.
MILD & REFRESHING – With light, cooling peppermint oil & naturally sweet xylitol, our cavity protection mouthwash is so tasty, you may just want to drink it. (Um, but please don't ... it's for swishing only!)
IT WORKS – If you've tried everything else, you might as well try something that works! Trusted worldwide to gently clean teeth and just like all of Oxyfresh products, it is made in the U.S.A. with only the highest quality ingredients.

We took the best of science and nature to bring you a better kind of fresh with every single swish!

Active Ingredient: Sodium Fluoride 0.05%

Inactive Ingredients: Water (Aqua), Xylitol, Sodium Benzoate, Potassium Phosphate, Flavor*, Stabilized Chlorine Dioxide (Oxygene®), Sodium Hydroxide, Citric Acid.
*Contains Peppermint Essential Oil. Gluten Free.
Oxygene® (Stabilized Chlorine Dioxide): It's our special ingredient that makes us different. Safe, non-toxic oxidizer neutralizes plaque- and bad breath-causing bacteria, leaving smiles fresh and clean.
Essential Oil: Refreshing peppermint essential oil helps hydrate, soothe irritation, and deliver a clean feeling with no aftertaste.
Xylitol: This natural sweetener is clinically shown to help stop the formation of plaque, giving you even more protection against tooth decay.
Neutral Sodium Fluoride: A naturally occurring mineral, fluoride is highly effective in the prevention of cavities. Bonus – it helps with tooth sensitivity!
Every day, of course!
Our Cavity Protection Mouthwash is so good, you might sneak swishes in all day long! When you're done brushing, pour a couple capfuls into your favorite mouthwash cup and swish away! It only takes a minute to do its job, but you'll enjoy every second of it. For best results, do not rinse, eat or drink for 5 minutes.

Bet you've never seen this disclaimer before!
This mouthwash isn't for pets. Xylitol and fluoride are awesome for people, but not for our furry friends. They're also not a fan of peppermint, so if you're looking to freshen your pet's breath, try our tasteless and odorless pet mouthwash instead.
Mint flavored was substituted. Have not used it yet.
Oxyfresh is the best!
I use my mouthwash for something besides its intended purpose and my dentist has given it a real compliment. She says my night guard is the cleanest she had ever seen!
Cavity Protection Mouthwash
Excellent product. I love the effect that I have since this product. It's great !
Mild in flavor, easy to use
Will find out how effective it is as protection against cavities after using for next 3 months
Fresh taste
I have been using Oxyfresh toothpaste for a little while and decided to add this mouthwash. It has a really fresh taste...not overpowering, but just leaves your mouth feeling clean. I plan to stop getting those nasty fluoride treatments at the dentist and just use this fluoride rinse from here on out.
Dentist approved
I've been using this product for several years, but only in the evening. My dentist suggested I use twice a day and it appears the plaque buildup has reduced
Great product
I am satisfied with this product. I wish that this was available when I was young.
Cavity protection toothpaste
I actually started using this in my mid 20's. Never had tarter or plaque build up on my teeth. My dentist sold it out of his office. Used it for several years. I'm glad I found it again. I am now 60 and had a great check up. Gums measure now 2 and 3's instead of 5's and 6's. I will continue my dental hygiene with Oxyfresh.
Mouth wash
I have used two of the Oxyfresh mouthwash and love them both. Now need rice for sensitive teeth. This works