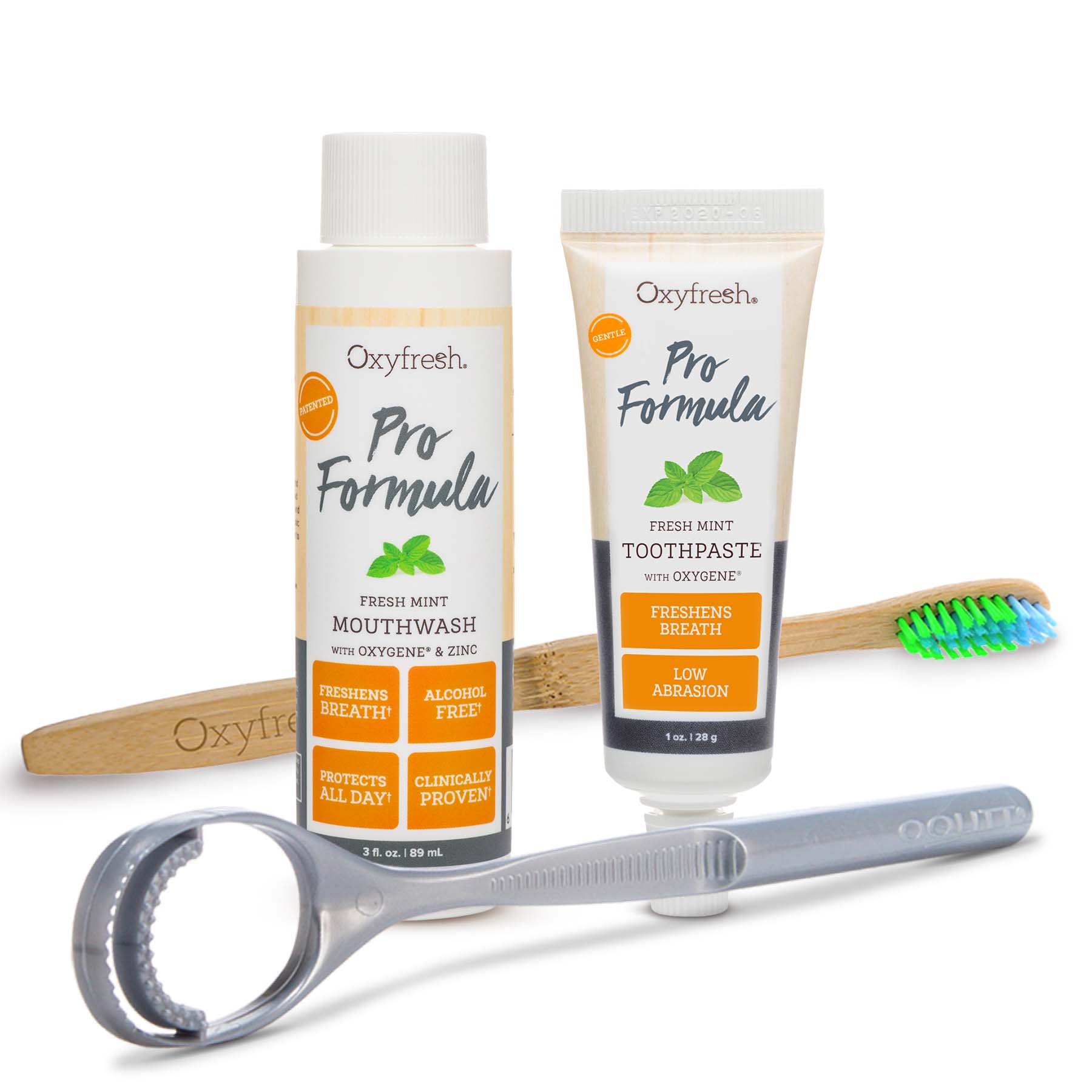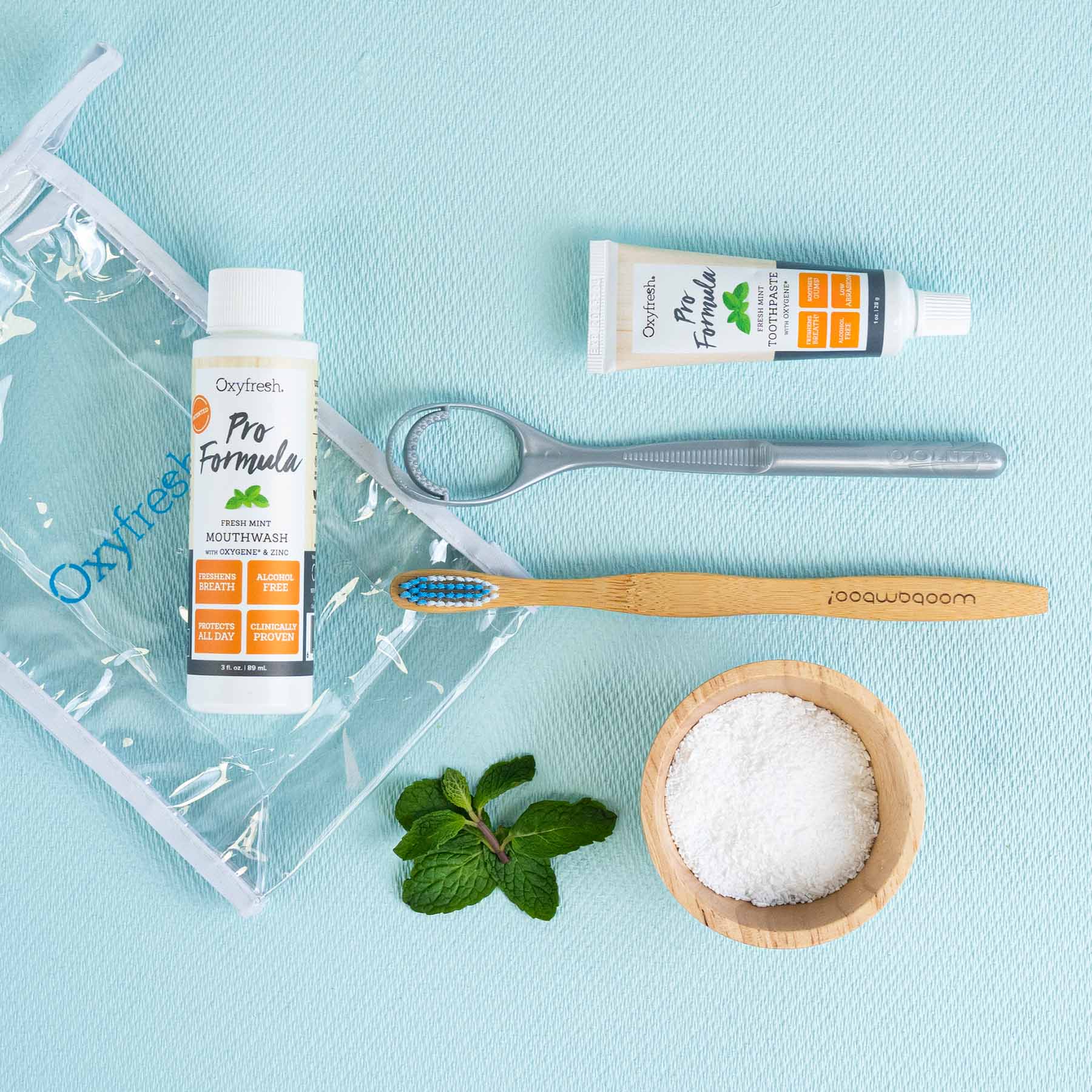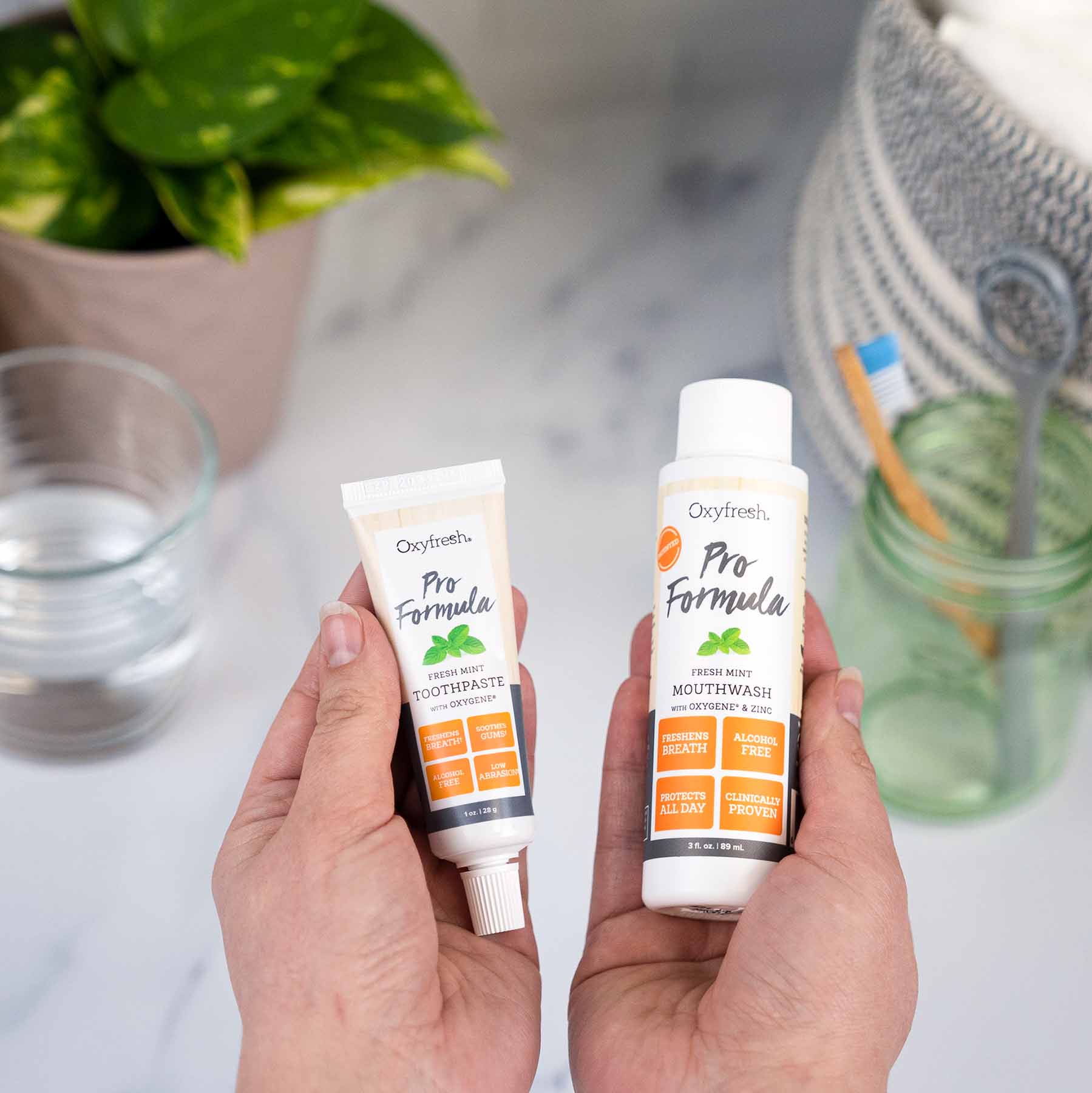 Pro Formula Fresh Breath Travel Kit | Fluoride Free
Perfect for purse, backpack or carry-on luggage, this convenient travel kit has everything you need for maximum fresh breath on the go!

COMPLETE KIT – Try fresh breath on for size! This travel dental kit features mini sizes of all your faves: Pro Formula Mouthwash (3 oz.); Pro Formula Toothpaste (1 oz.), plus a soft bamboo toothbrush & tongue cleaner.
ALL-DAY FRESH BREATH – Culinary adventures are one of the best parts of travel. With our powerful combo of Oxygene® & zinc, you can eat & drink to your heart's content without the worries of bad breath.
GENTLE ON TEETH & GUMS – We ditched the harsh abrasives, alcohol burn and fake mint flavors to bring you gentle, dye-free formulas infused with mild natural mint oils. You'll love the difference!
HASSLE-FREE TRAVEL – More convenience, less space in your suitcase! Our mini travel dental hygiene kit meets all TSA travel regulations, and you'll appreciate the clear travel pouch that comes with it.
75% MORE FRESHNESS – Our tongue cleaner removes 75% more bad breath compounds from the tongue vs. a toothbrush! Use it after coffee, a glass of vino, or anytime you need a fresh breath pick-me-up!
Pro Formula Toothpaste
Ingredients: Calcium Carbonate, Water (Aqua), Glycerin, Sorbitol, Chondrus Crispus (Carrageenan), Sodium Lauryl Sulfate, Flavor*, Stabilized Chlorine Dioxide (Oxygene®), Sucralose
*Contains Peppermint essential oil

Pro Formula Mouthwash
Ingredients: Water (Aqua), Xylitol, Potassium Sorbate, Zinc Acetate, Sodium Citrate, Flavor*, Stabilized Chlorine Dioxide (Oxygene), Sodium Hydroxide, Citric Acid
*Contains Peppermint essential oil

Oxygene® (Stabilized Chlorine Dioxide): Disrupts bacterial colonization, oxidizes volatile sulfur compounds, controls oral odors, and helps disinfect.
Xylitol: Inhibits the growth of the bacteria that cause cavities.
Essential Oil: Naturally flavored using a unique blend of soothing essential oil.
Zinc: Counteracts the toxicity of volatile sulfur compounds and inhibits oral odors.
Chondrus Crispus (Carrageenan): For soothing comfort.
Gluten Free
Easy 1-2-3 Routine
Clean, Brush & Swish for the ultimate fresh breath routine ... oh, and don't forget to floss. Gums love that!

Step 1: Clean
Stick your tongue out (we won't tell on you) and then with the ripple-edge facing down, gently run the Oolitt® Elite Tongue Cleaner down the length of your tongue. Repeat several times, then rinse debris.

Step 2: Brush
So refreshing, you may actually want to brush the full 2 minutes! Apply a pearl-sized drop and brush each tooth using a GENTLE, circular motion. (We know you're tough, but teeth love a soft touch.)

Step 3: Swish
When you're done brushing, pour a couple capfuls into your favorite mouthwash cup and swish away! It only takes a minute, but you'll enjoy every second of it.

Bet you've never seen this disclaimer before!
Paws off our pro dental products! Xylitol is awesome for people, but not for our furry friends. They're also not a fan of mint, so if you're looking to freshen your pet's breath, try our tasteless and odorless pet mouthwash instead.
Love the travel kit only wish it contained the gel too. The tongue scraper, toothpaste and mouthwash sizes are perfect for travel. Love the product!!!
I really like the bamboo toothbrush. It's soft on the gums. It would be nice if Oxyfresh included a cover for the travel toothbrush. I am pleased with the travel kit, however, I would like to see the pro relief gel in a travel size added to the kit. Also, consider selling the red toothbrush for post surgical care as a single item. As of now, it's only available with the post surgical kit.
Love it!
Perfect for traveling and for introducing this excellent product to family and friends.
I am a dentist user from way back
Great products. Glad you are marketing to the public now.
It was a dental secret from years
Dental care
Tooth paste is great, helps keep my teeth whiter. Tongue cleaner is very useful. Love oxyfresh.
Pro Formula ravel Kit
I used to be able to purchase the Pro Formula Travel Size Toothpaste and Travel Size Mouthwash separately from the Travel Kit. I can't really use the toothbrush and Tongue Cleaner as I have All-On-Sevens and need to use Waterpik and Sonic Cleaners. I love the Pro Formula Fresh Breath Toothpaste and Mouthwash; but I don't need the rest of the kit; thus the 3-stars instead of 5 stars.
Toothpaste and mouthwash are the best ever
I have to have a lot of dental work done and when I have some irritation your mouthwash helps me to feel less pain and heal faster.
Oxyfresh Dental Products
I've been using them since 1993 and love them. I have great dental checkups (twice a year) and I continue to recommend them to my friends and family. The travel sizes are so convenient. My favorites are the fluoride toothpaste and the Power Rinse.
Great Products In Conveniently Sized Kit
All the products included are of course wonderful; best on the market. And the sizing perfect for travel (ok for carry-on luggage), keeping in your purse or briefcase, or even day pack on a hike.