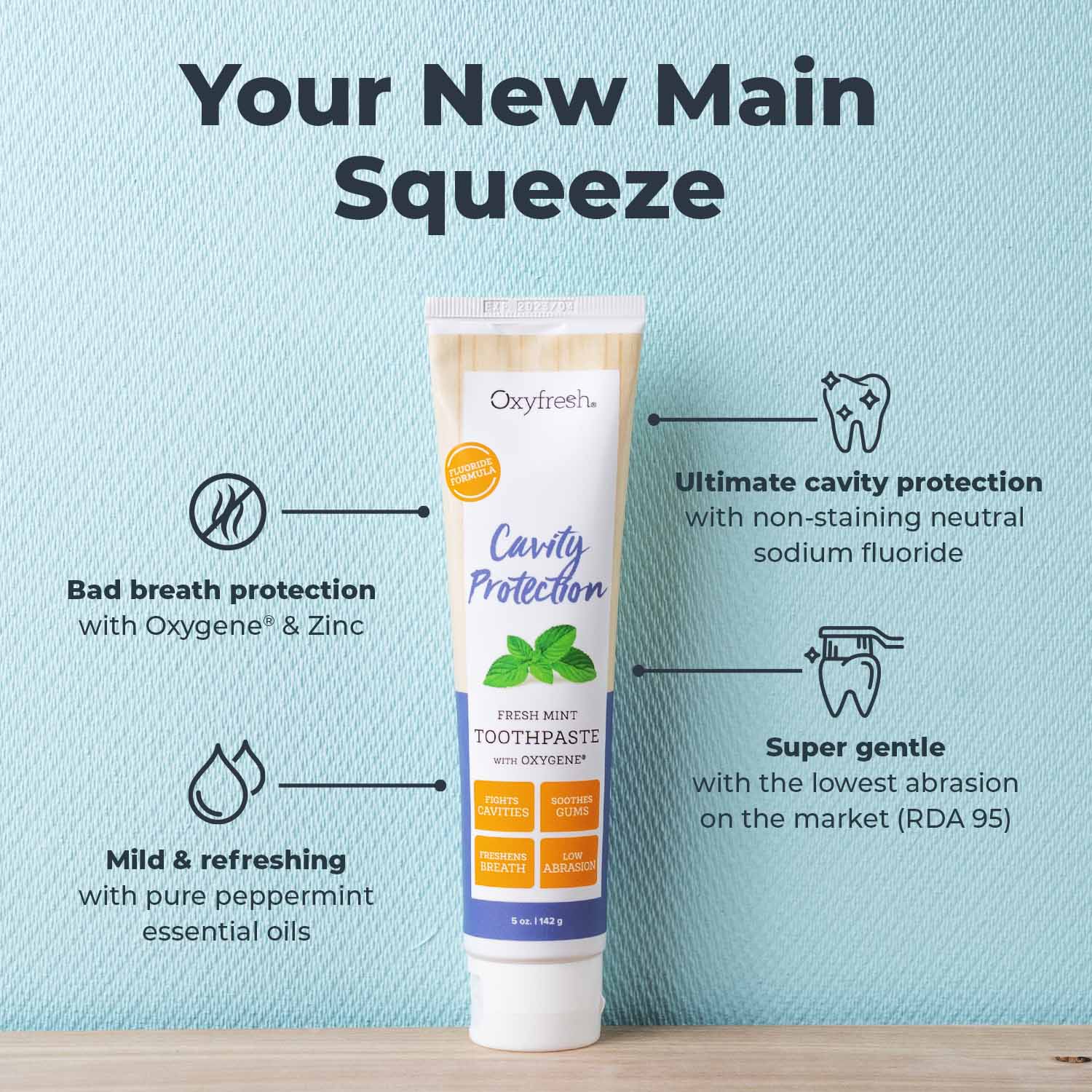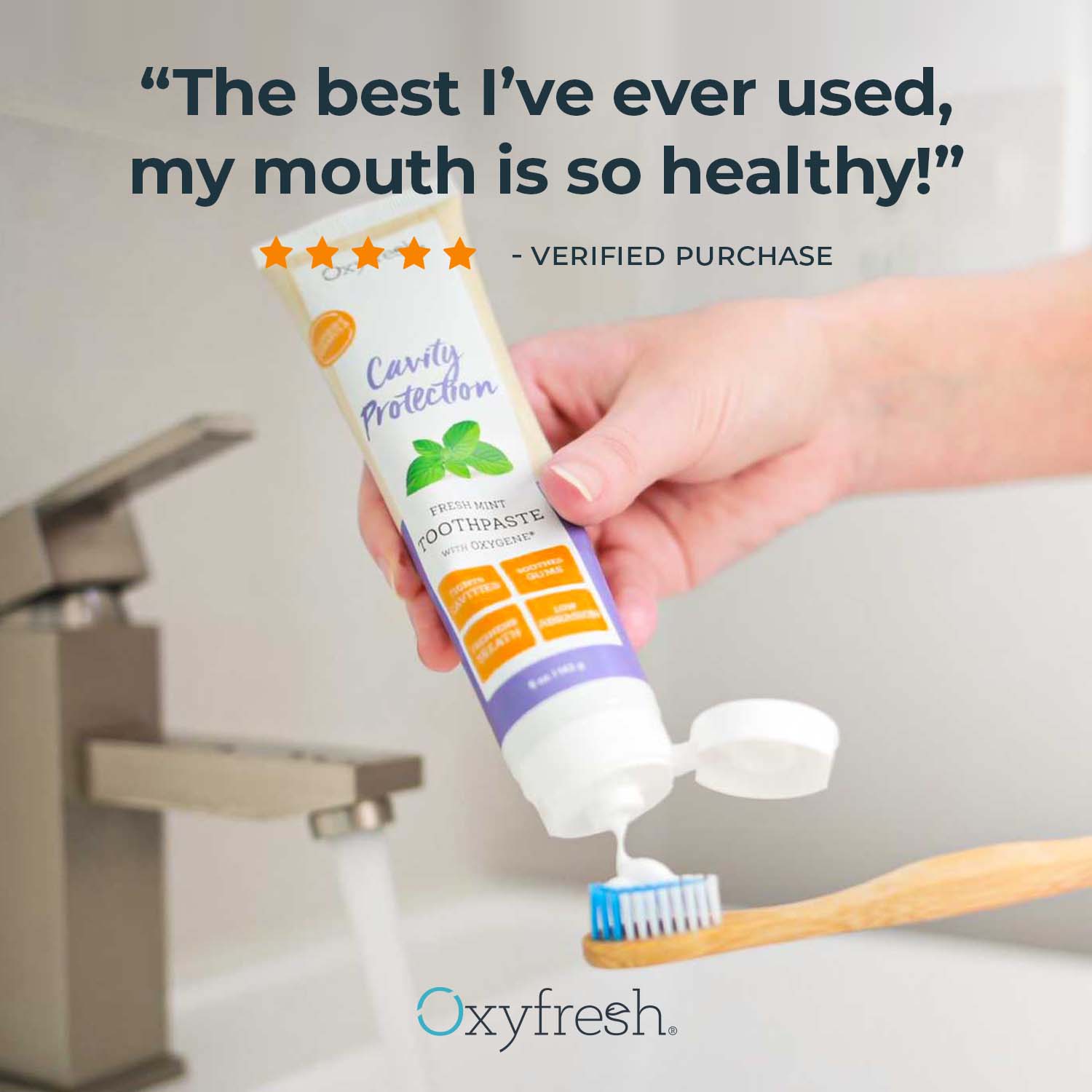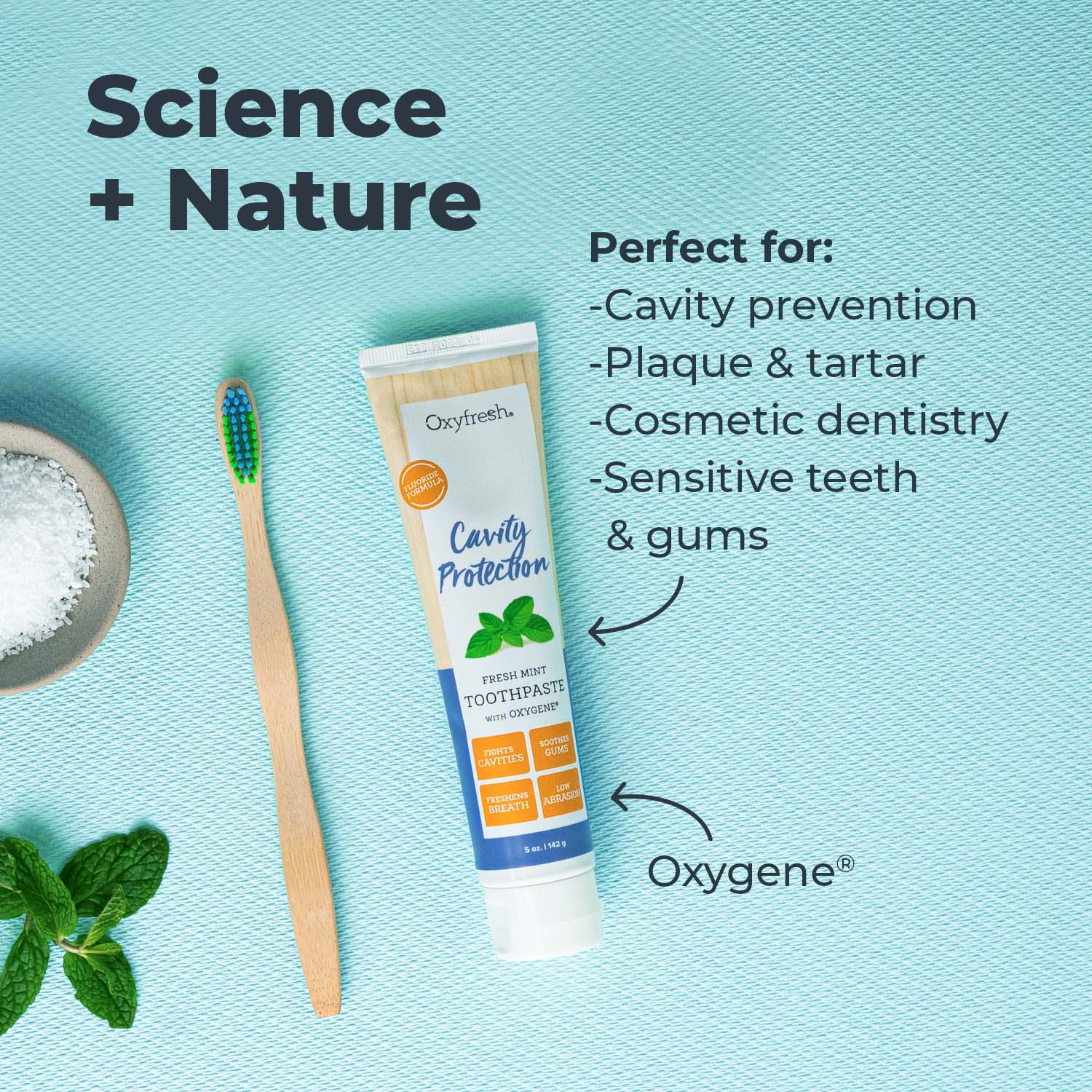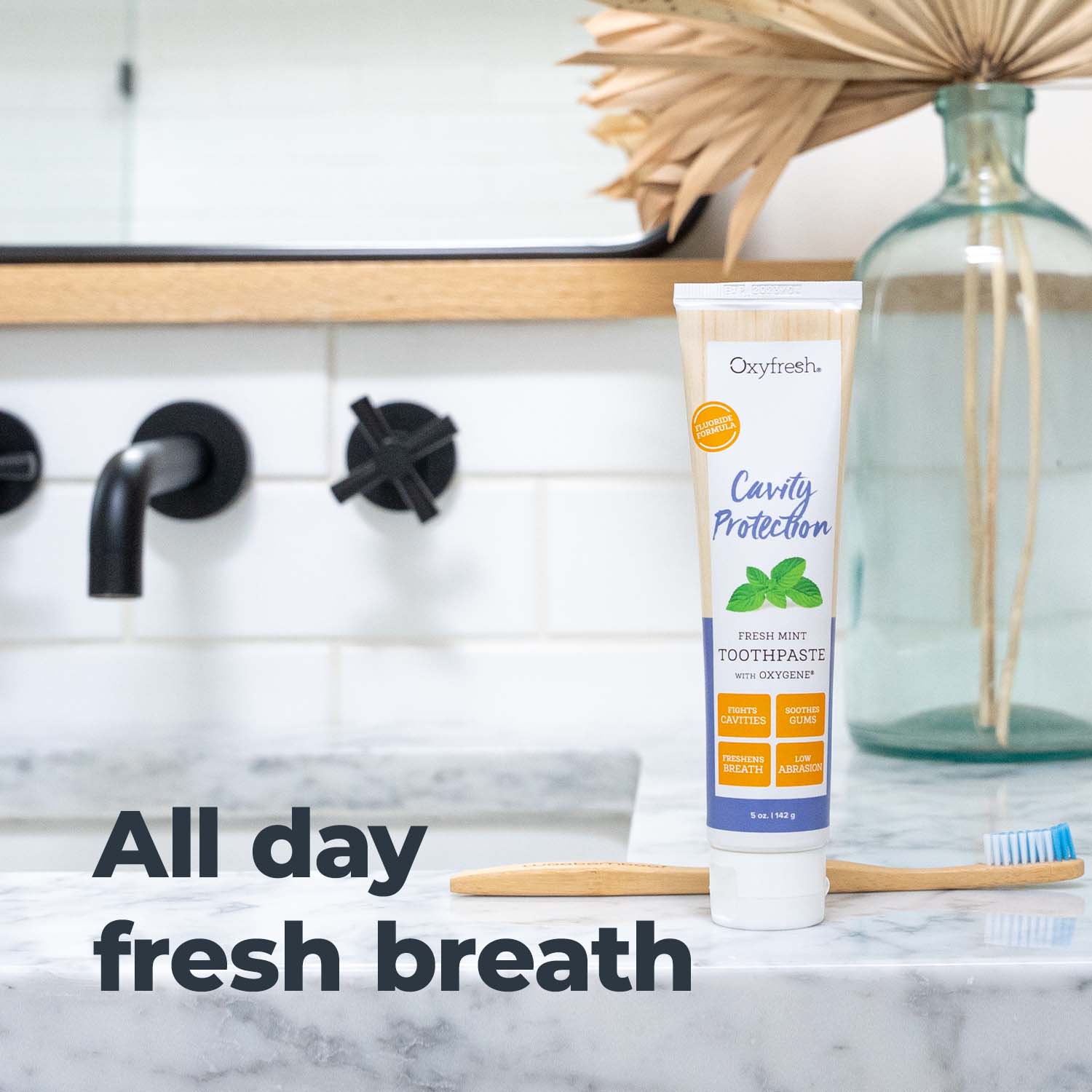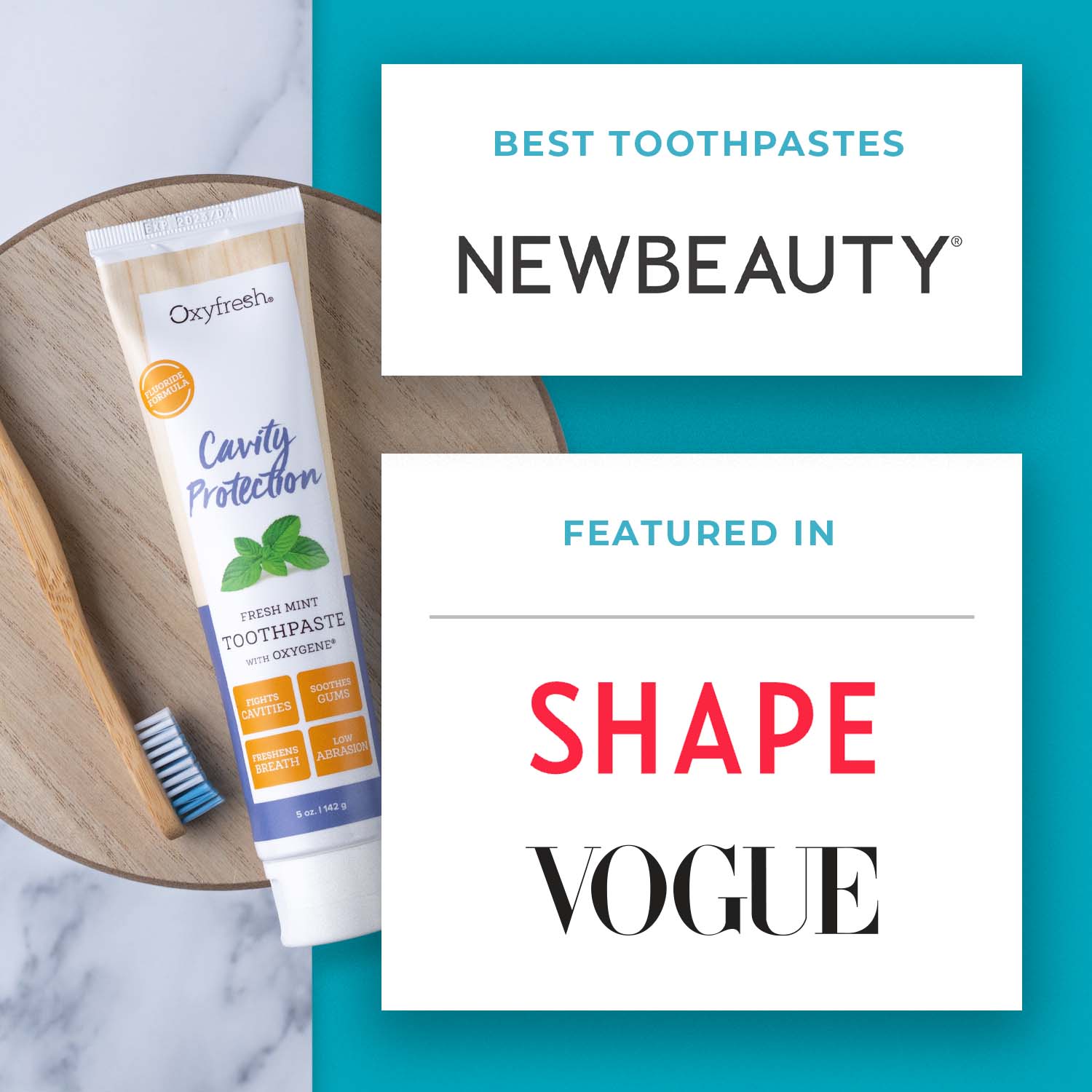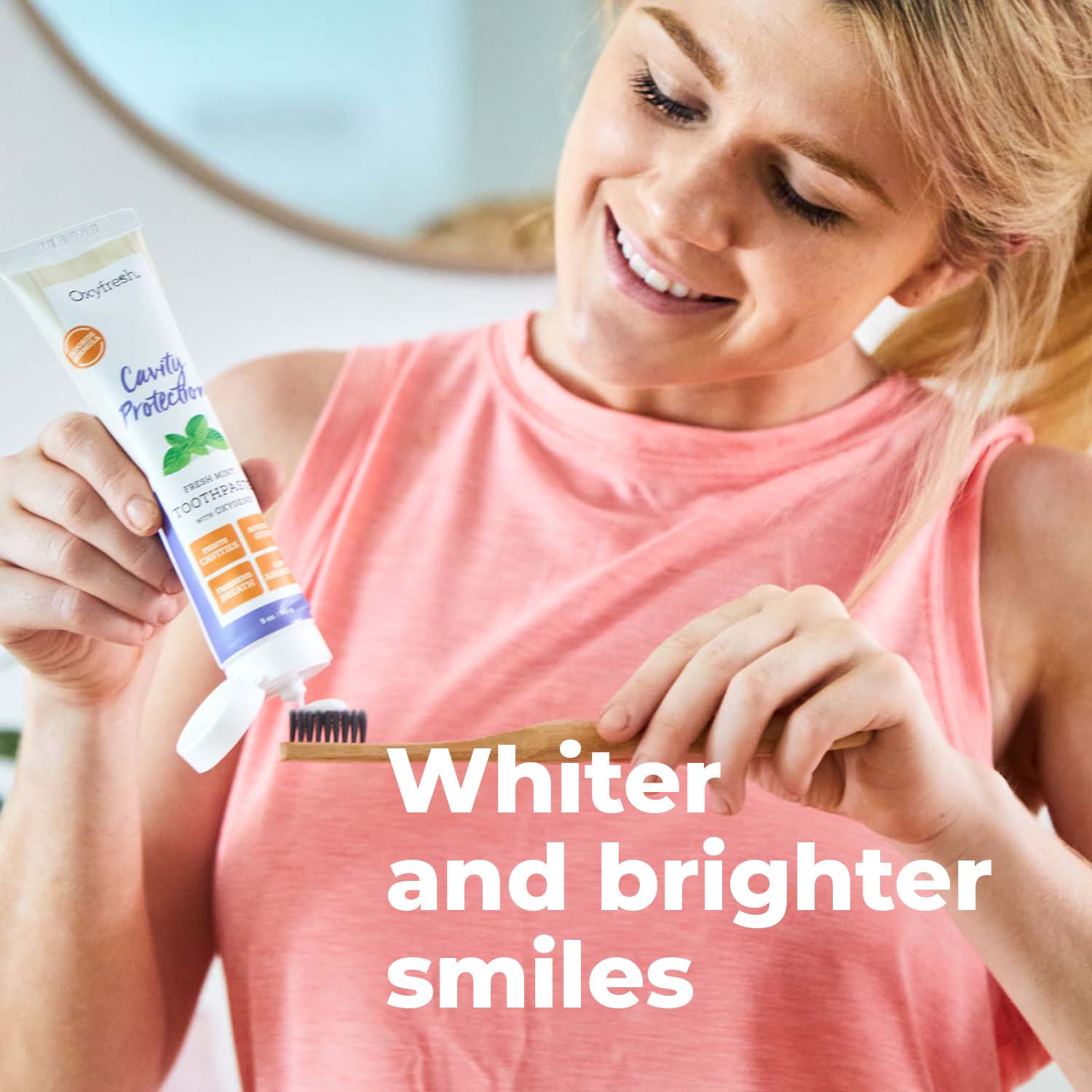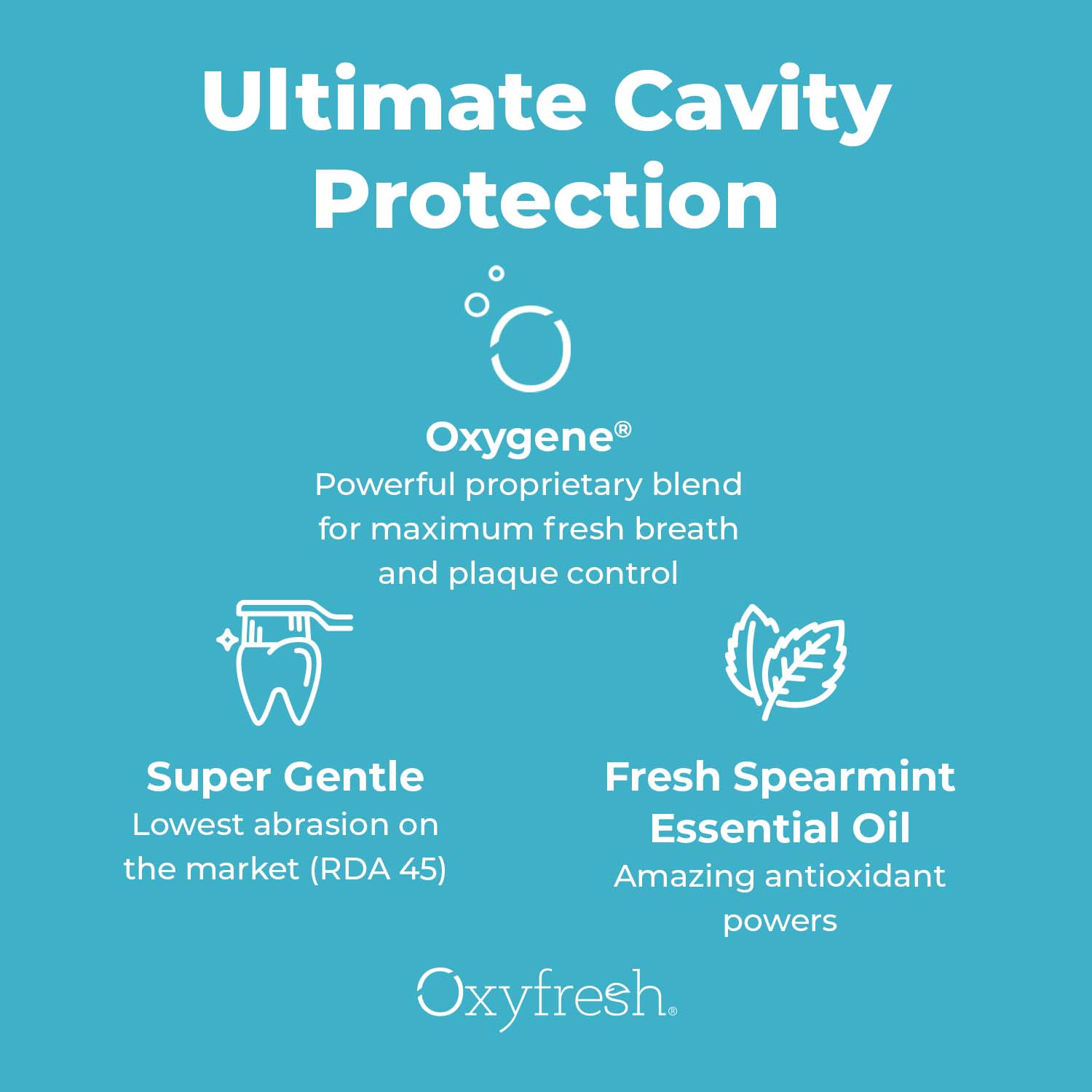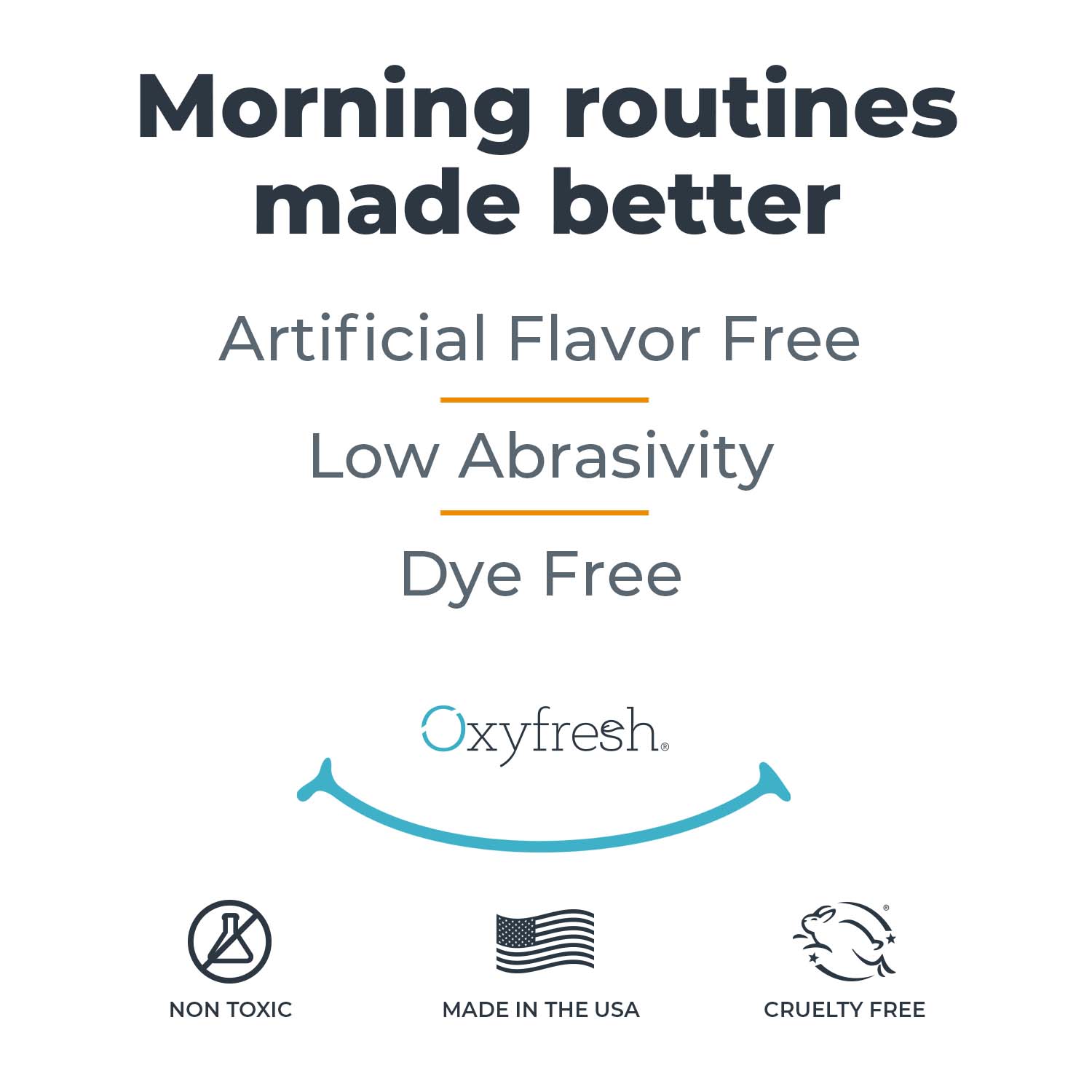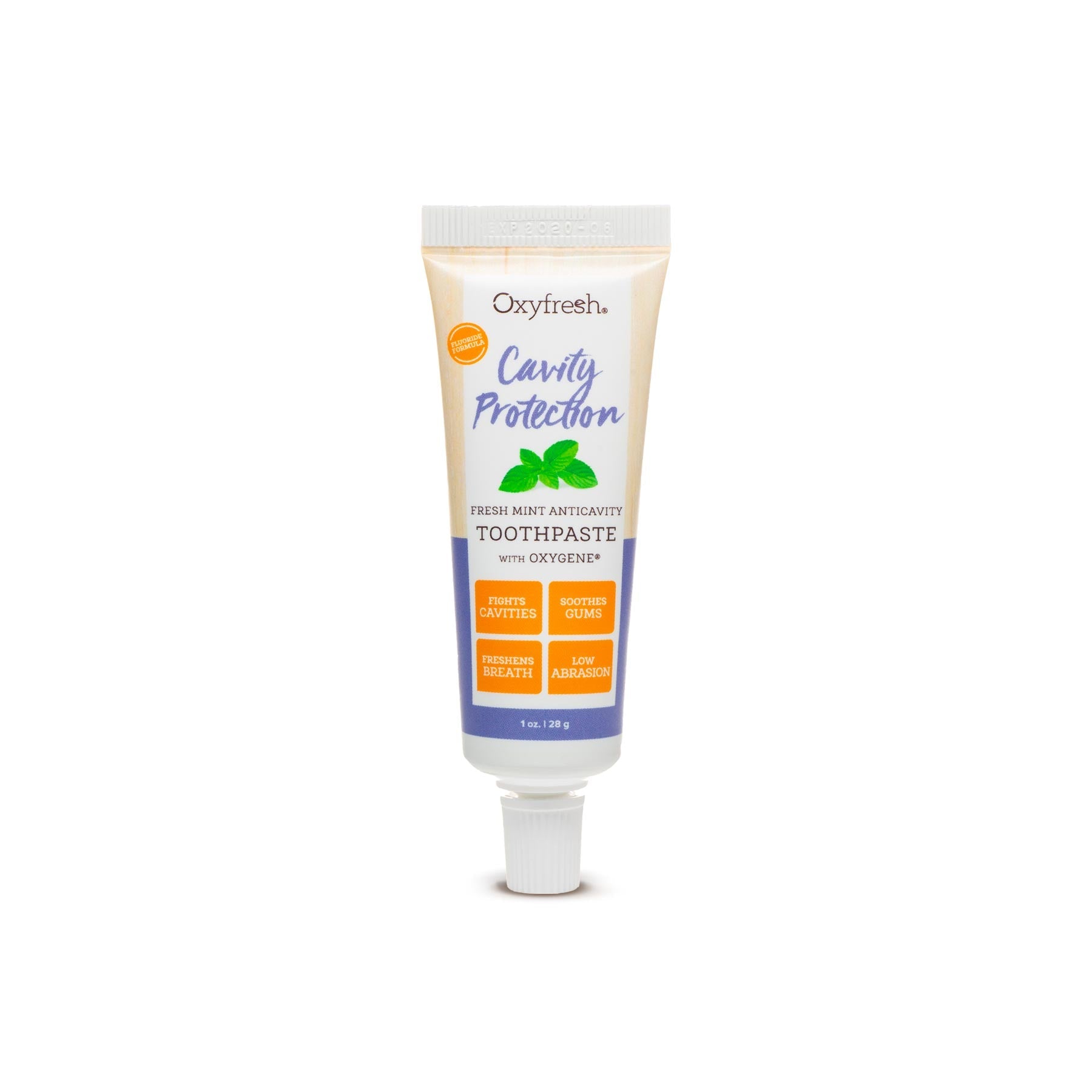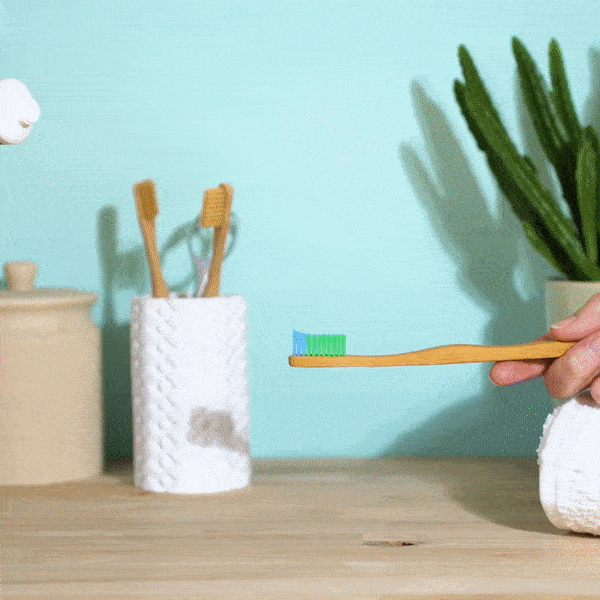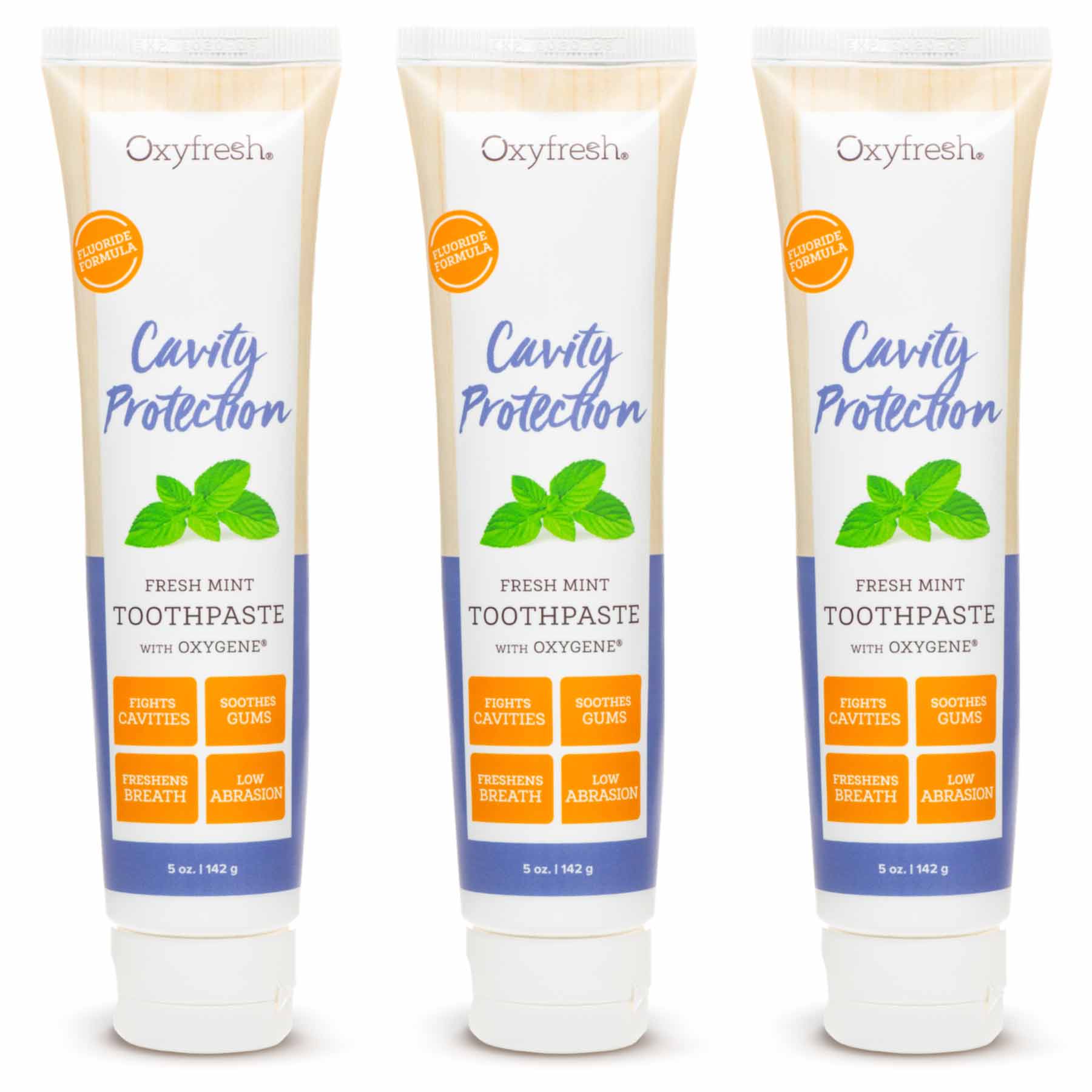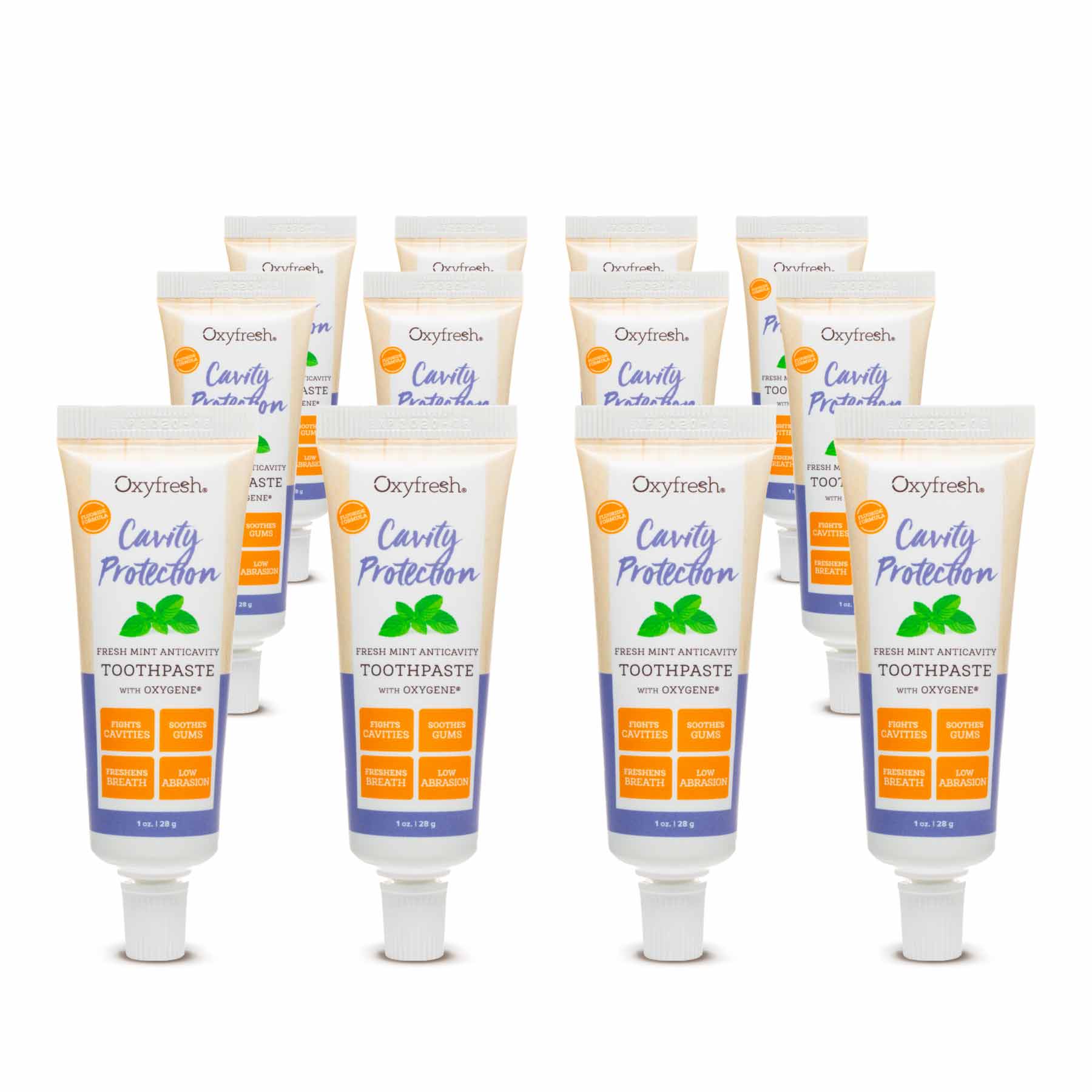 Cavity Protection Toothpaste | For Sensitive Teeth With Fluoride
This cadillac of toothpastes comes standard with everything you need for superior cavity prevention, everyday whitening, and off-the-charts fresh breath.

Free toothbrush with all toothpaste orders, no promo code needed.

ULTIMATE CAVITY PROTECTION – When it comes to preventing cavities, we picked what the pros use: non-staining neutral sodium fluoride. This tried-and-true active ingredient is proven to strengthen enamel for a cavity-free smile.
HELPS TOOTH SENSITIVITY – With one of the lowest abrasion indexes on the market, our toothpaste is guaranteed to be gentle on your enamel so you can enjoy all your favorite hot/cold food & drinks once again.
ALL-DAY FRESH BREATH – This is where our special ingredient Oxygene® shines. It actively seeks out bad breath-causing compounds and makes them disappear, just like in the cartoons.
MILD & REFRESHING – No artificial flavors here, just pure spearmint essential oils delivered in just the right amount. Goldilocks approved.
NATURALLY WHITENING – We like to play it safe when it comes to your enamel; that's why we rely on the gentle scrubbing power of hydrated silica (think of smooth gel sand) to keep your pearly whites stain-free without sensitivity.
We took the best of science and nature to bring you a better kind of fresh every time you brush!

Active Ingredient: Sodium Fluoride 0.235%

Inactive Ingredients: Sorbitol, Hydrated Silica, Glycerin, Water (Aqua), Chondrus Crispus (Carrageenan), Sodium Lauryl Sulfate, Flavor*, Titanium Dioxide, Stabilized Chlorine Dioxide (Oxygene®), Sucralose, Zinc Acetate.
*Contains Peppermint essential oil. Gluten Free.
Oxygene® (Stabilized Chlorine Dioxide): It's our special ingredient that makes us different. This safe, non-toxic oxidizer works instantly to neutralize the bacteria that cause plaque and bad breath.
Essential Oil: Nature's favorite freshener helps to hydrate, soothe and give you that clean, just-from-the-dentist feeling.
Zinc: Trusted in dentistry to help freshen the breath, remineralize teeth and protect from decay.
Sodium Fluoride: This naturally occurring mineral is the gold standard for the prevention of cavities. Bonus – it helps with tooth sensitivity!
Twice a day, of course!
An anticavity toothpaste so refreshing, you may actually want to brush the full 2 minutes! Apply a pearl-sized drop and brush each tooth using a GENTLE, circular motion. (We know you're tough, but teeth love a soft touch.) For the ultimate freshness, follow with our Cavity Protection Mouthwash.

Bet you've never seen this disclaimer before!
This enamel repair toothpaste isn't for pets. Fluoride is awesome for people, but not for our furry friends. They're also not a fan of mint, so if you're looking to freshen your pet's breath, try our tasteless and odorless pet toothpaste instead.
The best
Love everything about this toothpaste. I use this and the fresh breath mouthwash and feel confident.
Great Product
I really like the Cavity Protection Toothpaste and Mouth Wash. I wish they were available in travel sizes.
Tooth paste
My tooth paste is great!The cavity protection formula is Not to strong on flavor,just right. It Whitens my teeth and helps prevent cavities. I'm pleased with the tooth paste.
No more pain!
I've used sensitive toothpaste before and well known brands. Yes those brands worked too BUT it took awhile before I felt relief. Oxyfresh Cavity Protection / Sensitive Teeth formula provided me instant relief on the second evening brushing. I use this particular product at night while I still enjoy their Fresh Breath lemon mint toothpaste upon awakening in the morning. Love this brand. It works!
Texture
I'm a very big advocate of all things Oxyfresh… ii fill in (hygienist) in offices everywhere in OKC area and never fail to take my Oxyfresh products and recommend them with handwritten name, products website and MANY patients follow thru with the orders.
I have noticed the toothpaste seems to be getting more thin and actually 'runny' now… and patients have brought it to my attention as well. It has come to the point that it is 'messy'. I wish you would reconsider the makeup of the consistency as some patients have actually tried to get off of it because of that issue. I'm sure I'm not the only one that has noticed this issue.
Thank you for the attention to this problem.
Judith E Smith RDH
Since 1998
I've been using oxyfresh toothpaste and mouthwash for 25 years or so. I haven't had a cavity since using it. Genetics and oxyfresh is the reason for this.
The town in Idaho where these guys are from is great too.
Thanks oxyfresh.
Toothpaste
Have used this for years & pleased with how it keeps my teeth & mouth.
The best toothpaste
Over my 70 years I have used different toothpastes. By far, Oxyfresh is my toothpaste of choice and will be for the rest of my life!!
Cavity Protection Toothpaste | For Sensitive Teeth With Fluoride
Cavity Protection Toothpaste | For Sensitive Teeth With Fluoride