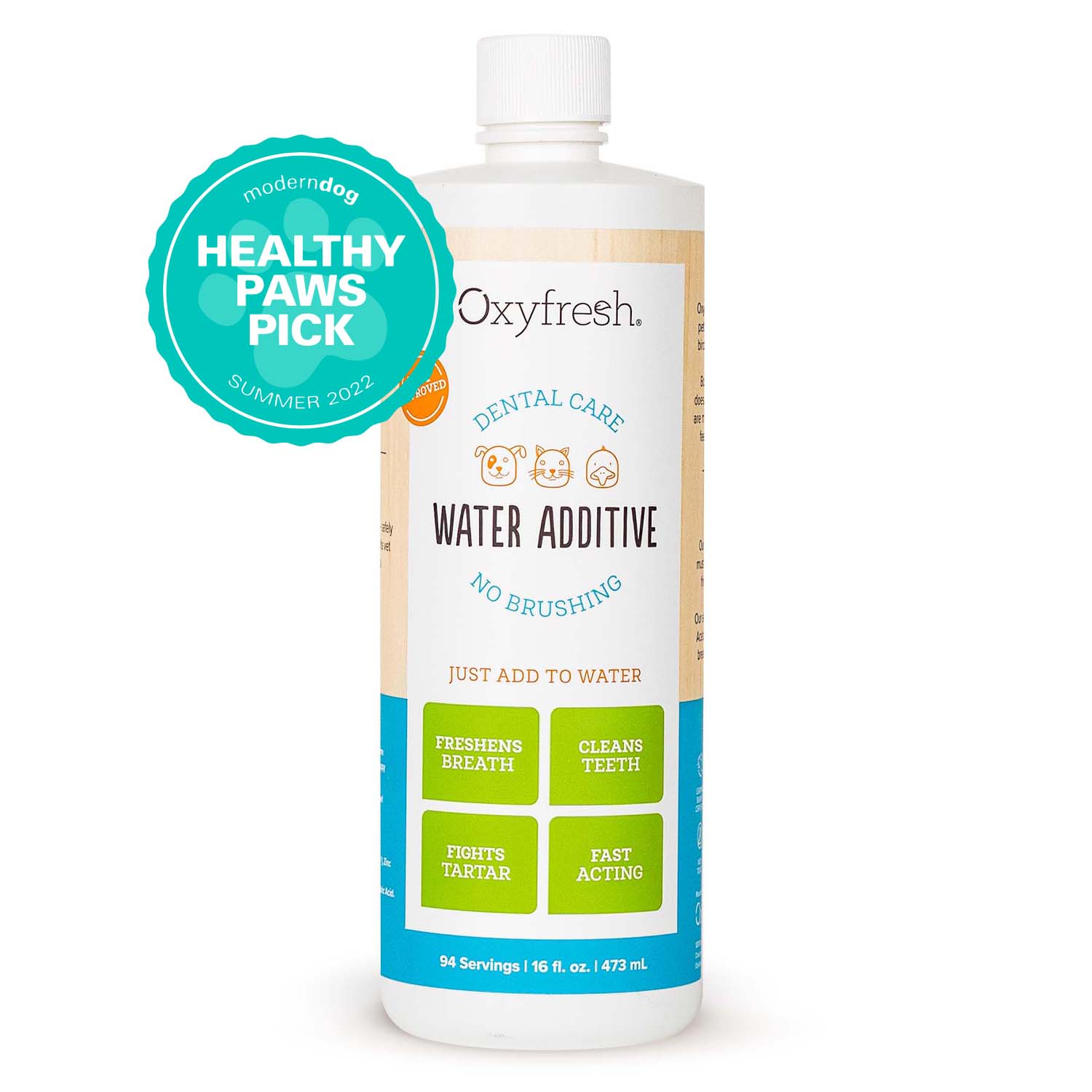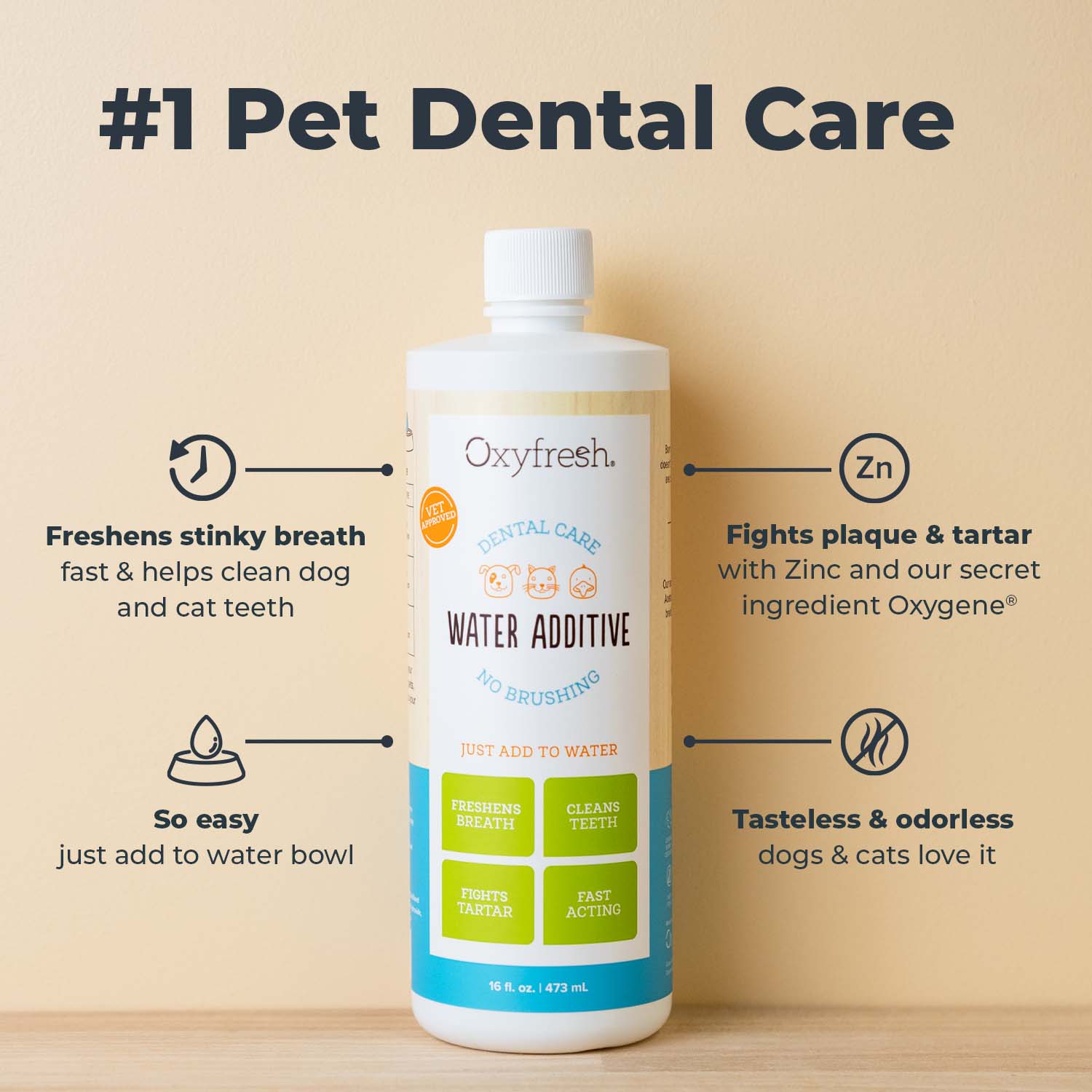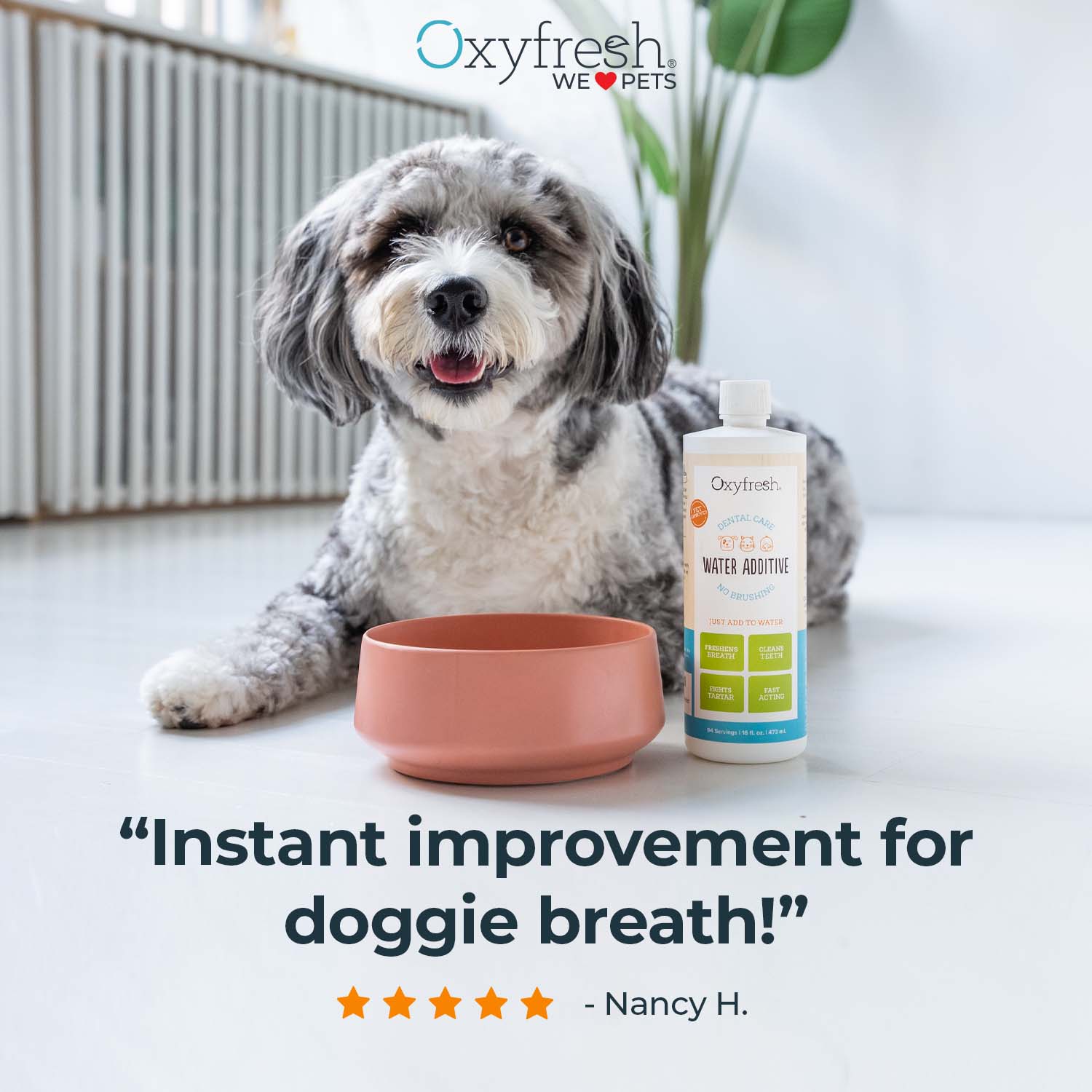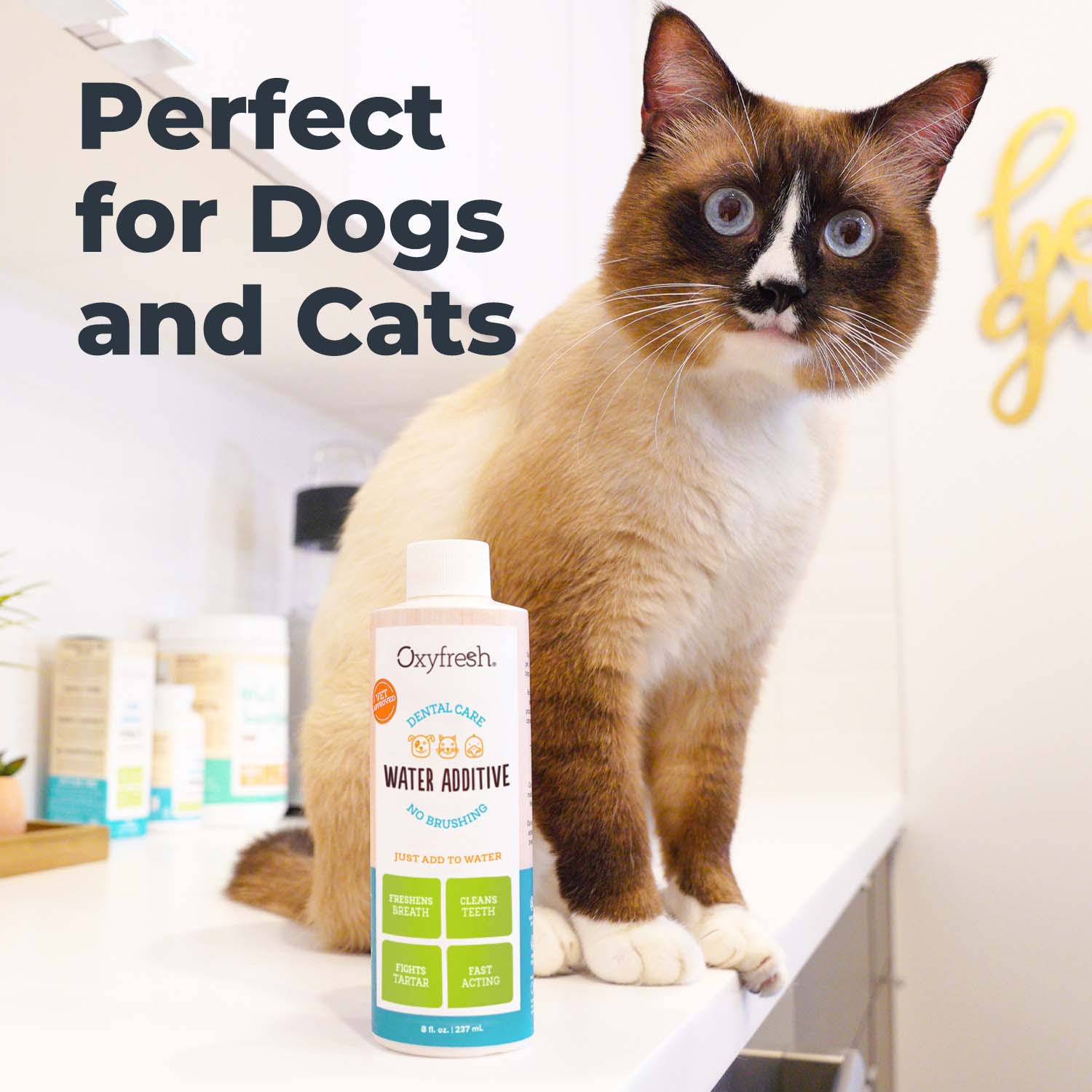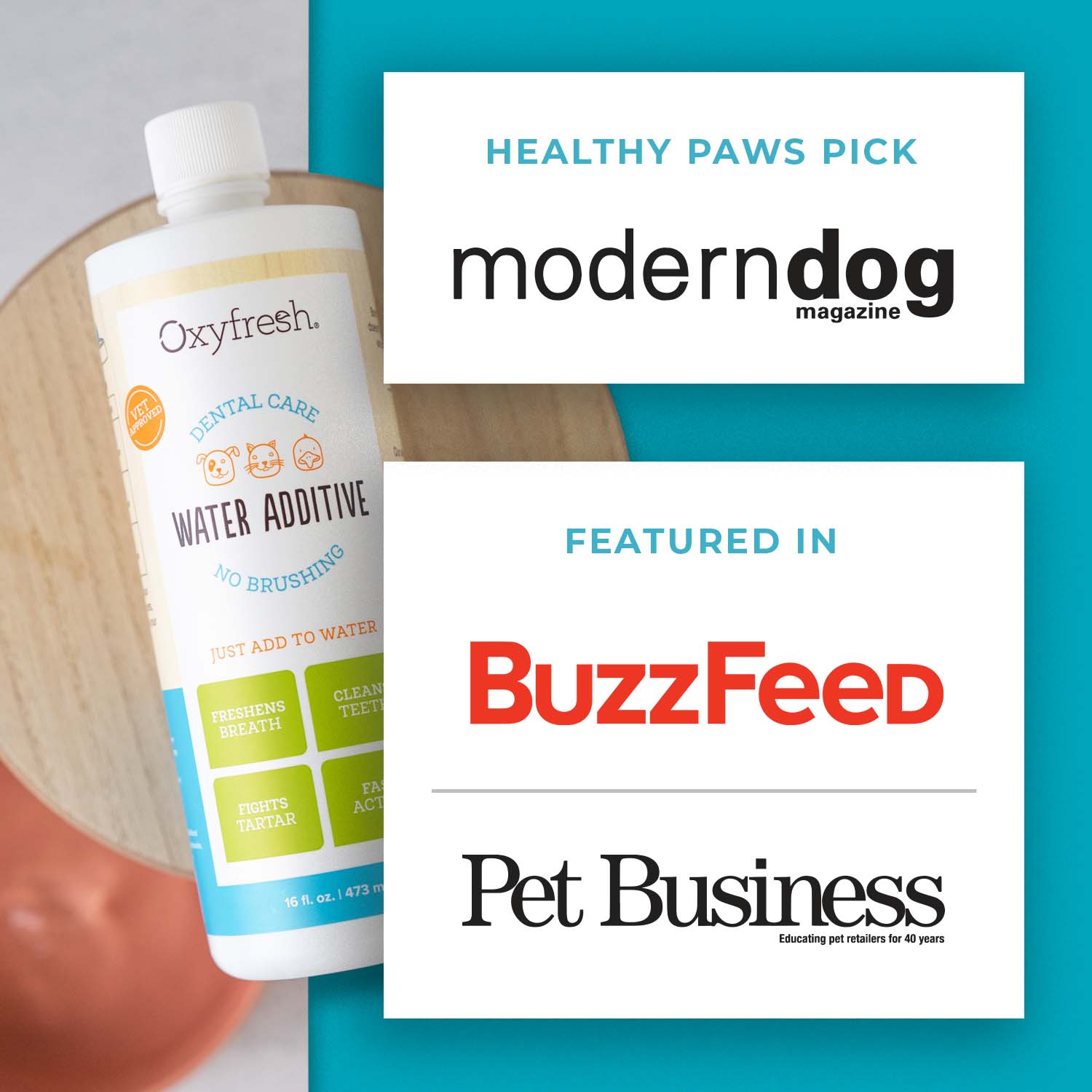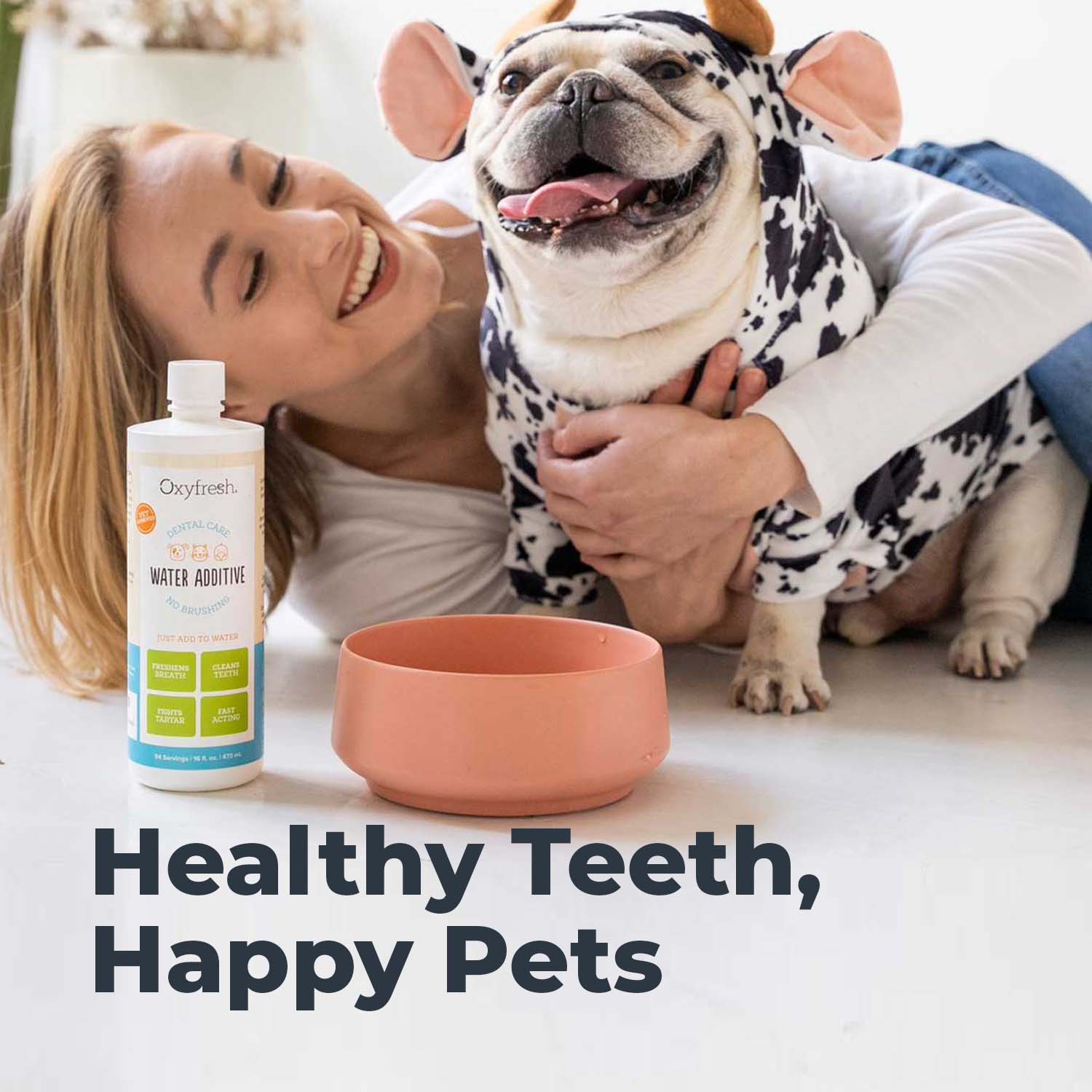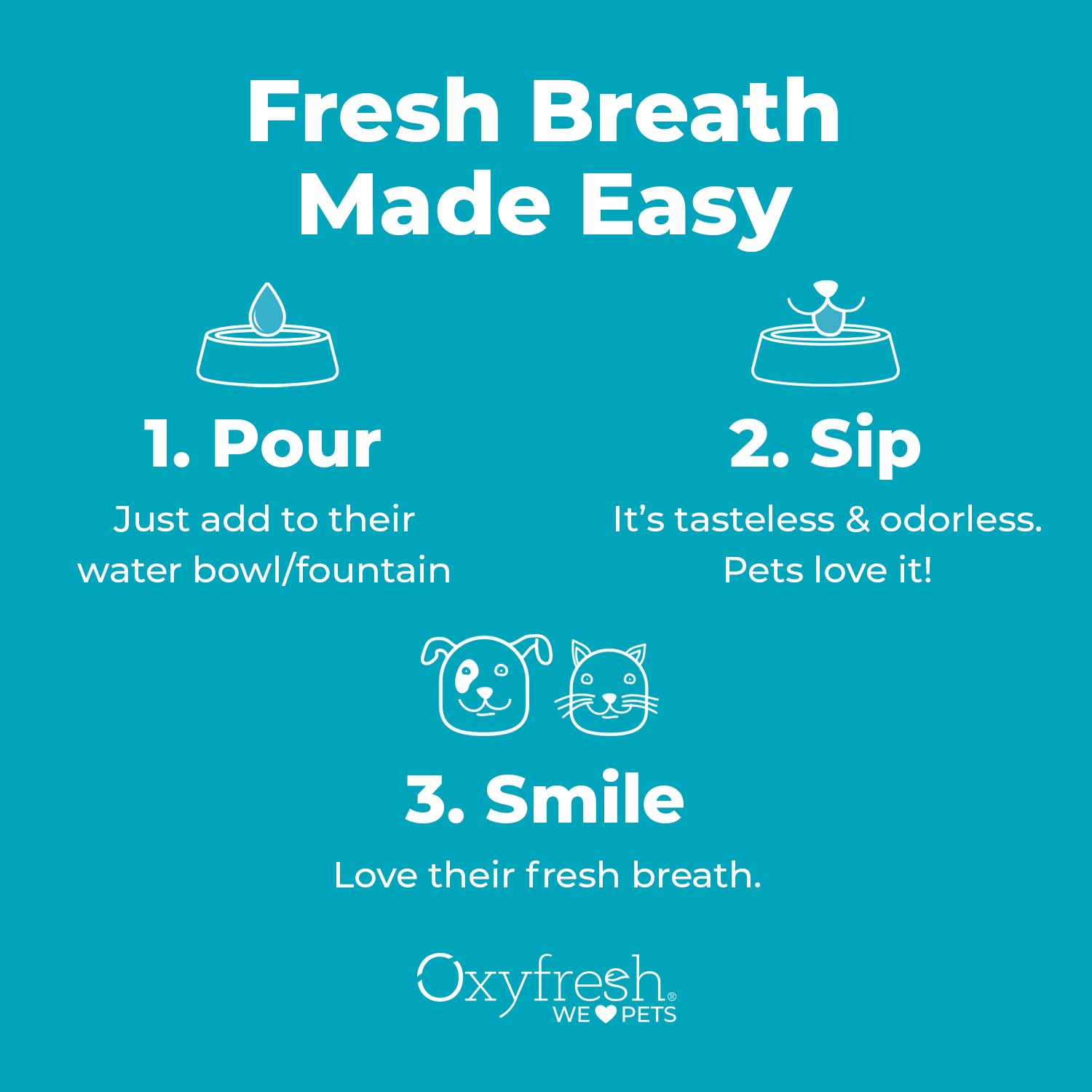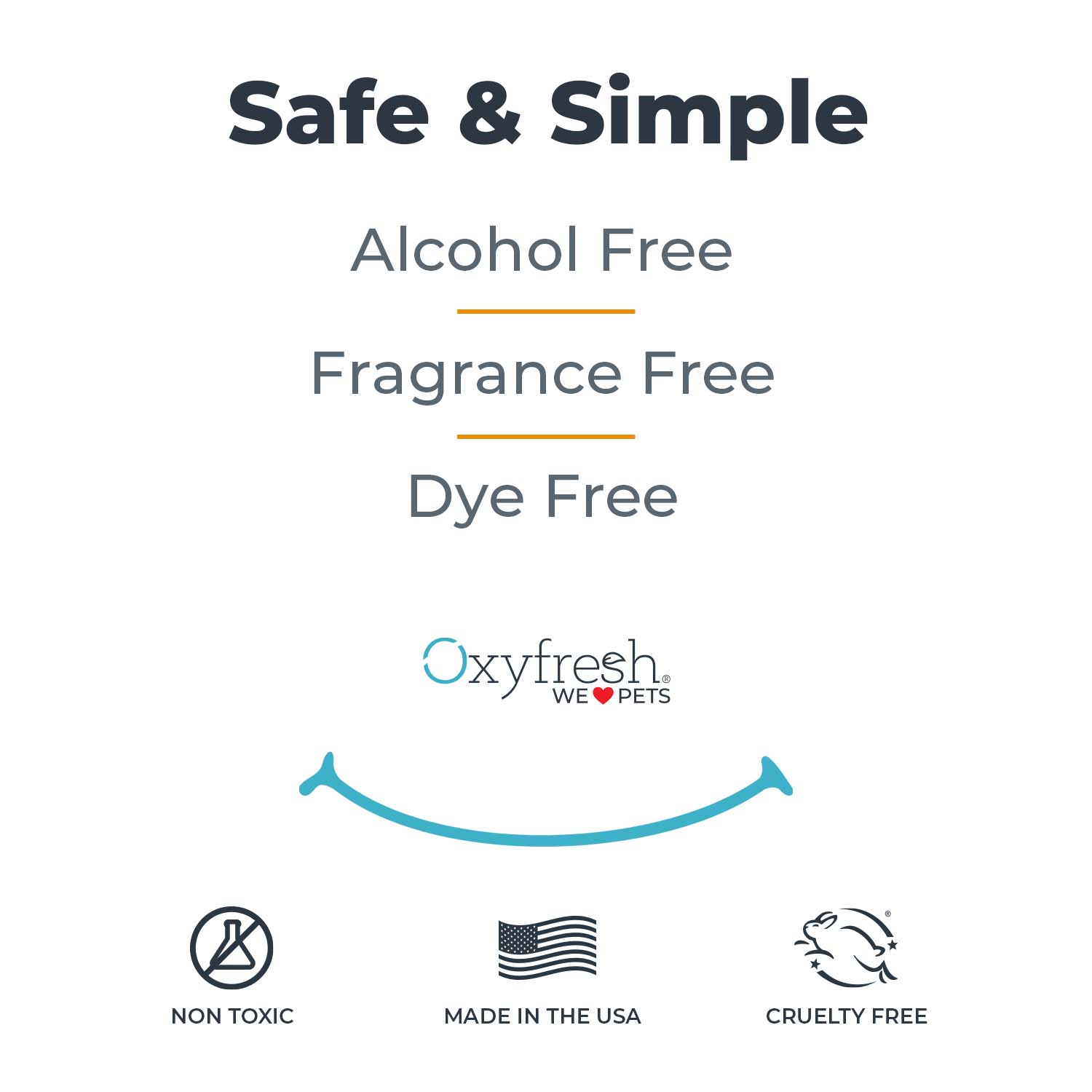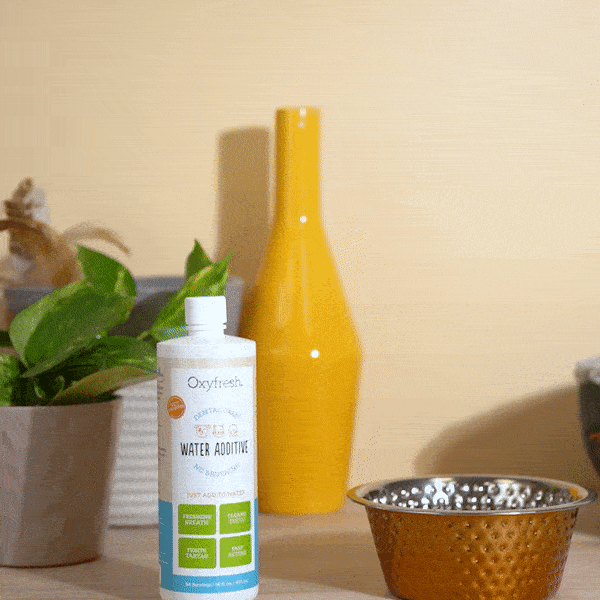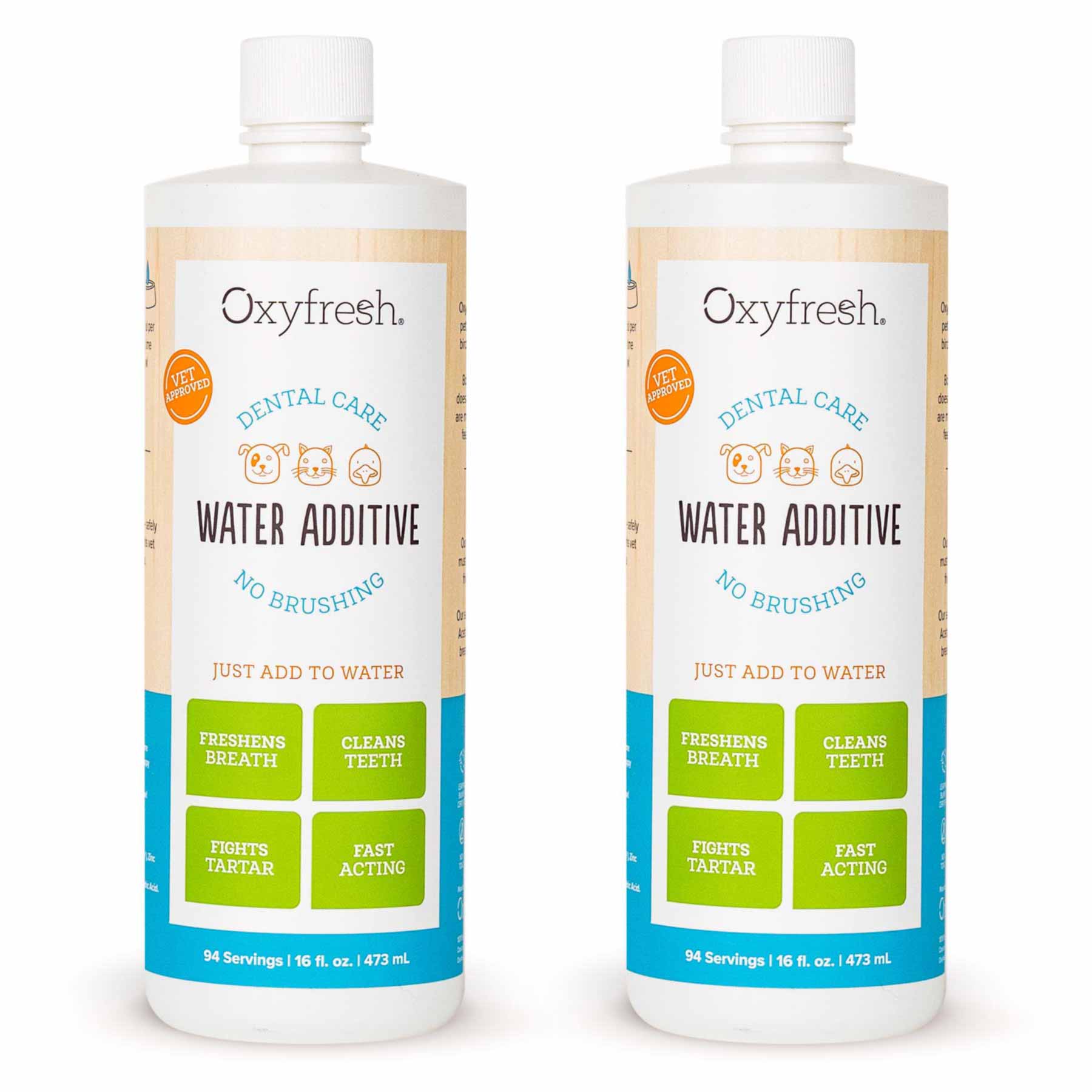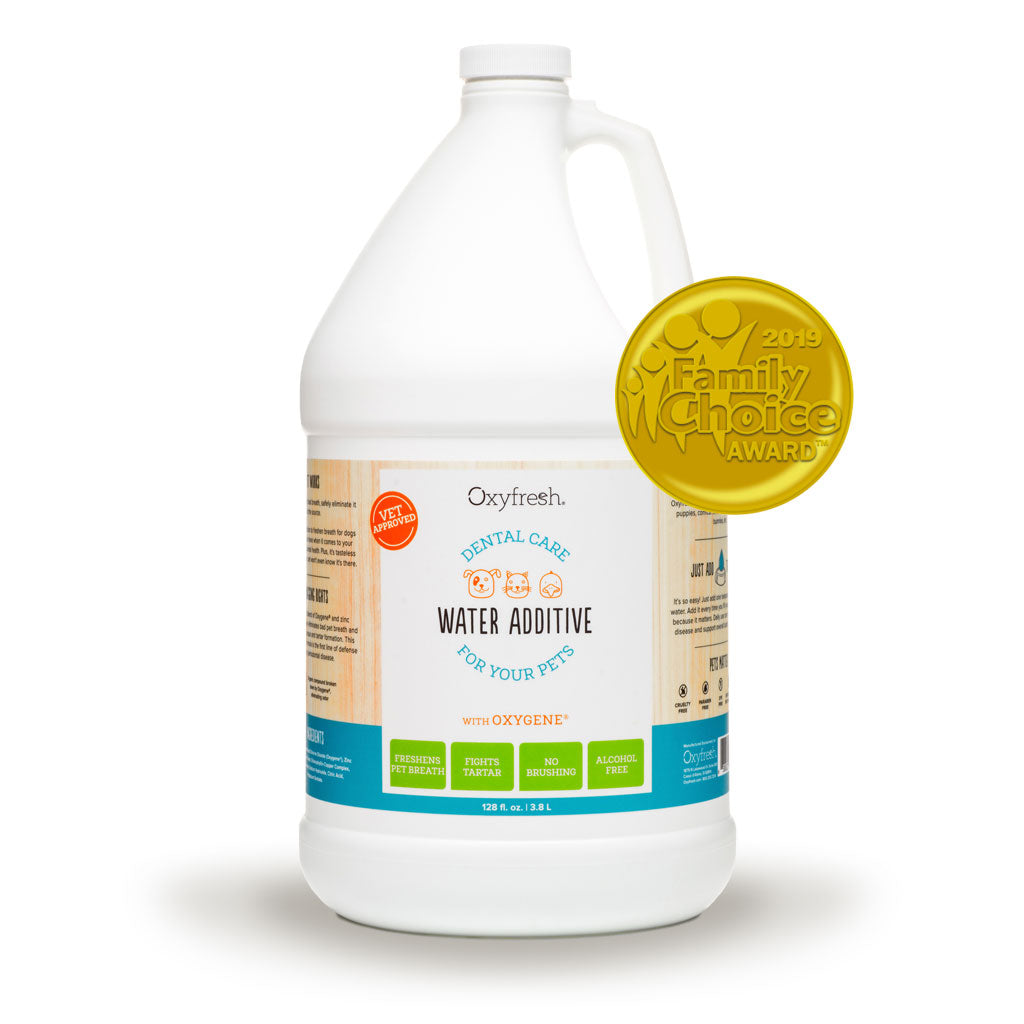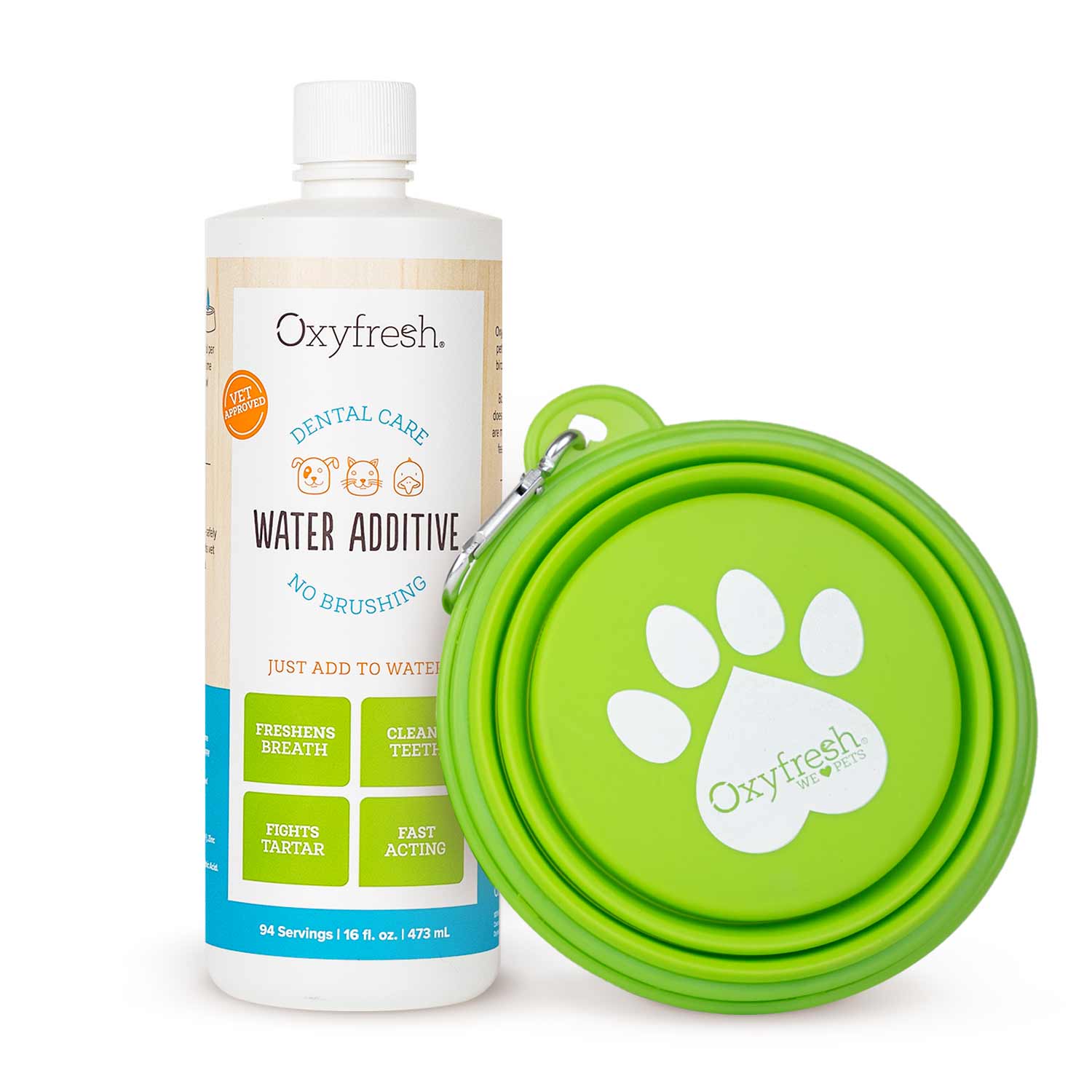 Premium Pet Dental Water Additive | Easiest Way to Eliminate Dog and Cat Bad Breath
Paws down, the easiest way to freshen your pet's breath, fight plaque & tartar, and keep their gums in tip-top shape. Just add to water bowl and call it good!
FRESH PET BREATH – It's too bad pets can't swish, so we developed the next best thing. Our proprietary bad breath-fighter Oxygene® works on contact to safely eliminate odors caused by bacteria in your pet's mouth. No other water additive has it!
FIGHTS PLAQUE & TARTAR – By age 3, 80% of dogs & 70% of cats have gum disease, which can take years off their lives. Give your pet a leg up with our water additive – it fights plaque every time they drink!
NO BRUSHING NEEDED – Toothbrushing can be a fur-flying experience for many pet parents. Our no-fuss, no-brush water additive gives the same benefits, with none of the hassle. Just add to water bowl!
PICKY PET APPROVED – It doesn't matter how well a product works if your pet won't go near it. This cat & dog breath freshener is 100% free of scents & flavors, so even the pickiest pet will drink it.
IT WORKS – If you've tried everything else, you might as well try something that works! Trusted by pet parents to clean dog and cat teeth and just like all of Oxyfresh products, it is made in the U.S.A. with only the highest quality ingredients.

We bring pets a better kind of fresh every time they drink!

Ingredients: Water (Aqua), Sodium Benzoate, Sodium Citrate, Stabilized Chlorine Dioxide (Oxygene®), Zinc Acetate, Sodium Hydroxide, Chlorophyllin-Copper Complex.

Gluten Free
POUR. SIP. SMILE.

Fresh breath made easy for dogs, cats & all the critters you love! We know water bowls come in all sorts of sizes and every pet is unique, so we developed a dosage chart to help you get started:

8 oz. water (1 cup): 1/4 tsp. Sensitive pets: 1/8 tsp.

16 oz. water (2 cups): 1/2 tsp. Sensitive pets: 1/4 tsp.

32 oz. (4 cups/1 quart): 1 tsp. Sensitive pets: 1/2 tsp.
CARAGEENAN is an INFLAMMATORY AGENT
Carageenan is an inflammatory agent they give to rats in the lab to get them inflamed then test anti-inflammatory drugs on them. It also causes stomach cancer over time.
Hello Jeannine,
Thank you for your review and for letting us know your concerns. We work closely with dentists to develop our dental products to ensure they are safe and non-toxic. The Chondrus Crispus (carrageenan) we utilize is a natural edible red seaweed found in the Northern Atlantic and is food grade, not degraded carrageenan which is not food grade. All of our products are safe, non-toxic, and made in the U.S.A. with only the highest quality ingredients. We are also Leaping Bunny certified, which means we don't conduct any product testing on animals. To ensure our pet care is safe for your sidekick, we only use PETA-approved testing facilities. I hope this addresses your concerns. If you have any other questions or concerns, please don't hesitate to reach out to us. We are always happy to help.
-Hannah, Customer Support Assistant
Awesome!
We love this product! Our 4 inside cats absolutely love it and it's helped them so much! We highly recommend this product
Water additive for dogs
Have used for many years and vets checks always going no putting them under for expensive periodontal cleanings for years. It really works.
Best thing ever!
This has helped my dogs smelly breath so much!! Super easy to use without having to brush their teeth every night! I definitely recommend this product!
It works
I have been using this product for over 20 years for our cats. No dental problems and no bad breath
Vet recommended
In December, I spent $1,400.00 at the Vet on one of my cat's teeth. My Vet asked me if I brush my cat's teeth and I said absolutely not. He laughed and said I don't know may people that do. However, he did say that a company called Oxyfresh has a product that can help instead of brushing. It's just added to their drinking water and it will help reduce the bacteria in the cat's mouth. Since I trust my Vet and due to the fact that I have have been using Oxyfresh for myself for decades with success, I jumped at the idea and started using it for all of my pets. I truly can't evaluate any fantastic success story in just six months but my cats and dogs drink it like it was just plain water with no additives in it.
Doggo's breathe smells sweet!
Since we started using this for both our pups their breathe smells good again. No more sour kisses! They don't even notice it's in their water! The vet also complimented their reduction in tarter build up since last years annual check up! They've been on oxyfresh for about 2 months! Whoohoo!
Using this for decades!
I put this in cat & dog water bowls daily. One Vet said he'd never seen a cat her age with teeth in such good condition. I used to sell some Oxyfresh @ shows. Worth the investment, please bring on more coupons Oxyfresh for your loyal customers! I also use the pet ear cleaner & oral gel. I use lemon formula for myself if I need to freshen up with mouth rinse on a long day. Once I was diagnosed with Gingivitis but never again after Oxyfresh.
The best ! two cats one dog !
Who wouldn't do the best for our dear furry children ?!!!