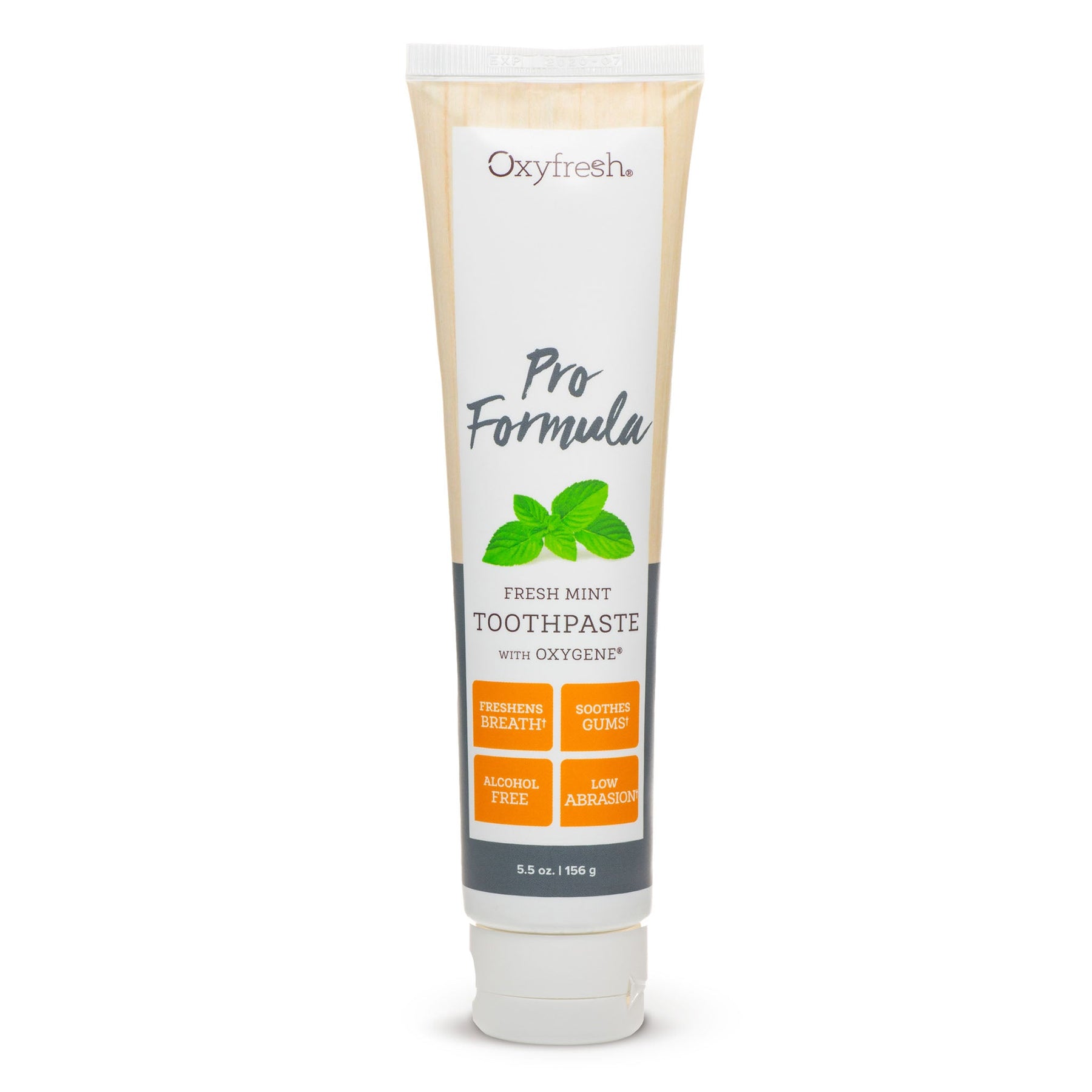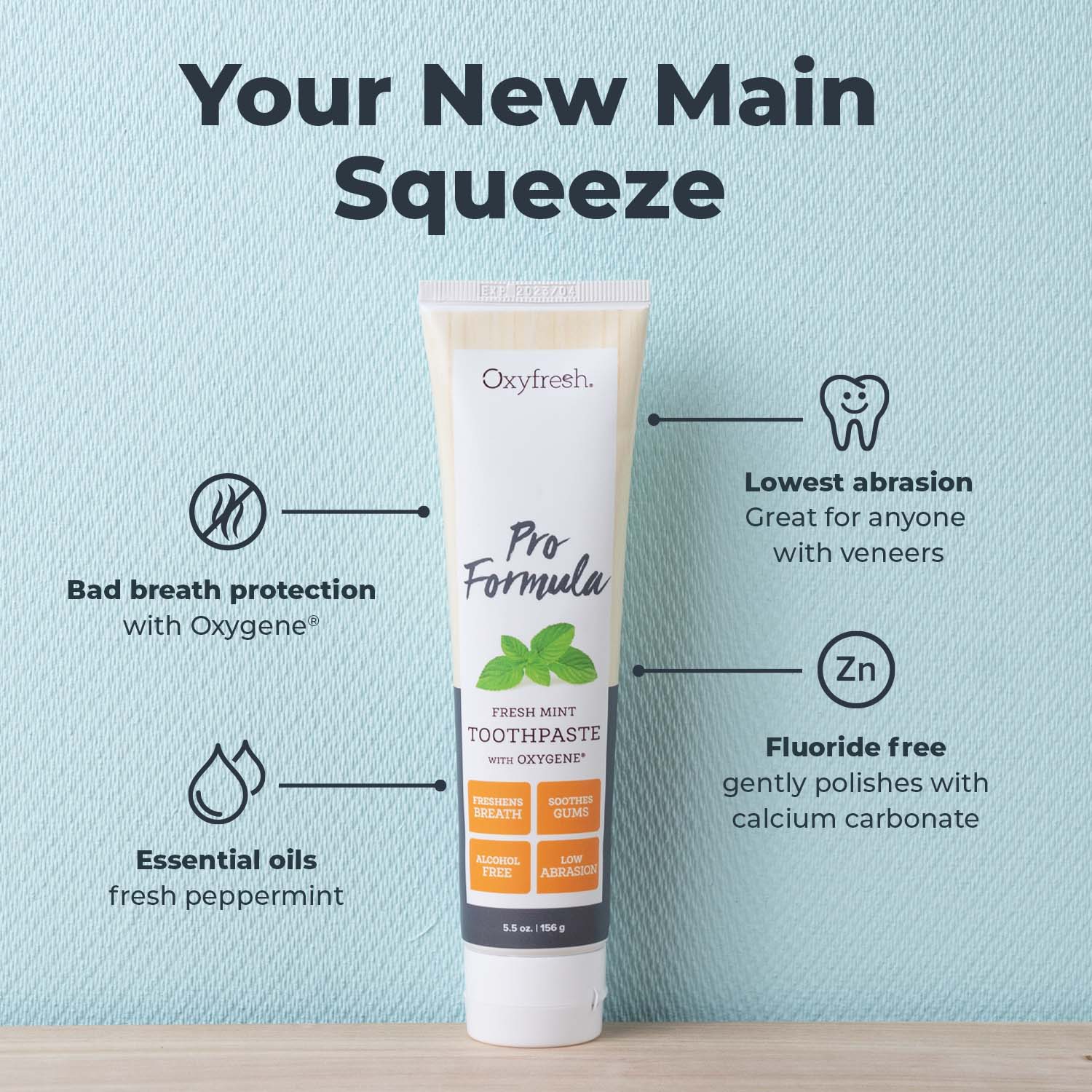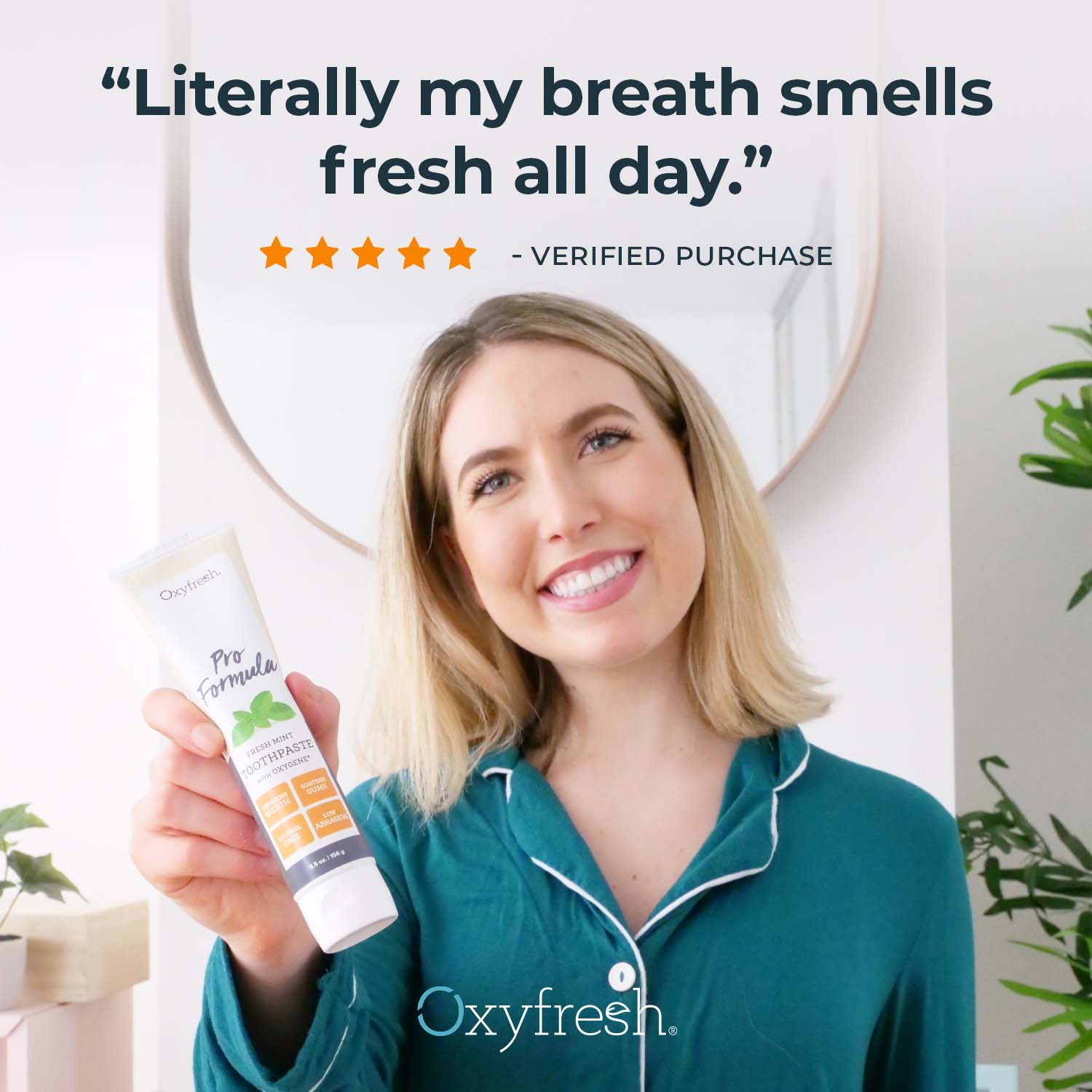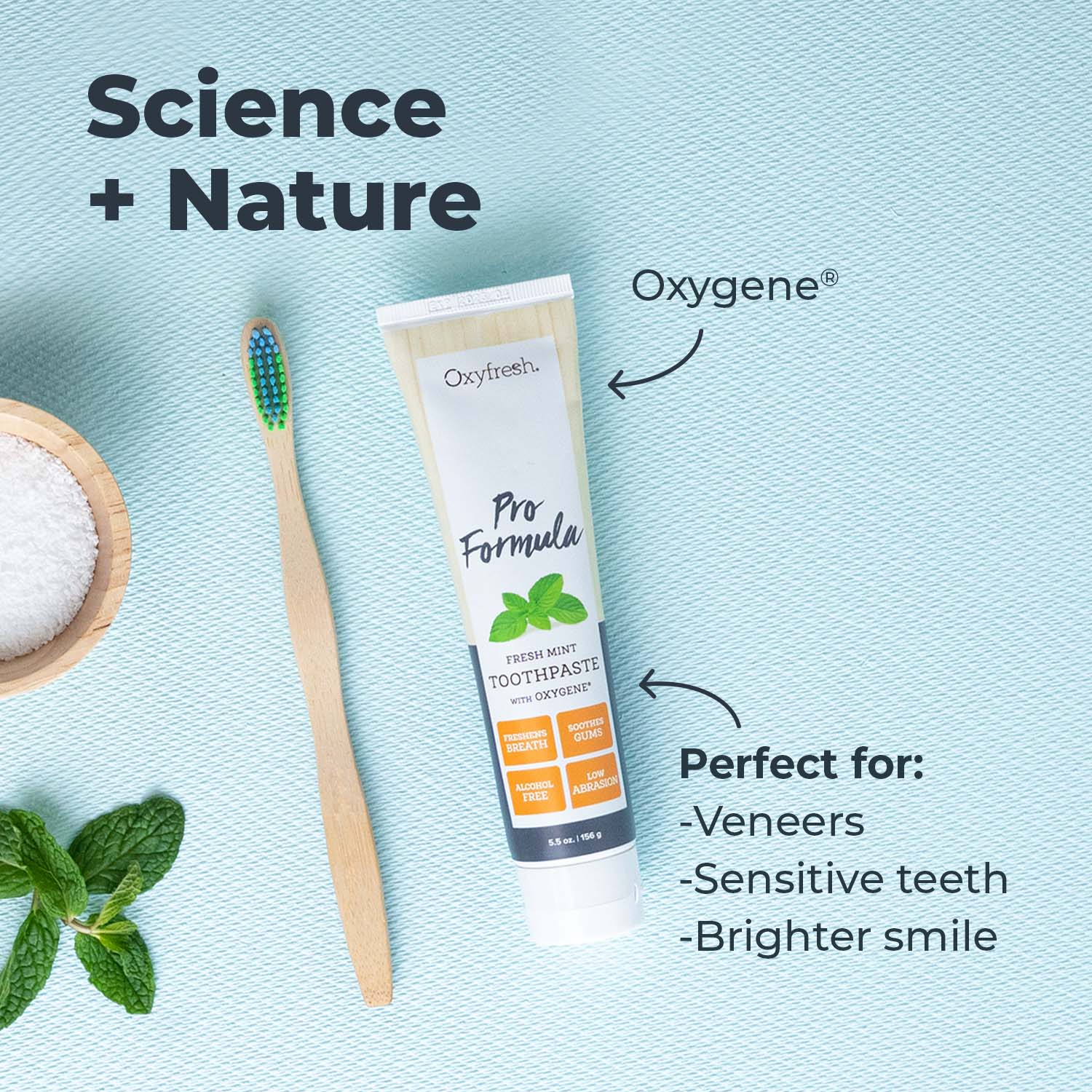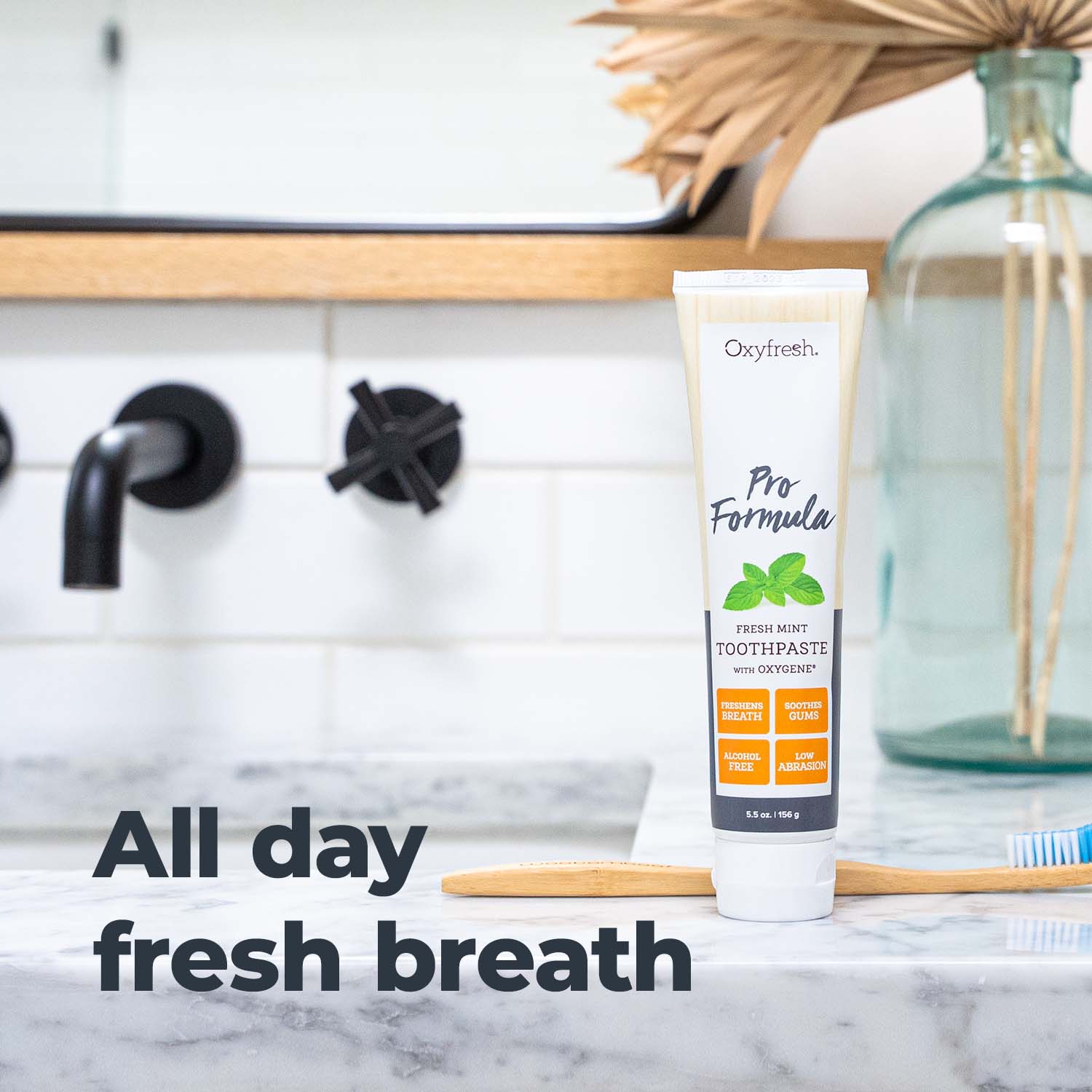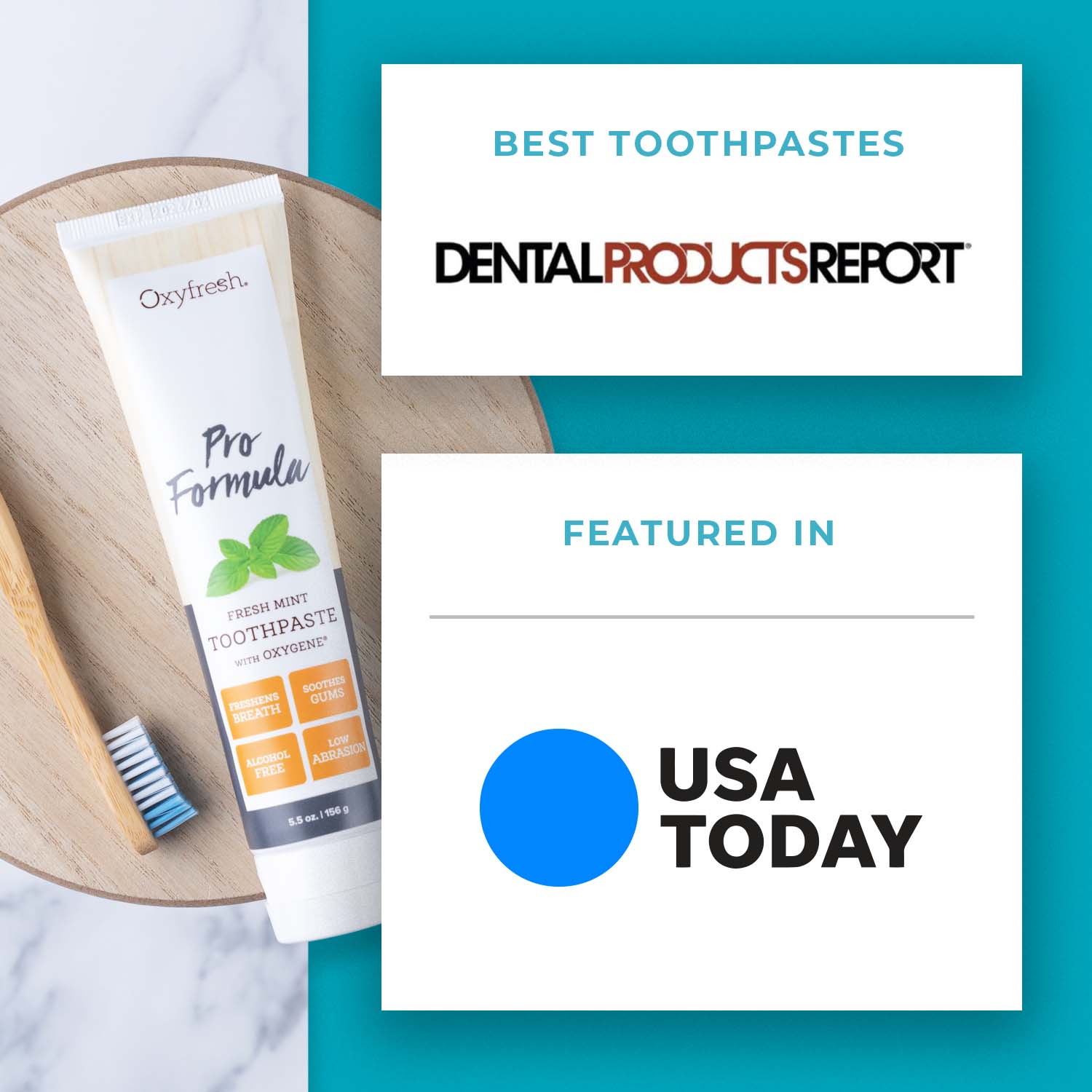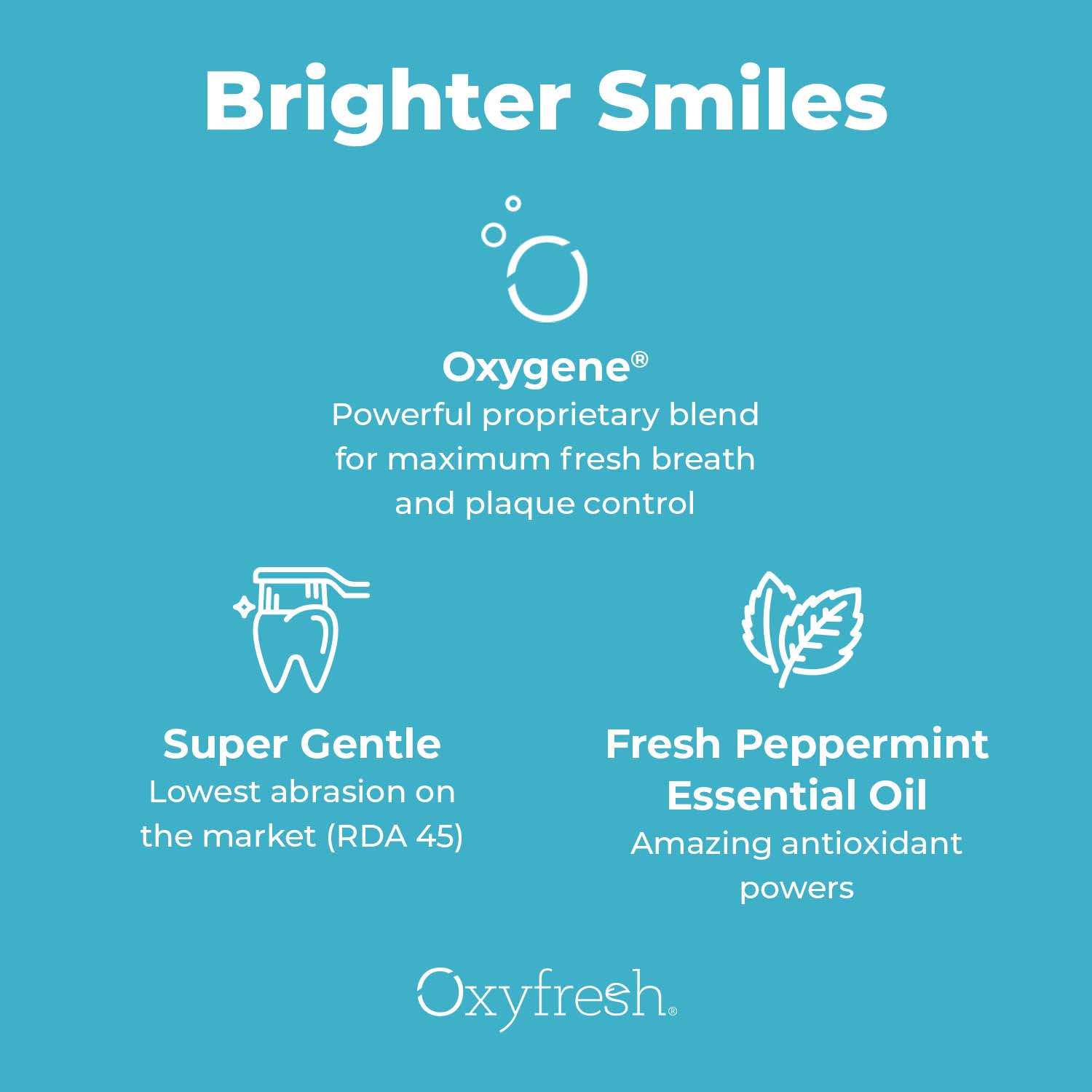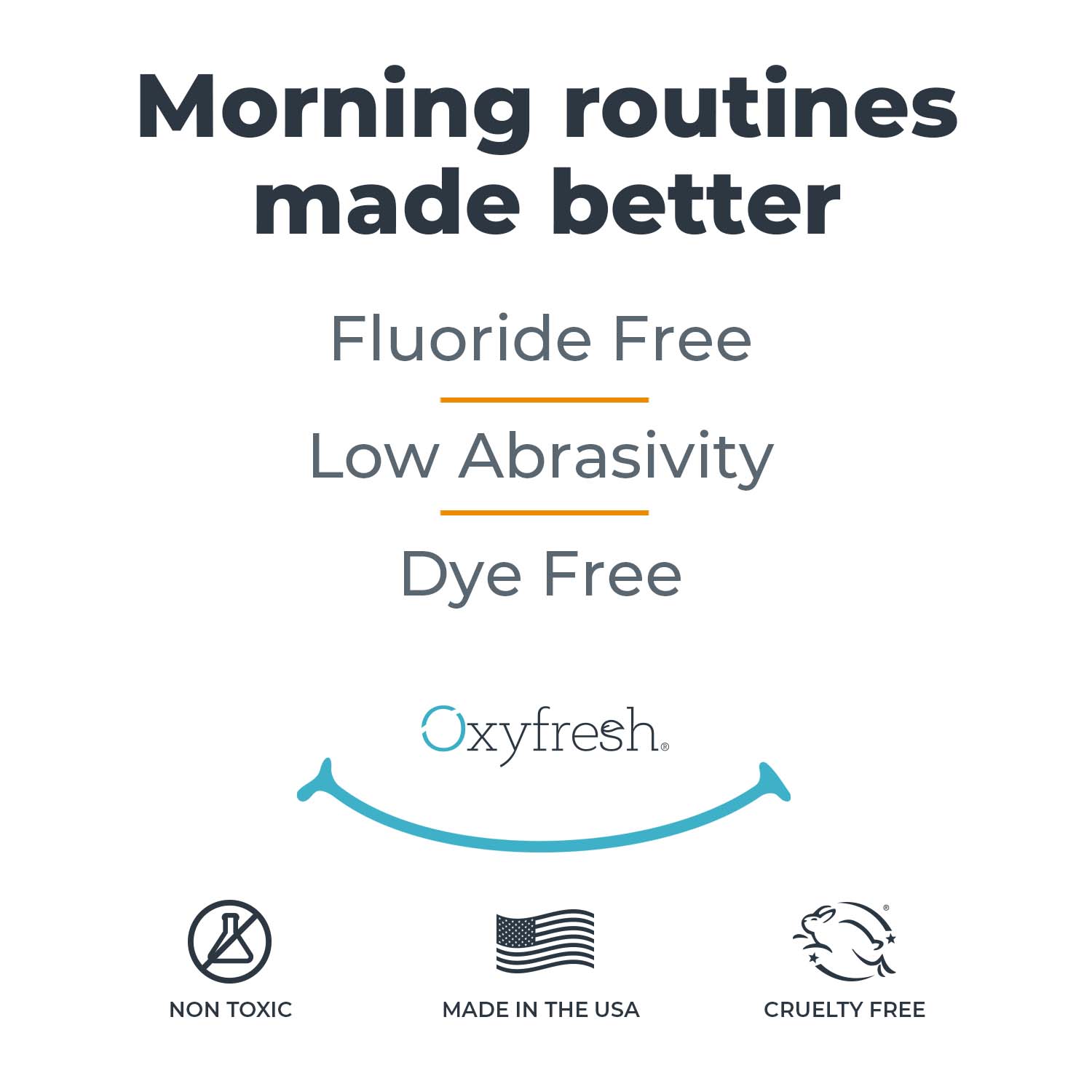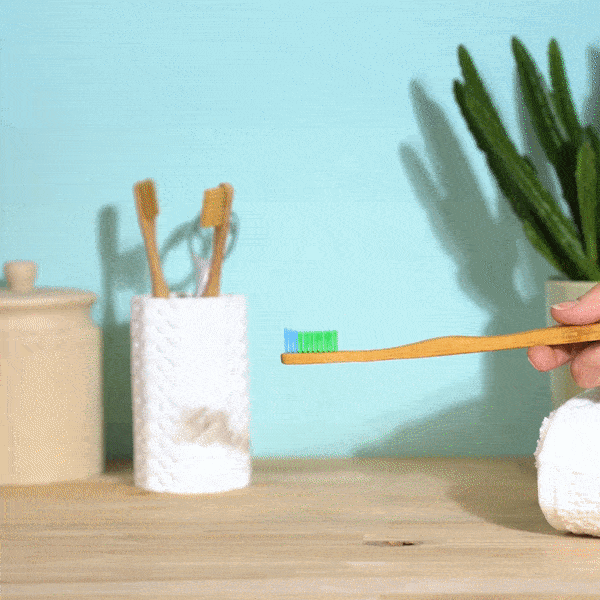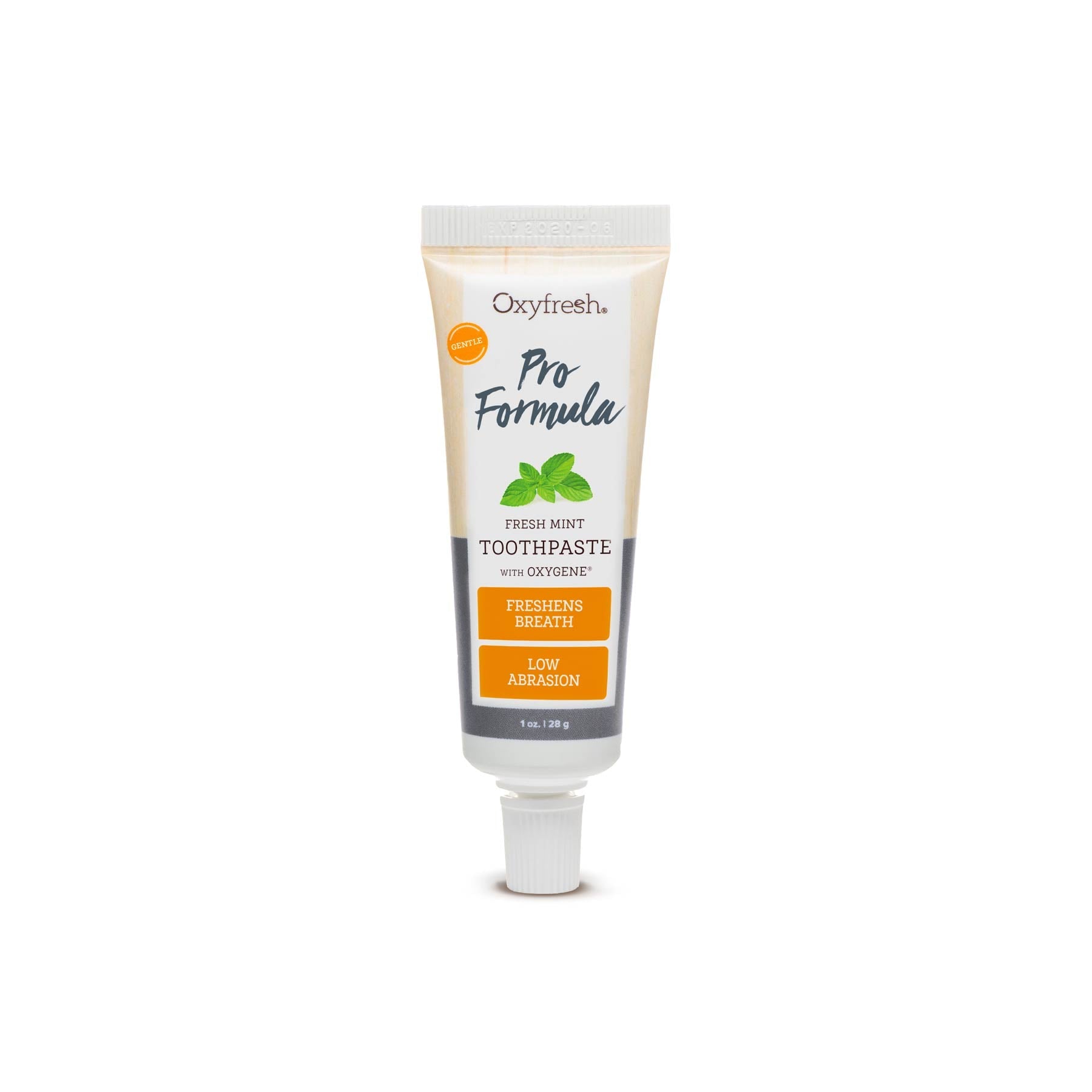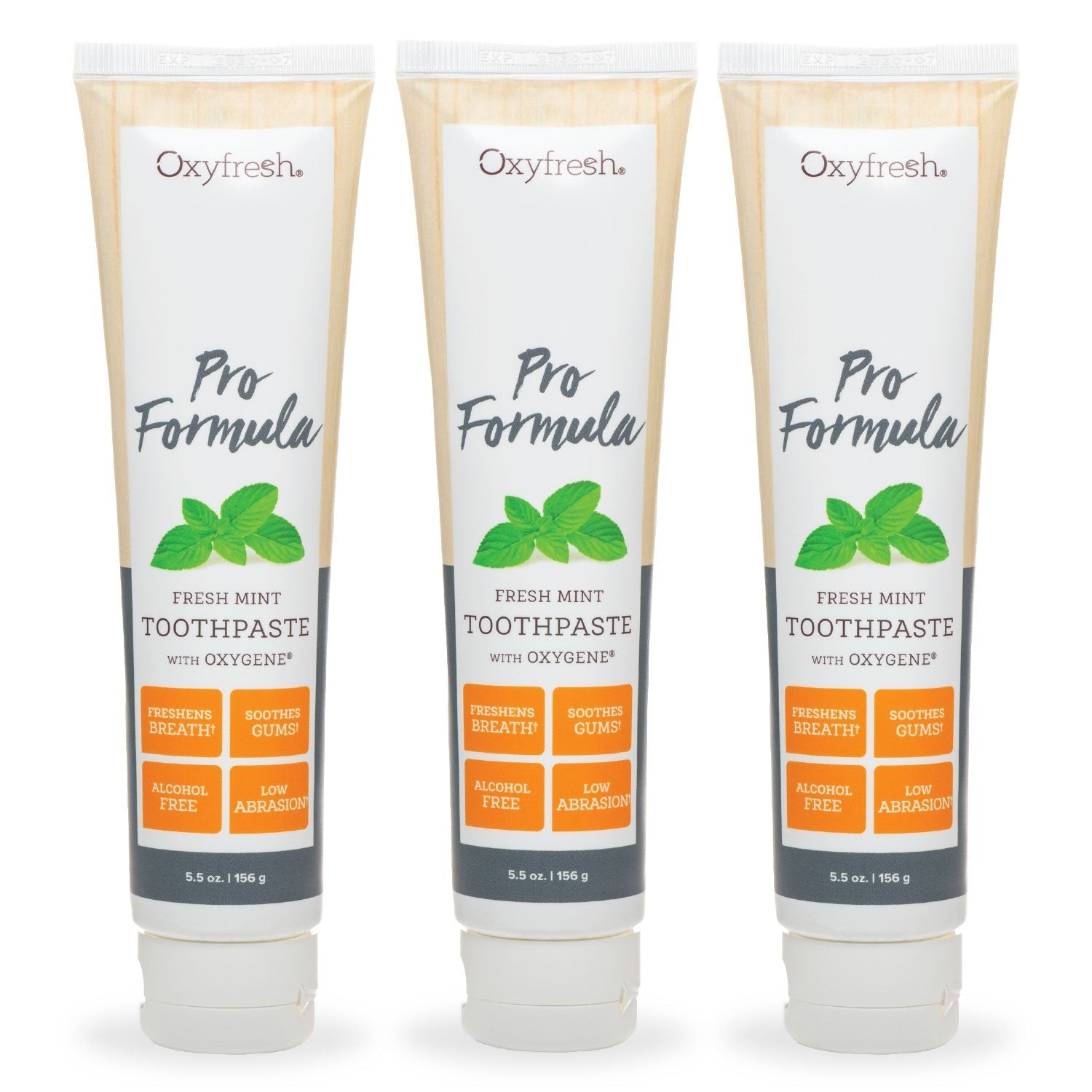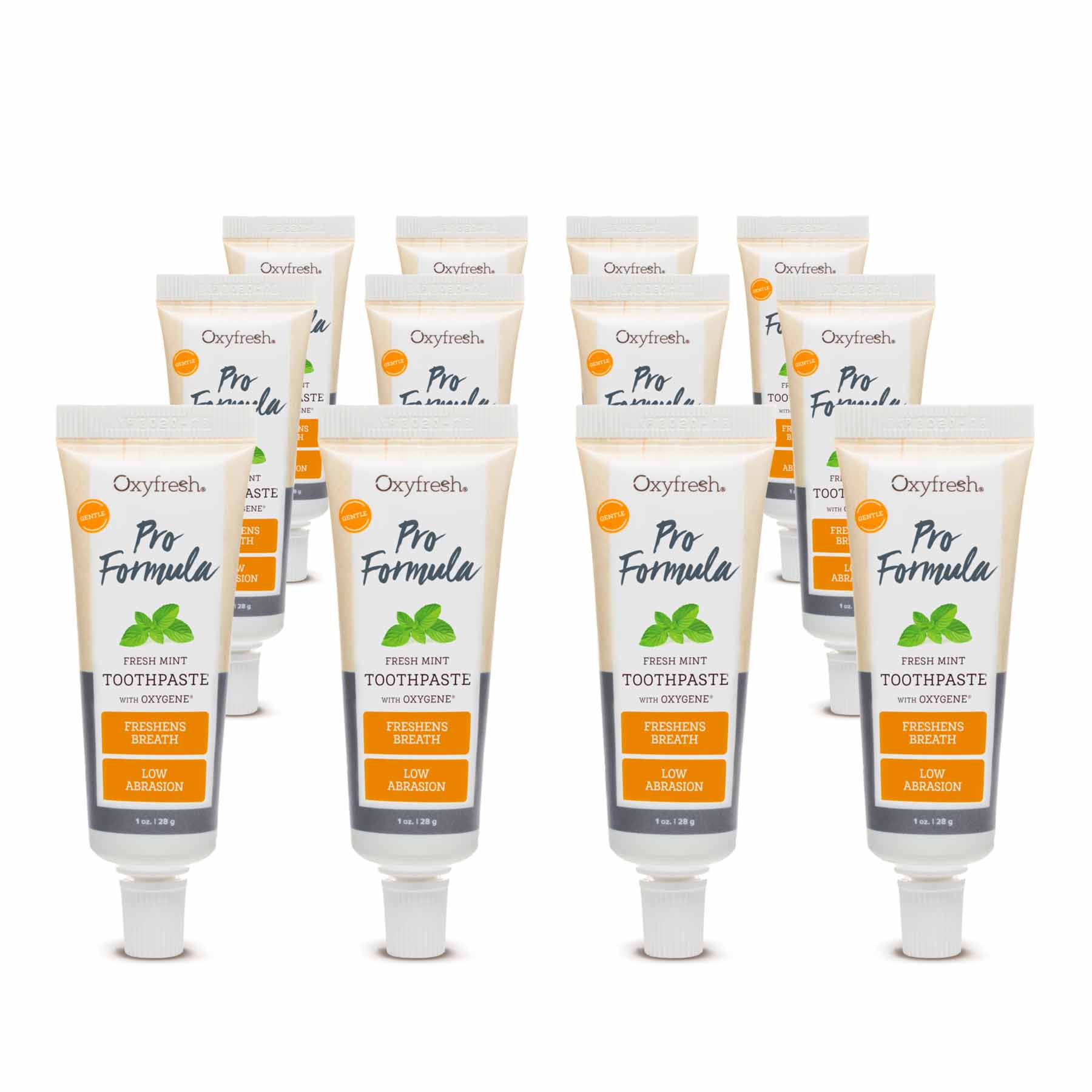 Pro Formula Fresh Mint Toothpaste | Brighter Smiles & Refreshing Breath | Fluoride Free
Like your favorite toothpaste ... but better. It's time to shake up your daily dental routine and enjoy your brushing experience and results. Want cleaner and brighter teeth? This is it.

Free toothbrush with all toothpaste orders, no promo code needed.
A BETTER TOOTHPASTE –  Yeah, this isn't your mamma's toothpaste. Skip the harsh OMG burning feeling and brush better with our oh-so gentle formula that hygienists love. 
BRIGHTER SMILE – Seriously, our pro formula toothpaste is perfect if you want a brighter smile without harsh ingredients that can actually damage your tooth enamel. Coffee, wine and tea are no match for our awesome formula. 
ALL-DAY FRESH BREATH – Our exclusive bad-breath fighter Oxygene® will instantly freshen your breath ... and keep it that way all day! #Science.
SUPER GENTLE – Skip the grit. We have one of the lowest abrasion ratings on the market (RDA 45). Thanks to our ultra-fine polishing ingredient calcium carbonate, our formula is guaranteed to be gentle on your enamel and delicate cosmetic work.
TASTES GREAT & IT WORKS – You'll LOVE our light, fresh-mint formula. If you've tried everything else, you might as well try something that works! Trusted worldwide to gently clean teeth and just like all of Oxyfresh products, it is made in the U.S.A. with only the highest quality ingredients.

We took the best of science and nature to bring you a better kind of fresh every time you brush!

Ingredients: Calcium Carbonate, Water (Aqua), Glycerin, Sorbitol, Chondrus Crispus (Carrageenan), Sodium Lauryl Sulfate, Flavor*, Stabilized Chlorine Dioxide (Oxygene®), Sucralose.
*Contains Peppermint essential oil

Gluten Free
Oxygene® (Stabilized Chlorine Dioxide): It's our special ingredient that makes us different. This safe, non-toxic oxidizer works instantly to neutralize the bacteria that cause plaque and bad breath.
Essential Oil: Nature's favorite freshener helps to hydrate, soothe and give you that clean, just-from-the-dentist feeling.
Chondrus Crispus: This seaweed extract helps to create the perfect toothpaste texture while also providing soothing comfort.
Twice a day, of course!
A fluoride-free toothpaste so refreshing, you may actually want to brush the full 2 minutes! Apply a pearl-sized drop and brush each tooth using a GENTLE, circular motion. (We know you're tough, but teeth love a soft touch.) For the ultimate freshness, follow with our Pro Formula Mouthwash.

Bet you've never seen this disclaimer before!
This toothpaste isn't for pets. They're not a fan of mint, so if you're looking to freshen your pet's breath, try our tasteless and odorless pet toothpaste instead.
great product
it's amazing that it leaves your mouth feeling fresh for hours!
Really helps with sensitive areas and mouth sores
I love the gel, mouthwash. I use it especially when my gums are sensitive or I have developed a sore place in my gum.
Sensitivity gone..
I've been using Oxyfesh toothpaste going on about 25 years now.. I had a lot of tooth sensitivity on my top teeth.. Prior to using Oxyfresh I had had two gum graphings to help with sensitivity to my top teeth.. To this day I have never used any other toothpaste than Oxyfresh.. I make sure I don't run out by buying two or three at a time.. I have used all of the varieties of toothpaste they offer, but this is my preferred one..😀
oxyfrrsh
We have been using Oxyfresh products for more than 20 years! All of the products are spectacular. We especially like the toothpaste. It keeps our mouths fresh and dental bill low
Excellent toothpaste
I have used Oxyfresh toothpaste exclusively since my dentist suggested I try it many years ago. I was happy to discover that I could buy "trial 1 oz" size on the Oxyfresh website. I don't need a trial but this is a TRAVEL size that I can carryon when flying. Oxyfresh is missing a marketing opportunity if this use is not promoted.
Pro Formula Fresh Mint Toothpaste
I've been using this toothpaste for more than 10 years. I wouldn't use any other. My teeth and gums are healthy. I was scheduled for gum surgery then I started with this toothpaste. I never had the surgery!
Pro Formula Fresh Mint Toothpaste | Brighter Smiles & Refreshing Breath | Fluoride Free
Best toothpaste ever!
Best toothpaste ever!!!! My teeth never
felt so clean.
Too much sodium lauryl sulfate
Love everything but the SLS - what's the point? Many people are sensitive to it and there is no function to "foam" so why put it in at all.
Toothpaste
I've been using this for about 20 years. I'm allergic to fluoride and this stuff has worked great. Little expensive but in my position. Well worth it..