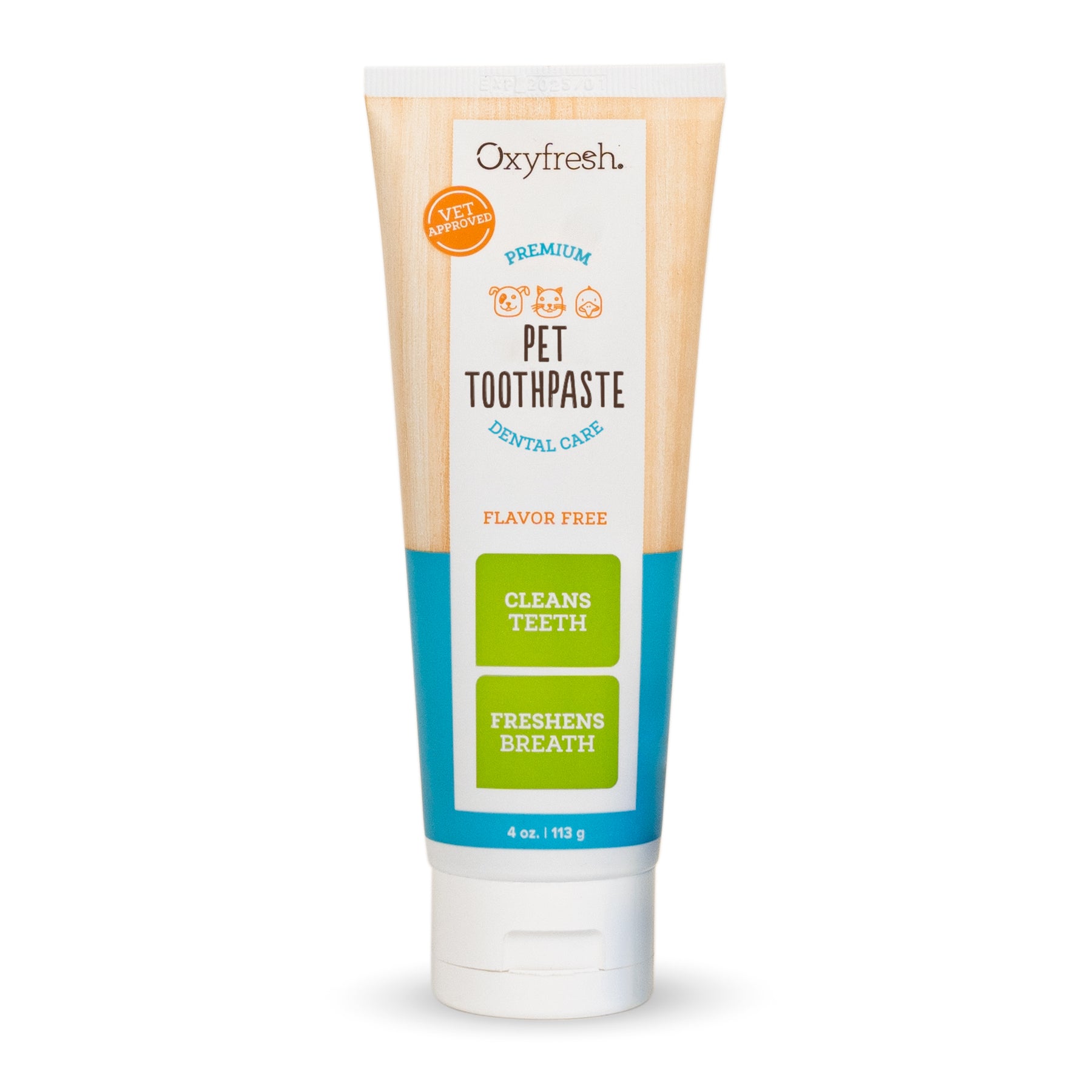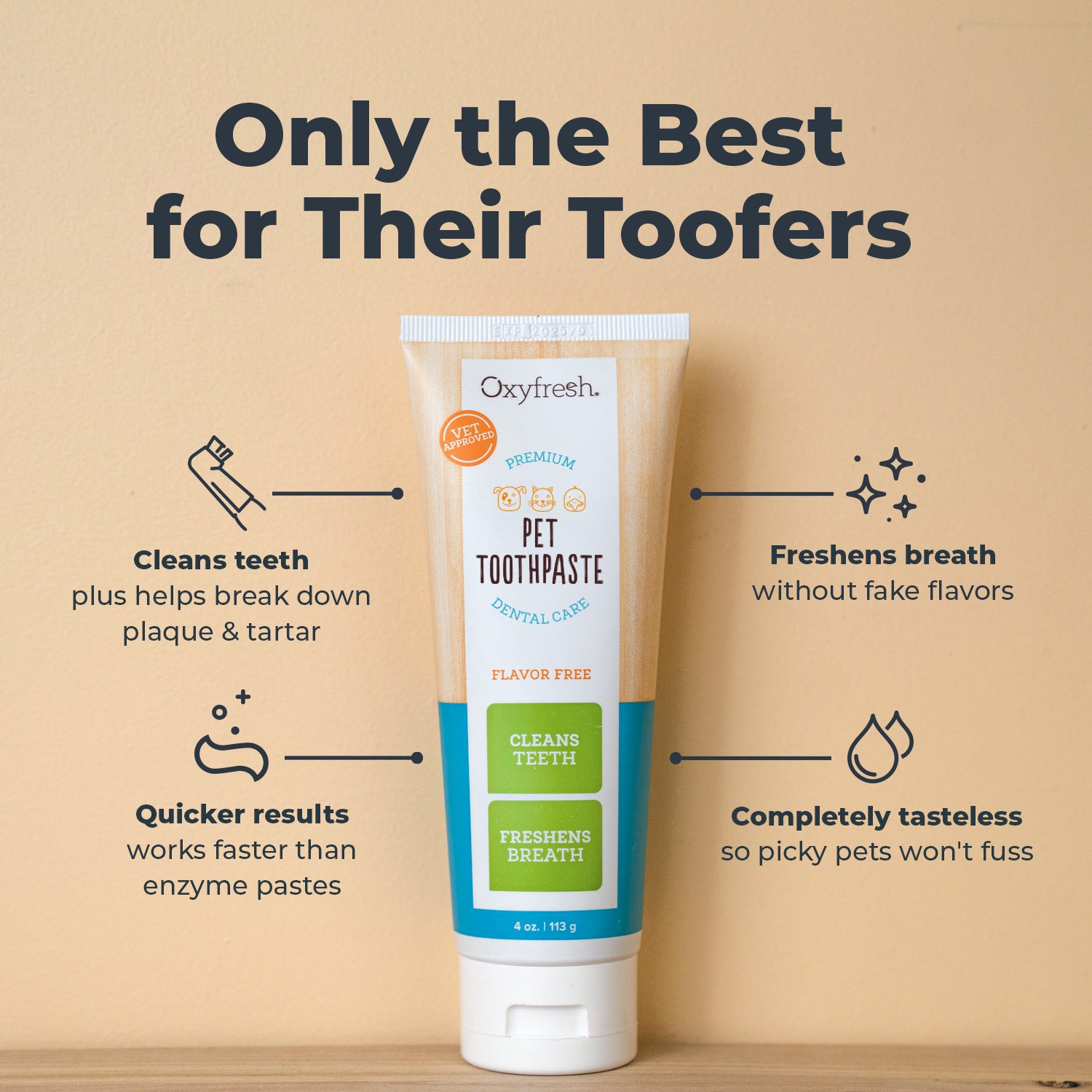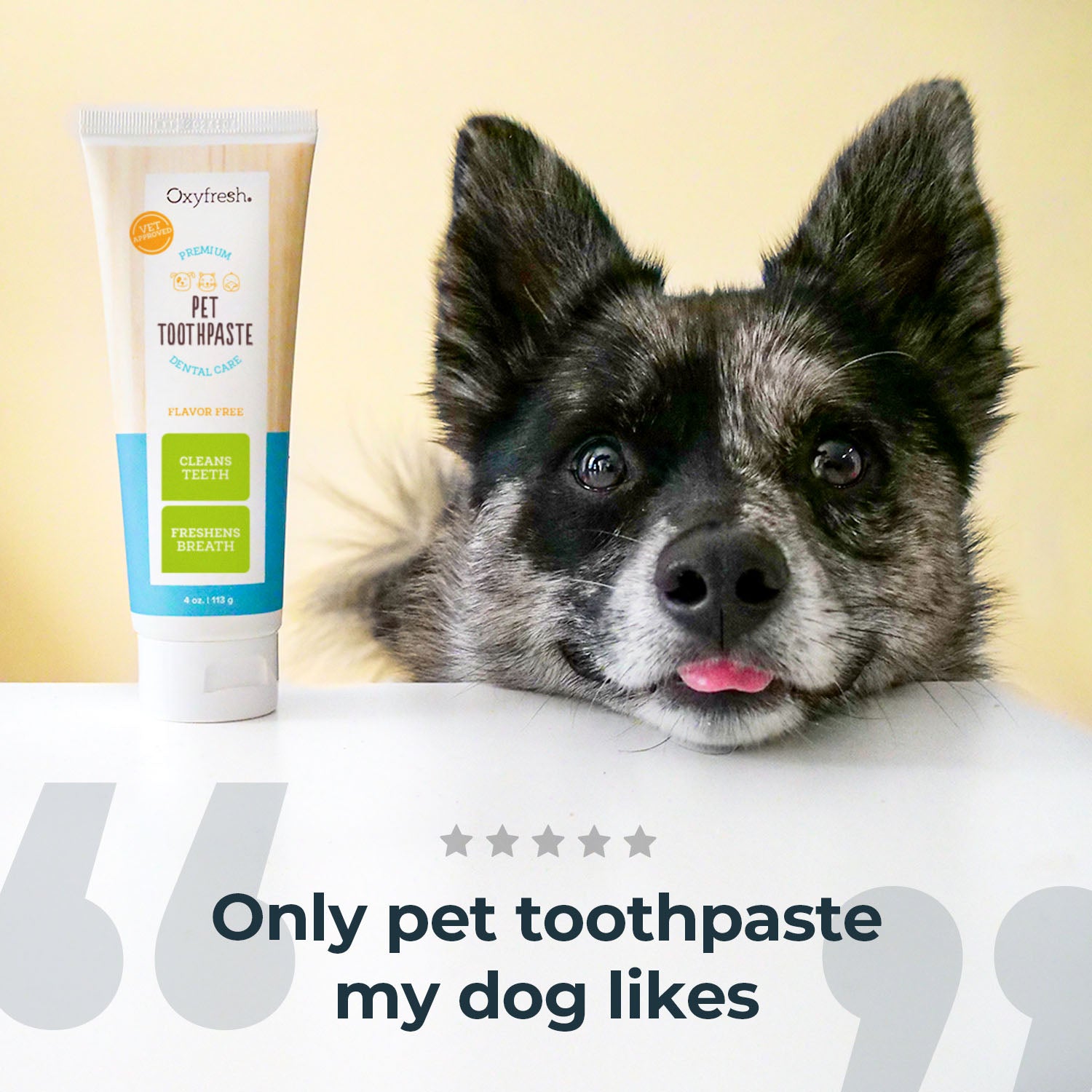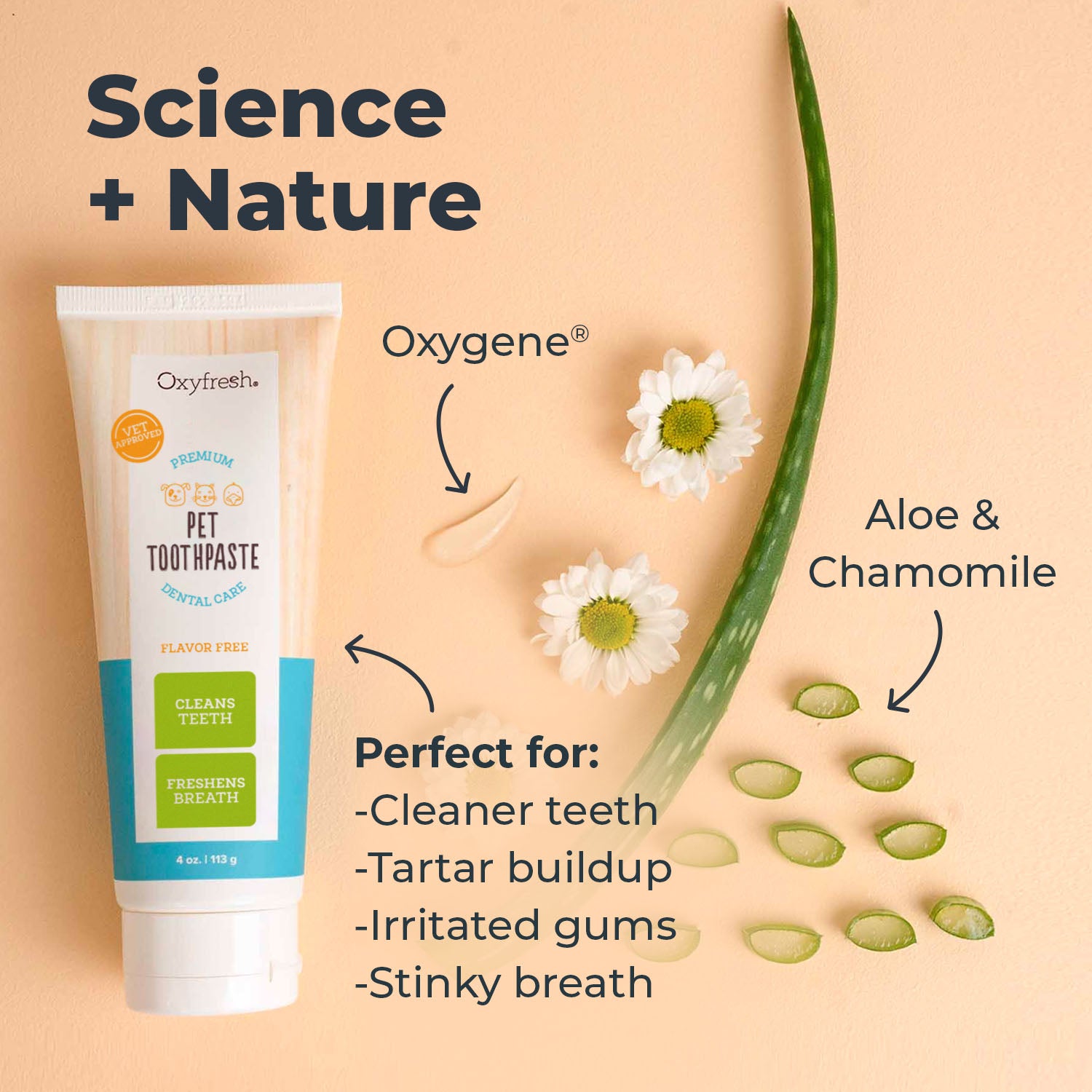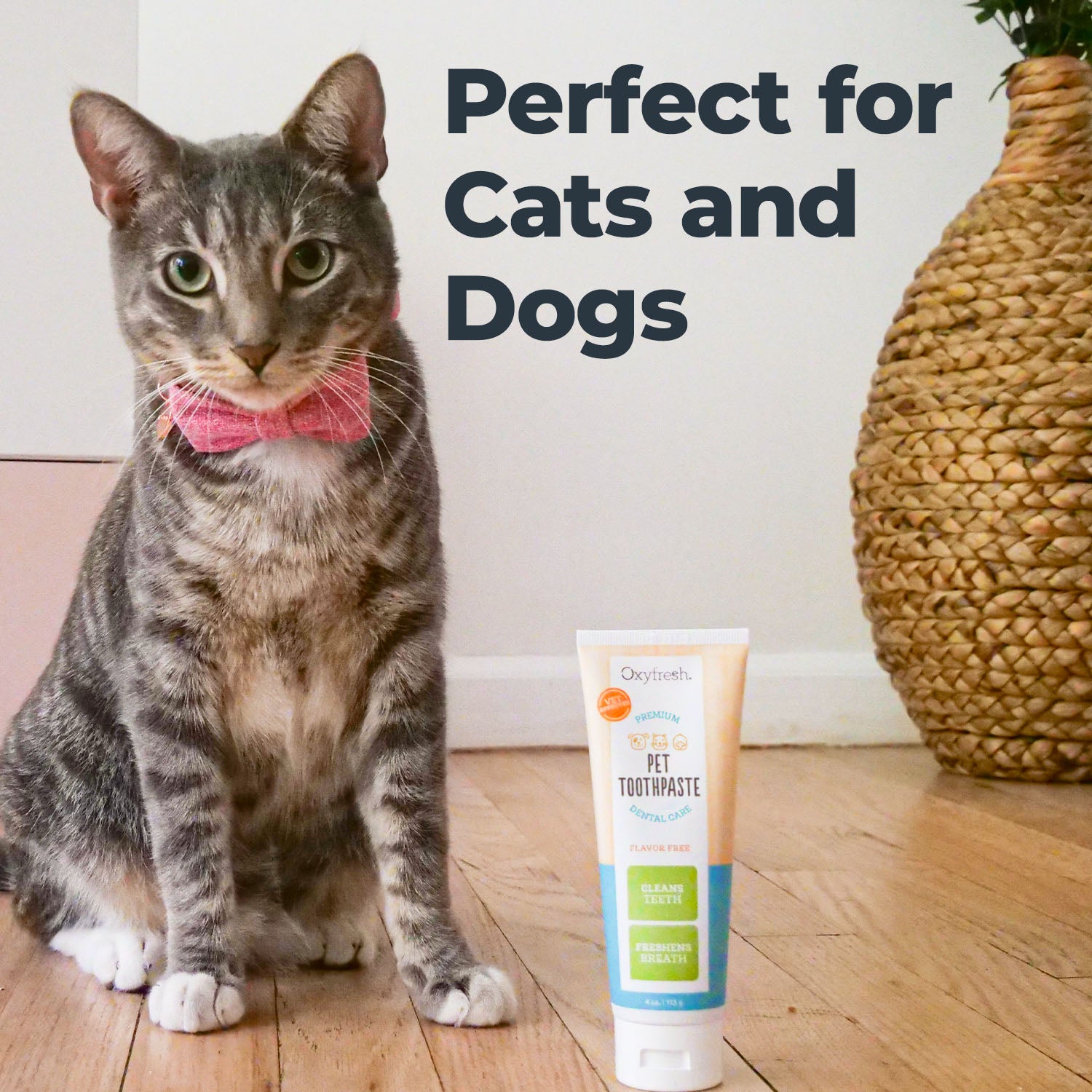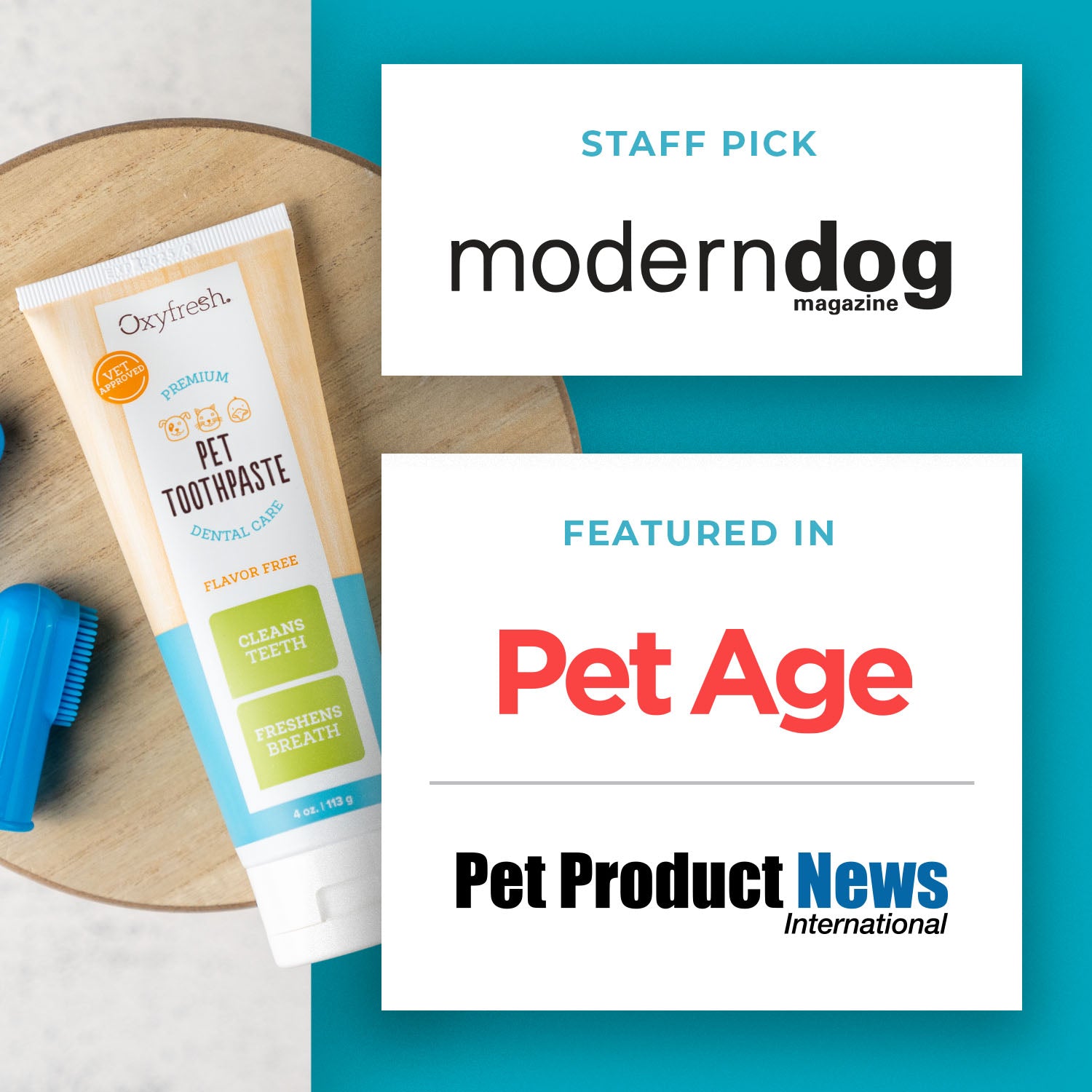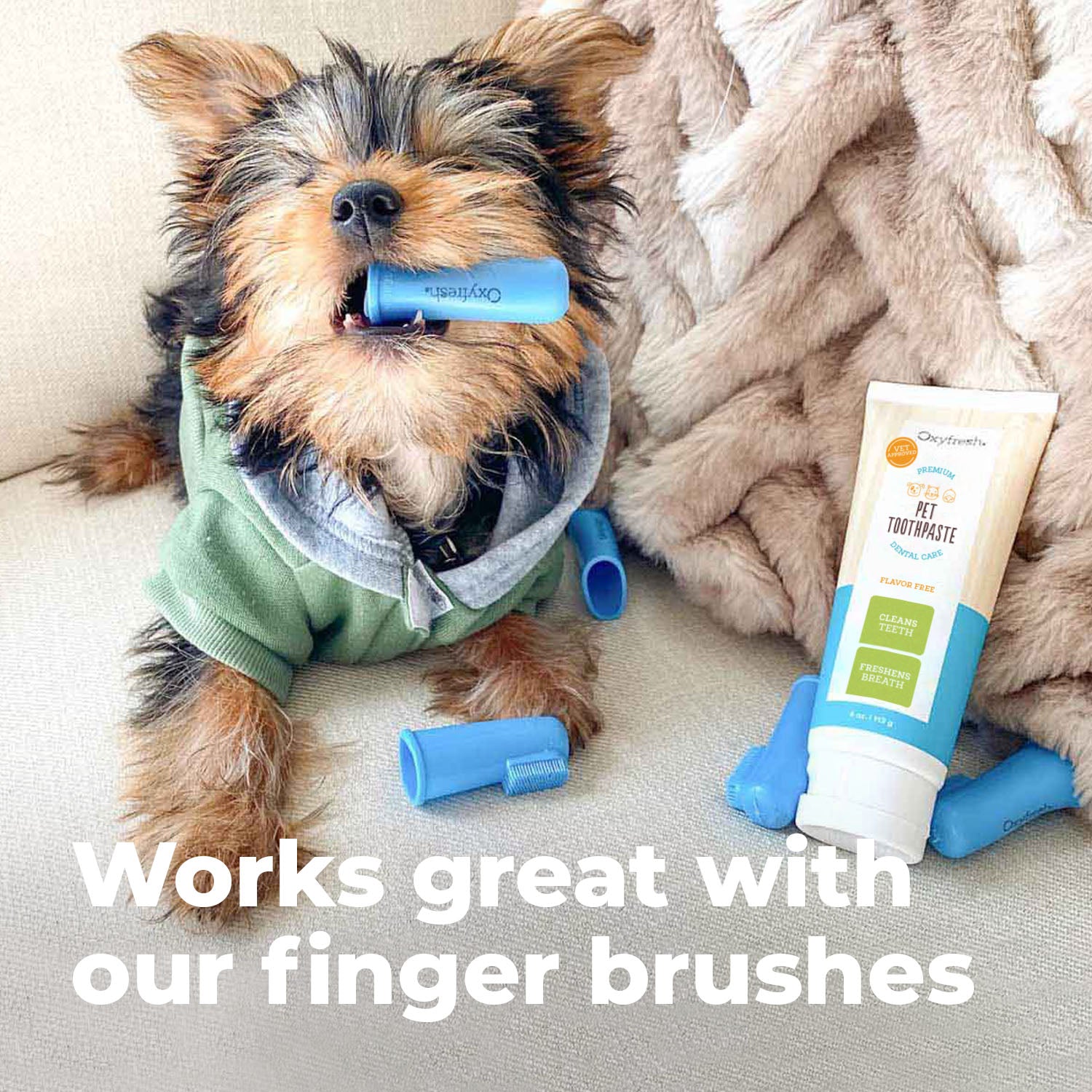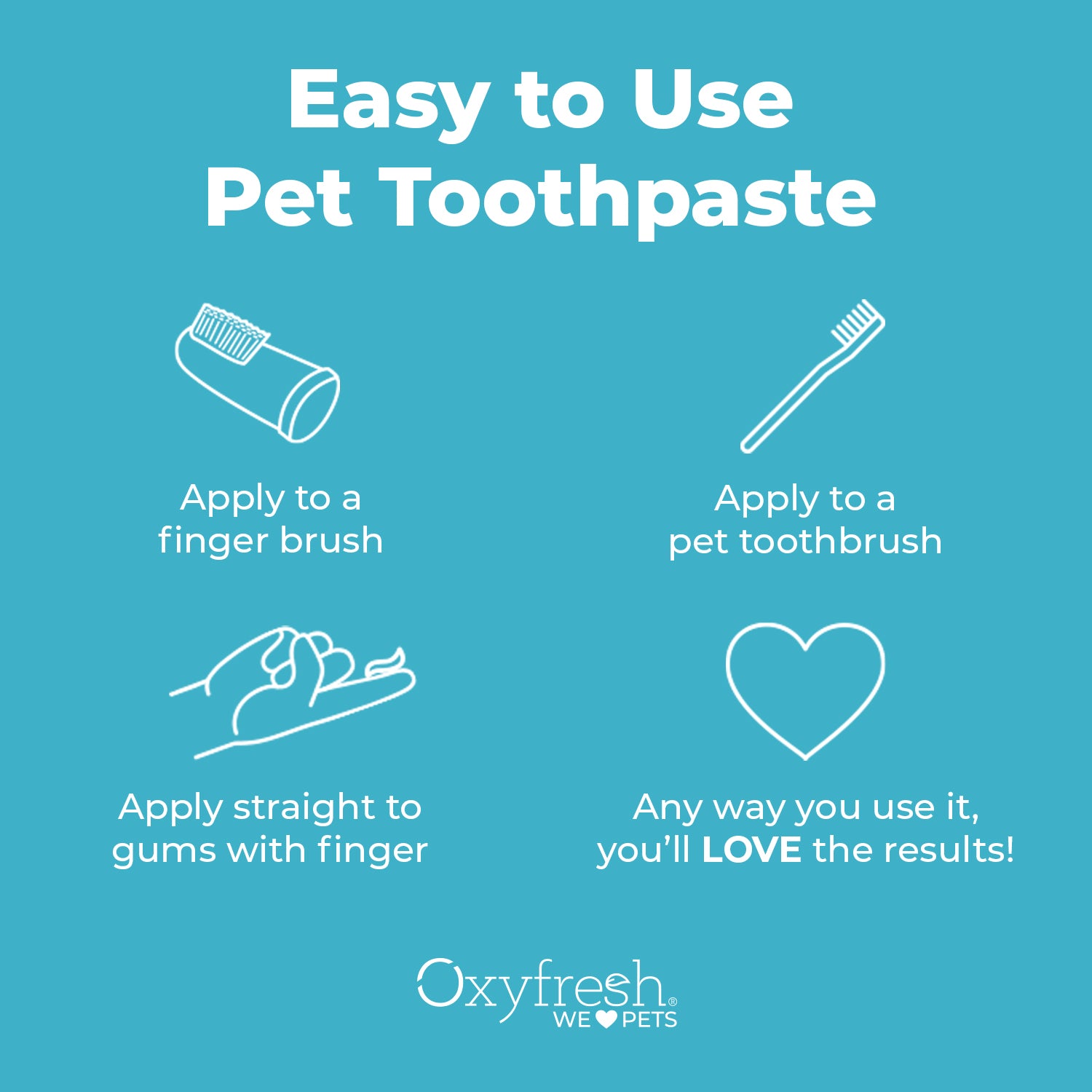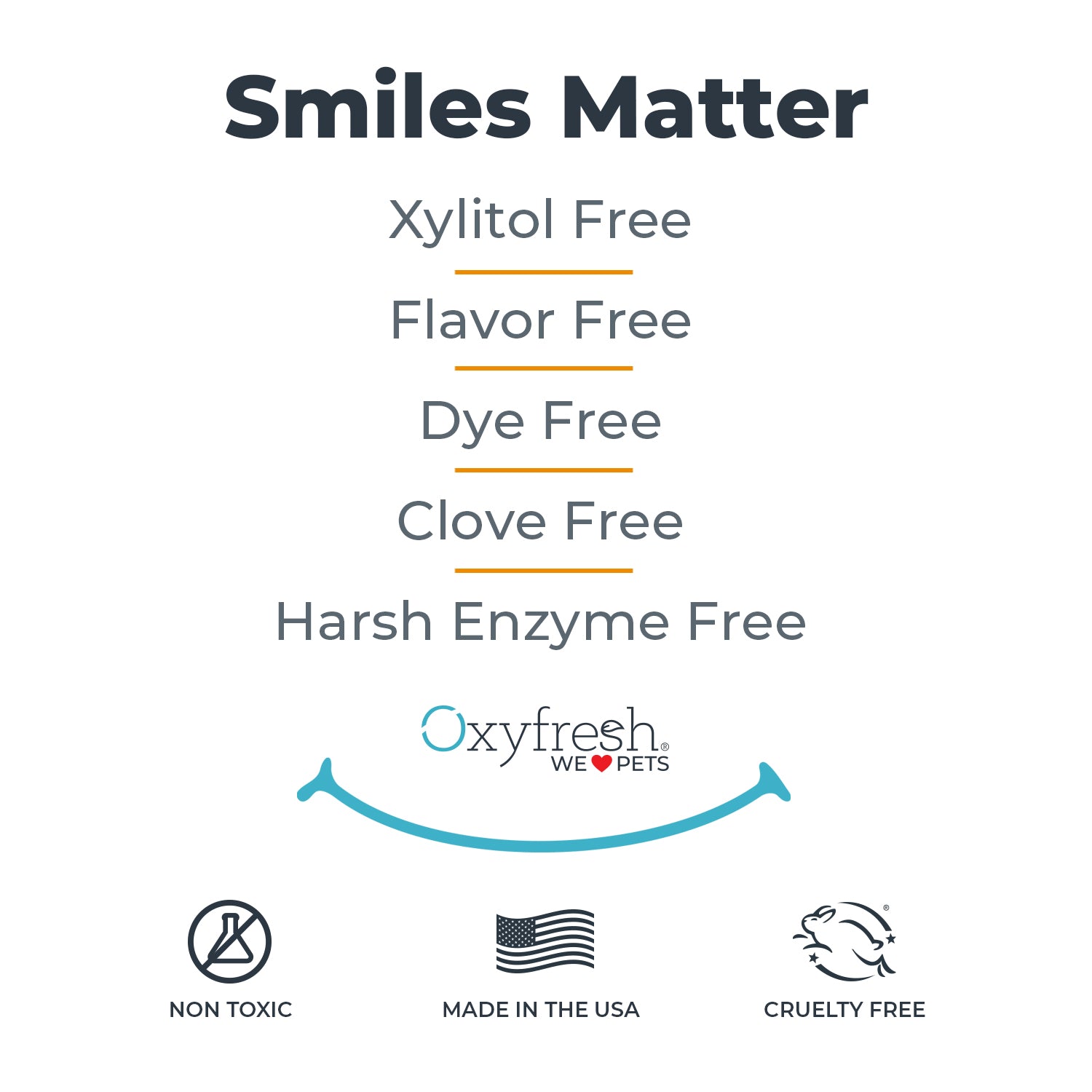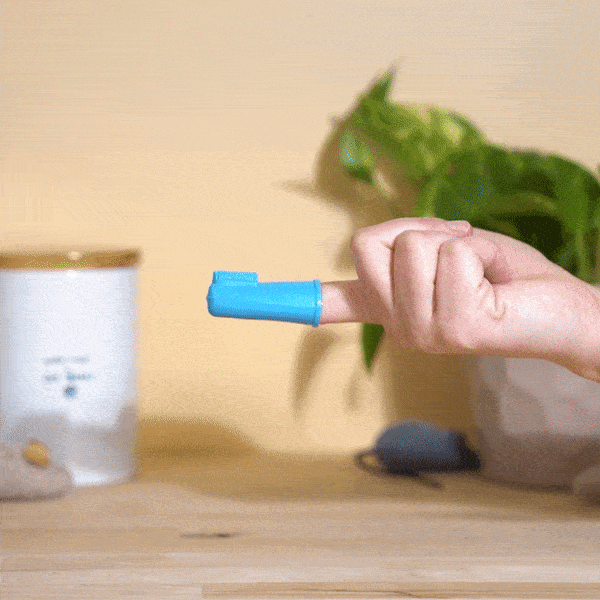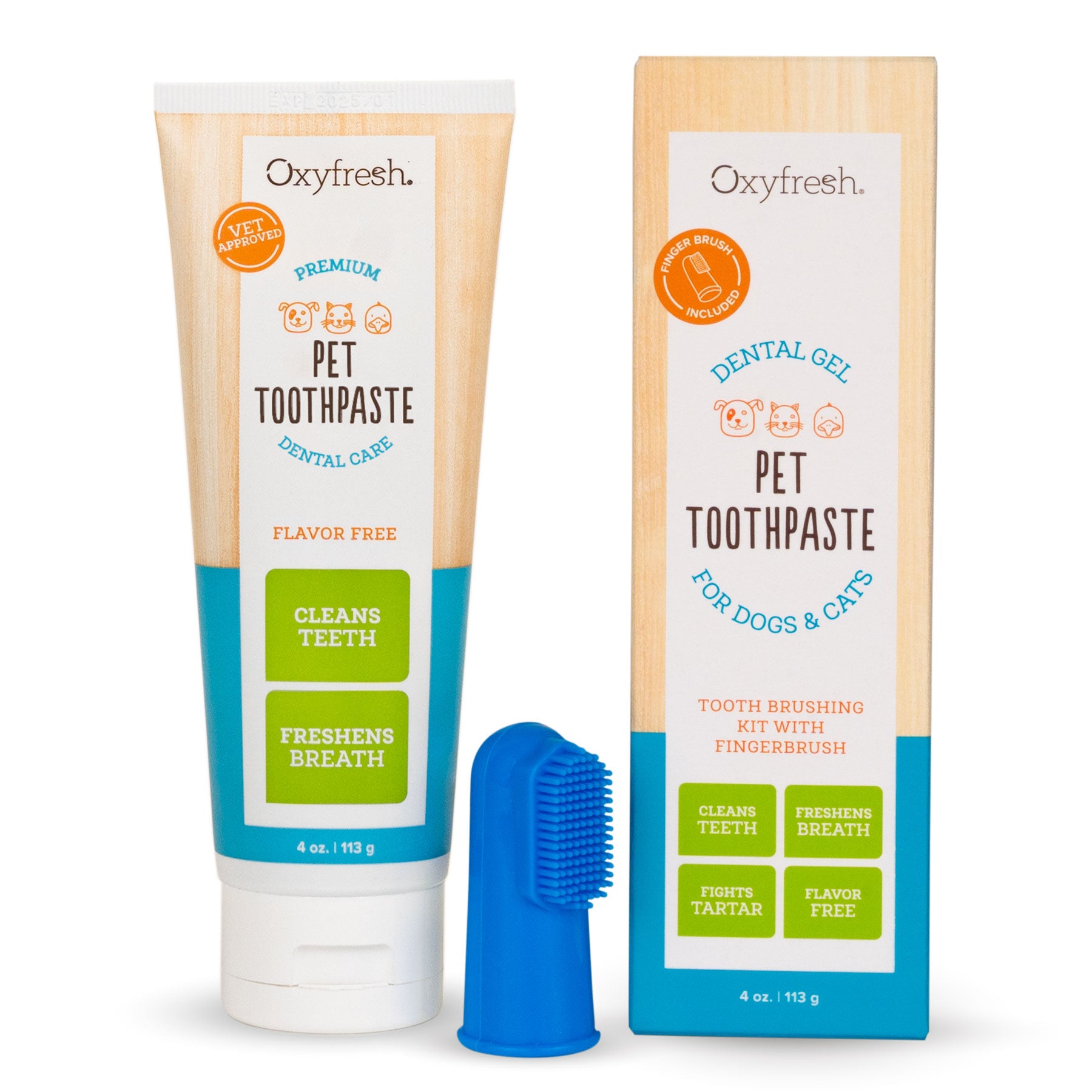 Premium Pet Toothpaste | Best Way To Clean Pet Teeth & Remove Plaque
It's no secret that pets don't like going to the vet. Be their hero by keeping their teeth in tip-top shape right there at home. Our pet toothpaste is formulated to deliver cleaner teeth, remove plaque, condition and deodorize gums, and deliver the best pet fresh breath possible. Plus it is tasteless and odorless!

CLEANS TEETH – To keep your pet's smile in great shape, we formulated our toothpaste with Oxygene® to break down the bacteria that leads to plaque and tartar, leaving healthier teeth and gums with regular use.
FRESHENS BREATH – We're talking about molecular-level breath control here folks. Our proprietary ingredient Oxygene® works on contact to break down bad breath compounds and make them disappear. No other pet toothpaste has it!
SO EASY – To brush or not to brush? You decide the answer! Rub the gel along your pet's gumline and let their tongue do the rest! Or if you want to brush their teeth, apply to a fingerbrush or toothbrush.
FLAVOR FREE – Forget masking doggie breath with fake chicken, mint, clove & other odd flavors. Our gel is completely flavor free, so your pet will actually sit still & not try to chew up the brush ... or your finger.
IT WORKS –

If you've tried everything else, you might as well try something that works! Trusted by pet parents to clean dog and cat teeth and just like all of Oxyfresh products, it is made in the U.S.A. with only the highest quality ingredients.
We took the best of science and nature to bring your pet a better kind of fresh.

Ingredients: Water (Aqua), Chondrus Crispus (Carrageenan), Stabilized Chlorine Dioxide (Oxygene®), Aloe Barbadensis Leaf Juice, Chamomilla Recutita (Matricaria) Extract, Methylparaben, Propylparaben.

Gluten Free
Daily is best, of course!

Super versatile, you can apply this gel straight to your pet's gum line with your finger and let your pet's tongue do the rest! Or if you're an overachiever like us, apply a pearl-sized drop to a finger brush or pet toothbrush and gently brush their teeth & gums. (Be sure to give 'em a treat afterward – they love that.)

Pro Tip: If your cat won't let you touch its teeth, squeeze a little toothpaste on top of its paw and let them lick it off. Mission accomplished, fingers intact.
Good
My cats don't seem to mind this product. It's tasteless which is good. The finger brush is too bulky to get their molars so I had to get a different toothbrush. I like the product!
Still working with it to improve dental conditions.
It is so helpful to have a dental product that the ferrets will tolerate so cleaning teeth is not a torturous process for either of us.
My dog loves having her teeth cleaned
She loves the cuddling and attention while having her teeth cleaned & polished. The gel seems to please her alot.
My Dog loves it
My lab mix, Asha, recently had a dental cleaning done at the vet. Her teeth are actually in good shape to be 7 years old. I purchased this gel toothpaste to help to prevent the buildup of plaque so maybe she won't have to have this procedure again for awhile. She won't let us brush her teeth, but doesn't protest too much if we just rub it on her gums and teeth. She seems to like the taste and the gel consistency spreads easily to all of the teeth. I also bought the water additive.
helping my dogs teeth get better
yes I like it and my dog likes it, the only thing I don't like is the shipping cost.
I have to brush my dogs teeth every day and this is better than any toothpaste we've tried.
The best products
I love your company and it's products. Staff is always friendly and there to help. My orders are filled promptly and without any mistakes…ever. What a wonderful world it would be if every company was as committed to quality and service as Oxyfresh. I only wish you would start making the Oxygene in a cream again because it was the absolute BEST product I ever used.
Toothless Tina
My little Tina still has a few teeth left. She has had problems with her teeth, since she was a puppy. Thanks to Oxyfresh Gel and liquid, we have managed to save her remaining teeth. She loves the gel rubbed on her gums. The liquid and gel helps keep away tarter and freshens her breath. She is 10 years old.
Oxyfresh Gel
My veterinarian gave this gel to me at least 10 years ago to use on scrapes and cuts .And now I use it to brush her teeth with as the flavored products make it more difficult as my dogs try to eat them. The neutralness of the gel produces less resistance to brushing by Lily ( my 3 yr old Greyhound.) Thank you for a great product.