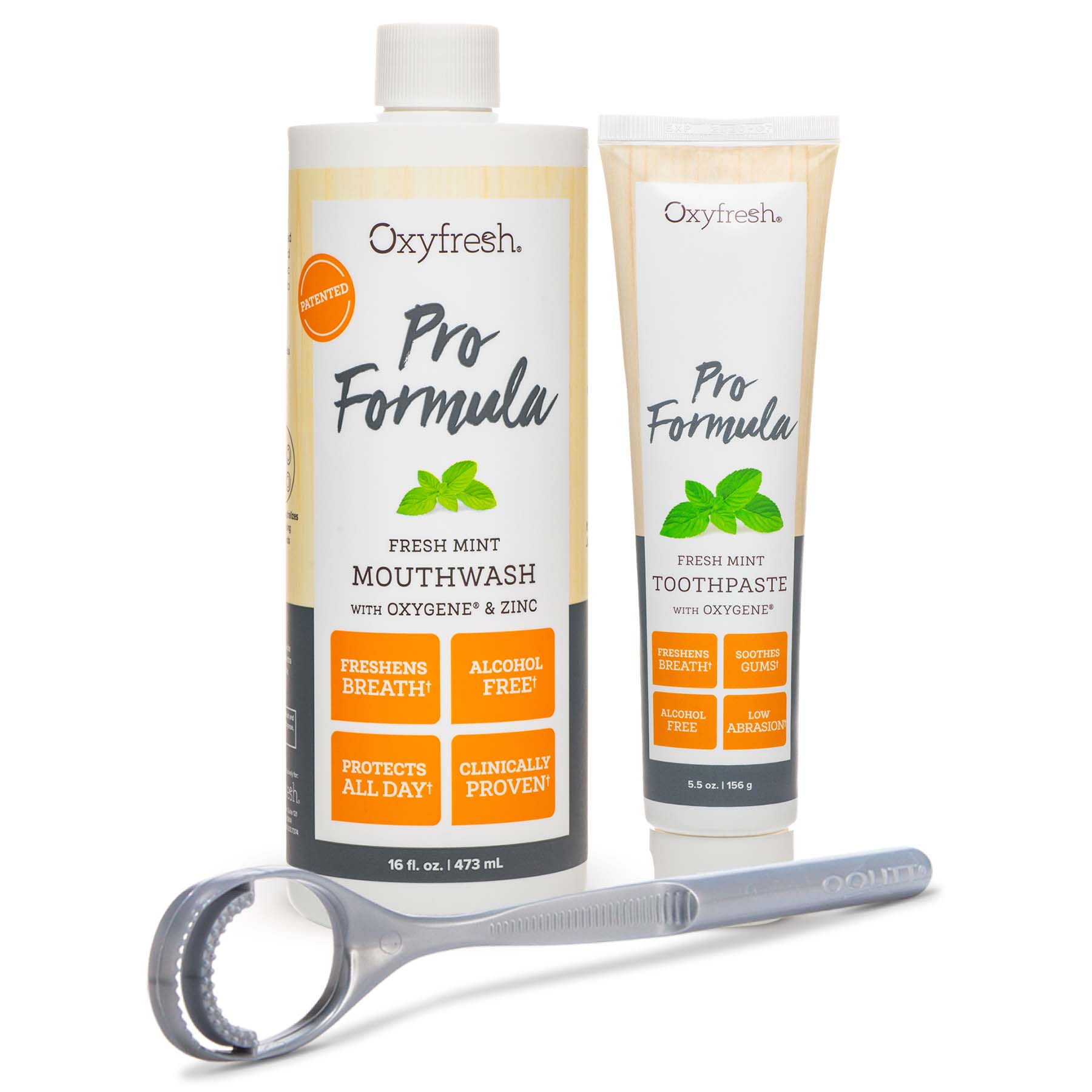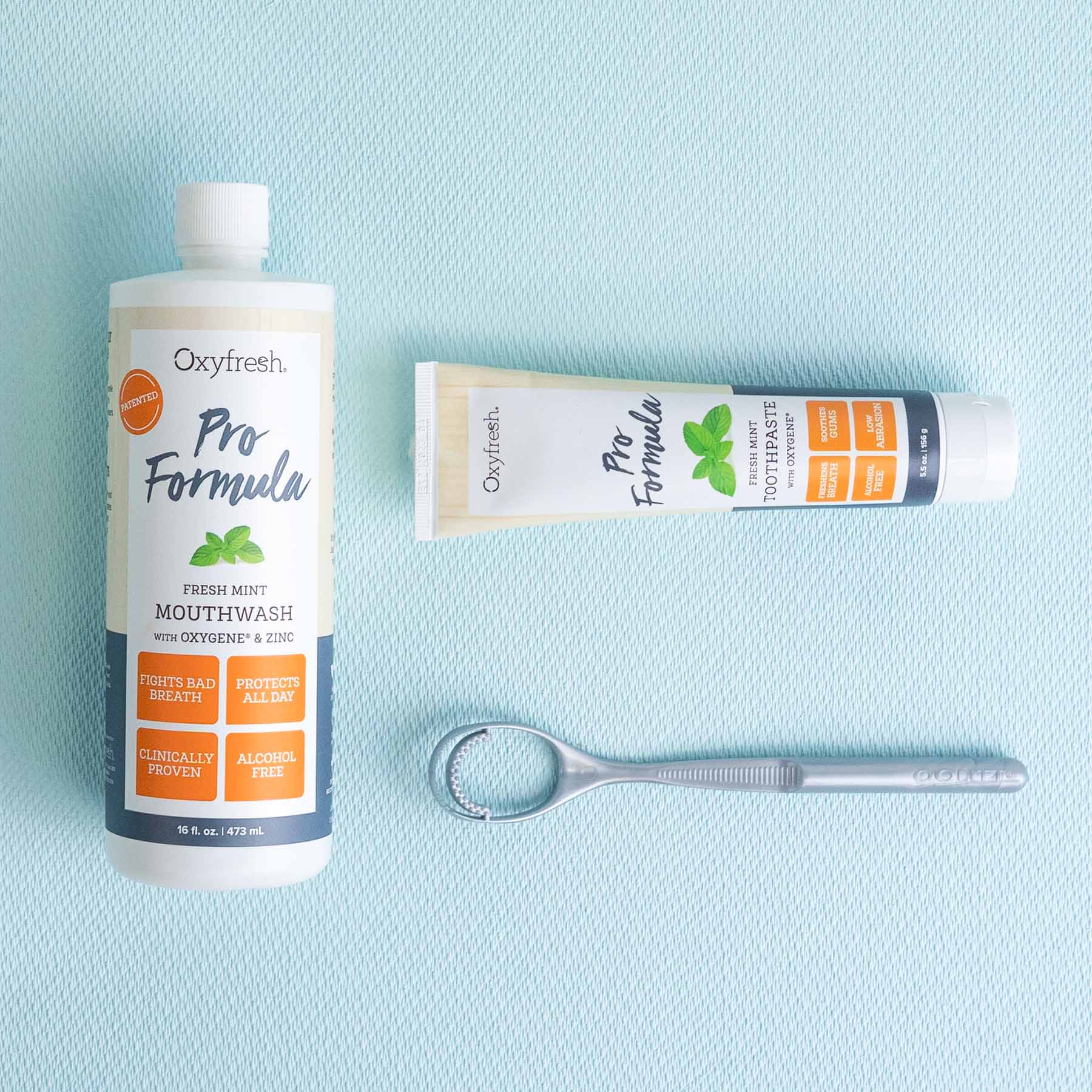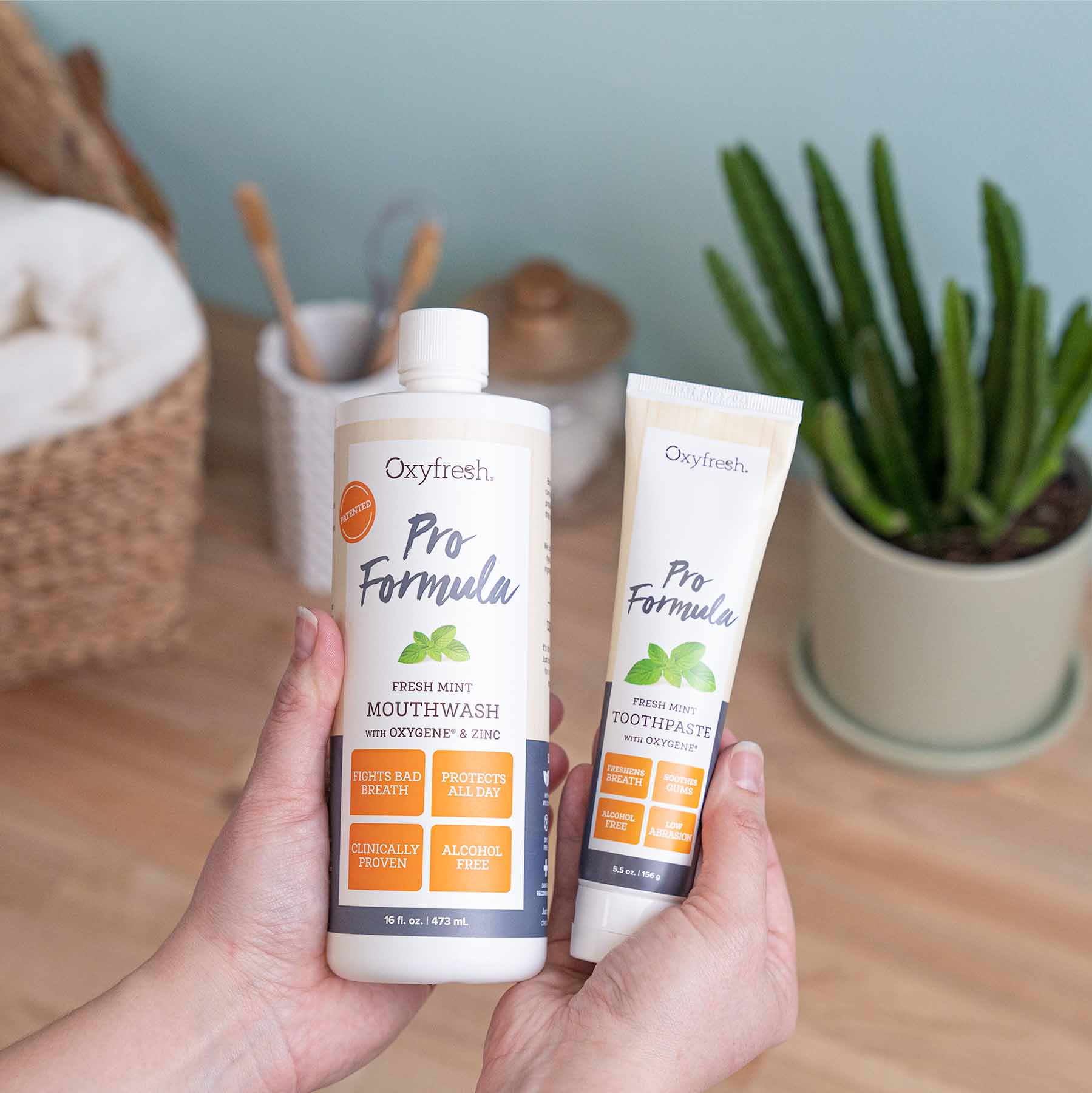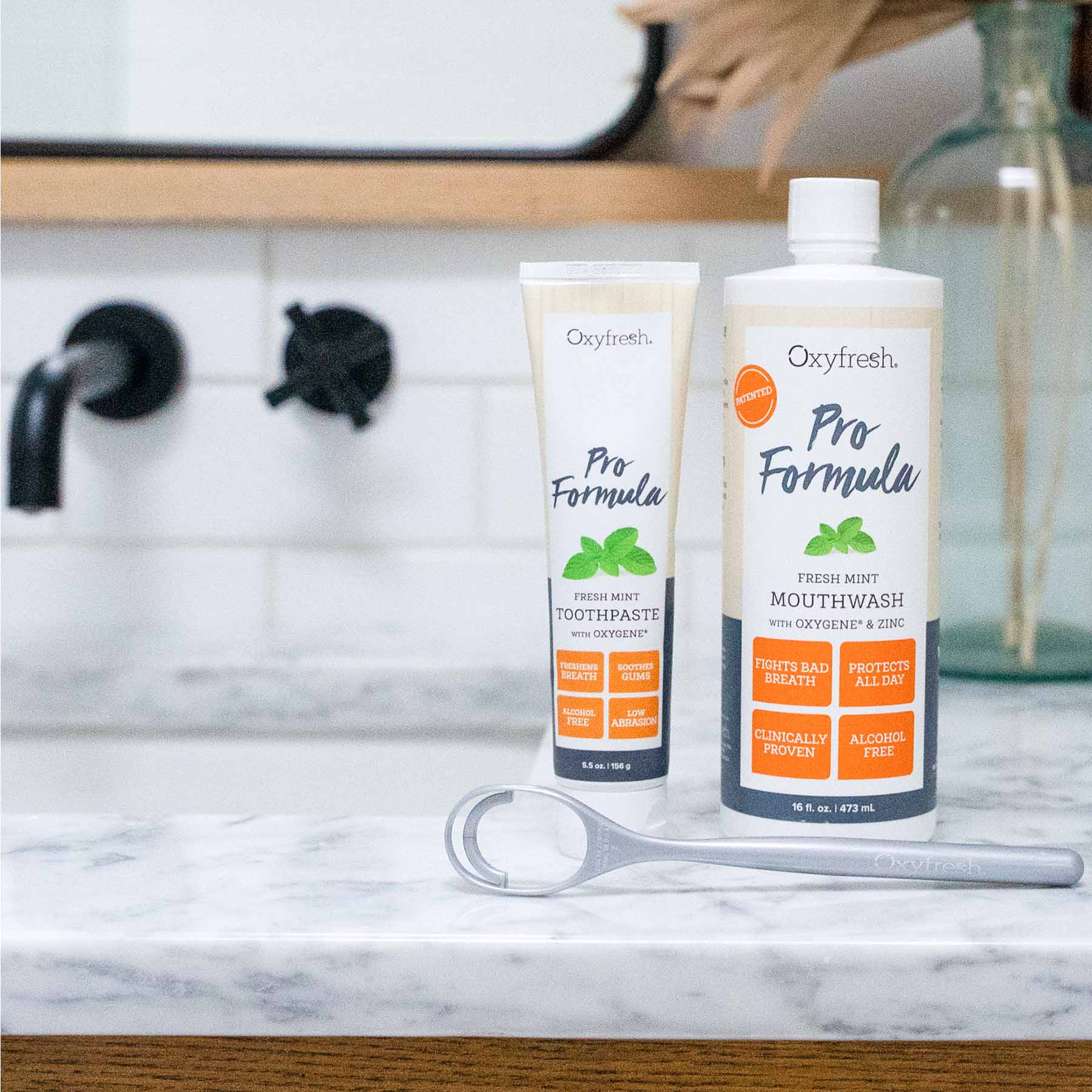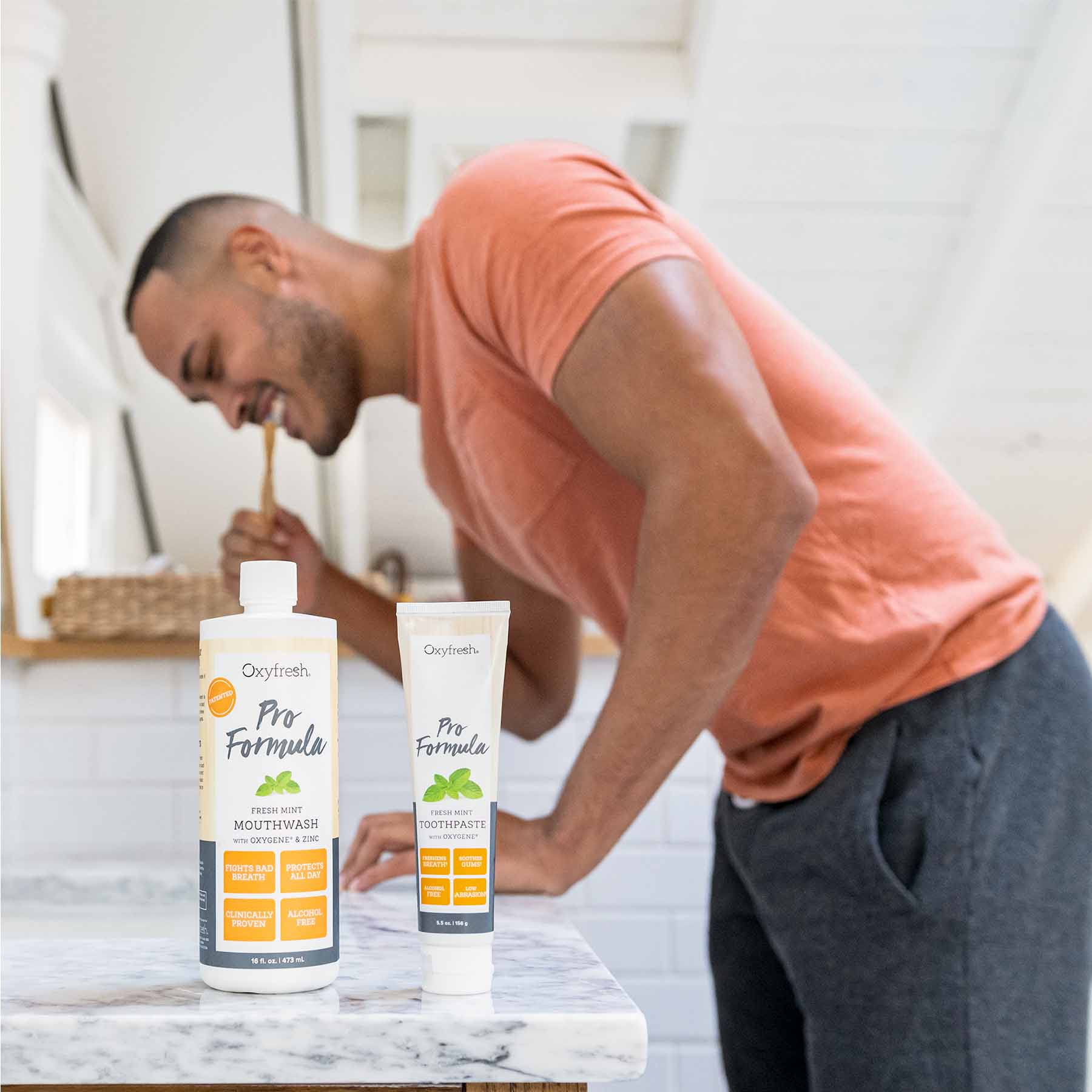 Pro Formula Zinc Dental System | Fluoride Free
For extra teeth-whitening protection, skip the trends and trust what the pros use! Our Pro Formula System features all the favorites to maintain your bright smile and pamper your gums. P.S. It's the best for fresh breath too!

ALL-IN-ONE KIT – With a patented zinc mouthwash (16 oz.), ultra-gentle toothpaste (5.5 oz.) & top-rated tongue cleaner, it's everything you need to take your smile pro.
GENTLE ON COSMETIC WORK – If you've invested in teeth whitening or veneers, don't let harsh dental products dull your results! Our pro toothpaste has one of the lowest abrasion ratings on the market & we're 100% dye free.
ALL-DAY FRESH BREATH – Our powerful combo of Oxygene® and zinc actively seeks out bad breath compounds and – poof! – makes them disappear, just like magic.
INFUSED WITH ESSENTIAL OILS – Just like our own moms, Mother Nature knows best. So ditch the fake flavors & alcohol burn and trade up for the mild, perfectly fresh taste of natural mint oils.
IT WORKS – If you've tried everything else, you might as well try something that works! Trusted worldwide to gently clean teeth and just like all of Oxyfresh products, it is made in the U.S.A. with only the highest quality ingredients.

Pro Formula Toothpaste:
Ingredients: Calcium Carbonate, Water (Aqua), Glycerin, Sorbitol, Chondrus Crispus (Carrageenan), Sodium Lauryl Sulfate, Flavor*, Stabilized Chlorine Dioxide (Oxygene®), Sucralose
*Contains Peppermint essential oil

Pro Formula Mouthwash
Ingredients: Water (Aqua), Xylitol, Potassium Sorbate, Zinc Acetate, Sodium Citrate, Flavor*, Stabilized Chlorine Dioxide (Oxygene), Sodium Hydroxide, Citric Acid
*Contains Peppermint essential oil

Oolitt Elite Tongue Scraper
Plastic tongue scraper with gentle ridged edges.
Oxygene® (Stabilized Chlorine Dioxide): Disrupts bacterial colonization, oxidizes volatile sulfur compounds, eliminates oral odors, and has disinfectant properties
Xylitol: Inhibits the growth of the bacteria that cause cavities
Essential Oils: Naturally flavored using a unique blend of soothing essential oils
Zinc: Counteracts the toxicity of volatile sulfur compounds and inhibits oral odors
Gluten Free
Easy 1-2-3 Routine
Clean, Brush & Swish for the ultimate fresh breath routine ... oh, and don't forget to floss. Gums love that!

Step 1: Clean
Stick your tongue out (we won't tell on you) and then with the ripple-edge facing down, gently run the Oolitt® Elite Tongue Cleaner down the length of your tongue. Repeat several times, then rinse debris.

Step 2: Brush
So refreshing, you may actually want to brush the full 2 minutes! Apply a pearl-sized drop and brush each tooth using a GENTLE, circular motion. (We know you're tough, but teeth love a soft touch.)

Step 3: Swish
When you're done brushing, pour a couple capfuls into your favorite mouthwash cup and swish away! It only takes a minute, but you'll enjoy every second of it.

---
Bet you've never seen this disclaimer before!
Paws off our pro dental products! Xylitol is awesome for people, but not for our furry friends. They're also not a fan of mint, so if you're looking to freshen your pet's breath, try our tasteless and odorless pet mouthwash instead.
Great service
I appreciated the promptness in resolving the delivery problem of my order.
Thank you also for the gift included with my order.
I'm very satisfied of your service. I love your product, I can't leave without them…😹😂😂😂 no kidding I really love them👏👏👏
We are always happy to help! Reading this review just made my day. :') We look forward to serving you again soon! Thanks for the 5 stars. <3
great product
it's amazing that it leaves your mouth feeling fresh for hours!
Really helps with sensitive areas and mouth sores
I love the gel, mouthwash. I use it especially when my gums are sensitive or I have developed a sore place in my gum.
Sensitivity gone..
I've been using Oxyfesh toothpaste going on about 25 years now.. I had a lot of tooth sensitivity on my top teeth.. Prior to using Oxyfresh I had had two gum graphings to help with sensitivity to my top teeth.. To this day I have never used any other toothpaste than Oxyfresh.. I make sure I don't run out by buying two or three at a time.. I have used all of the varieties of toothpaste they offer, but this is my preferred one..😀
oxyfrrsh
We have been using Oxyfresh products for more than 20 years! All of the products are spectacular. We especially like the toothpaste. It keeps our mouths fresh and dental bill low
Excellent toothpaste
I have used Oxyfresh toothpaste exclusively since my dentist suggested I try it many years ago. I was happy to discover that I could buy "trial 1 oz" size on the Oxyfresh website. I don't need a trial but this is a TRAVEL size that I can carryon when flying. Oxyfresh is missing a marketing opportunity if this use is not promoted.
Pro Formula Fresh Mint Toothpaste
I've been using this toothpaste for more than 10 years. I wouldn't use any other. My teeth and gums are healthy. I was scheduled for gum surgery then I started with this toothpaste. I never had the surgery!
Pro Formula Fresh Mint Toothpaste | Brighter Smiles & Refreshing Breath | Fluoride Free
Best toothpaste ever!
Best toothpaste ever!!!! My teeth never
felt so clean.
Too much sodium lauryl sulfate
Love everything but the SLS - what's the point? Many people are sensitive to it and there is no function to "foam" so why put it in at all.