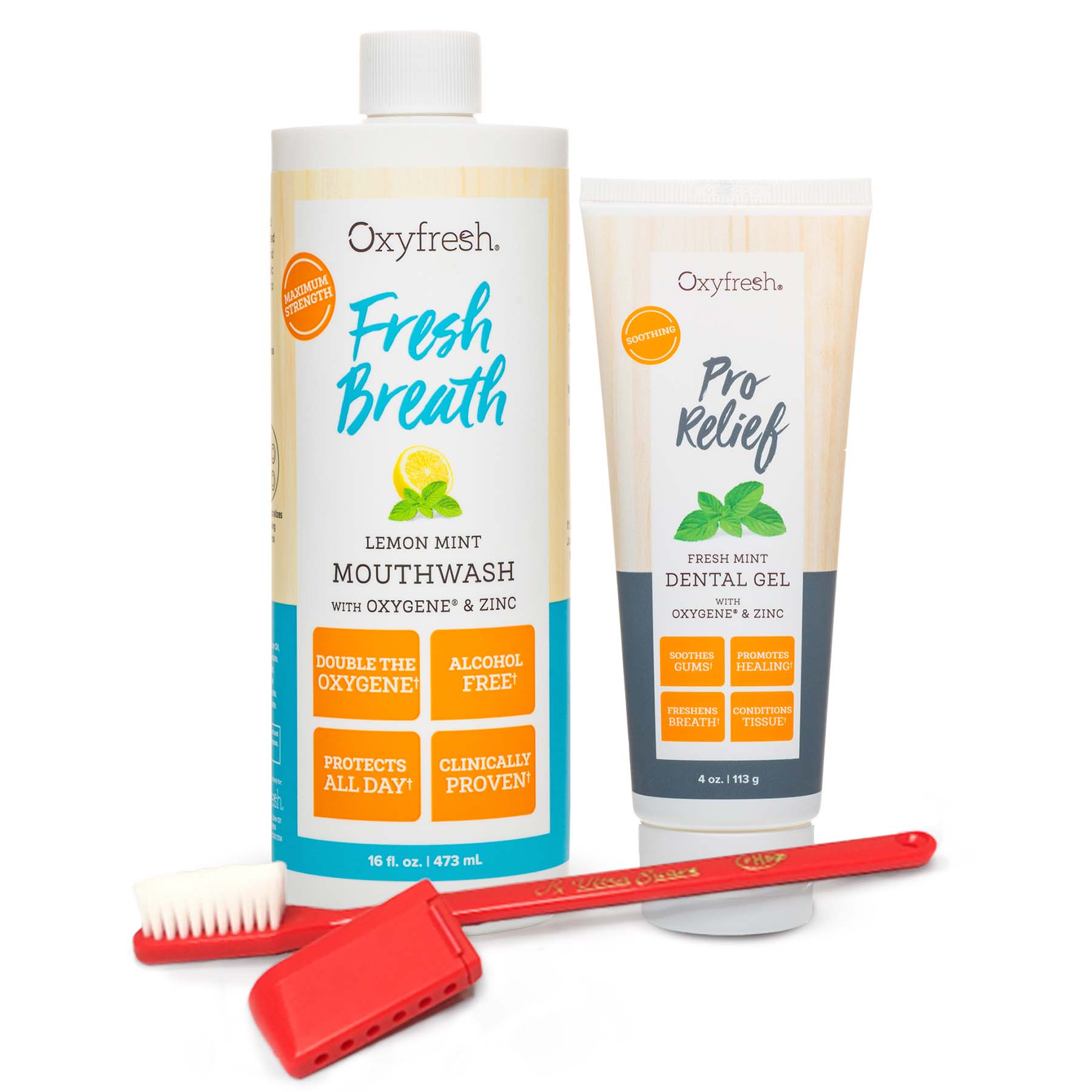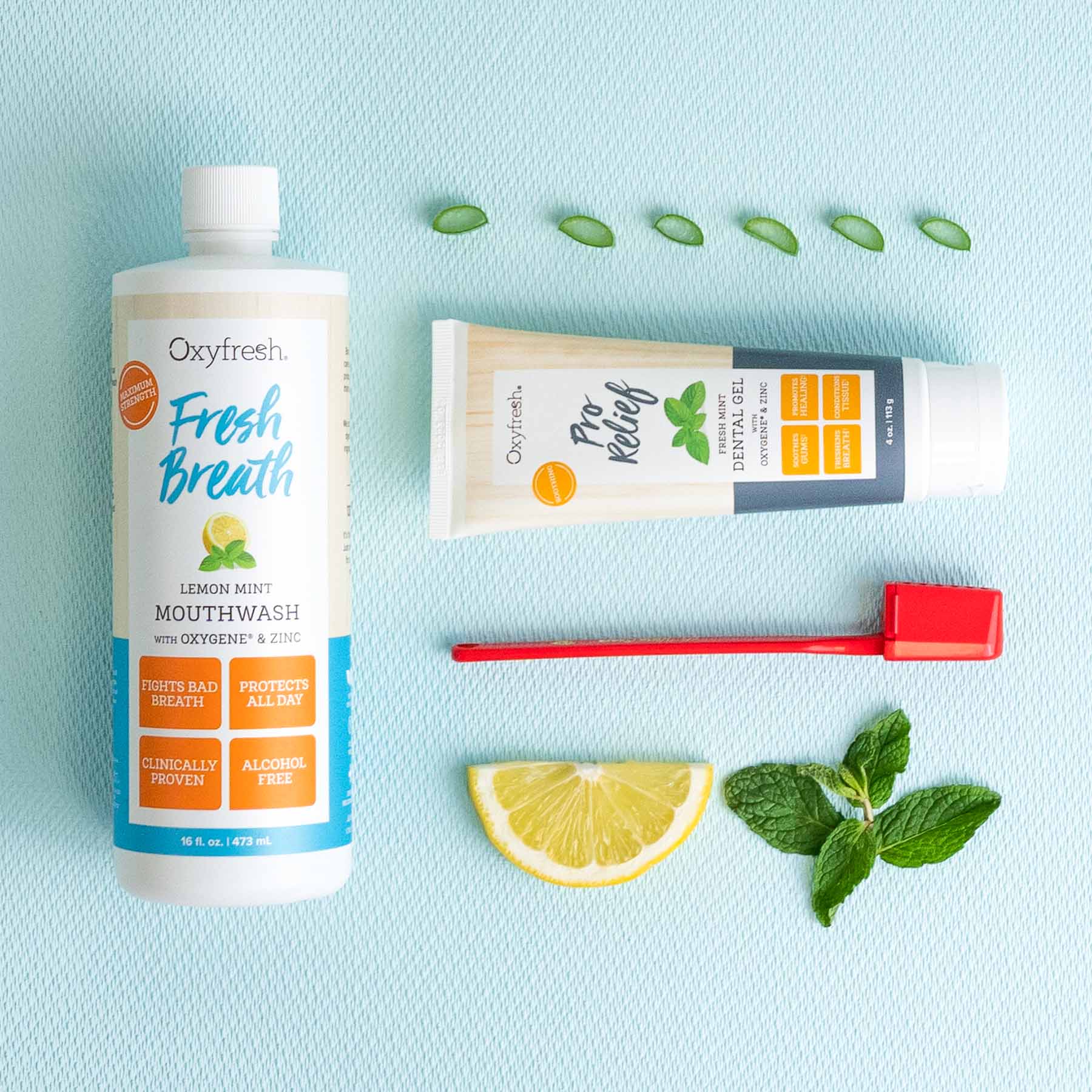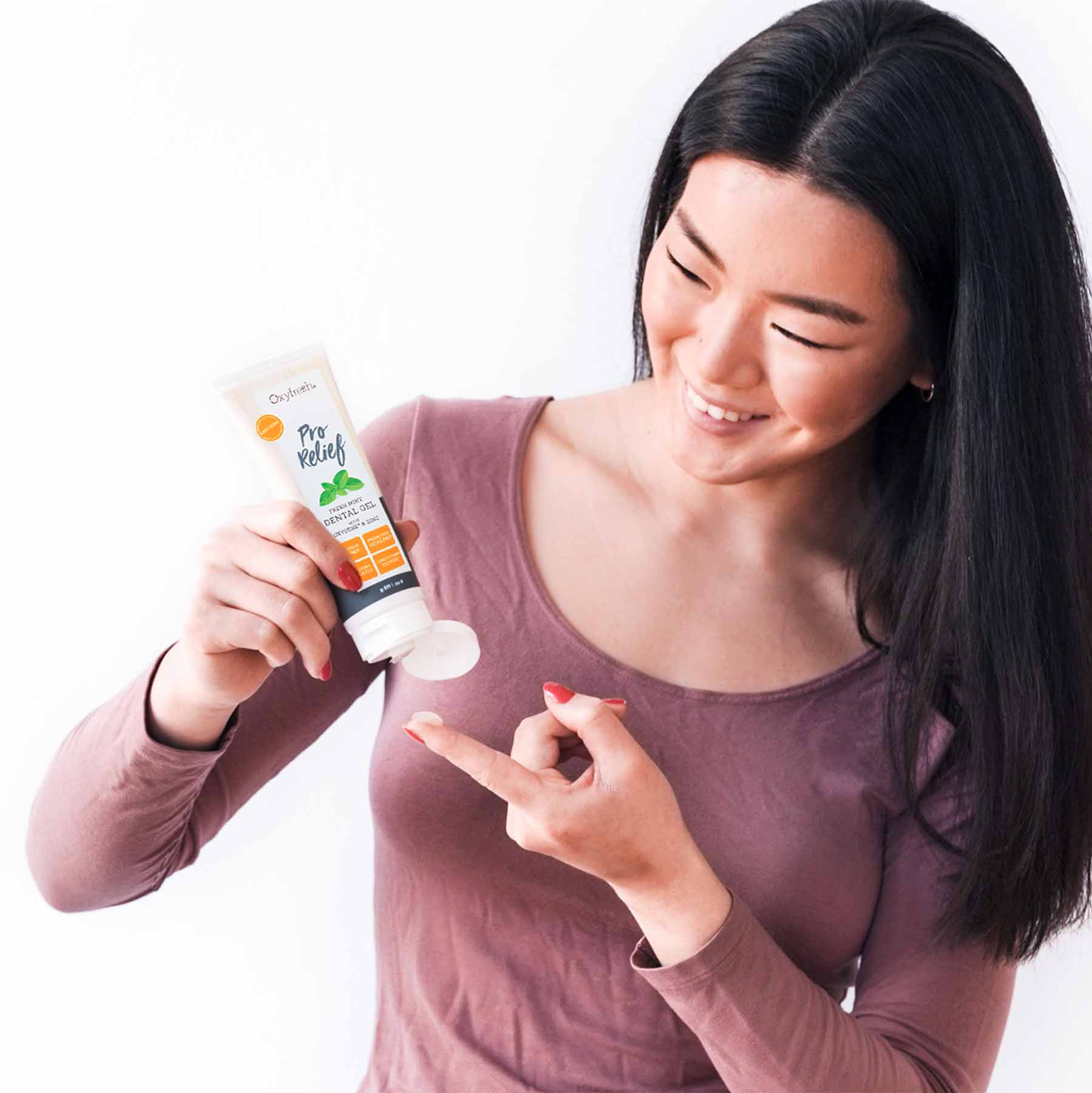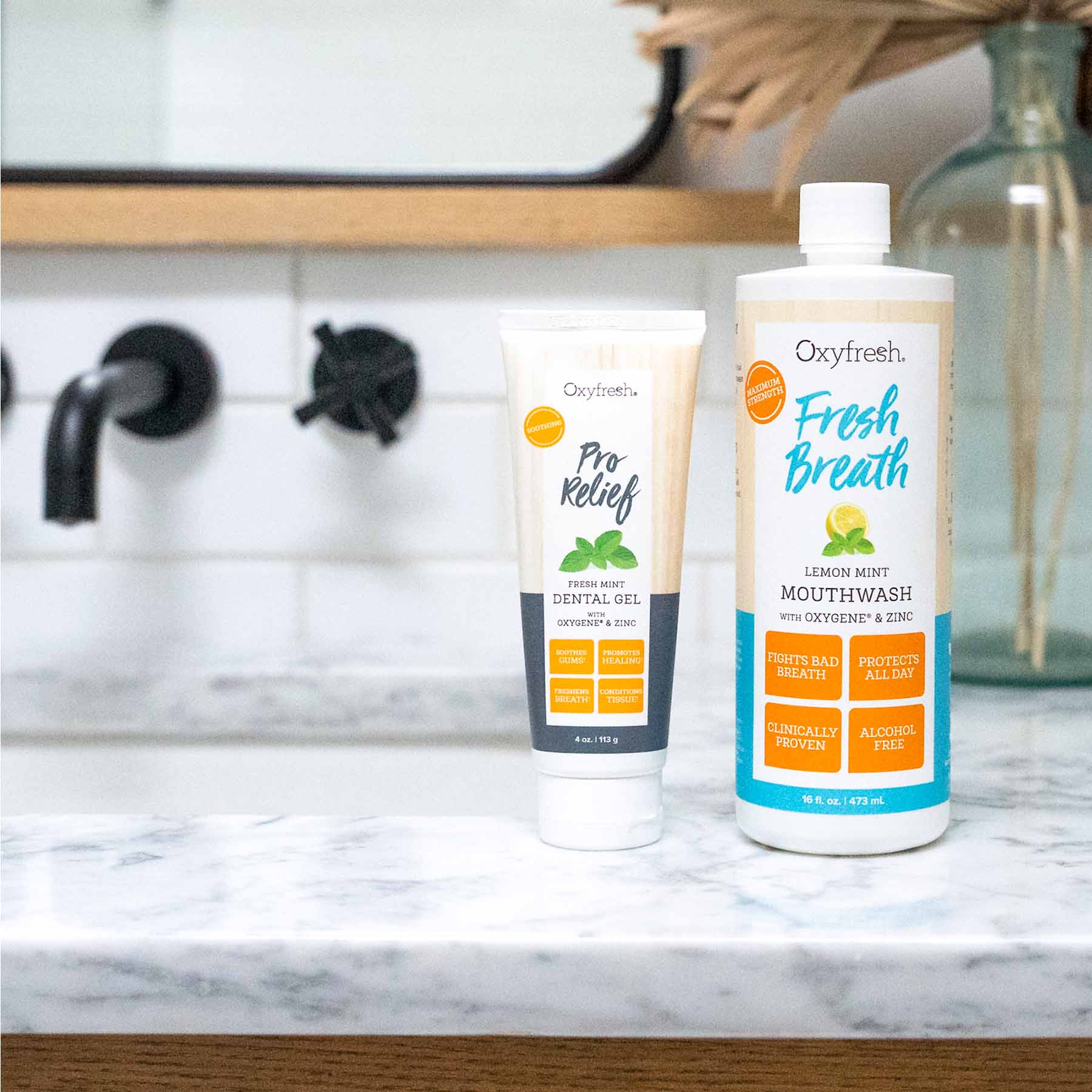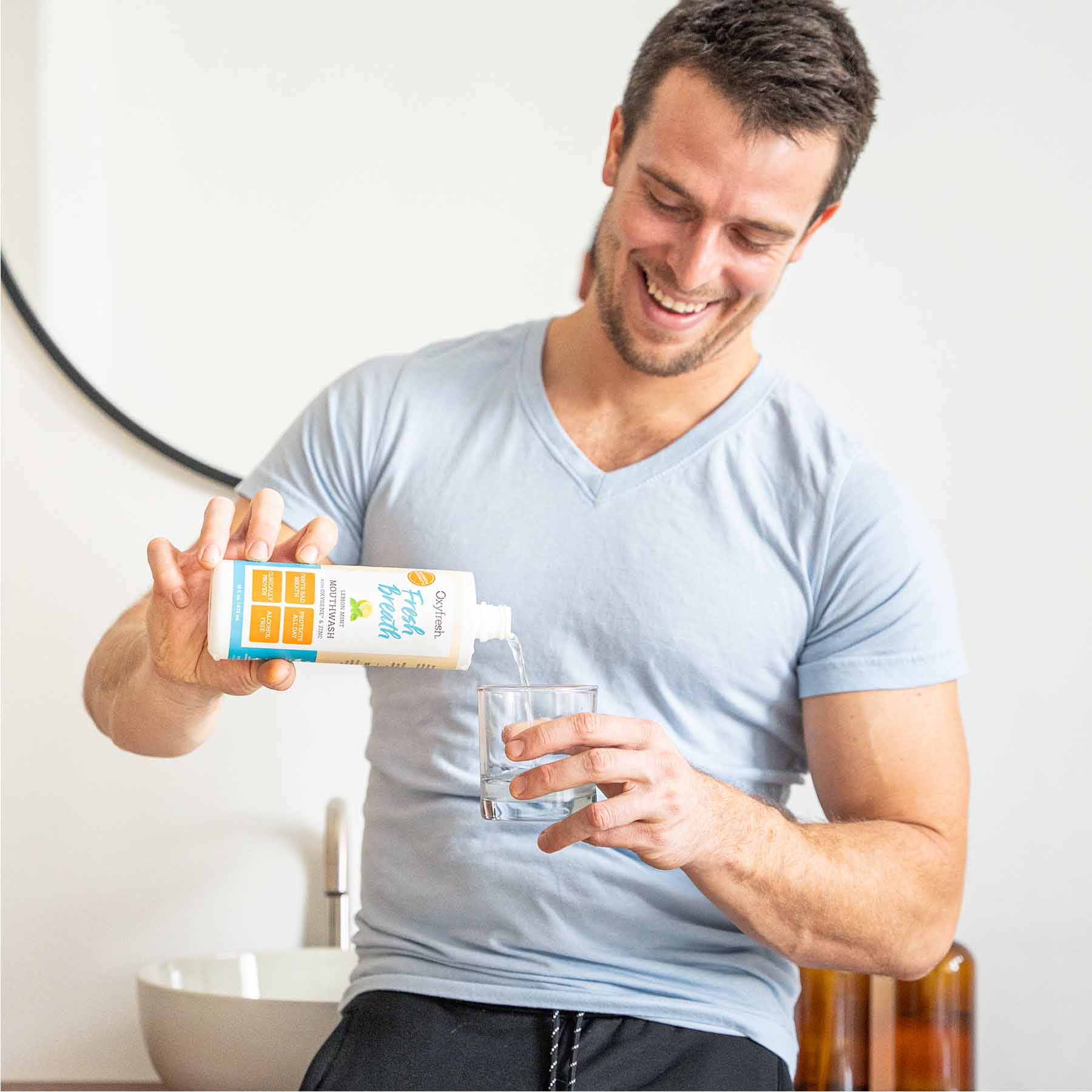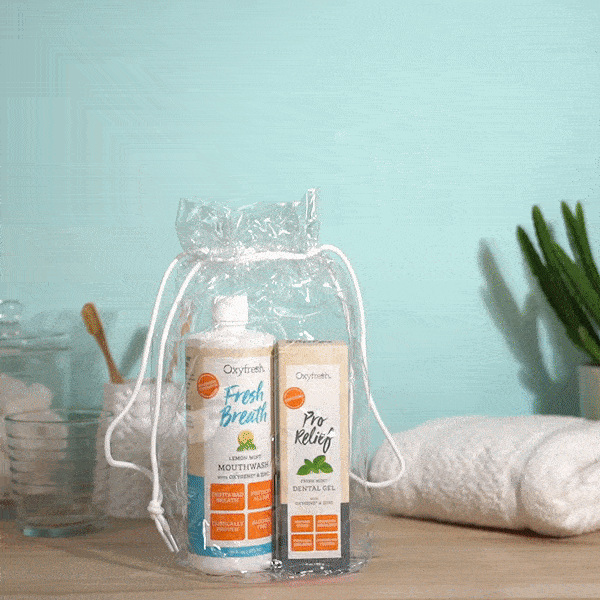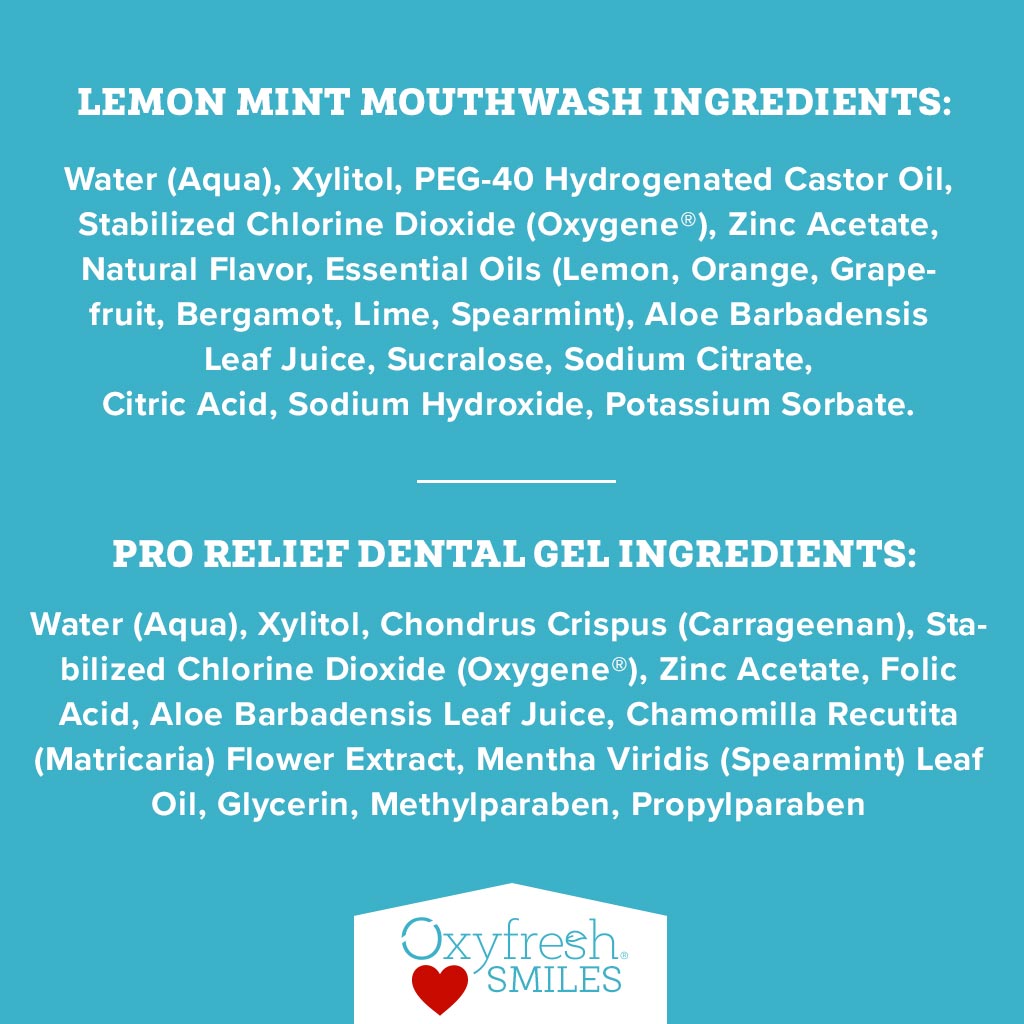 Post-Surgical Care System | Fluoride Free
If your smile is on the road to recovery, why experience bumps in the road? Our Post-Surgical Care System will make your journey fresh, soothing & simple with clinically proven, dentist-recommended products.

COMPLETE SYSTEM – It's everything you need to pamper your sore gums & keep your breath fresh: patented Lemon Mint Mouthwash (16 oz.), soothing Pro Relief Dental Gel (4 oz.) & ultra-soft health brush.
HELPS PROMOTE HEALING – Our clinically proven gel features nature's natural soothers like aloe vera, spearmint leaf oil & chamomile. So hydrating and pampering, it's like a spa day for your gums.
ALL-DAY FRESH BREATH – No more bad breath worries! Our max-strength Lemon Mint Mouthwash has 2x the zinc & Oxygene®, our special ingredient that makes bad breath compounds disappear like magic.
INFUSED WITH ESSENTIAL OILS – We ditched the burn of alcohol & harsh mint flavors to bring you formulas that help soothe (and taste good too!) with light, just-right blends of natural essential oils.
IT WORKS – If you've tried everything else, you might as well try something that works! Trusted worldwide to gently clean teeth and just like all of Oxyfresh products, it is made in the U.S.A. with only the highest quality ingredients.
Por Relief Dental Gel Ingredients: Water (Aqua), Xylitol, Chondrus Crispus (Carrageenan), Stabilized Chlorine Dioxide (Oxygene®),Zinc Acetate, Folic Acid, Aloe Barbadensis Leaf Juice, Chamomilla Recutita (Matricaria) Extract, Flavor*, Methylparaben, Propylparaben
* Contains Spearmint essential oil

Lemon Mint Mouthwash Ingredients: Water (Aqua), Zinc Acetate, Xylitol, PEG-40 Hydrogenated Castor Oil, Flavor*, Potassium Sorbate, Stabilized Chlorine Dioxide (Oxygene), Sucralose, Sodium Citrate, Sodium Hydroxide, Aloe Barbadensis Leaf Juice, Citric Acid
*Contains Lemon, Orange, Grapefruit, Bergamot, Lime, and Spearmint essential oils

Post Surgical Care Toothbrush: Extremely soft bristles for soothing care and comfort after surgery.
Oxygene® (Stabilized Chlorine Dioxide): Disrupts bacterial colonization, oxidizes volatile sulfur compounds, eliminates oral odors, and has disinfectant properties
Aloe Vera: Has been used for centuries in therapeutic health and beauty products. Its properties promote soothing and healing without irritation
Xylitol: Inhibits the growth of the bacteria that cause cavities
Essential Oils: Naturally flavored using a unique blend of soothing essential oils
Zinc: Counteracts the toxicity of volatile sulfur compounds and inhibits oral odors
Folic Acid: Aids tissue growth and cell function
Gluten Free
Easy 1-2-3 Routine
Brush, Swish & Soothe for the ultimate fresh breath routine ... gums love that!

Step 1: Brush
So refreshing, you may actually want to brush the full 2 minutes! Apply a pearl-sized drop and brush each tooth using a GENTLE, circular motion. (We know you're tough, but teeth love a soft touch.)

Step 2: Swish
When you're done brushing, pour a couple capfuls into your favorite mouthwash cup and swish away! It only takes a minute, but you'll enjoy every second of it.

Step 3: Soothe
Liberally apply dental gel to affected tissue with a Q-tip. Leave on for several minutes, then spit out excess if needed. You can also leave on overnight.

Bet you've never seen this disclaimer before!
Xylitol is awesome for people, but not for our furry friends. They're also not a fan of lemons or mint, so if you're looking to freshen your pet's breath, try our tasteless and odorless pet mouthwash instead.
I strongly recommend this product for all having one tooth pulled or especially like me all of then removed from oral surgery. It soothes the mouth and protects your surgery site.
Post-Surgical Care System | Fluoride Free
I purchased the Post-Surgical Care kit for my husband (age 73) in preparation for the extensive and complicated surgery he was scheduled to undergo for extraction of a full bony impacted wisdom tooth and 3 other teeth. The kit arrived arrived very timely along with the other items I purchased as a new Oxyfresh user. He is very satified with the refreshing mouthwash, the soothing pro-relief gel, and he especially appreciates the post-surgical ultra-soft tooth brush. All products are helping his mouth and gums heal as he goes through the recovery process.
New user
This is helping with my recent dental surgery! Leaves my mouth feeling very clean.
Post root canal
I used Oxyfresh 18 years ago. It has always been an excellent product and post surgery I needed some extra care and am now back to using the product. Amanda in customer service has also been very helpful. I highly recommend Oxyfresh.
Fresh And Clean
The toothpaste is great. It doesn't burn my mouth as most foaming toothpastes. Leaves my teeth very clean. Mouthwash is very refreshing
Wonderful Care Kit
I received my post surgical care kit the other day and am very pleased with the choices and products. The mouth rinse is soothing and refreshing (especially to healing gums) and the toothbrush is perfect and soft enough not to irritate sore gums or harm stitches. The sore spots have healed up wonderfully with the gel, which my dentist had recommended and shared with me after my surgery. Thank you so much and I will certainly be returning for other care products and recommending them to friends. It's so nice to have these natural products that are effective without being harsh.
Wonderful Oral Kit
I absolutely love this oral kit! The tooth brush is so cute & the bristles are not so abrasive. I had all four of my wisdom teeth extracted and I must say I love the lemon mouthwash as well. It's not an over powering mint flavor. Perfect kit. :)
Oxyfresh
When ordering, costumer service has always been wonderful. Questions always answered. Product is sent within a timely manner. Wonderful oral rinse for post op use after oral surgery. Thank you! Jeannette
Great
I got what I ordered, I am using all that I ordered and find the mouth wash most refreshing. Thank you
Big Difference
The Oolitt Elite Tongue Scrappers are great. It makes a big difference, when you see what comes off of the tongue! All of a sudden everyone wants a Tongue Scrapper.