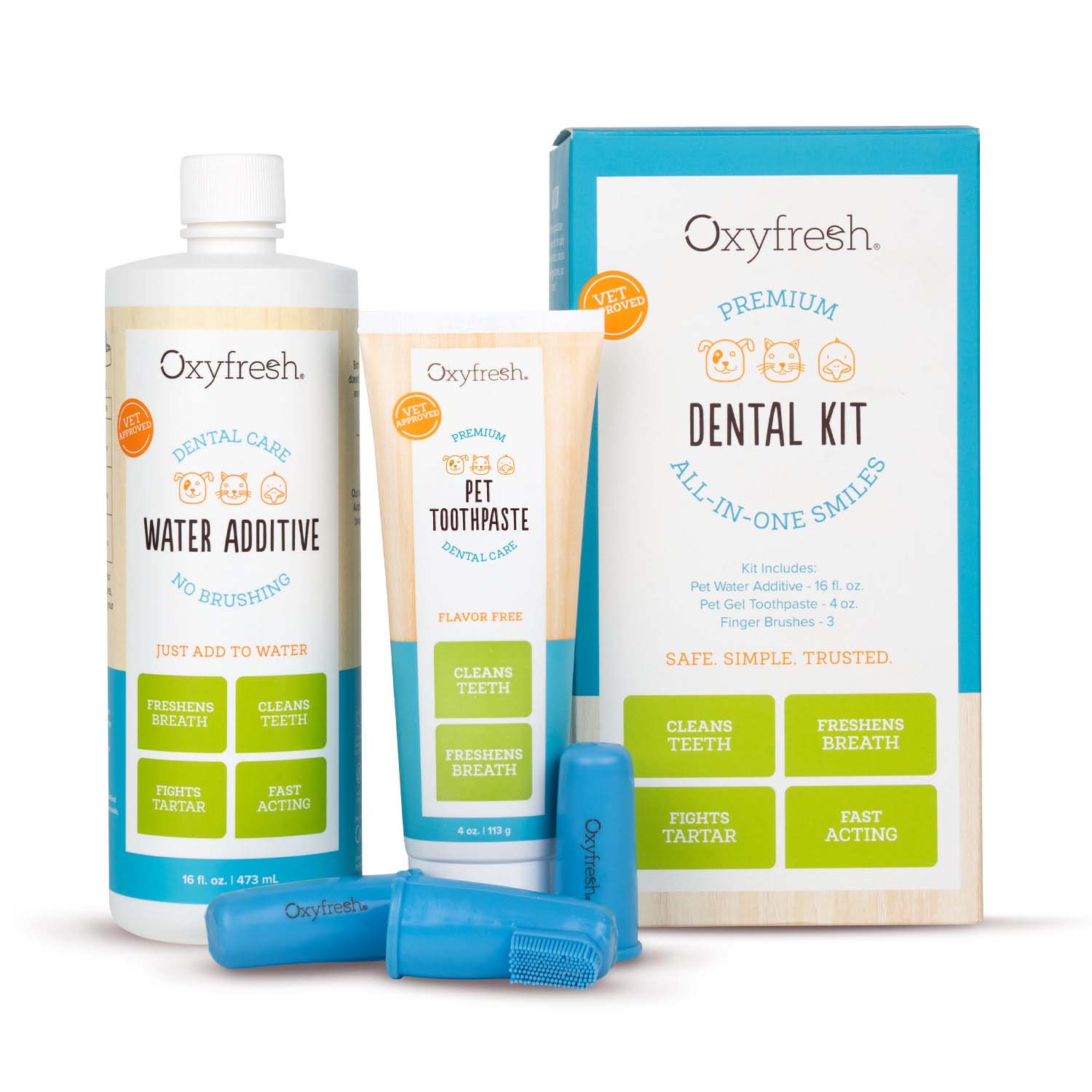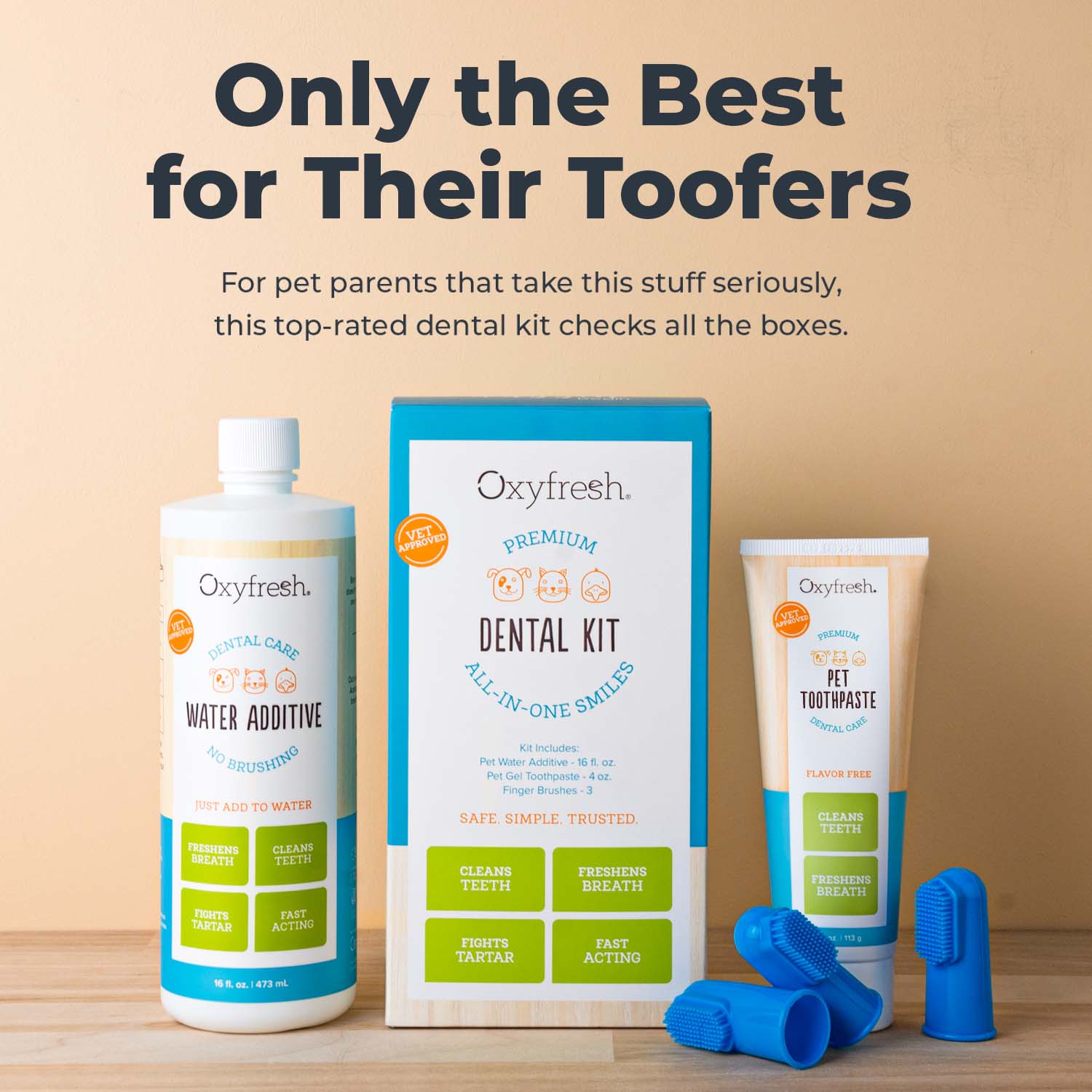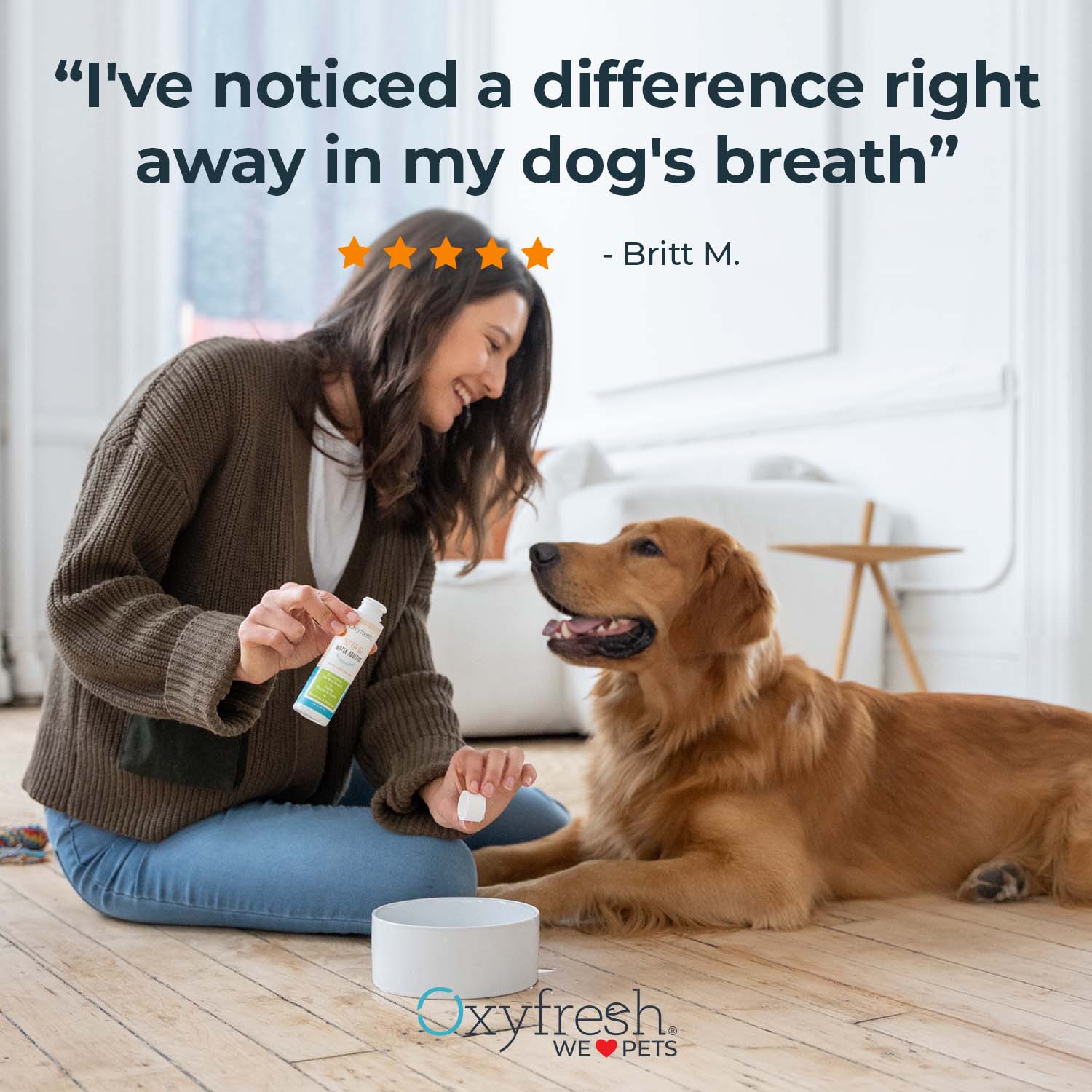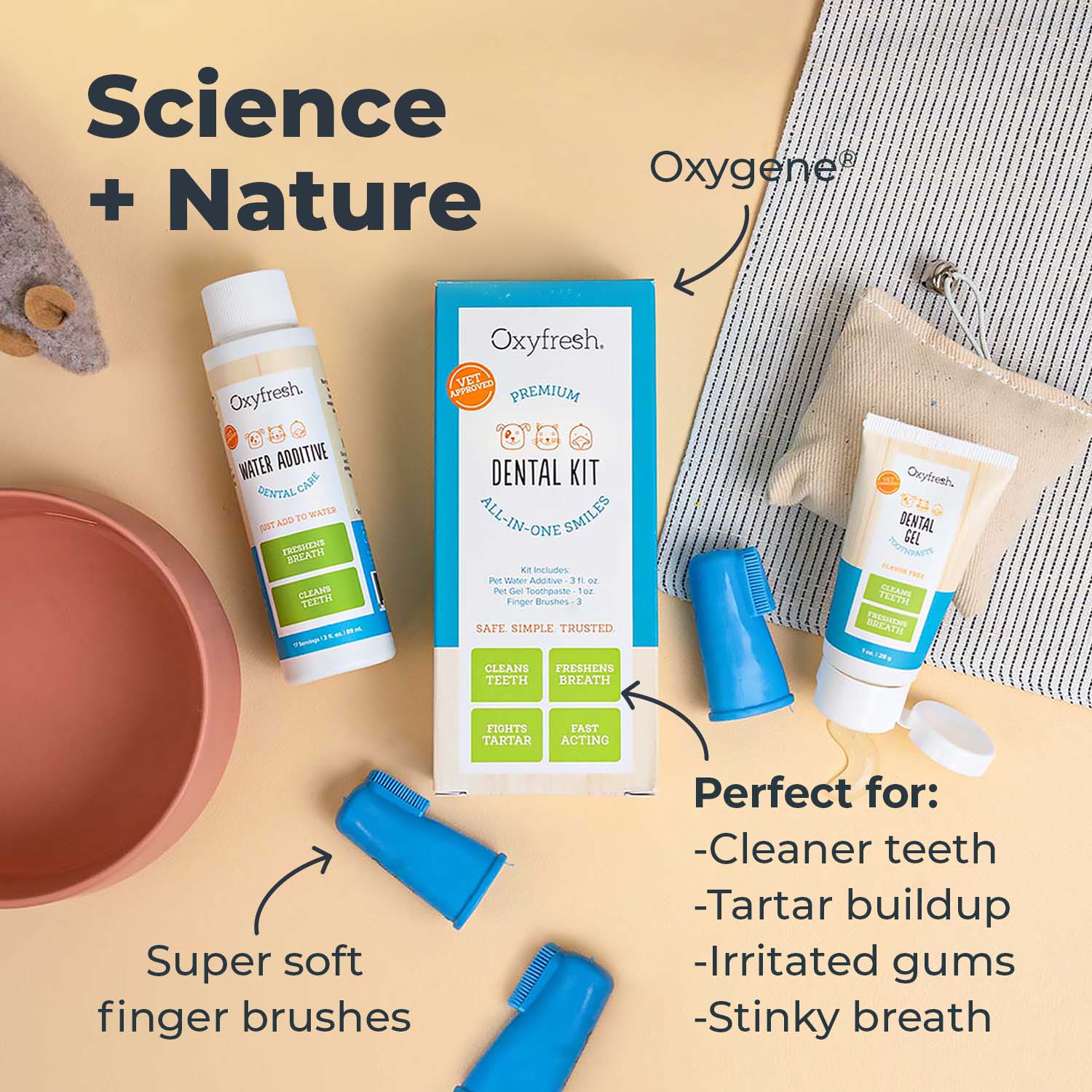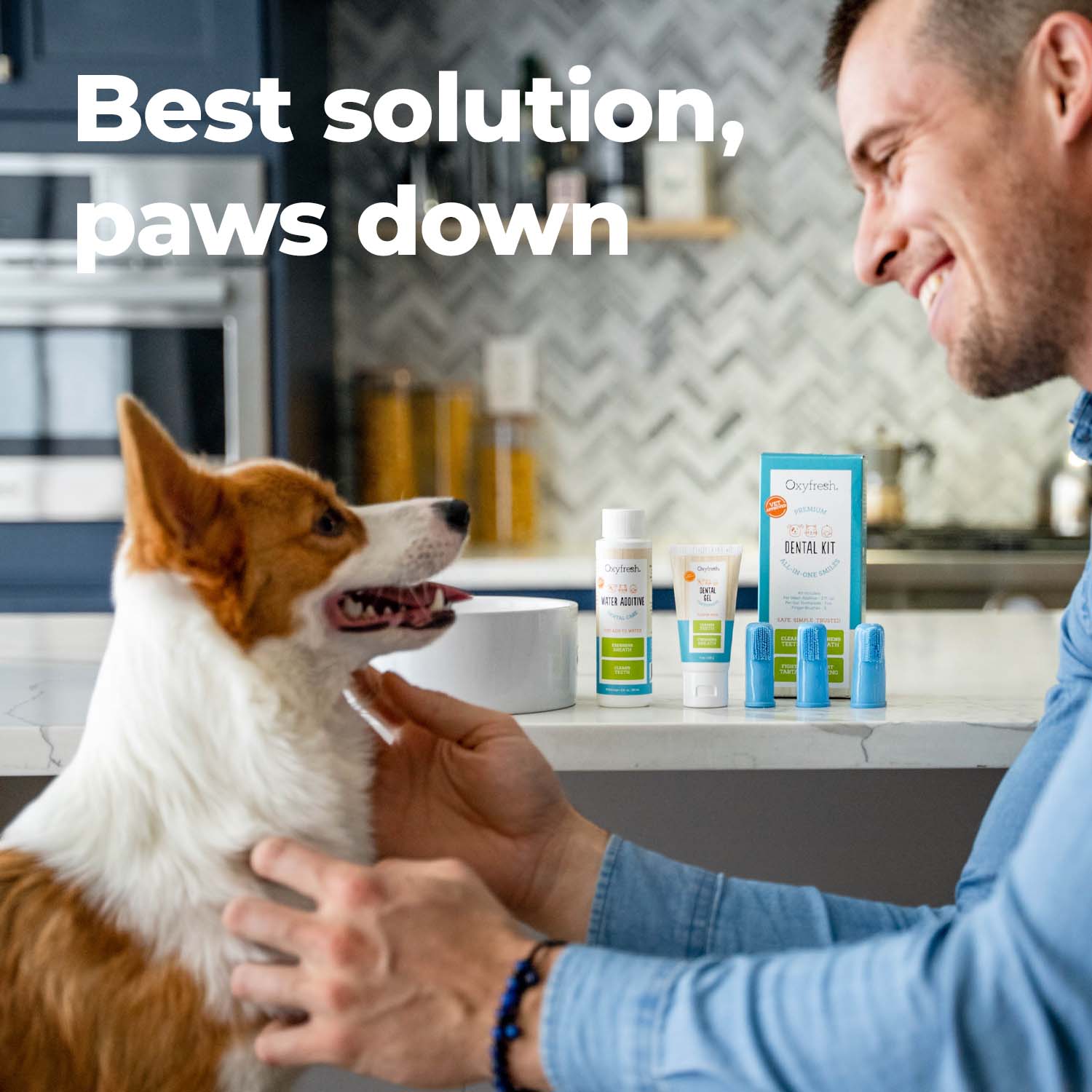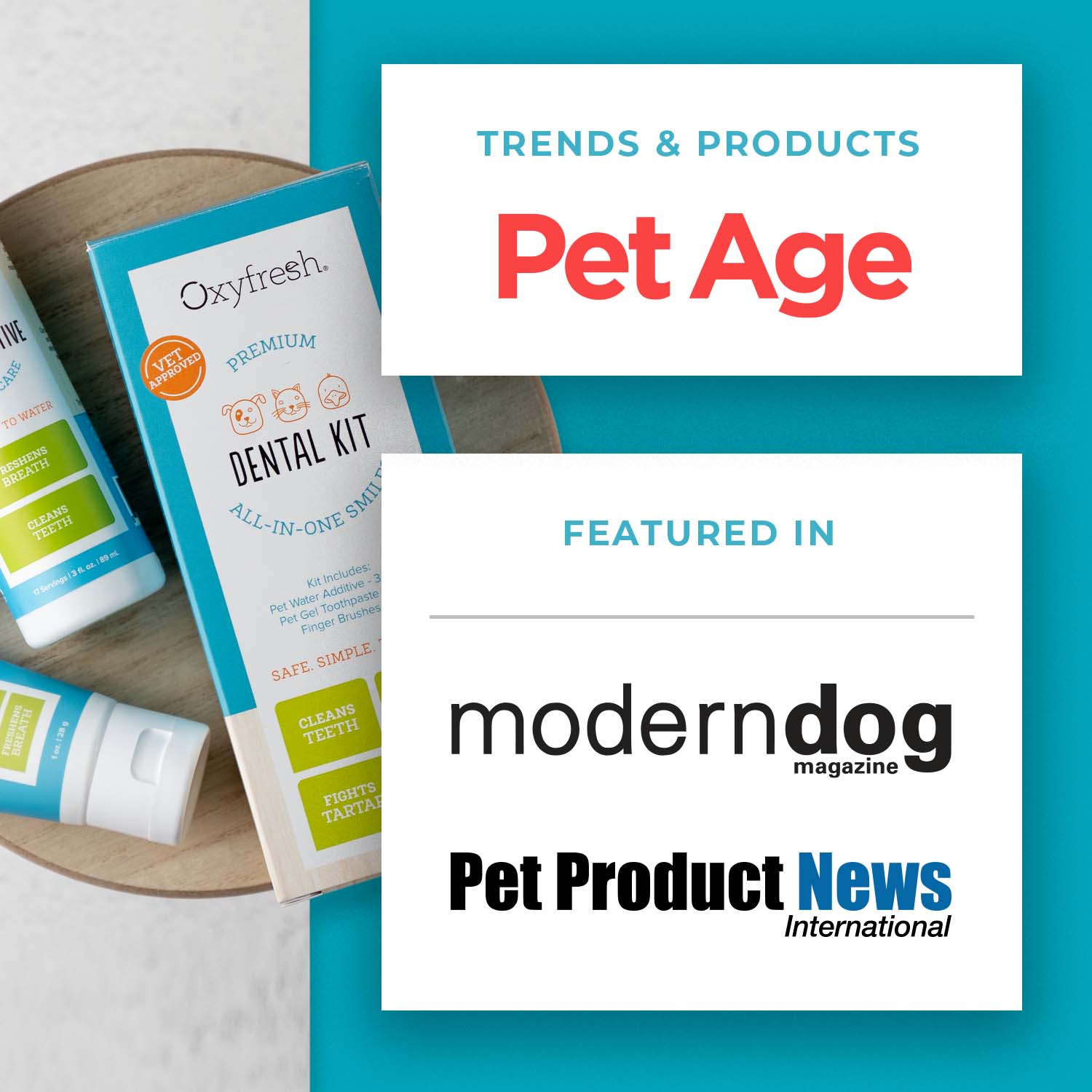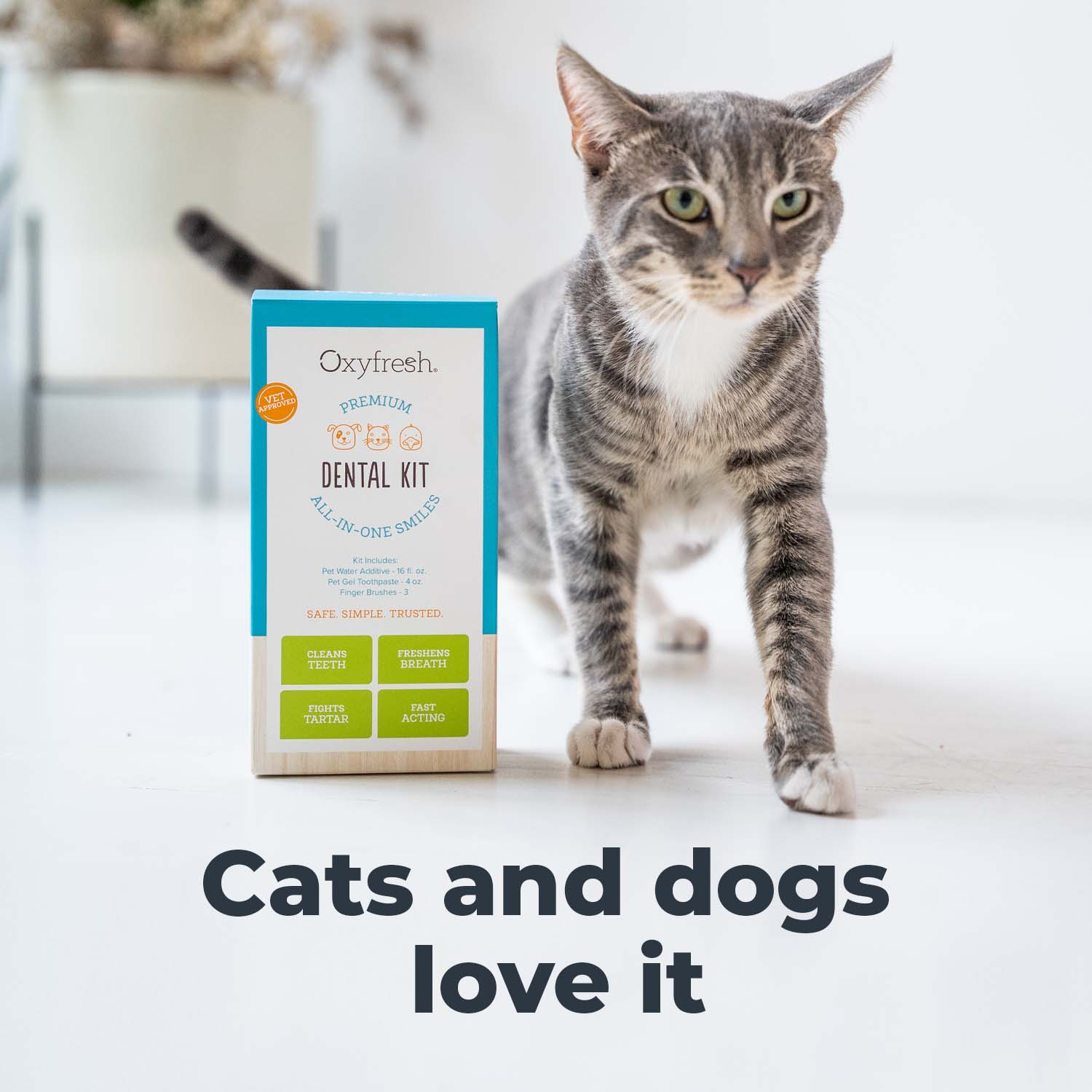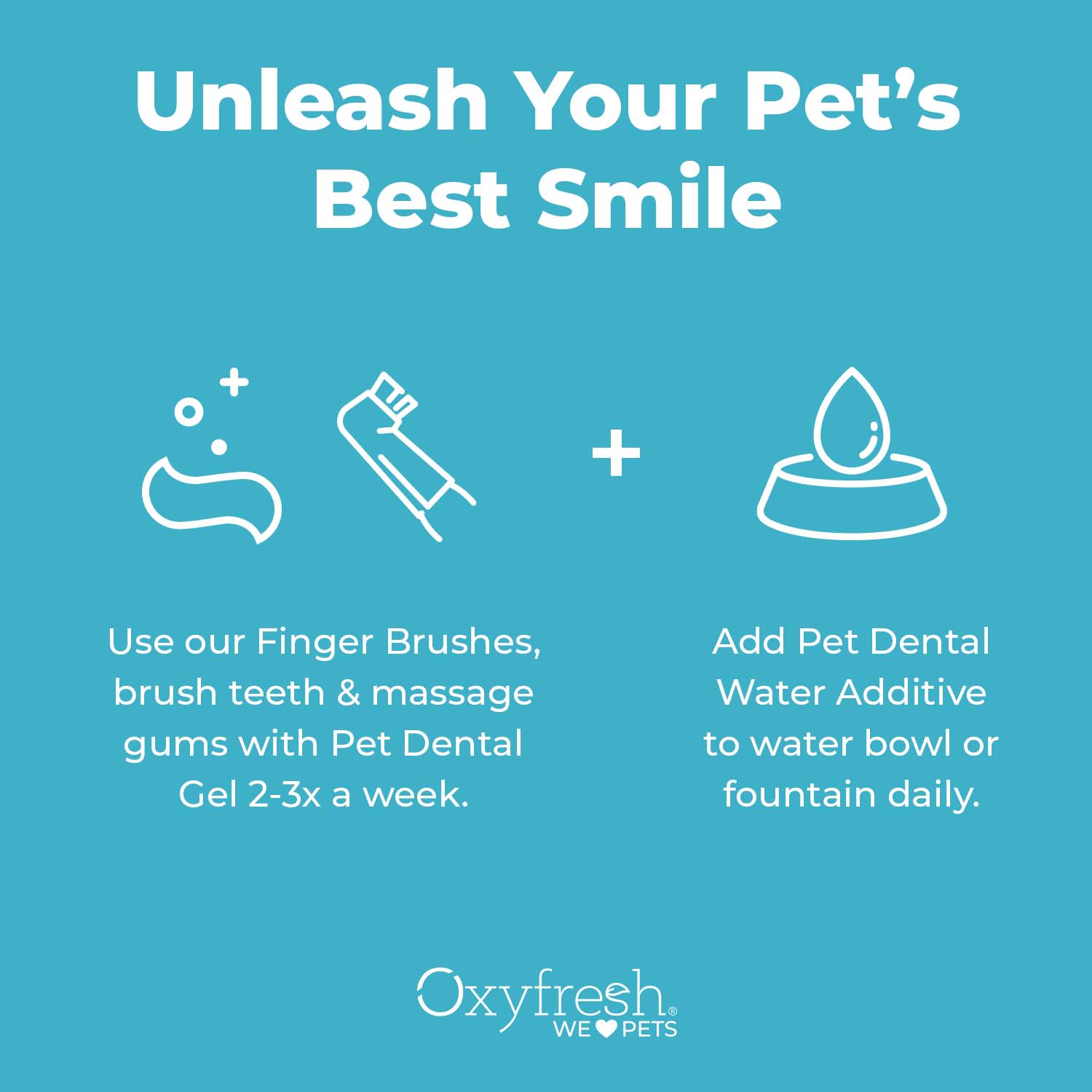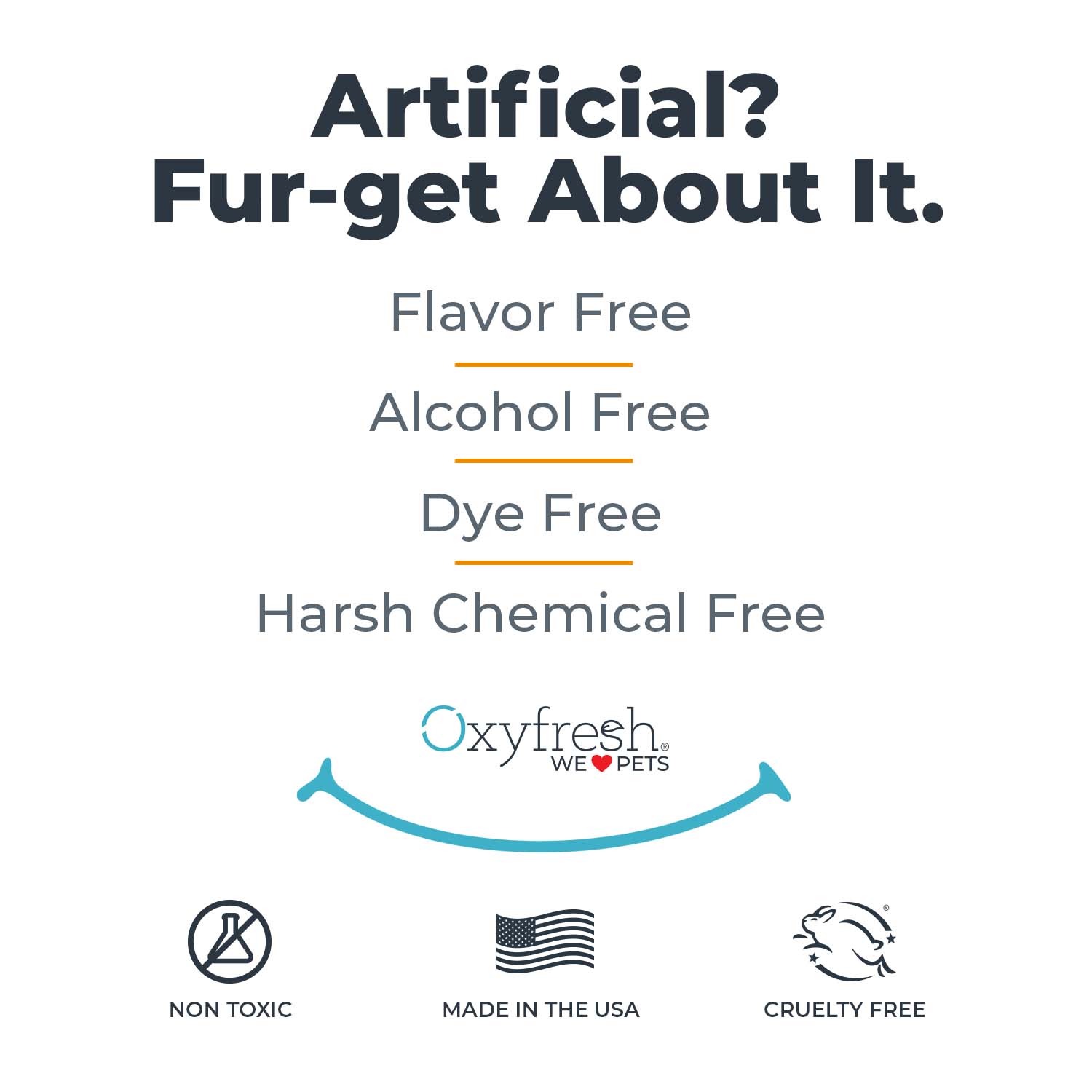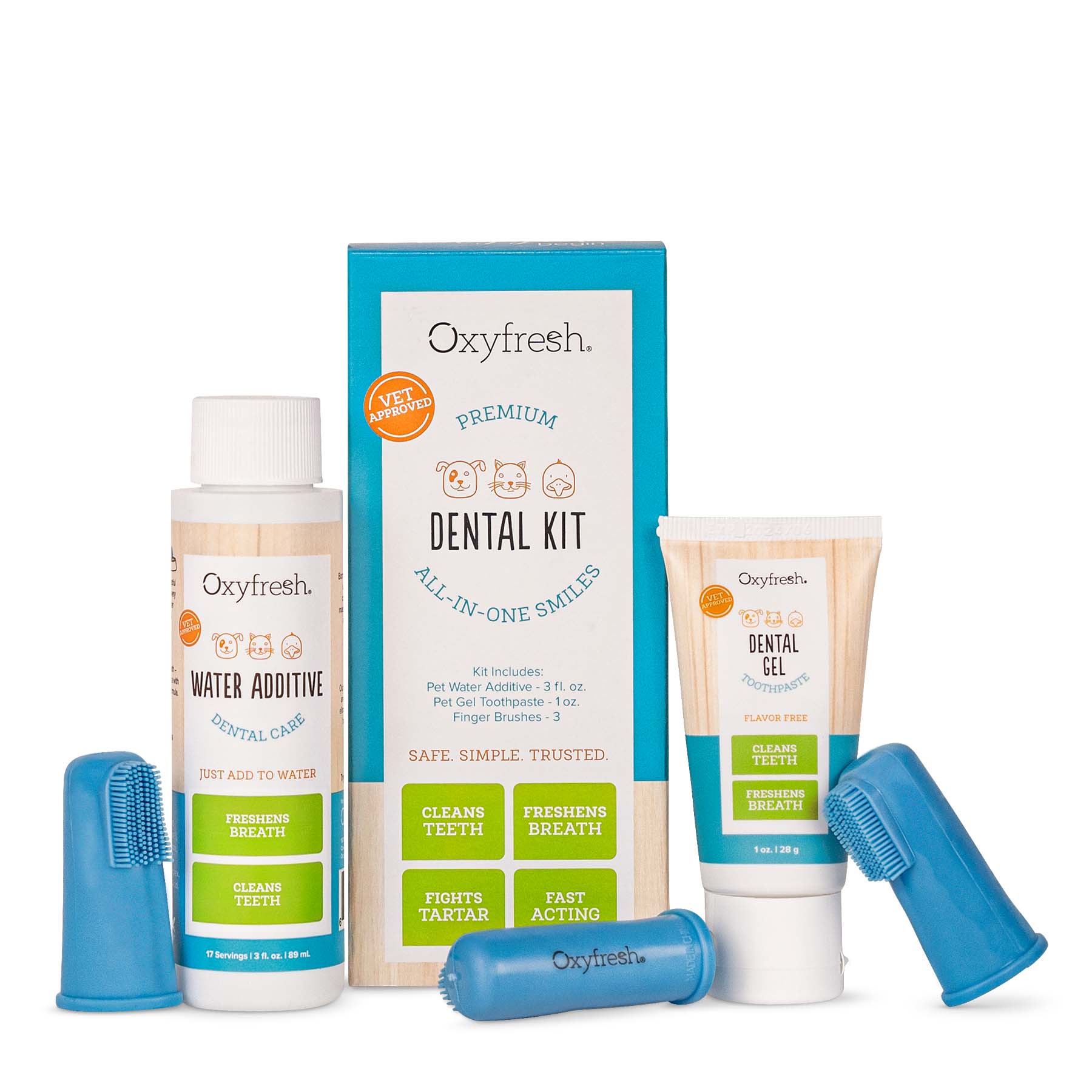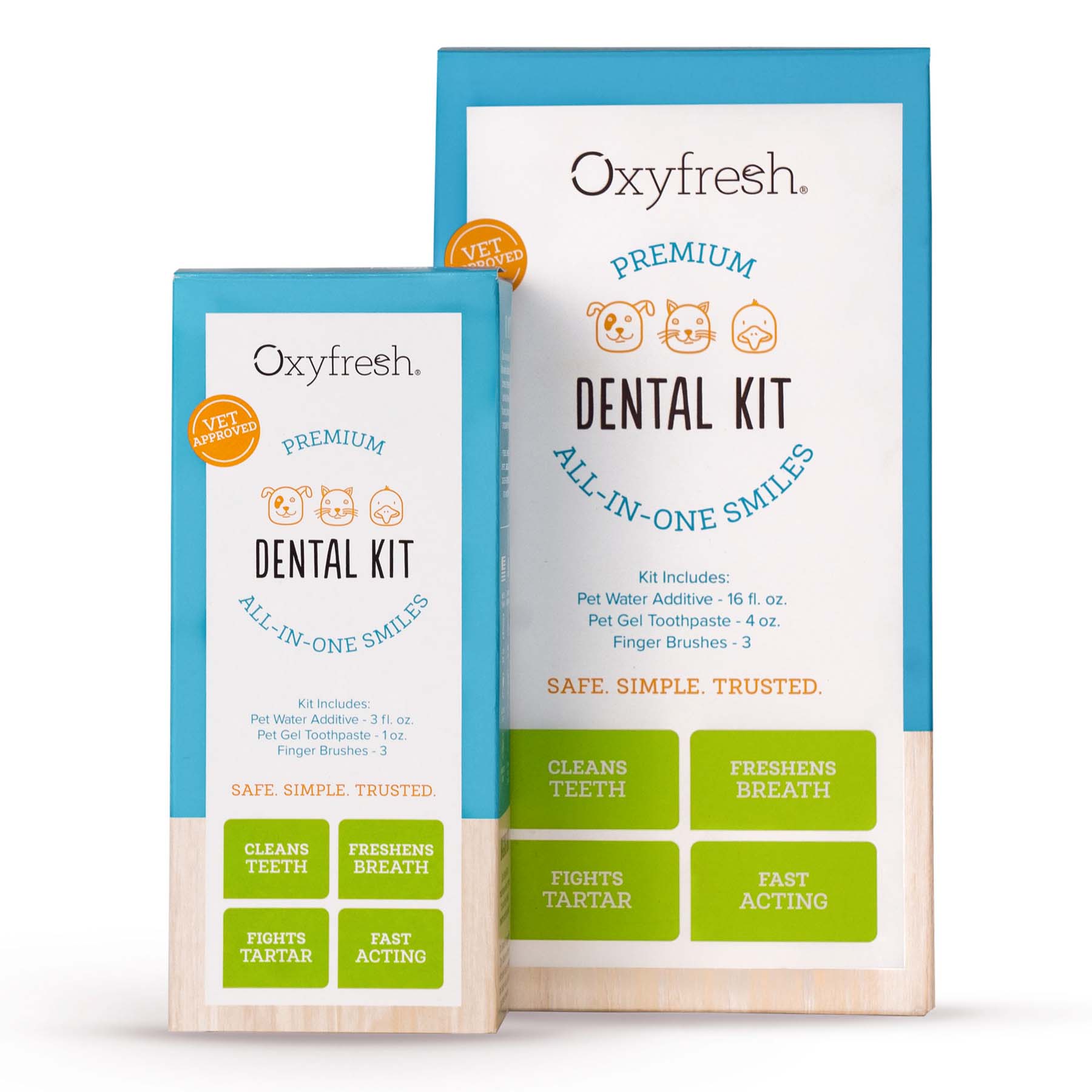 Premium Pet Dental Kit | Freshens Dog & Cat Bad Breath | Cleans Teeth
Bundle and save on all the essentials to keep your sidekick's smile in tip-top shape. Our dental care kits for pets feature our top-selling Pet Dental Water Additive alongside the Pet Dental Gel Toothpaste plus easy-to-use finger brushes. Hello fresh breath & clean teeth!
CLEANS DOG TEETH + REMOVES PLAQUE – Nothing works better to help get dogs' teeth sparkly clean and their gums in great shape, in between regular vet visits. Our dental water additive and dog toothpaste for tartar control feature our exclusive non-toxic ingredient Oxygene to help fight plaque and neutralize the odor that cause bad breath.
GOODBYE, BAD DOG BREATH – Beats breath bones, dental chews, & flavored products that only mask dog bad breath temporarily. Our USA-made dental formulas are trusted by vets to deliver the ultimate fresh dog breath without harmful ingredients like mint, clove and tea tree oils, alcohol, or other harsh ingredients.
PERFECT FOR ALL PETS – Whether you're a dog person, cat person, or a bit of both, our premium dental formulas are safe, gentle and non-toxic for all the pets in your pack. And because our dog dental cleaning kit ingredients are tasteless and odorless, even the pickiest pets will love it.
BEST VALUE – All-inclusive dog teeth cleaning kit features our 3 oz. Pet Dental Water Additive (so easy – just add to water bowl!), 1 oz. Pet Dental Gel Toothpaste & 3 gentle finger toothbrushes for one low price. It's everything you need for a simple and effective dog dental routine at home.
AWARD-WINNING DOG DENTAL KIT – Our amazing Pet Dental Kit is a 2020 Family Choice Award Winner, featuring safe, trusted ingredients you can always feel good about. So if you've tried everything else, it's time to try something that WORKS.
We bring pets a better kind of fresh every time they drink!

Pet Dental Water Additive Ingredients: Water (Aqua), Sodium Benzoate, Sodium Citrate, Stabilized Chlorine Dioxide (Oxygene®), Zinc Acetate, Sodium Hydroxide, Chlorophyllin-Copper Complex.

Pet Dental Gel Toothpaste Ingredients: Water (Aqua), Chondrus Crispus (Carrageenan), Stabilized Chlorine Dioxide (Oxygene®), Aloe Barbadensis Leaf Juice, Chamomilla Recutita (Matricaria) Extract, Methylparaben, Propylparaben.

Finger Brushes BPA Free Silicone

Gluten Free
Daily is best, of course!

Pet Dental Gel Toothpaste Super versatile, you can apply this gel straight to your pet's gum line with your finger and let your pet's tongue do the rest! Or use one of the included finger brushes to gently brush their teeth & gums. (Be sure to give 'em a treat afterward – they love that.)

Pro Tip: If your cat won't let you touch its teeth, squeeze a little toothpaste on top of its paw and let them lick it off. Mission accomplished, fingers intact.

Pet Dental Water Additive Fresh breath made easy for dogs, cats & all the critters you love! We know water bowls come in all sorts of sizes and every pet is unique, so we developed a dosage chart to help you get started:

8 oz. water (1 cup): 1/4 tsp. Sensitive pets: 1/8 tsp.

16 oz. water (2 cups): 1/2 tsp. Sensitive pets: 1/4 tsp.

32 oz. (4 cups/1 quart): 1 tsp. Sensitive pets: 1/2 tsp.
Premium Pet Dental Kit | Freshens Dog & Cat Bad Breath | Cleans Teeth
The Girls Love It!!
We received our kit and immediately did a taste test of the toothpaste. Both girls loved it! For now we're using it on a finger so they get used to it, but it's going good so far! The finger brushes are nice and soft too and look forward to using those soon. Excited to use the water additive as well!
Great products!
Products are easy to use and great way to keep our dogs breath smelling good!
No change whatsoever despite drinking oxyfresh water from 3 bowls.
No change in breath or teeth 😿
awesome!
Skiddish Jack Russell mix. He loves it! Tasted it, no flavor as advertised. Strange but good so far! Five days...
Awesome Product
Puppy loves getting her teeth brushed. Finger brushes so much easier to use than kids toothbrush. Will purchase again in the future.
beautiful dog teeth
I have two Border Collies, one that is 15 years old and the other 8. Even as old as they are, their teeth and gums are in beautiful condition. Neither of them have had any teeth pulled or have had to have their teeth cleaned. I simply brush their teeth with the Oxyfresh Pet Gel. This is a fantastic product.
healing pet gel
Oxyfresh Pet Gel is very quick on healing cuts and wounds on my pet. I use it on myself as well.
It works
I love Oxyfresh Pet Oral Hygiene Solution. I can't believe how well this product works. My dog's teeth and gums are nice and clean. I am now going to try brushing with Oxyfresh Pet Gel too.