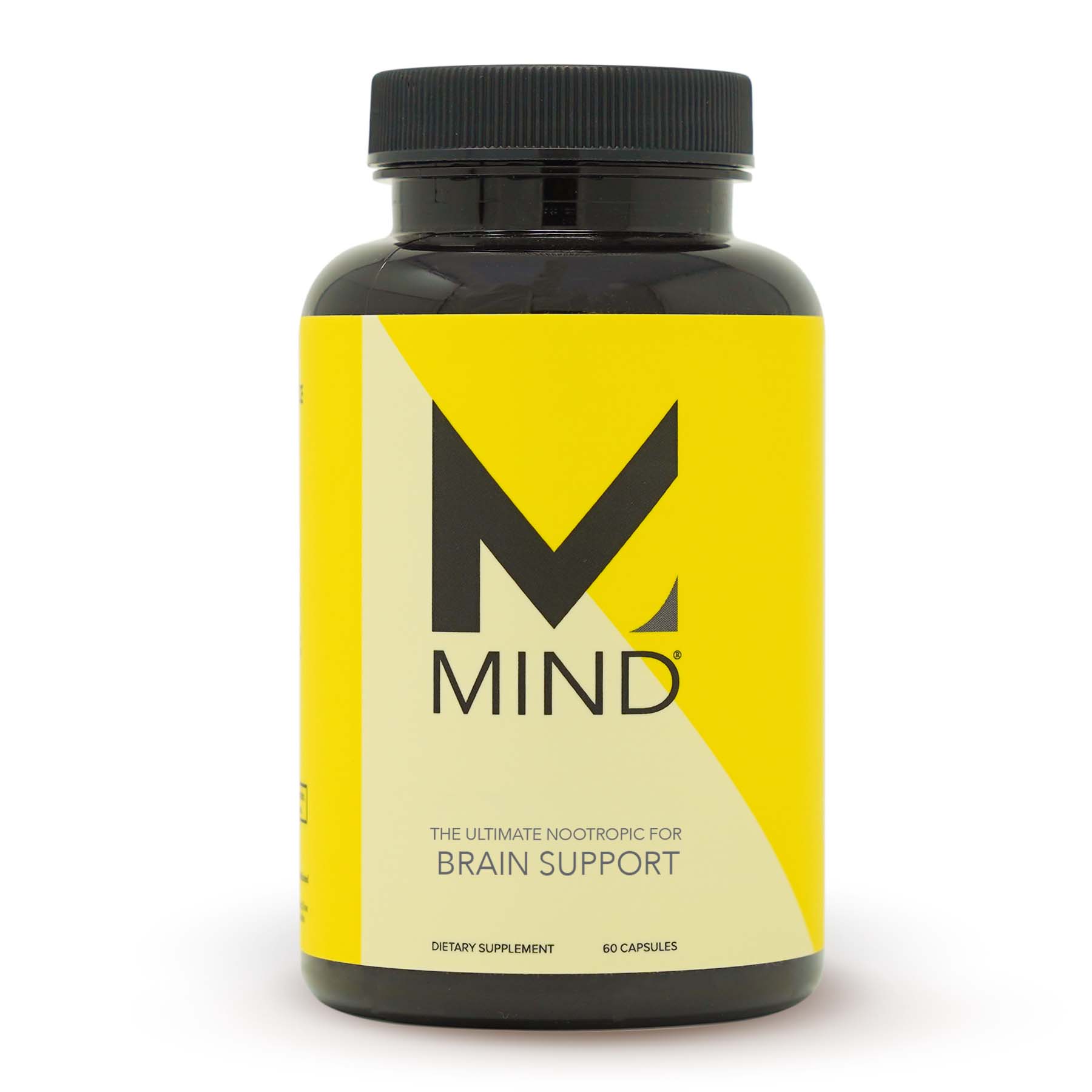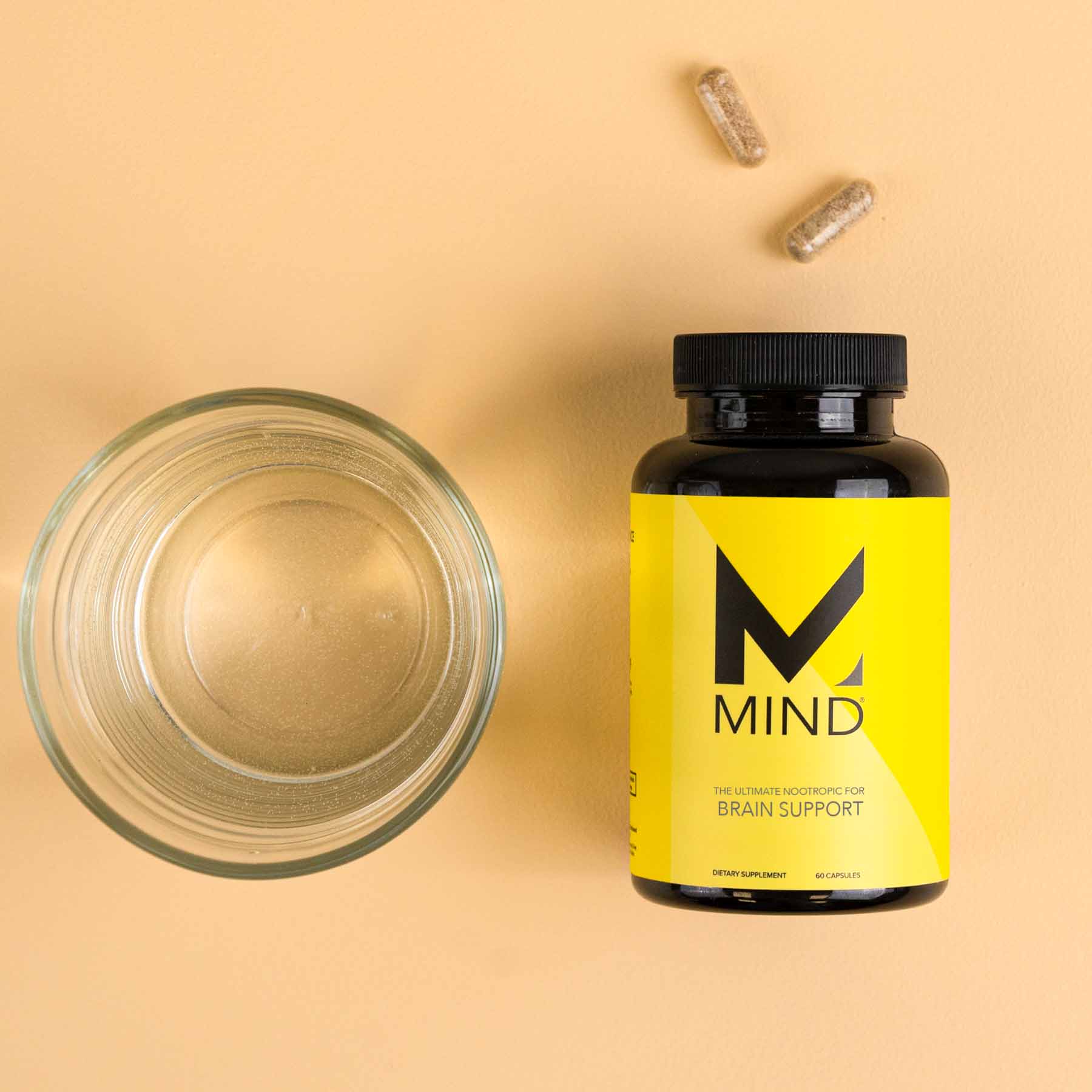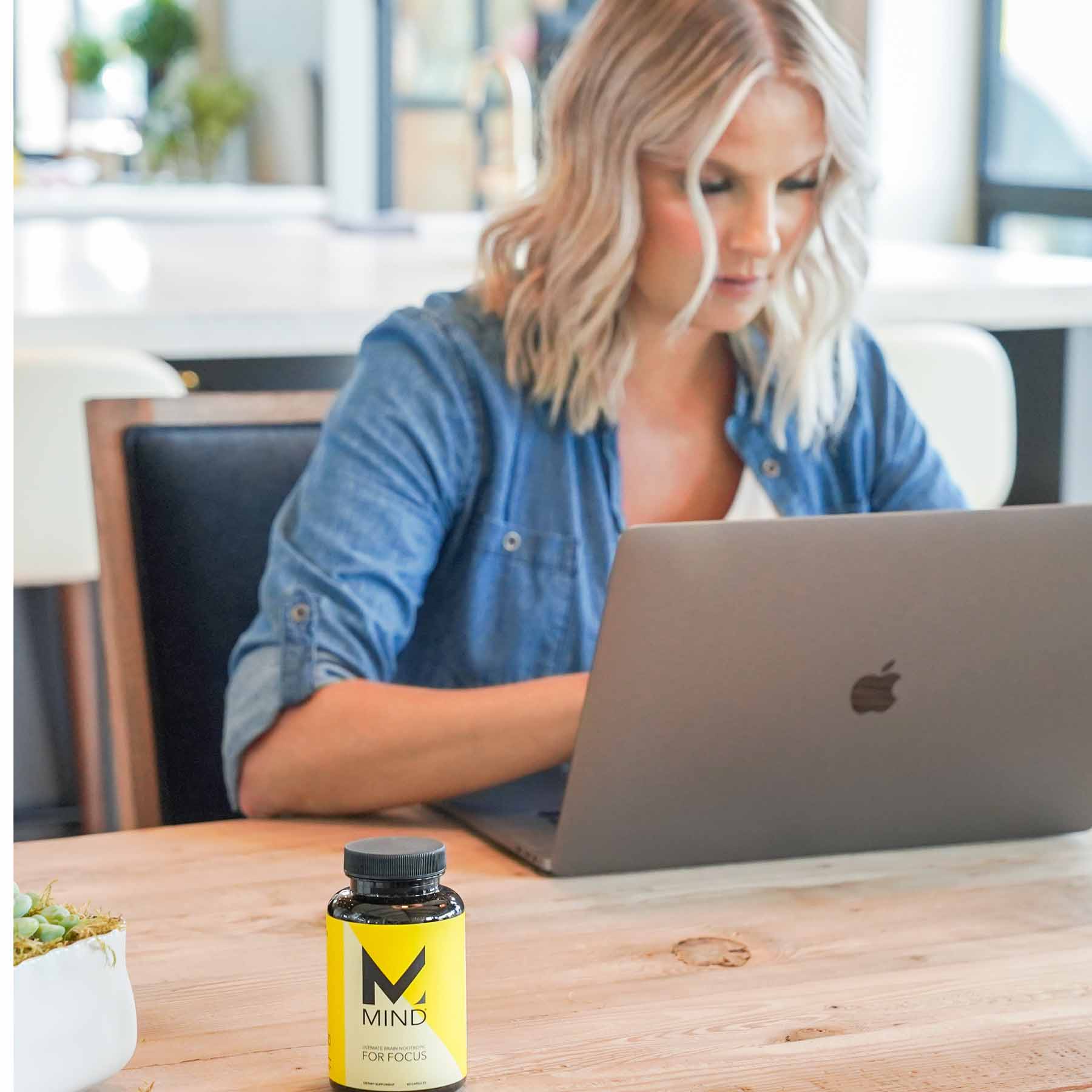 MIND® Nootropic | Vegan, Gluten Free, Non-GMO
Sharper memory and focus? It's a no-brainer for our powerful MIND® nootropic, formulated with a scientific blend of core nutrients, clinically proven to boost memory and concentration.
BOOST BRAIN POWER – MIND's superstar brain booster is a proprietary form of choline – Cognizin® Citicoline – clinically proven to improve memory and motor speed.
GOODBYE, BRAIN FOG – From spacing on your PIN to forgetting names, brain fog can be embarrassing! MIND helps break through the fog, giving your brain the mental edge it needs to stay active & sharp.
PROTECT EYE HEALTH – Too much screen time? We hear ya! That's why MIND has FloraGLO Lutein to improve visual performance & help protect from blue light, eye strain & Age-Related Macular Degeneration.
IMPROVE MEMORY – Whether you have a big test or a big work presentation, MIND's got you covered with Bacopa monnieri, a natural Ayurvedic herb shown to improve memory and reduce stress & anxiety.
MAXIMIZE NEURO HEALTH –MIND is the ultimate nootropic brain food, with naturally occurring nutrients, amino acids & plant compounds to nourish your mind ... no jittery caffeine or stimulants.
Only the good stuff ... that's a no-brainer. We took the best of science and nature to bring you peace of MIND with every capsule.

Ingredients: Niacin (as niacinamide), Acetyl L-Carnitine, Bacopa monnieri aerial parts extract, Alpha-glycerylphosphorylcholine, Citicoline (Cognizin®) (from Stabilized Cytidine 5'-Diphosphocholine), Ginkgo biloba leaf extract, Lutein (as FloraGLO®) (from marigold flower extract), Zeaxanthin (from marigold flower extract).

Other Ingredients: Vegetarian Capsule (Hypromellose and Water), Microcrystalline cellulose, Silica (from bamboo, stem & leaf).

Gluten Free

See the supplement facts here.
Calling all brainiacs!

Put your smarty pants on by taking 2 pills twice daily with food. (That's 4 total ... see, brain power!) When first starting out, we suggest going halfsies and just taking 2 pills a day so you can gauge your experience. Oh, and did we mention? This is NOT a stimulant or med, so it's safe to take long-term!
It helps me to stay focused during my stressful workday.
Meh.
Noticed 0 results in almost 2 weeks now. Probably better products out there. Don't waste your money on this one.
Mind
I never expected the positive results from taking this supplement, but I've experienced a noticeable positive difference in my ability to focus. I'm nearly completely cynical when it comes to advertising claims, but taking a chance (of sorts) on this product is paying off. Bill
Got My Sharpness Back
After not being able to get Prevagen during the lockdowns, I tried PQQ. PQQ didn't help one bit. Because I get Oxyfresh mouthwash and really like it, and I saw the high reviews for MIND®, I thought that I would give it a try. I only bought two months worth at first. I experienced a better improvement than from Prevagen. I have since ordered more. When I wake in the morning, I instantly know what day it is and the date, spelling has returned, less forgetting what was on my list without checking, really just better memory function overall. I definitely recommend MIND®. ?????
Excellent
MIND has worked really well for me. I have more focus and better concentration. I highly recommend this supplement.
Great nutrition
My wife, Carole and I are both in our 70's. We take MIND along with VITALITY to ensure that we will not suffer cognitive decline due to abuse and neglect of our nutritional needs. MIND and VITALITY give us that optimal brain nutrition we need.
Mind & Oxyfresh Mouthwash
Great products that have nothing comparatively in retail stores. I can tell my focus and thinking are sharper and faster with Mind.
Good Stuff
I'm really not sure if this stuff works or not. Sometimes I think it does, sometimes not. My focus comes and goes. I love your dental products, though. They're all I use.
Carm's Review
Super Excellent!!!! Love Mind!!! I have been off of Mind for a year and back on for a week at only 1 capsule a day and already feeling a HUGE significant difference!!! Thank you, Thank you, Thank you!!!