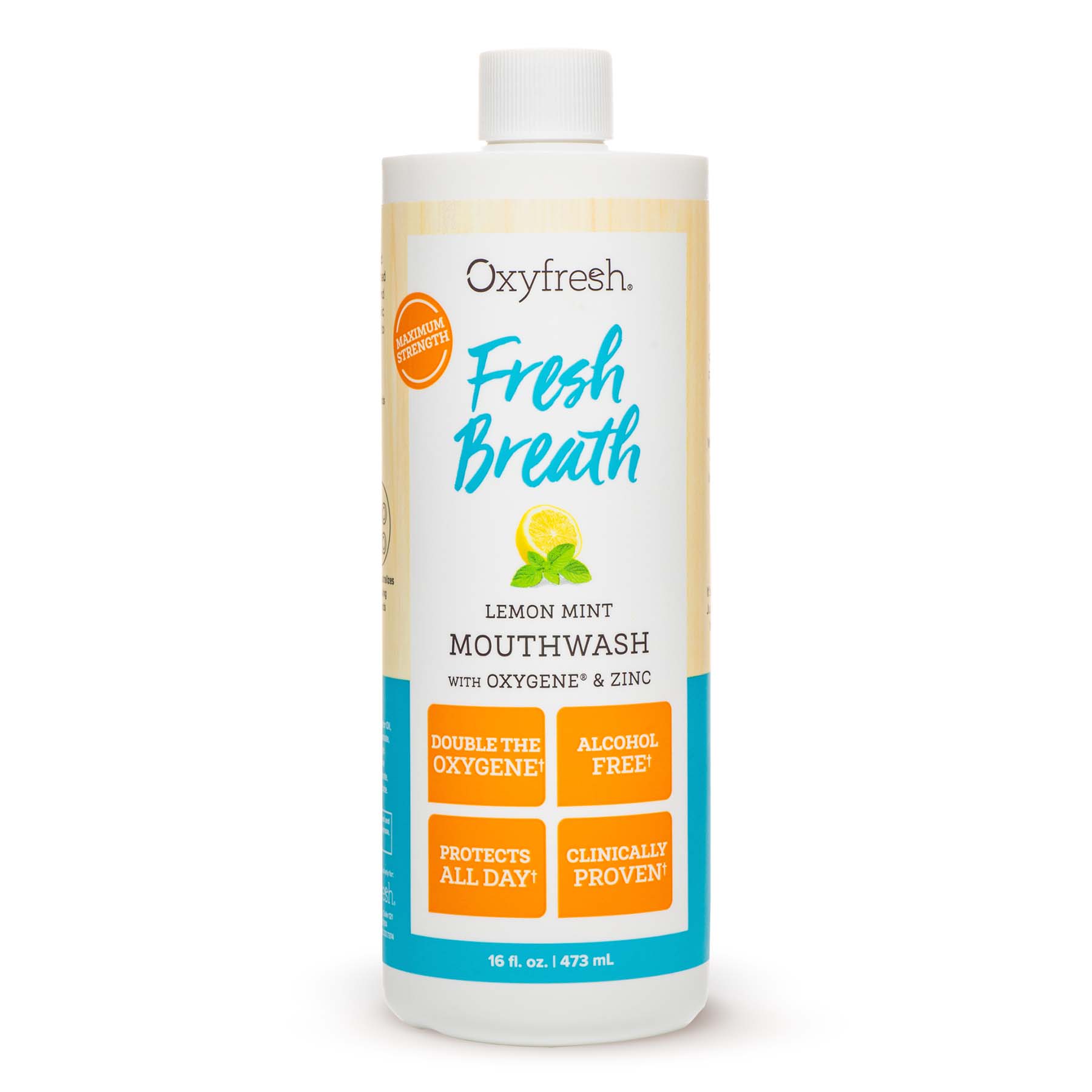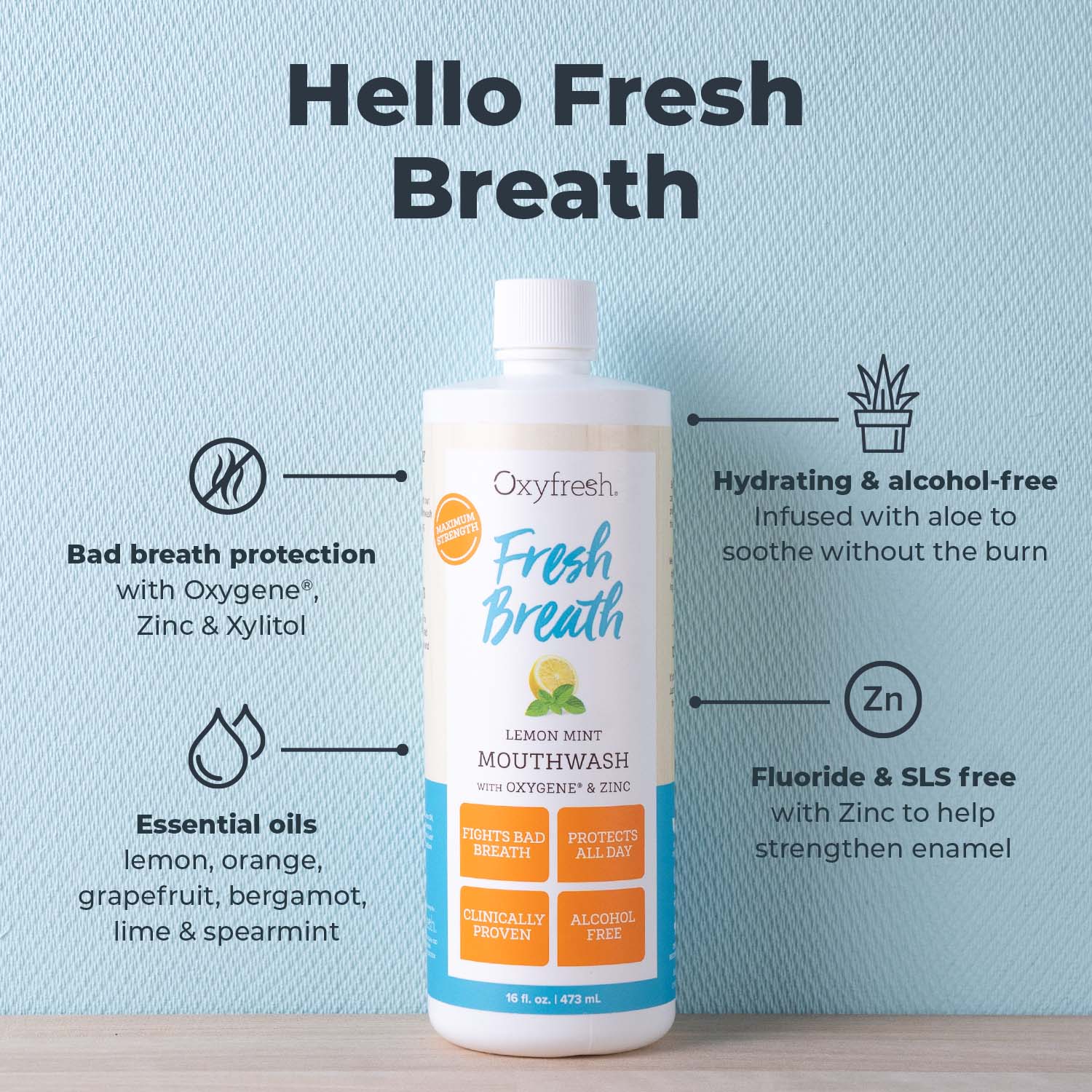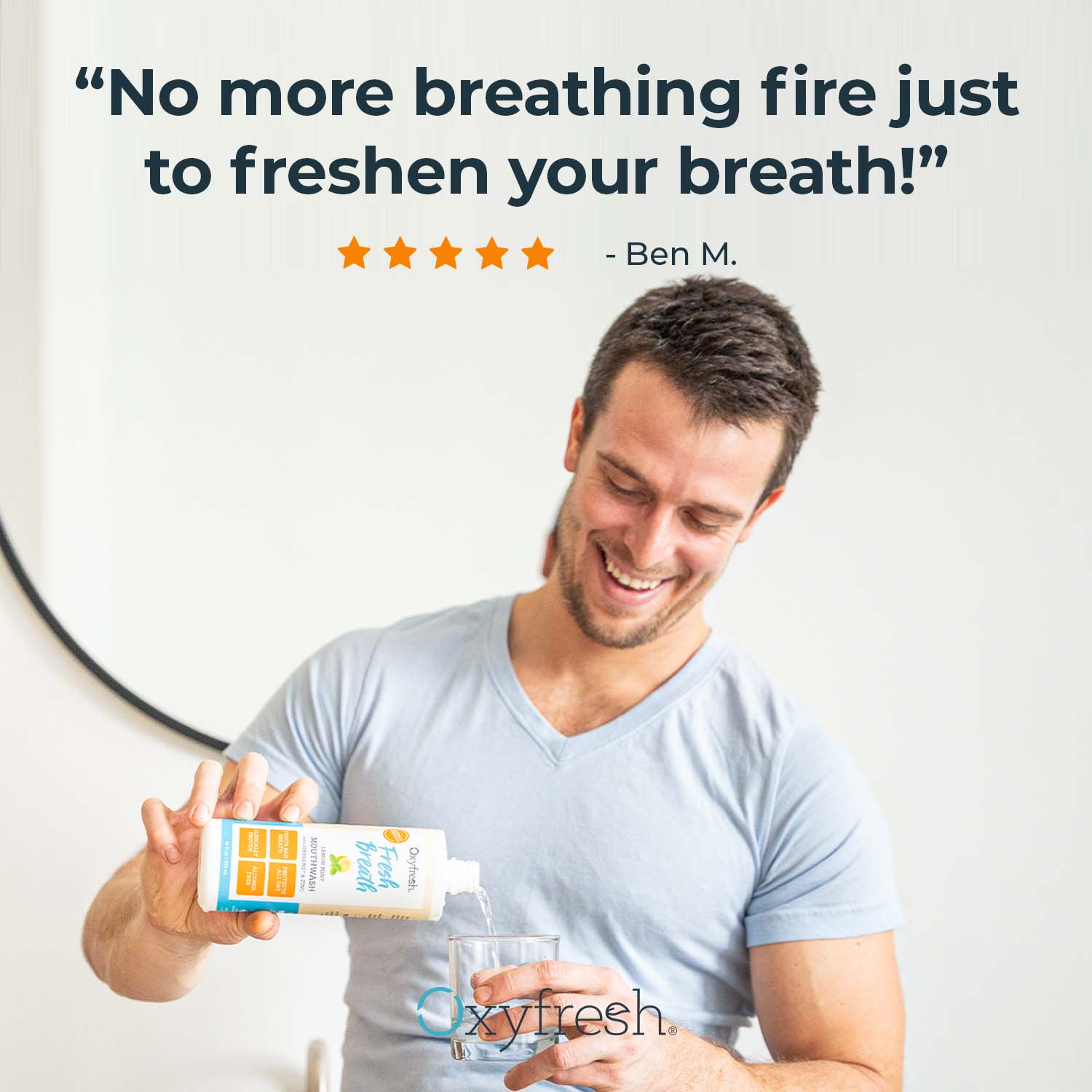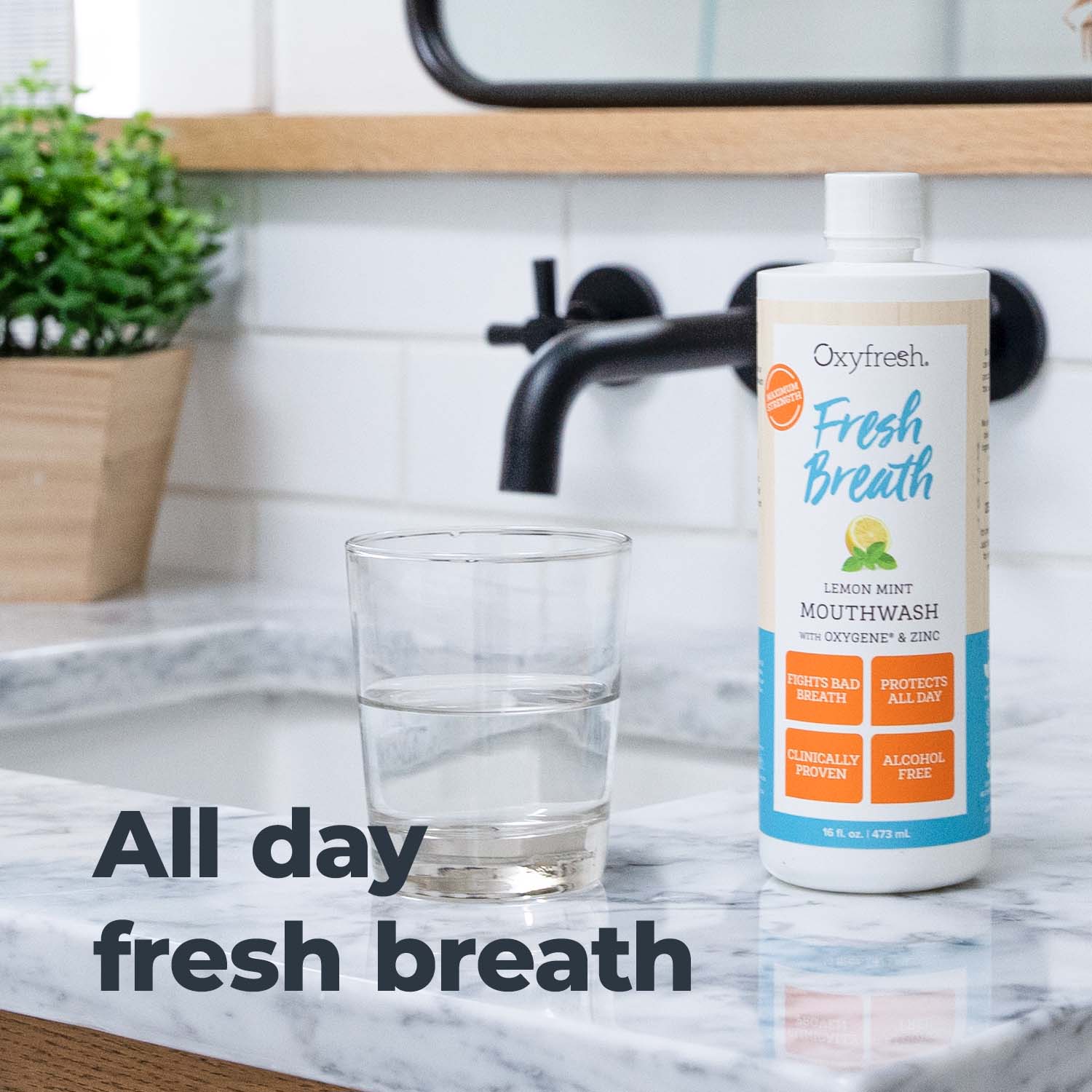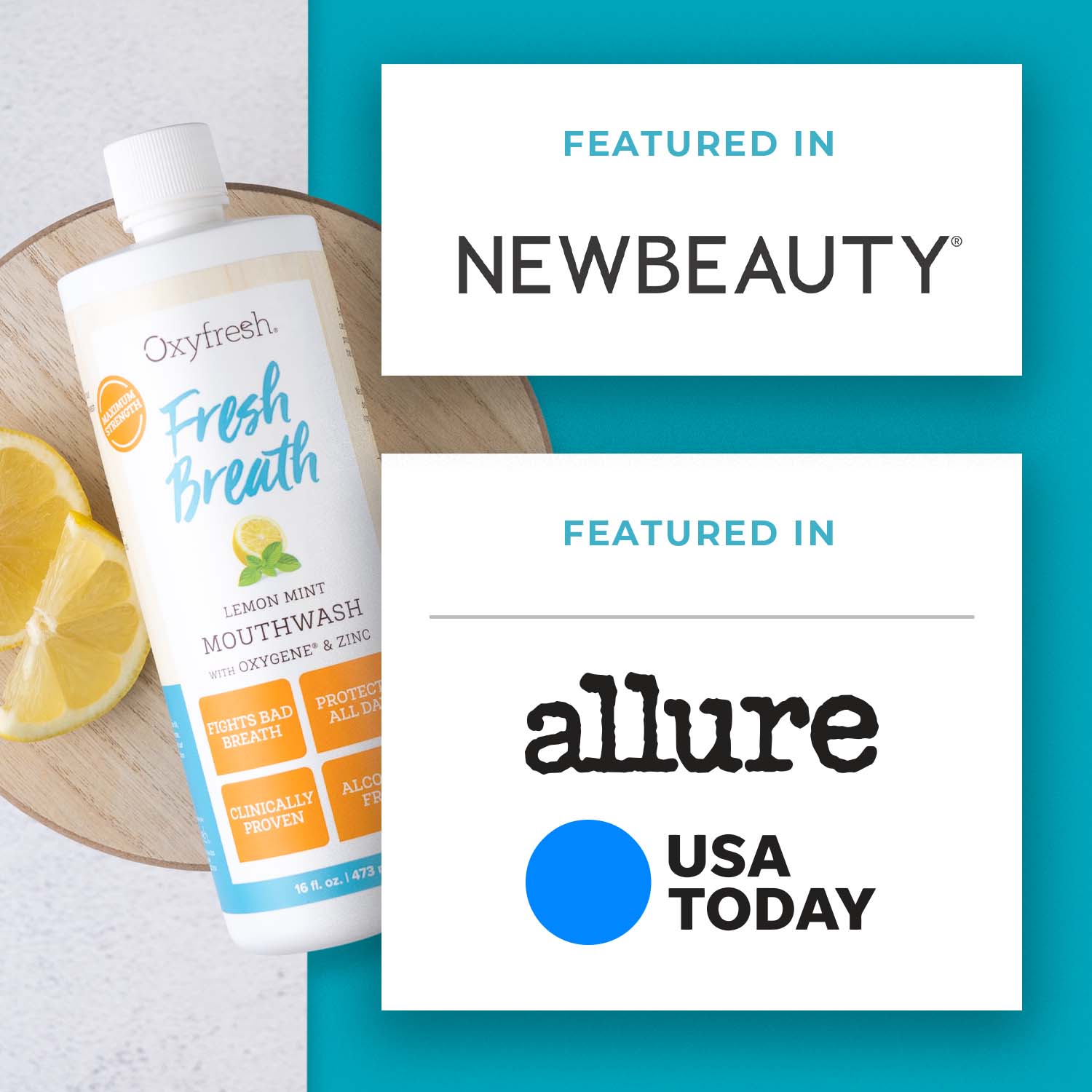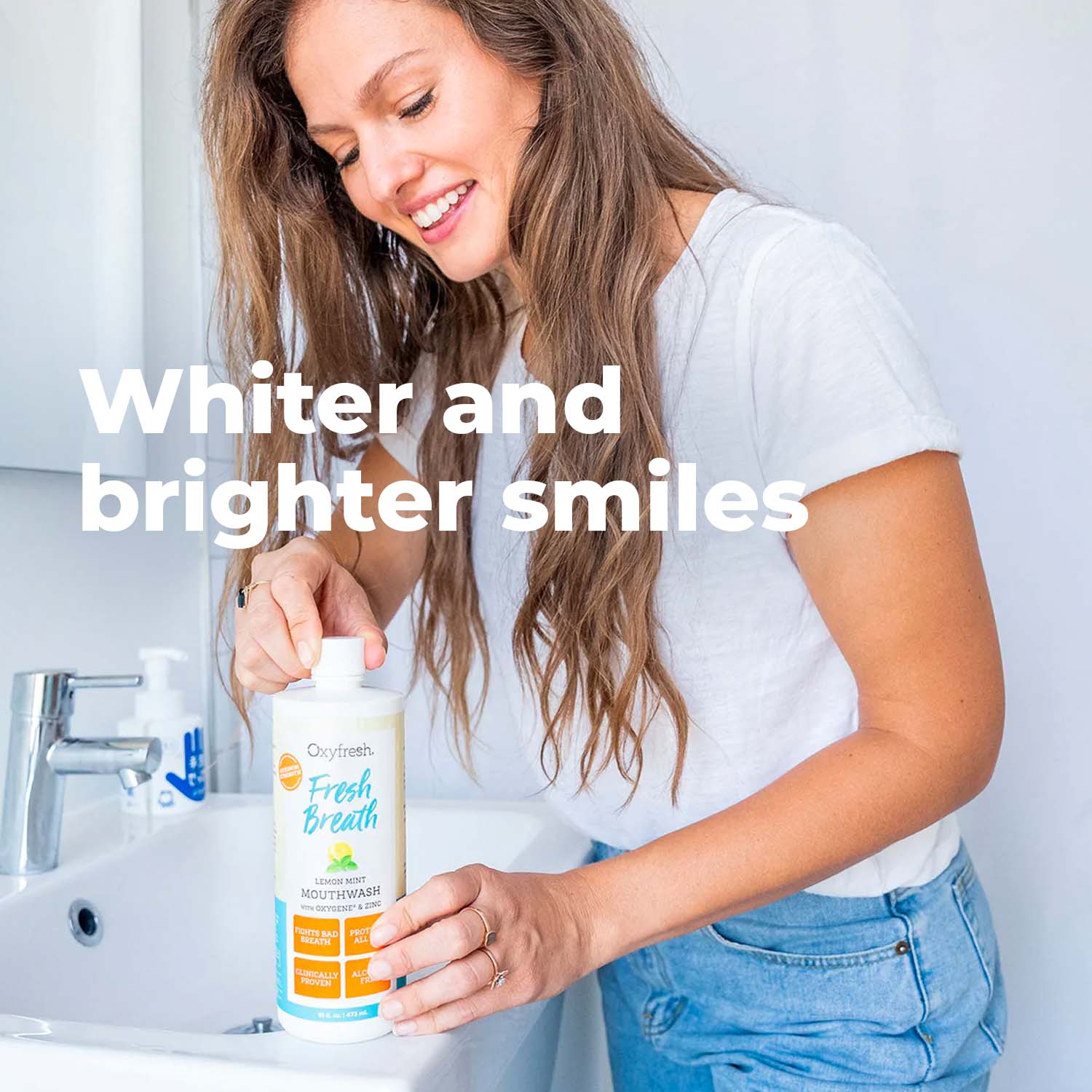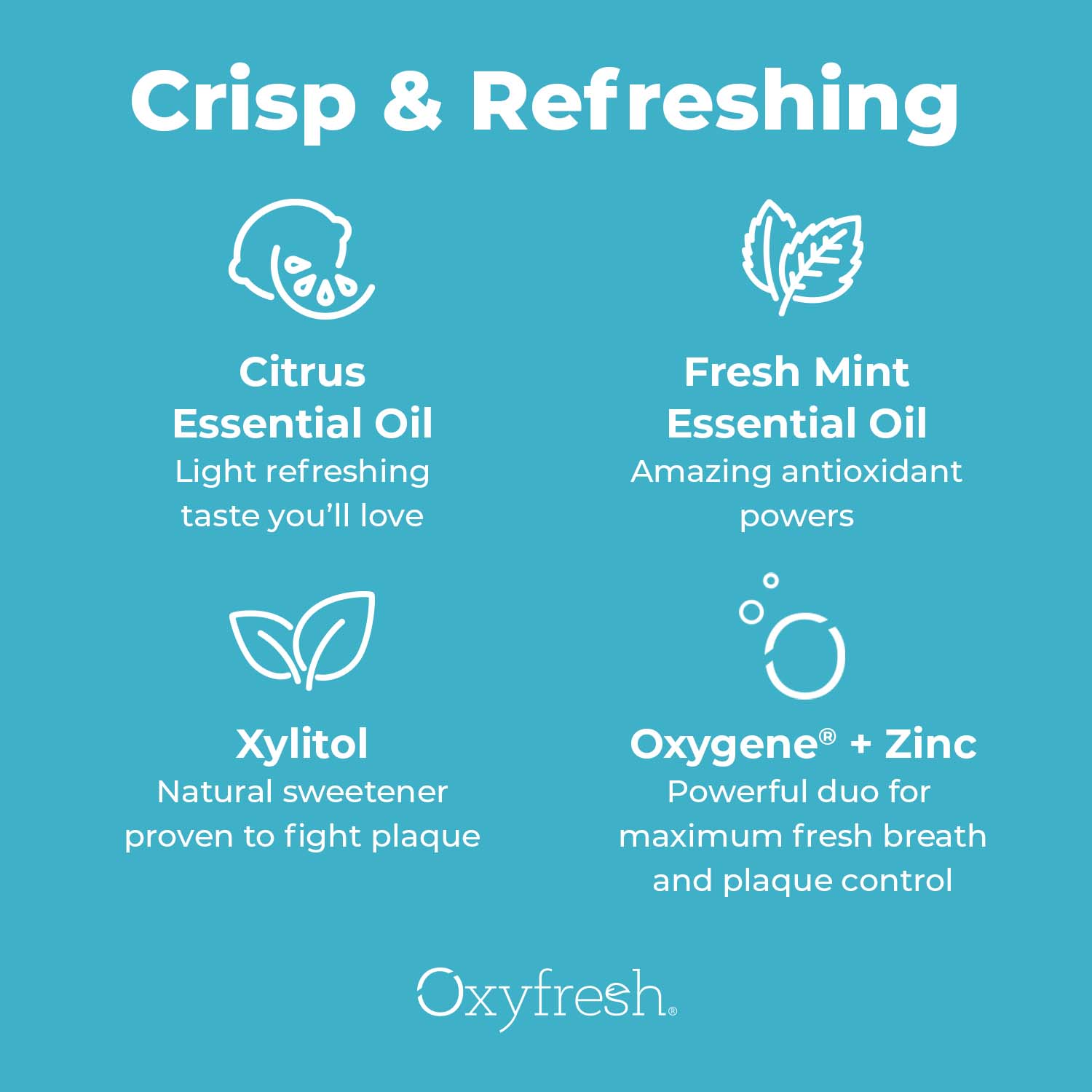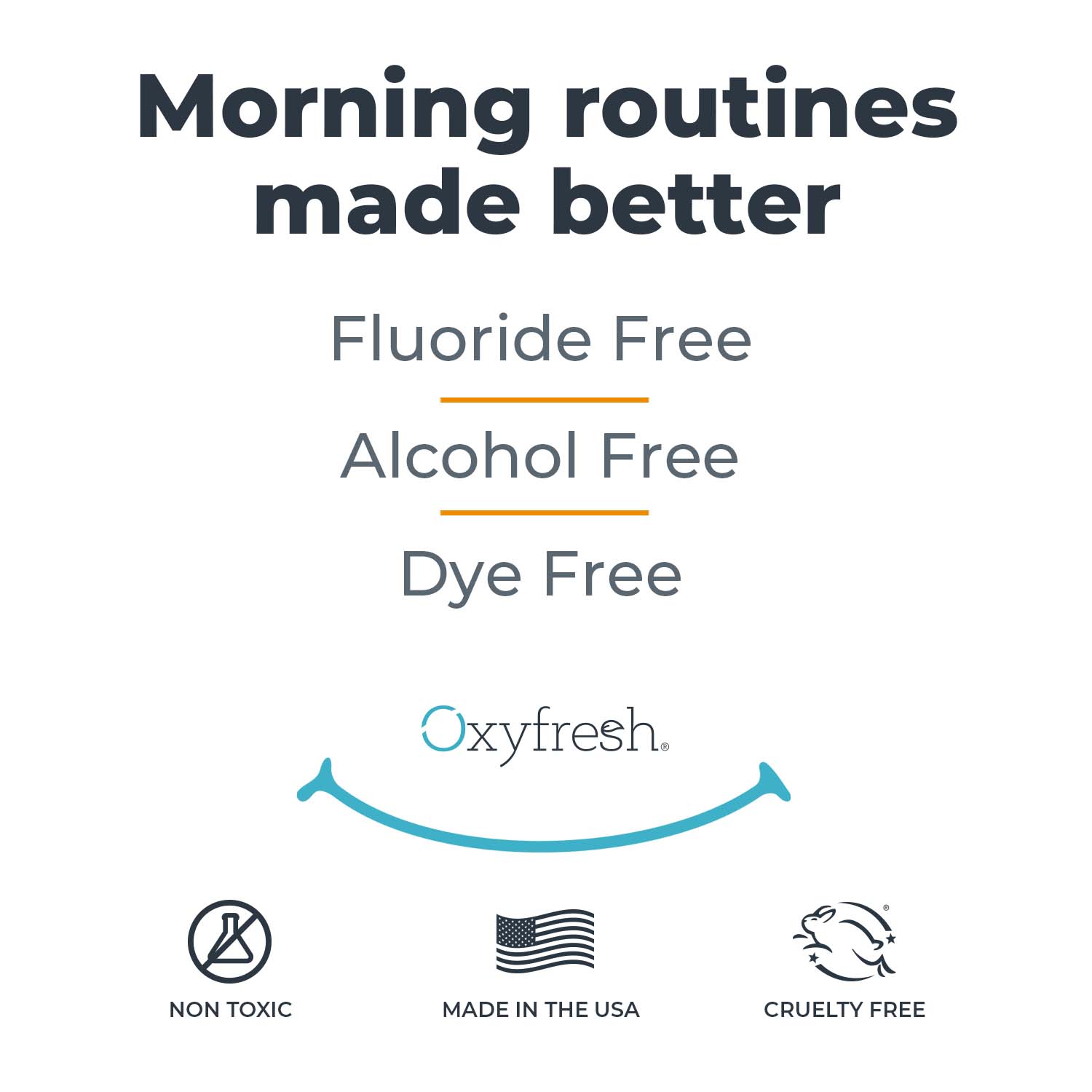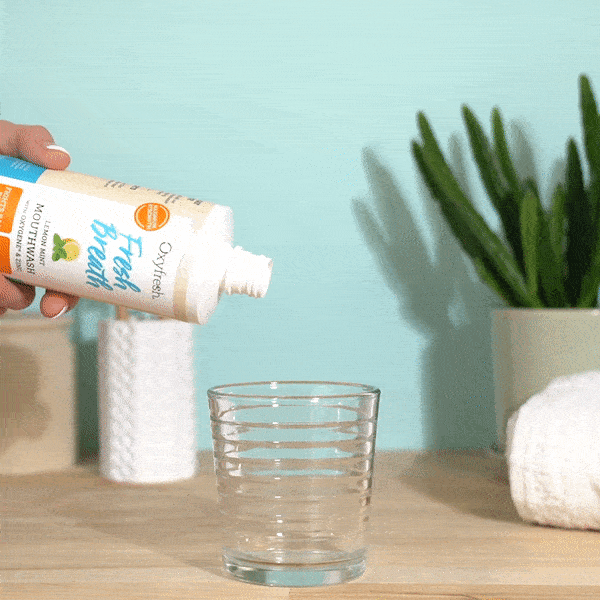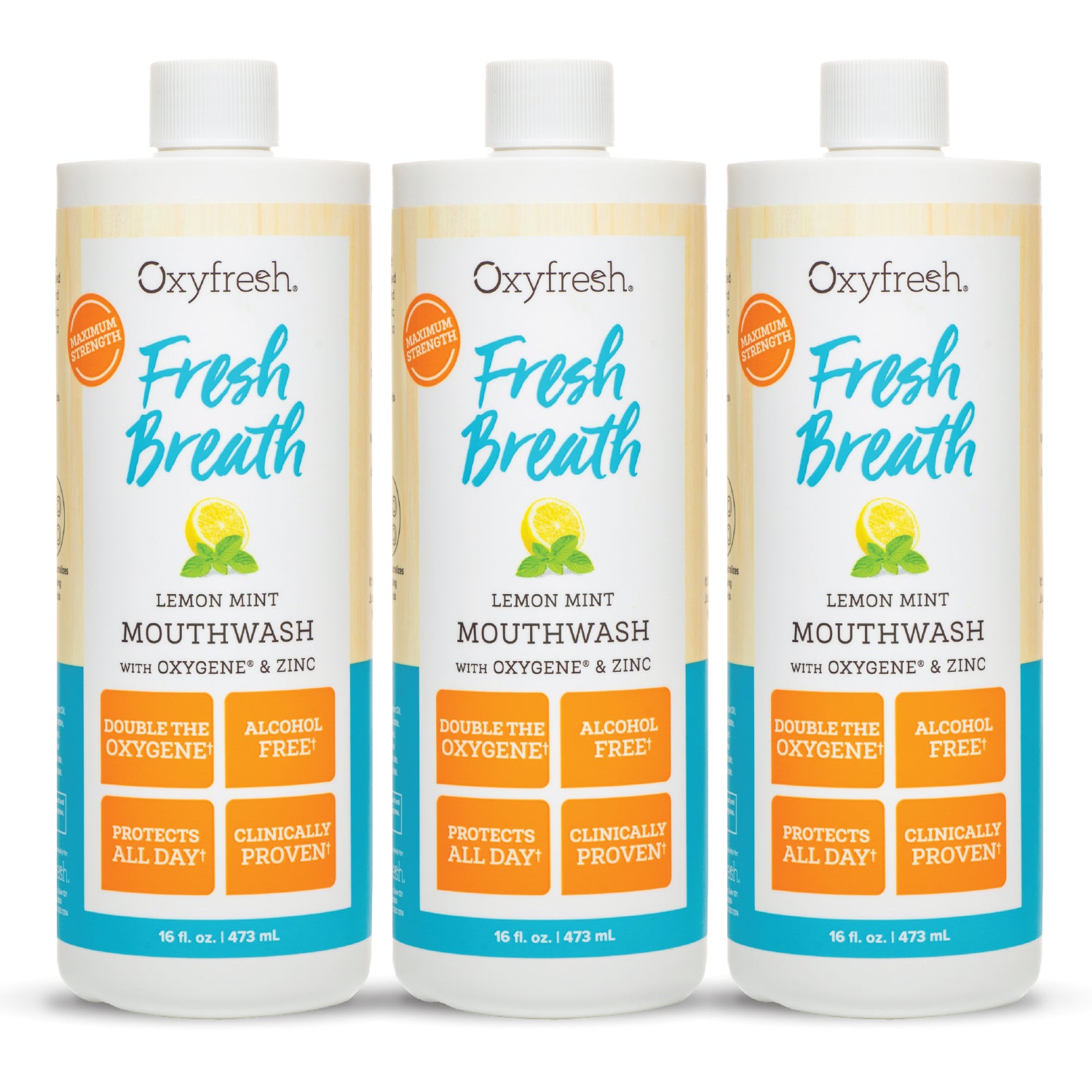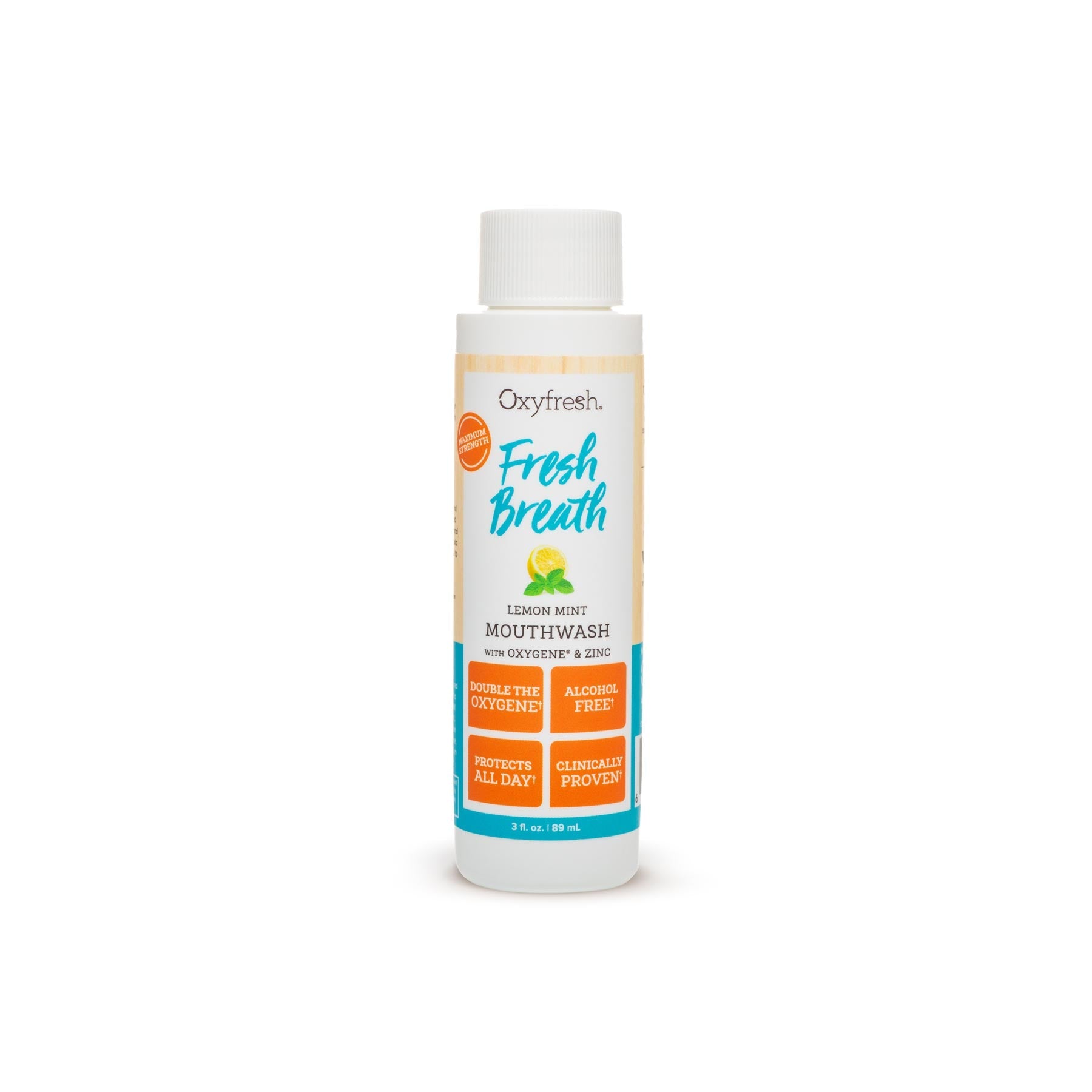 Fresh Breath Lemon Mint Mouthwash | 24 Hr Protection | Fluoride Free
Who knew lemons and mint could taste so good together? If you're looking for fresher breath and a brighter smile, meet your new favorite.

FIGHTS BAD BREATH – All day freshness in just 1 minute! Unlike other fresh breath mouthwashes that simply mask bad breath, our non-toxic mint mouthwash for bad breath gently neutralizes odors.
HYDRATING & ALCOHOL FREE – Our must-have aloe vera mouth rinse helps soothe and hydrate your gums, it's pH balanced and free of dyes that can stain your pearly whites, free of alcohol that can sting and cause dryness, and free of artificial flavors. Plus, it's fluoride free and perfect for the whole family!
INFUSED WITH NATURAL XYLITOL & ESSENTIAL OILS – You'll love the refreshing taste of our oral rinse for bad breath. Our citrus & spearmint blend, plus it's naturally sweetened with xylitol, which helps fight plaque. It's a swish you can't resist with only non-toxic ingredients and no artificial flavors.
CLINICALLY PROVEN – Freshen breath with our lemon mint mouth rinse. Backed by an independent 12-month clinical study published in the International Journal of Biomedical and Advance Research, Fresh Breath Lemon Mint Mouthwash has shown better long-term results at helping to reduce plaque and helping to strengthen gum tissue.
IT'S SAFE, NON-TOXIC & IT WORKS – If you've tried everything else, you might as well try something that works! Trusted by dentists to freshen breath, and just like all Oxyfresh products, our fluoride free mouthwash is made in the USA with the best of science and Mother Nature.
We took the best of science and nature to bring you a better kind of fresh with every single swish!

Ingredients: Water (Aqua), Xylitol, PEG-40 Hydrogenated Castor Oil, Flavor*, Potassium Sorbate, Zinc Acetate, Stabilized Chlorine Dioxide (Oxygene®), Sucralose, Sodium Citrate, Sodium Hydroxide, Aloe Barbadensis Leaf Juice, Citric Acid.
*Contains Lemon, Orange, Grapefruit, Bergamot, Lime, and Spearmint Essential Oils. Gluten Free.
Oxygene® (Stabilized Chlorine Dioxide): It's our special ingredient that makes us different. Safe and non-toxic, nothing works better to fight plaque and freshen your breath, fast.
Essential Oil: Our unique blend of citrus and mint essential oils helps hydrate, soothe, and give you that fresh-from-the-dentist feeling – no weird aftertaste!
Aloe Vera: Nature's long-favorite healing plant is used to help soothe and hydrate gum tissue.
Xylitol: X marks the spot! This natural sweetener is clinically shown to help stop the formation of plaque.
Zinc: From coffee to onion breath, zinc helps get rid of every kind of bad-breath stink!
Every day, of course!
Our alcohol-free mouthwash is so good, you might sneak swishes in all day long! When you're done brushing, pour a couple capfuls into your favorite mouthwash cup and swish away! It only takes a minute to do its job, but you'll enjoy every second of it.

Bet you've never seen this disclaimer before!
This mouthwash isn't for pets. Xylitol is awesome for people, but not for our furry friends. They're also not a fan of lemons or mint, so if you're looking to freshen your pet's breath, try our tasteless and odorless pet mouthwash instead.
So refreshing
I love this mouthwash. It's been the best mouthwash I've ever had and I don't want to ever use anything else. The only flaw is the aluminium seal doesn't tear off smoothly leaving some aluminium on the rim of bottle.
Thank you for the positive review! We are so glad you're loving our mouthwash. :)
Lemon mint mouthwash
I love it. Leaves your mouth refreshed.
We are so glad you love the Lemon Mint Mouthwash! We ditched the harsh ingredients and kept the important stuff. Our gentle lemon mouthwash helps to soothe gums and protect your enamel. Thanks for the 5 stars!
Long Time User
I was first introduced to Oxyfresh products by my dentist in the year 2008 and have been using it ever since. I do NOT use any other brand of toothpaste or mouthwash.
We love hearing from our long-time customers! Thank you for sharing. We ditched the harsh ingredients and kept the important stuff. Our gentle lemon mouthwash helps to soothe gums and protect your enamel. Thanks for the 5 stars! :)
Can't live without it!
I've been using this product for years, and never want to be without it. It's part of the Oxyfresh care that keeps my mouth fresh and clean. My dental team never fails to comment on how well I keep my mouth, and every cleaning is quicker and easier!
We love to hear it! Thank you for the amazing review. It makes our day to read feedback like this. :)
AMAZING PRODUCTS!
The Oxyfresh toothpast and mouth wash I have used for years. My friend was a distributer.
When my children were little, I would always brush thoroughly with a regular toothpaste found in regular stores, floss and rinse with Listerine IMMEDIATELY before reading my girls a story. They would say, " Awe Mom! Your breath is terrible!!!"
When my friend introduced me to Oxyfresh, I asked my daughter to please let me breathe in her face after I use this Oxyfresh product. You can imagine the look on her face! But she reluctantly, but lovingly, agreed giving me a " Oh No!!" Kind of look (ha ha).
Her response was ASTOUNDING! She said, " Oh My Goodness Mom!!! You breath smells REALLY GOOD, like a Very Soft Mint!!!".
Hensel, I will NEVER EVER go another day in my life Oxyfresh toothpaste and mouthwash!!!
I prefer the Lemon Mint, but that's just me!
I would imagine that the others are the same quality.
Oxyfresh was literally a Life Changing event for me.
I will be forever Grateful and Thankful for developement of this product!
PS: I have used this product for just over 23 years now! THANK YOU OXYFRESH!!!! (:
Thank you Marcia for your rave review and personal testimony! We love to get feedback like this. Your review truly made my day. :) We look forward to serving you again in the future!
best mouthwash on the market
I have been using this product for 20 years. When I am out of town and occasionally forget to take my travel size bottle of it along with me, my mouth reminds me why it is the best soon thereafter. It tastes great, does not burn your mouth at all, and consistently gives me 12 hours of fresh breath no matter what I eat or drink. I will us it as long as I am alive and it is available.
Great Mouthwash
I think the Oxyfresh Mouthwash is working. It seems to give me a different "taste" in my mouth that seems fresher. Thank you!
Please consider developing a breath tester that could be used at home.
Sparkling Mouth Guaranteed~
I've been using Oxyfresh products for over 20 years. Love the toothpaste AND the mouthwash.
Sometimes, for a quick "freshen-up", I'll take a sip of the delicious mouthwash and give my mouth a once over with my toothbrush. So, easy!
I was informed by my Oxy Rep, many years ago, that the mouthwash is not harmful to digest. After swishing I've made a habit of keeping about half in my mouth and swallowing. No more odors and a sparkling feeling, everytime!
The best!
Oxyfresh Lemon Mint mouthwash is the best! It leaves your mouth cool and refreshed. The perfect follow-up to Oxyfresh toothpaste. I used to dread the awful taste of toothpaste and mouthwash--now I look forward to it!
Love this mouthwash!
I was looking for relief from dry mouth and this did the trick! I'm a person who loves lots of mintiness so I used all the popular brands but the lemon mint and purity of ingredients of Oxyfresh are the best I've ever tried!