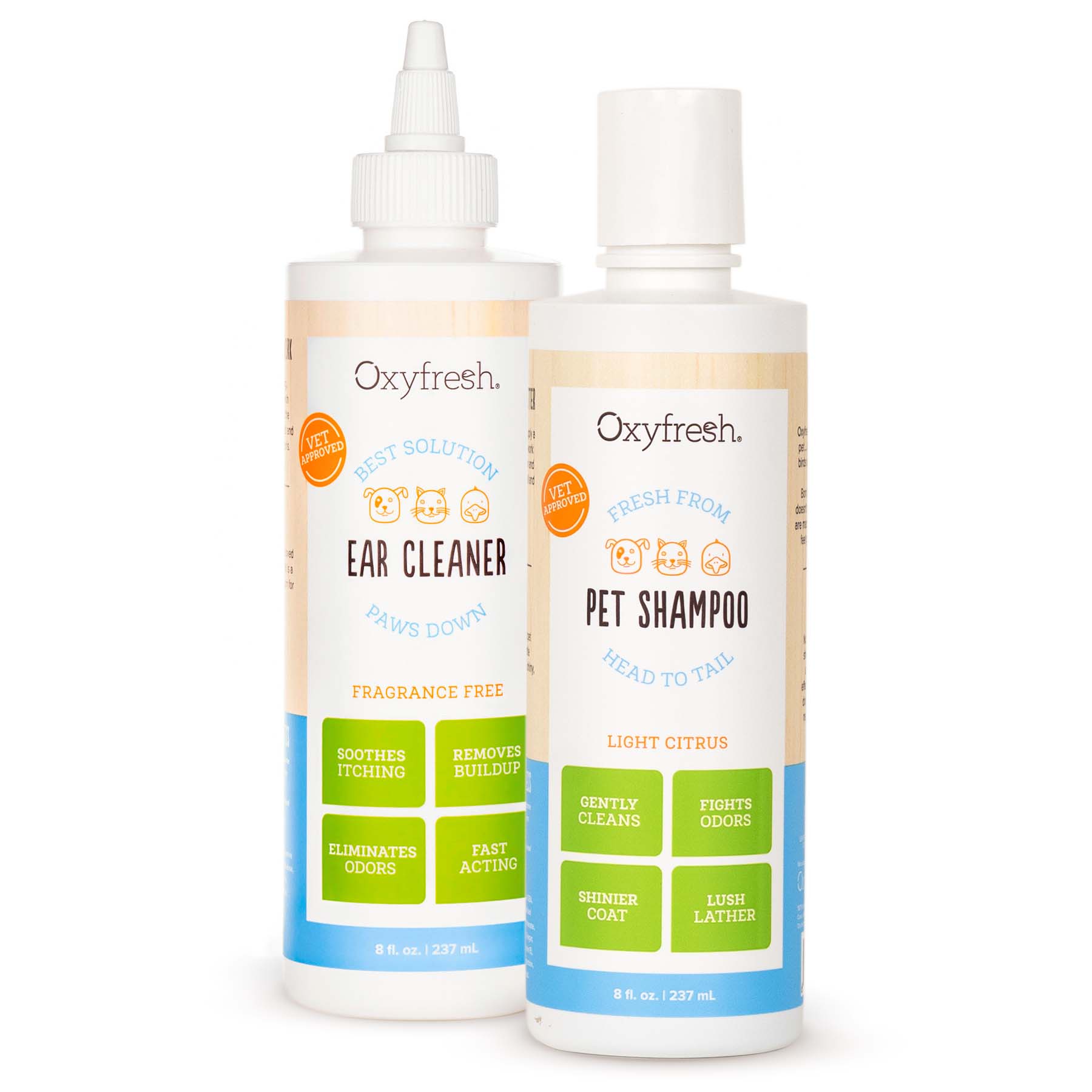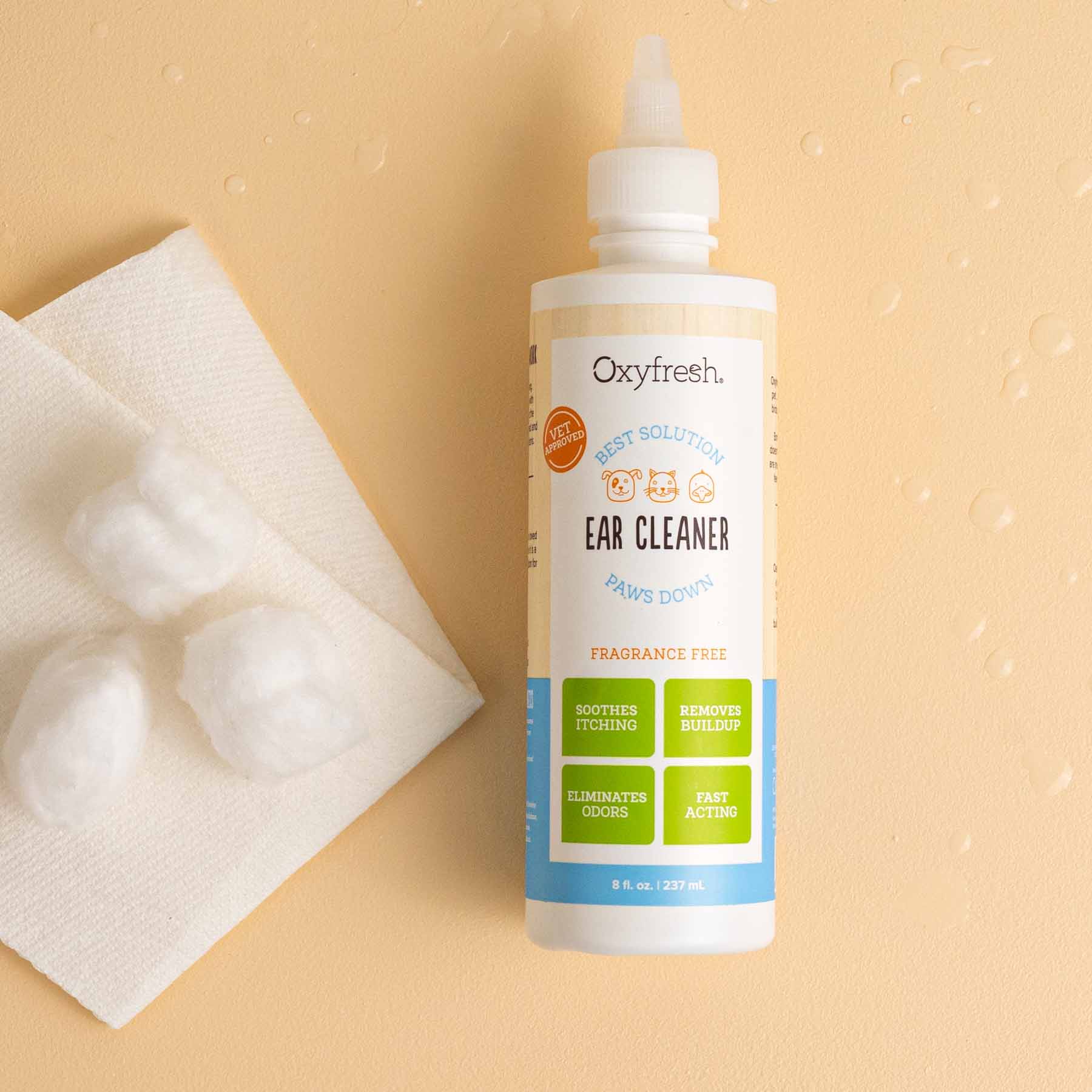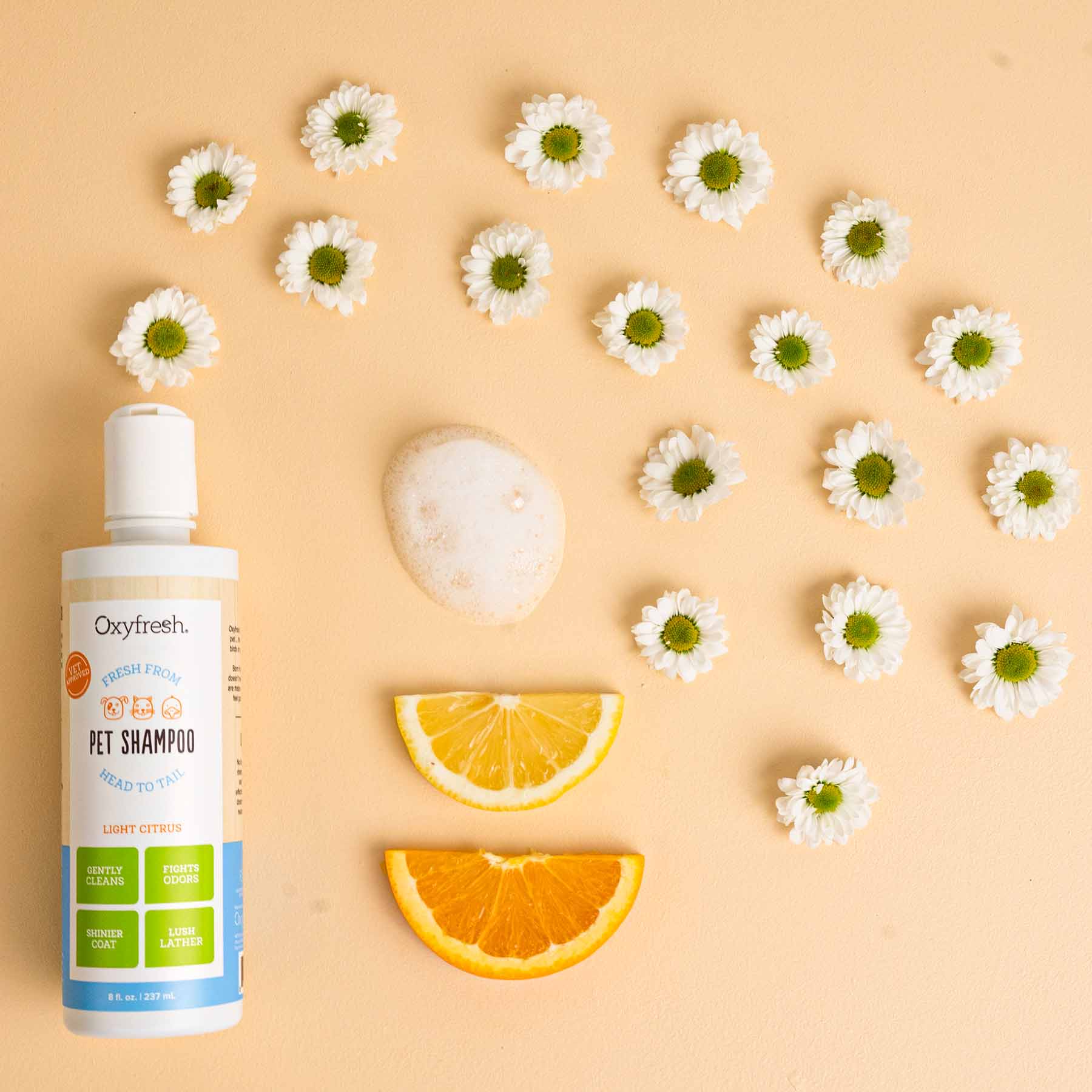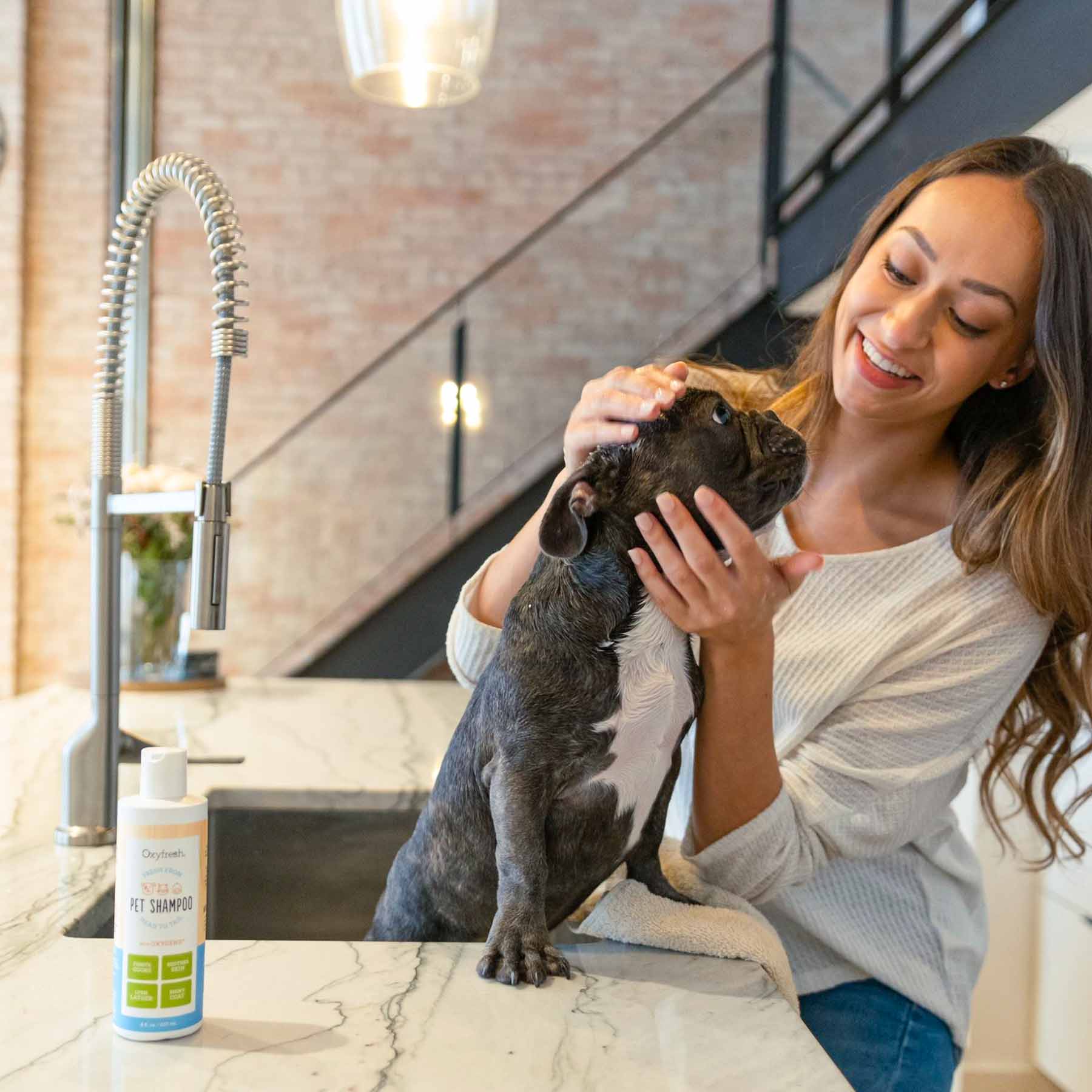 Squeaky Clean Pet Grooming Kit | Pet Shampoo + Ear Cleaner
Heads and tails above the rest, our gentle Pet Ear Cleaner & Shampoo will get your furball fresh, soft, shiny, and ready to strut their stuff in no time. Say goodbye to stinky odors and dirty fur babies.

SERIOUS PET ODOR CONTROL - When you find yourself holding back on the belly rubs, you know it's time for a bath. Let us wash away those unpleasant odors with our special, non-toxic ingredient Oxygene®. It's so good at stopping bad smells, it even works on skunk!
IMMEDIATE ITCH RELIEF – Our fast-acting, gentle ear cleaner stops cat and dog ear itching right in its tracks. Our gentle plant-based surfactants power through ear wax, dirt & gunk like magic, while promoting healing inside delicate ears.
GENTLE & SOOTHING – pHorget everything you know about pet grooming and let's talk about pH. We keep our formulas pH neutral, which is around 7, to be delicate on your pet's sensitive skin.
GROOMERS LOVE THIS DUO – There's a reason dog groomers are wild about our pet shampoo and ear cleaner. Our shampoo's lovely lather and happy citrus scent pairs purrfectly with our alcohol and fragrance free ear cleaner.
IT WORKS – If you've tried everything else, you might as well try something that works! Trusted by pet parents to clean dogs and cats coat and ears and just like all of Oxyfresh products, it is made in the U.S.A. with only the highest quality ingredients.

We bring pets a better kind of fresh ... because we love 'em.

Pet Shampoo Ingredients: Water (aqua), TEA-Lauryl Sulfate, Cocamide DEA, Cocamidopropyl Betaine, Fragrance, Stabilized Chlorine Dioxide (Oxygene®), Calcium Pantothenate, Citrus Medica Limonum (Lemon) Peel Oil, Vinegar, Silk Amino Acids, Tocopheryl Acetate (Vitamin E), Methylparaben, Propylparaben, DMDM Hydantoin, Chlorophyllin-Copper Complex, Citric Acid
*Contains Lemon, Orange, Grapefruit and Bergamot essential oils

Pet Ear Cleaner Ingredients: Water (Aqua), Decyl Glucoside, Stabilized Chlorine Dioxide (Oxygene®), Hydroxypropyl Methylcellulose, Potassium Phosphate, Sodium Hydroxide, Methylparaben, Propylparaben
Followed by a treat, of course!

Pet Ear Cleaner
Liberally flush the ear canal with Oxyfresh Ear Cleaner, then massage the base of the ear for about 30 seconds. Then stand back and let your pet shake, shake, shake. Gently wipe away any debris from the ear with a cotton ball or soft cloth. Repeat process with the other ear, or if you're a superstar, do two at once!

Pet Shampoo
So pampering, your pet may actually look forward to bathtime! Just apply a small amount to your pet's coat and work it into a lather. Let it soak in for 2–5 minutes. Rinse. Snuggle. Repeat as needed.
Excellent products
sorry, due to the recent neuter, I am not allowed to bathe her until the stiches are removed. But I am looking forward to the results when bathing her. I do use the water additive and have never smelled icky breath and her teeth are shiny white. I also use the Oxyfresh Fresh Breathe mouthwash for myself since recommended by a dentist and I always get an "A" when I have my teeth cleaning with no cavities or other issues
Amazing
My dogs don't fight me with this toothpaste, they love the taste. And in just a short time with the paste and water additive, I'm seeing better results than with any other product. So much that I purchased the Human brand, love paste and mouthwash. Not harsh tasting like other brands. Gentle refreshing and clean.
Best Ear Cleaner I've Ever Used
The Oxyfresh Pet Ear Cleaner is the best ear cleaner I have ever used in the 15 years I have been a veterinarian. I like that fact that it is gentle and non-irritating, is odorless and deodorizes the ear. And it does a wonderful job cleaning out all the wax and discharge.
Good For Dogs With Skin Allergies
My dog had so many skin allergies, the scratching was horrible. We bath her in Oxyfresh Pet Shampoo and her condition has improved immensely.
Takes Care Of Ink Stains
My golden retriever, Sadie, got ink all over her beautiful coat. I put Pet Ear Cleaner all over her and the ink was all gone.
Only Product That Works
My son is prone to acne which also affects his scalp, he uses Oxyfresh Pet Shampoo instead of human shampoo. It is the only product that relieves his symptoms.
Clean As A Whistle
Love using your products. I feel very fortunate to have found good products for my dog. Your customer service people are outstanding. Thank you. .
Excellent
Very good product - love it
Fantastic For Ear Problems
I use the Pet Ear Cleaner for animals in the practice and have for years. It does a fantastic job clearing up any ear problems.
Best Ear Cleaner
The Pet Ear Cleaner is so easy to use and the buildup in the ear comes out immediately after applying the drops. You just drop it in the ear and watch all the gunk drip out. My dogs have never had issues with any infections.