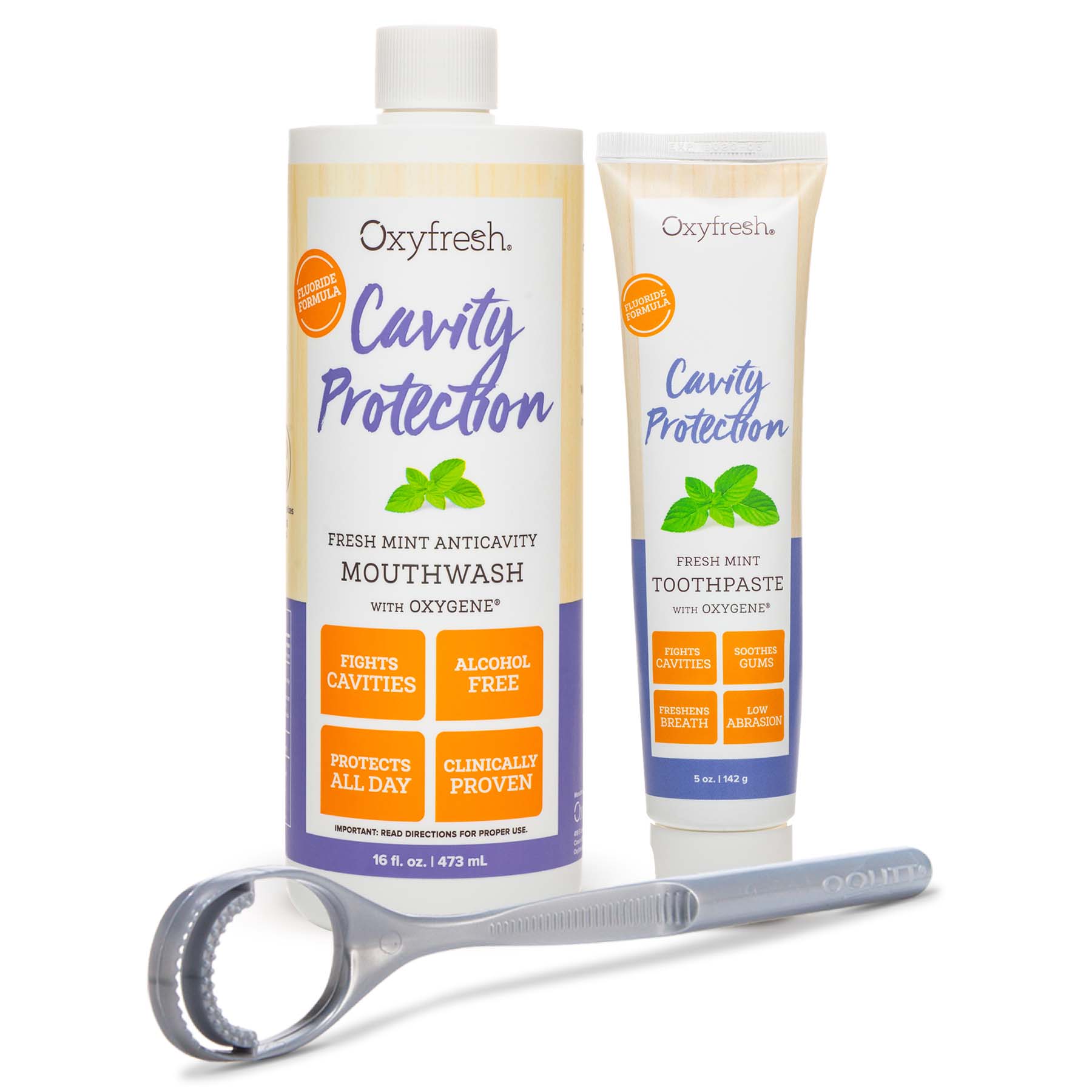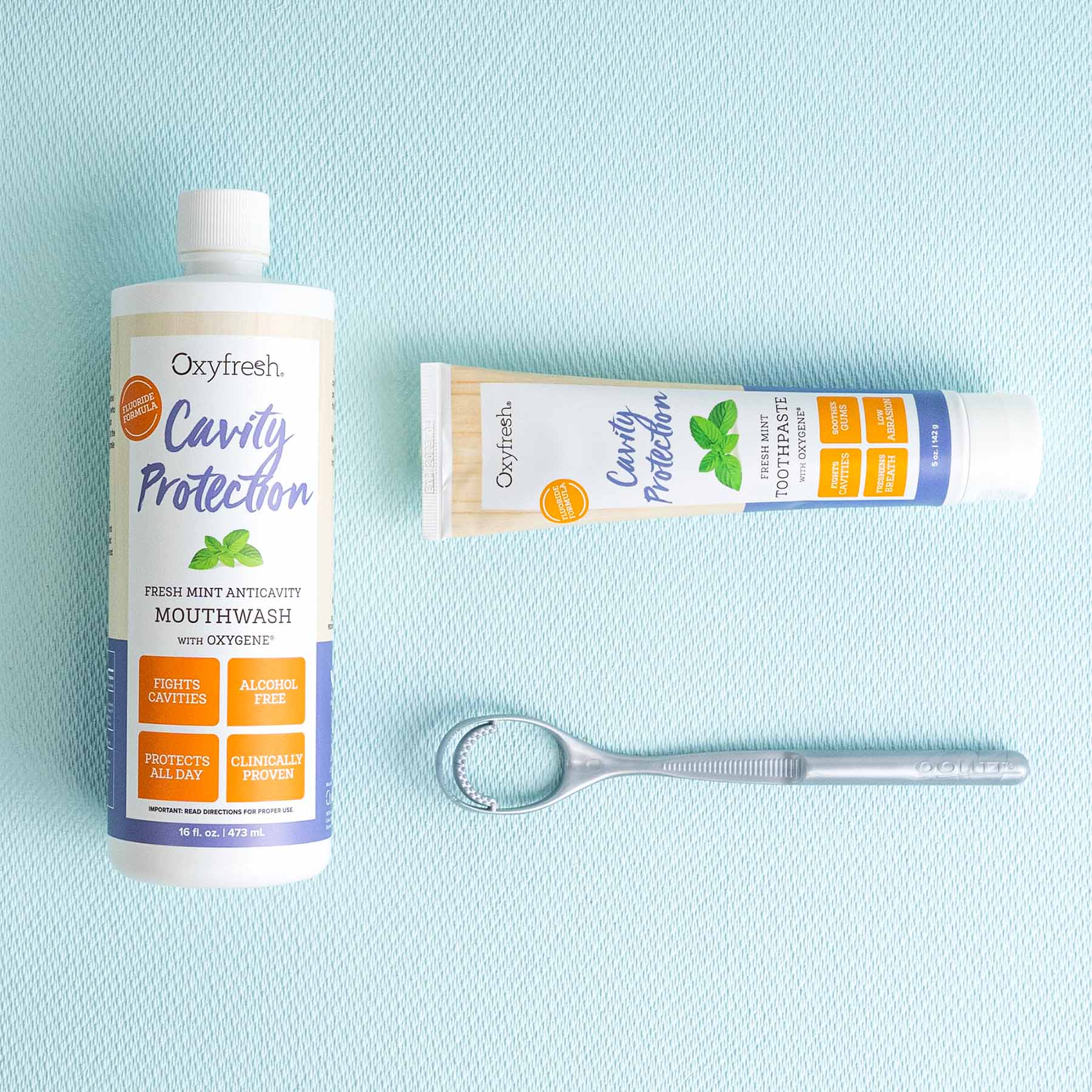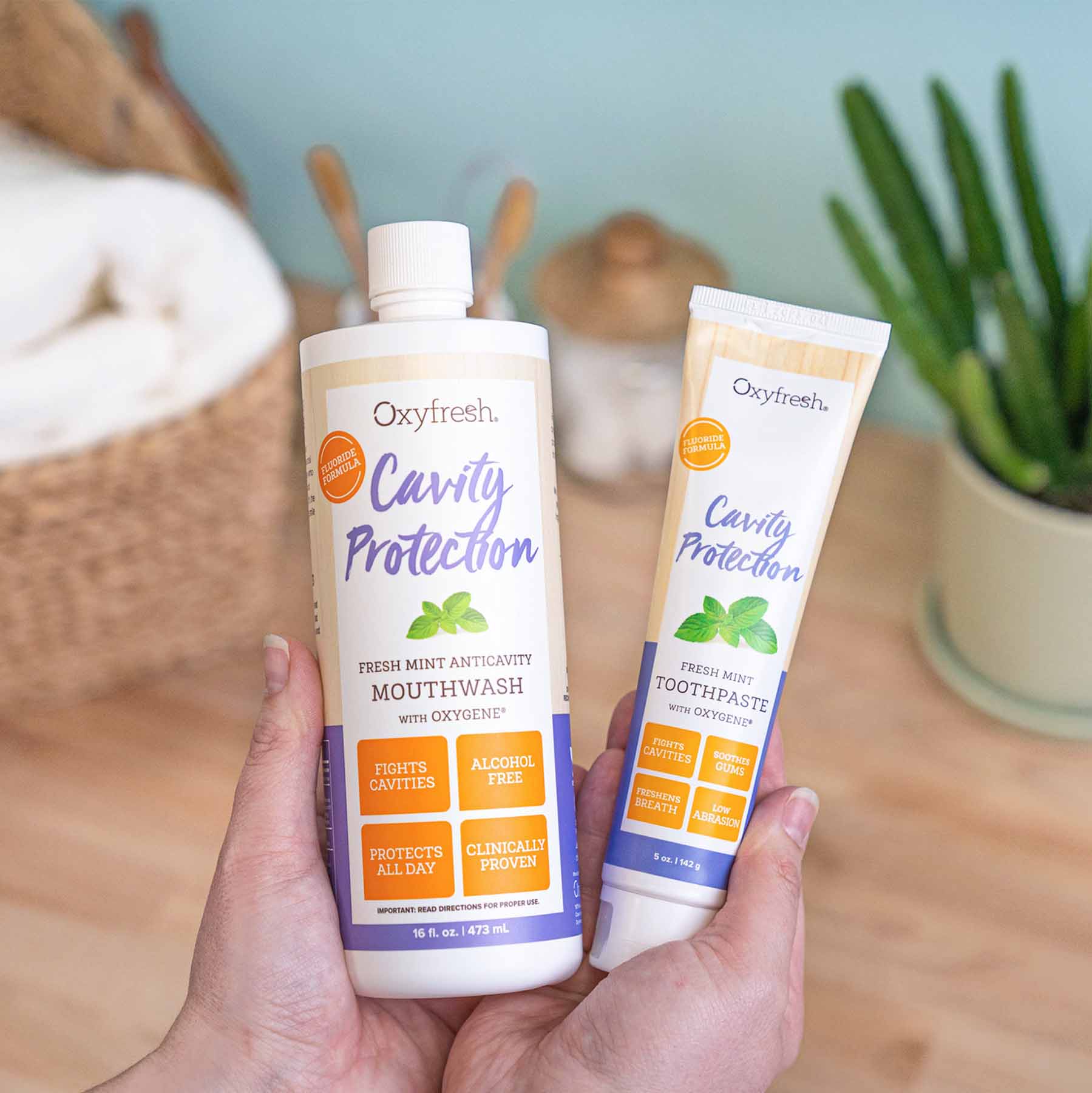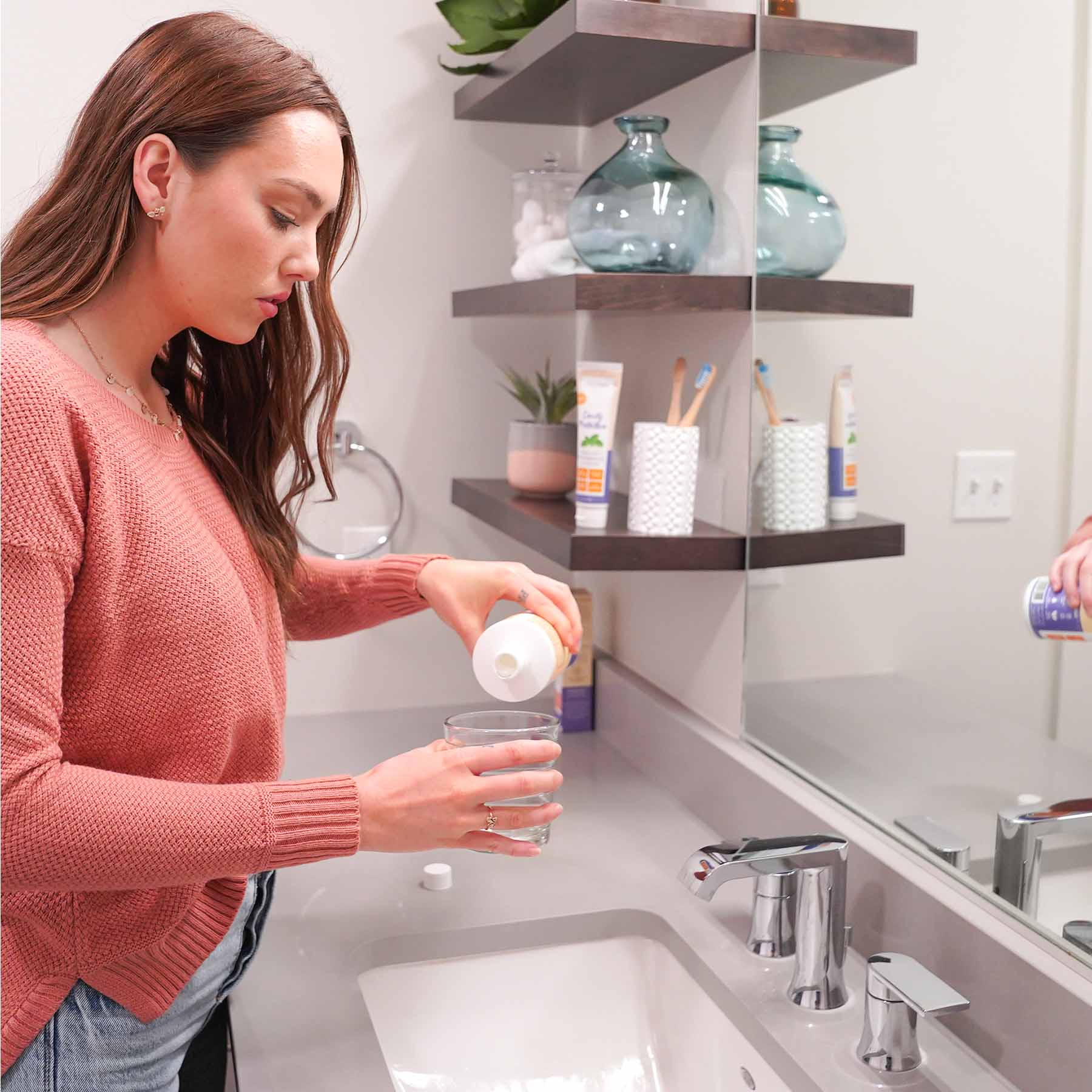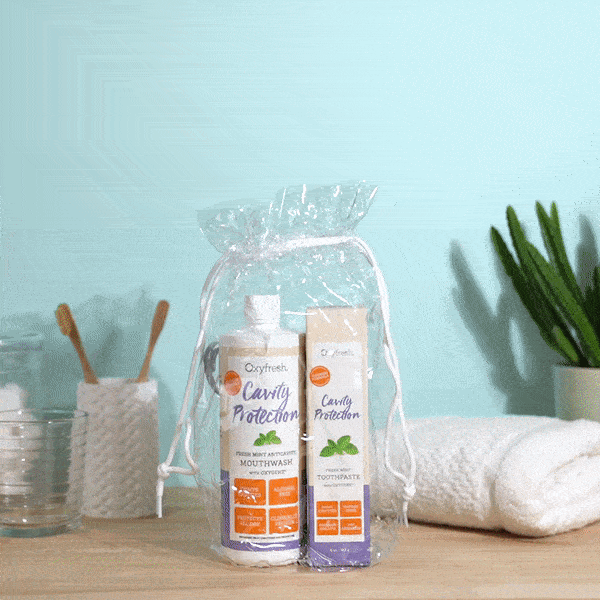 Cavity Fighting System | With Fluoride
Our exclusive Cavity Fighting System is like a beefed-up bodyguard for your smile. It protects against sensitivity, decay and bad breath, but still has a softer side with no dyes, harsh abrasives or alcohol.

ALL-IN-ONE-KIT – It's everything you need for a bright cavity-free smile: our low-abrasion Cavity Protection Toothpaste (5 oz.), dye-free Cavity Protection Mouthwash (16 oz.) & top-rated tongue cleaner.
A MUST FOR SENSITIVE TEETH – To strengthen & soothe enamel, we picked what the pros use: non-staining neutral sodium fluoride. Because happier teeth shouldn't come at the price of yellow stains.
ALL-DAY FRESH BREATH – Our exclusive bad-breath fighter Oxygene® will instantly freshen your breath ... and keep it that way all day! No coverups or mask jobs like the other guys.
MILD & REFRESHING – No artificial flavors or alcohol here, just pure mint essential oils delivered in just the right amount. Goldilocks approved.
IT WORKS – If you've tried everything else, you might as well try something that works! Trusted worldwide to gently clean teeth and just like all of Oxyfresh products, it is made in the U.S.A. with only the highest quality ingredients.

Cavity Protection Toothpaste
Active Ingredient: Sodium Fluoride 0.235%
Inactive Ingredients: Sorbitol, Hydrated Silica, Glycerin, Water (Aqua), Chondrus Crispus (Carrageenan), Sodium Lauryl Sulfate, Flavor*, Titanium Dioxide, Stabilized Chlorine Dioxide (Oxygene®), Sucralose, Zinc Acetate
*Contains Peppermint essential oil

Cavity Protection Fluoride Mouthwash
Active Ingredient: Sodium Fluoride 0.05%
Inactive Ingredients: Water (Aqua), Xylitol, Sodium Benzoate, Potassium Phosphate, Flavor*, Stabilized Chlorine Dioxide (Oxygene), Sodium Hydroxide, Citric Acid
*Contains Peppermint essential oil

Oolitt Elite Tongue Scraper
Plastic tongue scraper with gentle ridged edges.

Oxygene® (Stabilized Chlorine Dioxide): Disrupts bacterial colonization, oxidizes volatile sulfur compounds, controls oral odors, and helps disinfect.
Fluoride: Helps remove plaque and prevent tooth decay.
Xylitol: Inhibits the growth of the bacteria that cause cavities.
Essential Oil: Naturally flavored using a unique blend of soothing essential oil.
Zinc: Counteracts the toxicity of volatile sulfur compounds and inhibits oral odors.
Chondrus Crispus (Carrageenan): For soothing comfort.
Gluten Free
Easy 1-2-3 Routine
Clean, Brush & Swish for the ultimate fresh breath & cavity protection ... oh, and don't forget to floss. Gums love that!

Step 1: Clean
Stick your tongue out (we won't tell on you) and then with the ripple-edge facing down, gently run the Oolitt® Elite Tongue Cleaner down the length of your tongue. Repeat several times, then rinse debris.

Step 2: Brush
So refreshing, you may actually want to brush the full 2 minutes! Apply a pearl-sized drop and brush each tooth using a GENTLE, circular motion. (We know you're tough, but teeth love a soft touch.)

Step 3: Swish
When you're done brushing, pour a couple capfuls into your favorite mouthwash cup and swish away! It only takes a minute, but you'll enjoy every second of it.

Bet you've never seen this disclaimer before!
Paws off our ortho kit! Xylitol is awesome for people, but not for our furry friends. They're also not a fan of lemons or mint, so if you're looking to freshen your pet's breath, try our tasteless and odorless pet mouthwash instead.
Wonderful product no burn rinse and the toothpaste has a nice taste too !
Love it !!
Best toothpaste and mouthwash ever. I'm sold!! Customer service has been excellent, thanks Amanda for your Amazing , personal service.
Cavity Fighting product
Great so far . Give you that clean feeling that it is working .
EXCELLENT
HAVE BEEN USING OXYFRESH FOR YEARS
Really Works
Oxyfresh Fluoride Toothpaste and Fresh Mint Fluoride Mouthwash works. That's all I can say!
My Favorite Toothpaste
The Fluoride Formula Toothpaste is my favorite toothpaste. It lasts so long and I love the taste of it.
Awesome products
Feels clean and fresh knowing this product can protect my teeth and gums.
My Breath Is Always Fresh
Oxyfresh Fluoride Toothpaste and Fresh Mint Fluoride Mouthwash is the only thing that keeps my breath under control.
Effective At Eliminating Bad Breath
The combination of Fluoride Mouthwash and Toothpaste is effective at eliminating my bad breath. My husband agrees!
Fresher Breath and Healthy Teeth
The flavor of Oxyfresh's Flouride Toothpaste is refreshing. Keeps my breath fresh and my teeth healthy.