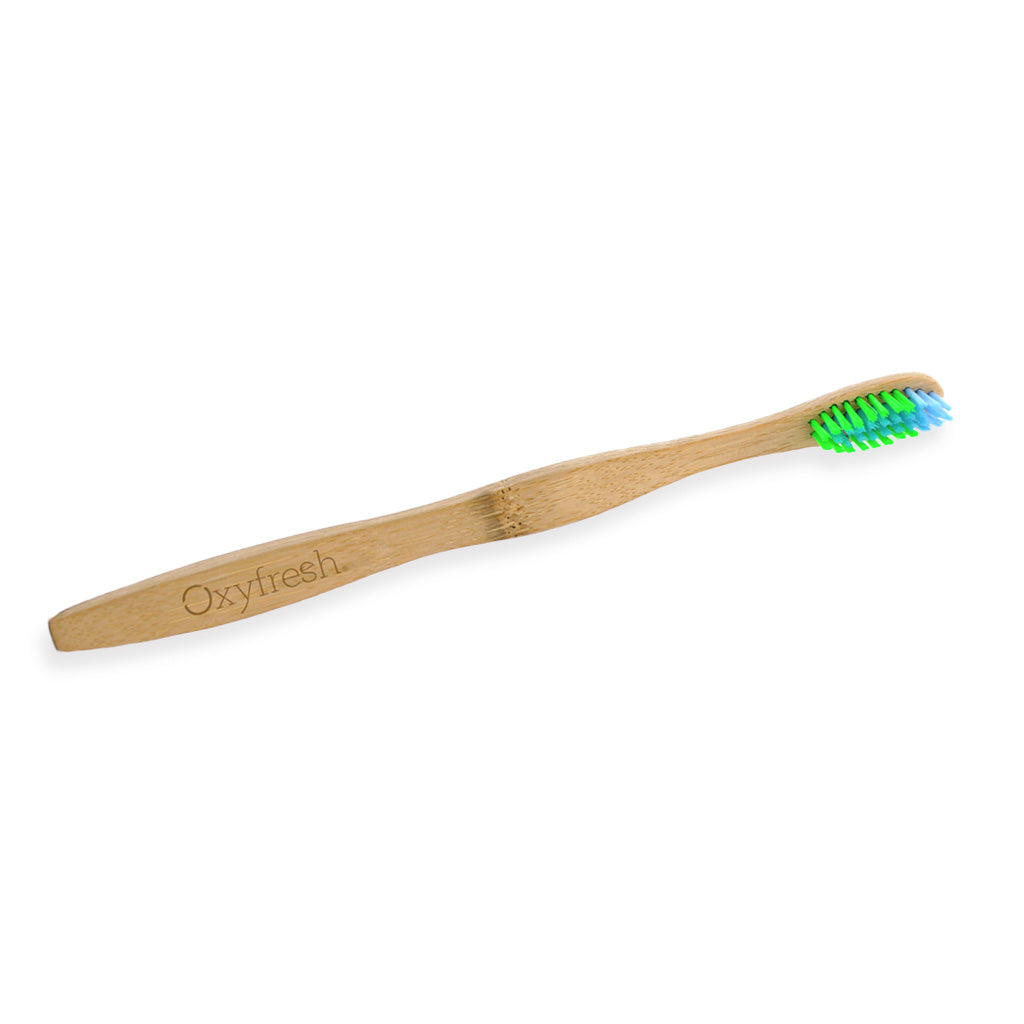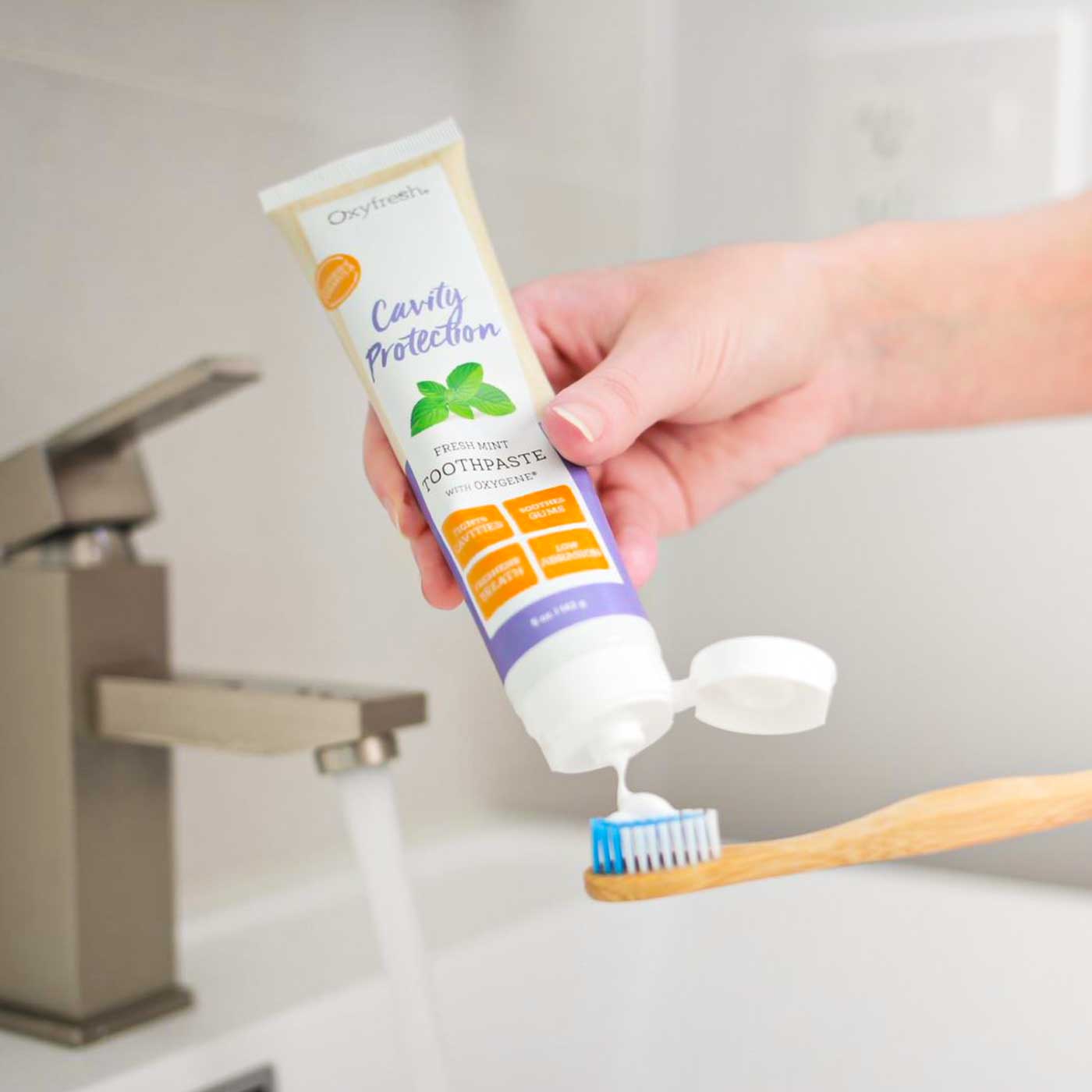 Dense-Bristle Bamboo Toothbrush | Eco-Friendly
Ditch the plastic and make the switch to earth-friendly bamboo! Our soft dense-bristle bamboo toothbrush has amazing cleaning power, yet it's ultra gentle on sensitive teeth and gums.
GENTLE TEETH CLEANING – This gentle yet powerful dense-bristle bamboo toothbrush is the perfect pairing with Oxyfresh toothpaste. Or dip into mouthwash and apply to gums for some instant TLC.
ECO FRIENDLY – Unless you're making works of art out of old plastic toothbrushes, spare the landfills and go with the more eco-friendly choice of natural, sustainable & compostable bamboo.
A MUST FOR TENDER GUMS – Trade out those poky, hard bristles and discover the gentle cleaning power of our bamboo toothbrush. With soft, dense bristles, it's like a spa day for your gums. No tip required.
ULTRA DURABLE – Nothing's more unpleasant than a mouth full of loose bristles when you're brushing! That's why we use 100% dental grade nylon bristles for a thorough clean that won't break away!
IT WORKS – If you've tried everything else, you might as well try something that works! Trusted worldwide to gently clean teeth and just like all of Oxyfresh products, it is made in the U.S.A. with only the highest quality.

Twice a day, of course!

You know what to do ... apply a pearl-sized drop of your favorite toothpaste or gel to the bamboo brush, then brush each tooth using a GENTLE, circular motion. (We know you're tough, but teeth love a soft touch.) Rinse the brush and carry on! You can also dip into your Oxyfresh mouthwash and apply to your gums for some instant TLC.
GAG !!!!
The wood is soooo thick that when I brush my teeth with it it makes me gag. Can't use it : ( One star because I like the bristles but not the thick bamboo handle
❤️
Loved the brush, so refreshing to have this brush!
Great toothbrush
Love the toothbrush works great on sensitive gums
Bamboo Toothbrushes
The bamboo toothbrushes are wonderful. The handle doesn't slip in your hand while brushing. The bristles are strong and don't hurt your gums.
The bamboo handle dries quickly and so the water doesn't get all over my counter. I love these bamboo products. They fit nicely in your hand when brushing. I like having to use a small amount of Oxyfresh toothpaste.
I have recommended them to my family. I'm enjoying them very much!
Dense-Bristle Bamboo Toothbrush | Eco-Friendly
Oxyfresh products.
I have used Oxsyfresh toothpaste and mouthwash for years. It is a great product and I highly recommend it!
Great Feeling Toothbrush
I love my new bamboo toothbrush! It is has a great feeling when you are brushing and even gets between my teeth. It's a keeper!
Great toothbrush
Thank you for my mouth rinse and toothbrushes. I left Normandy Park on Thursday so I was getting Worried if my order was going to get to me in time. Fortunately, my order arrived on Wednesday so all is good. Thank you. Jamel Barden
Bambo Tooth Brushes -- Love Them
Totally love these tooth brushes -- even shared them with my Adult Son!! Nice soft bristles and feel so good and clean. I should have ordered 3-4 travel cases!! Thank you so Much!!