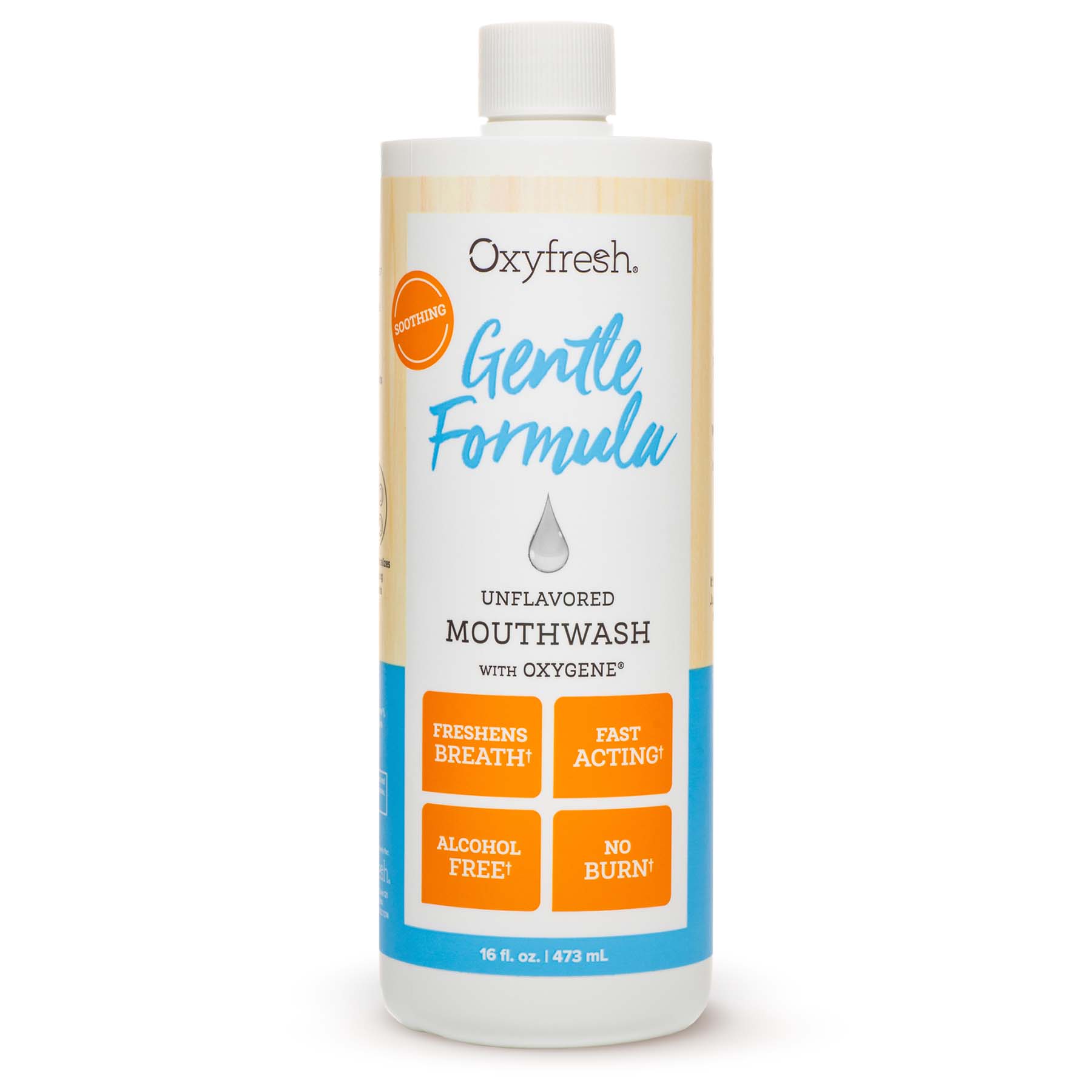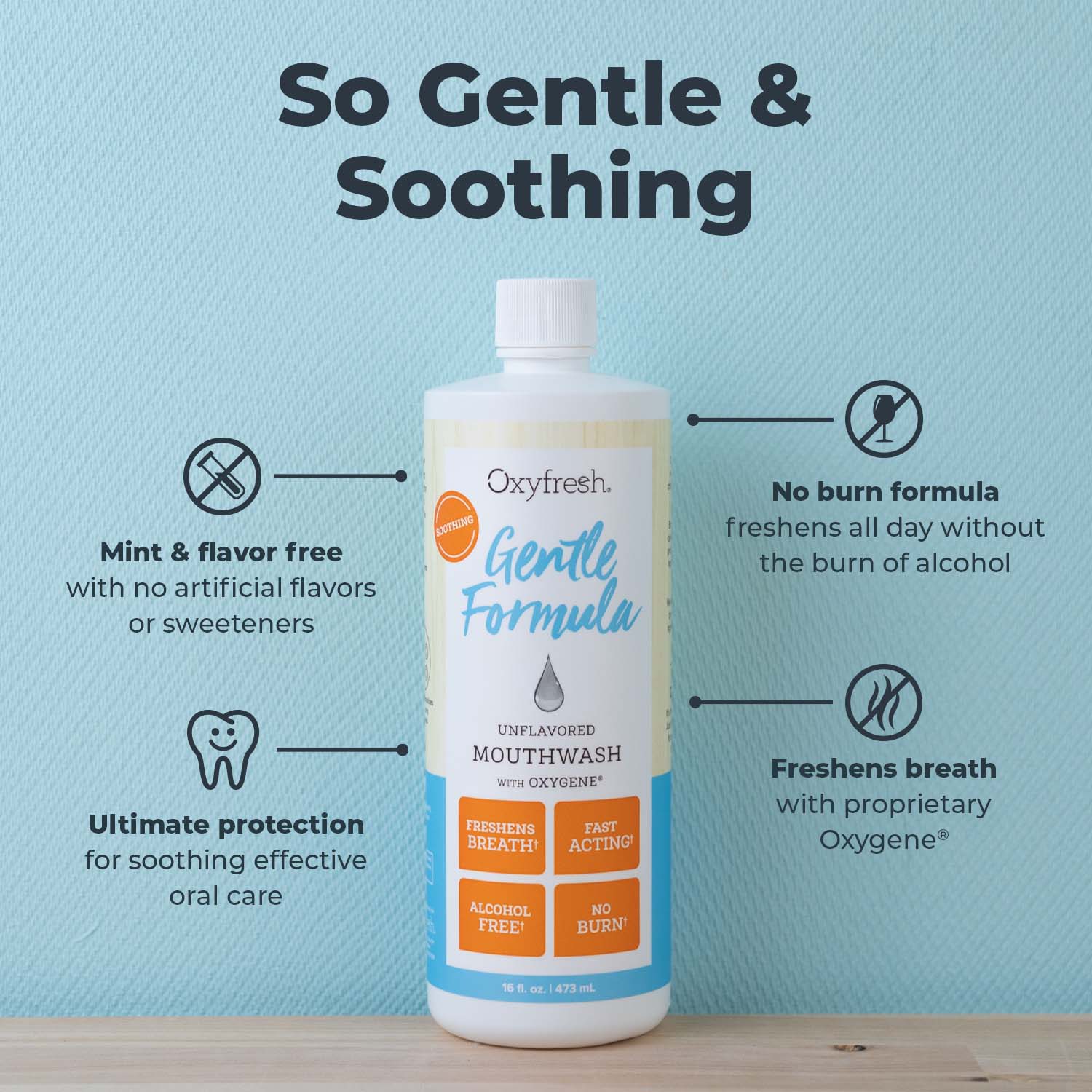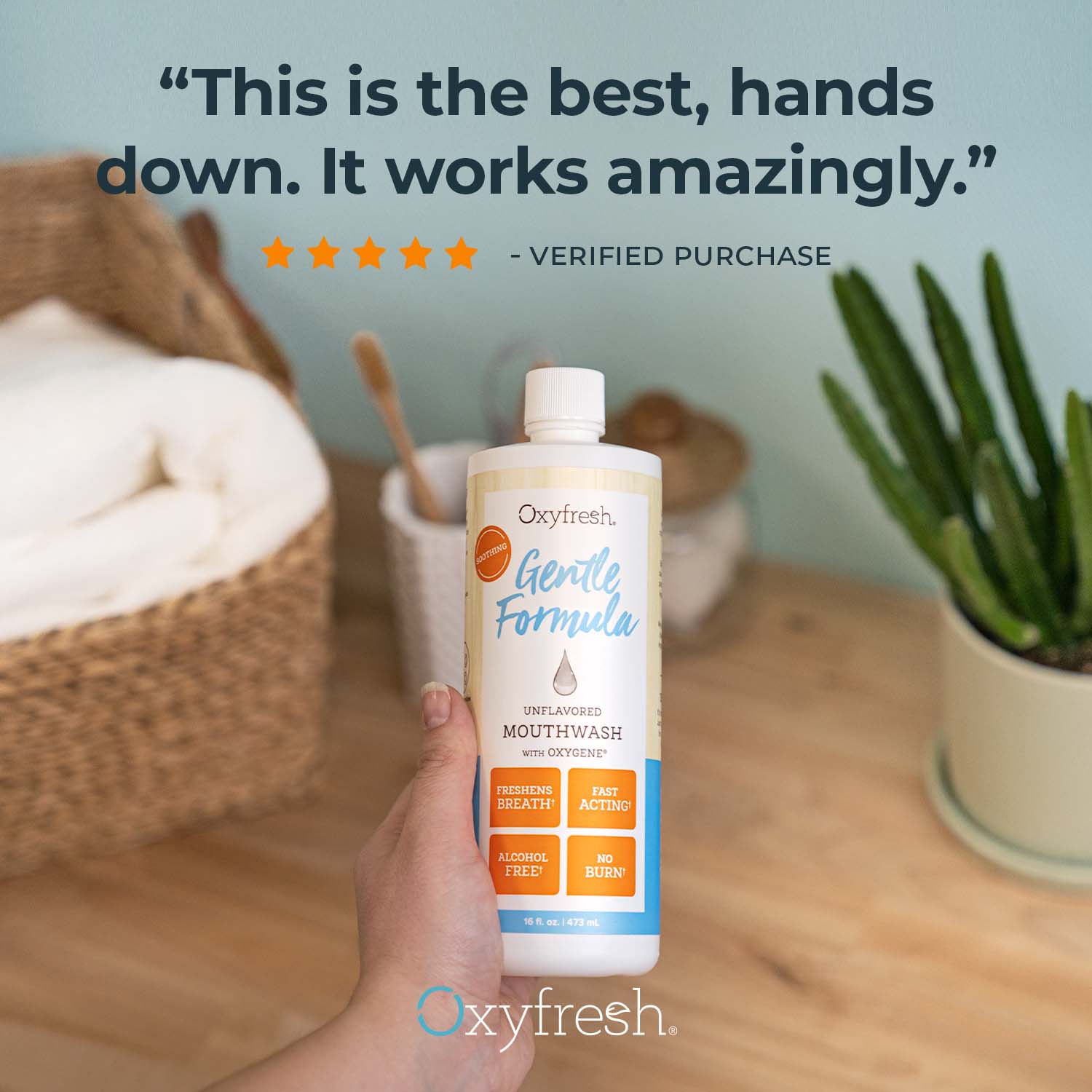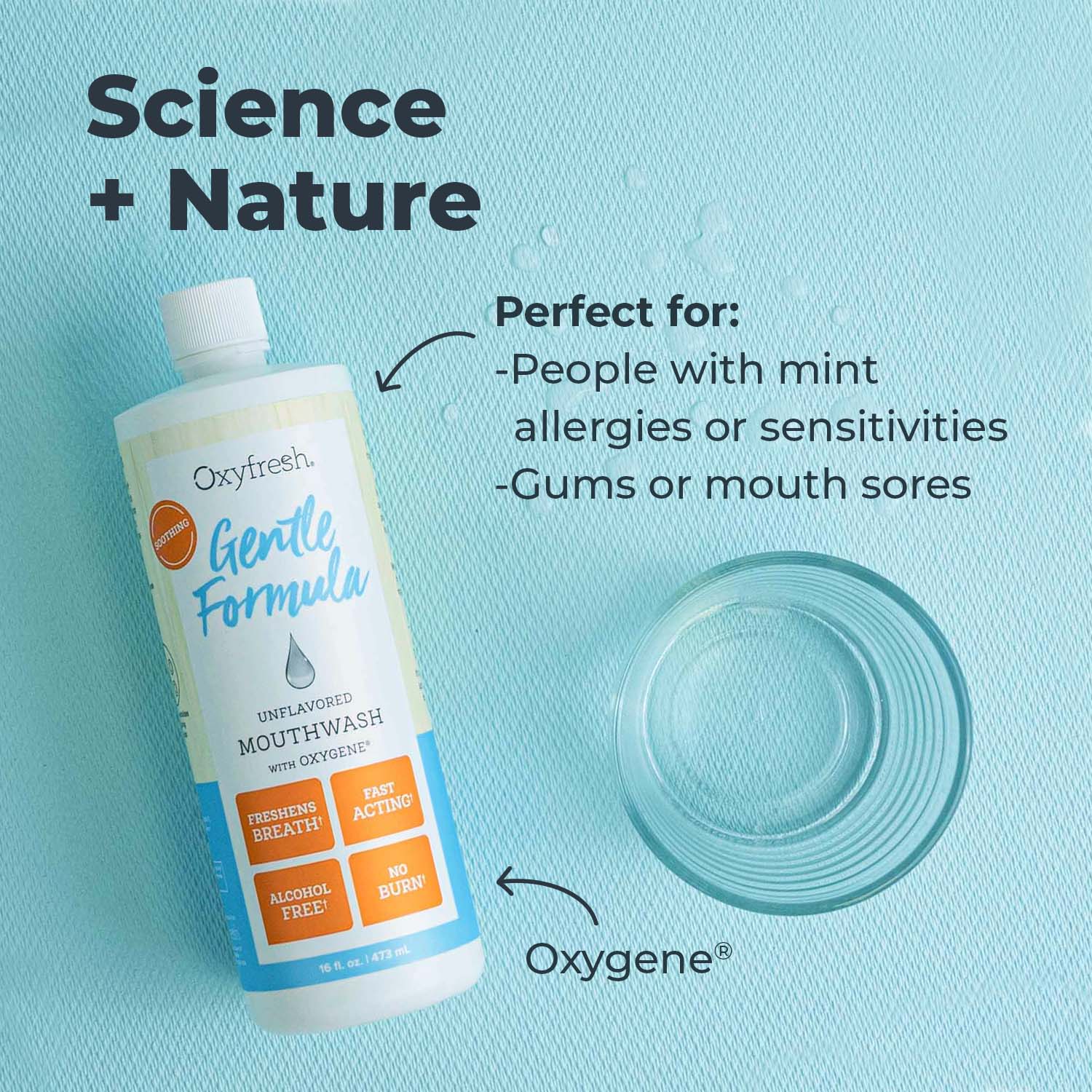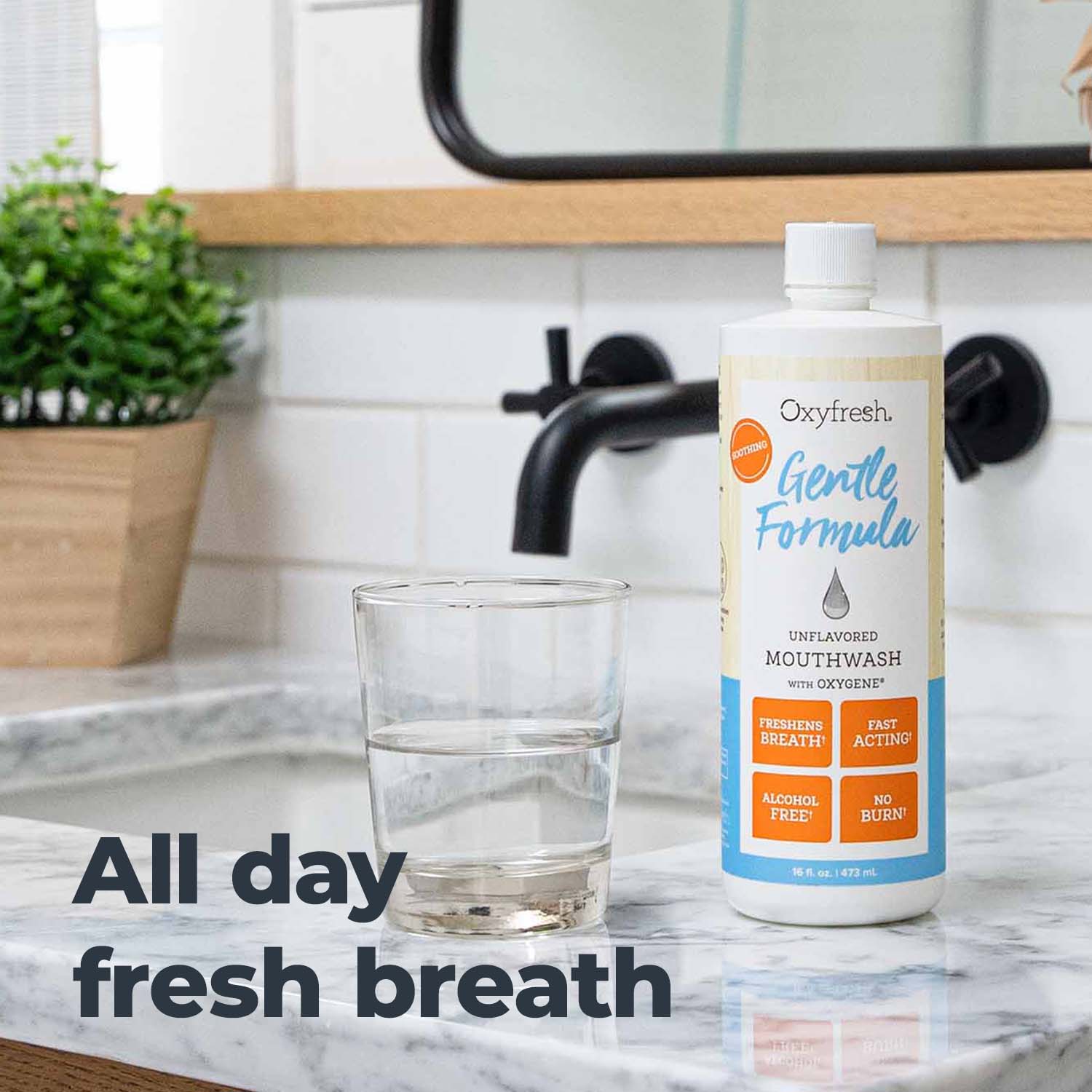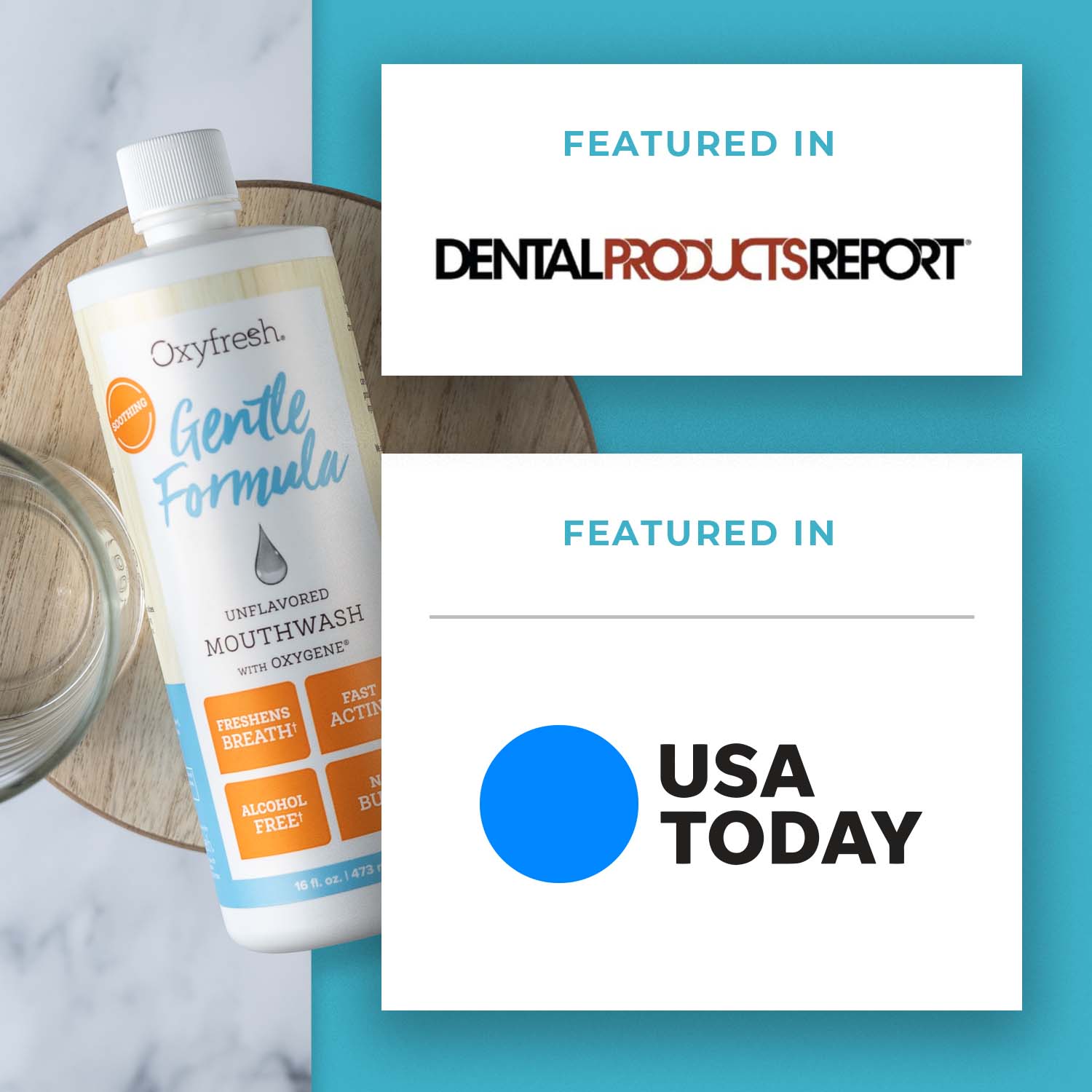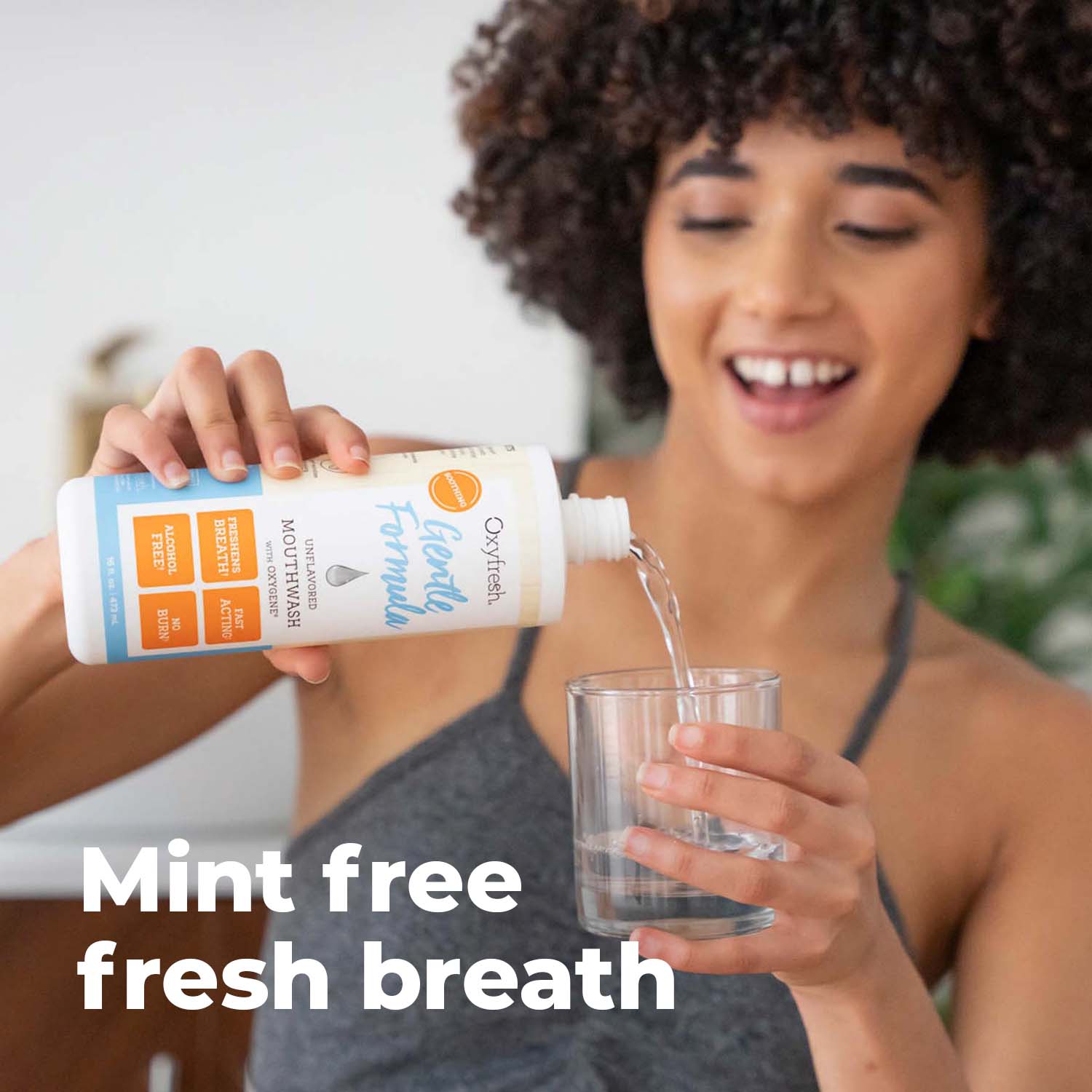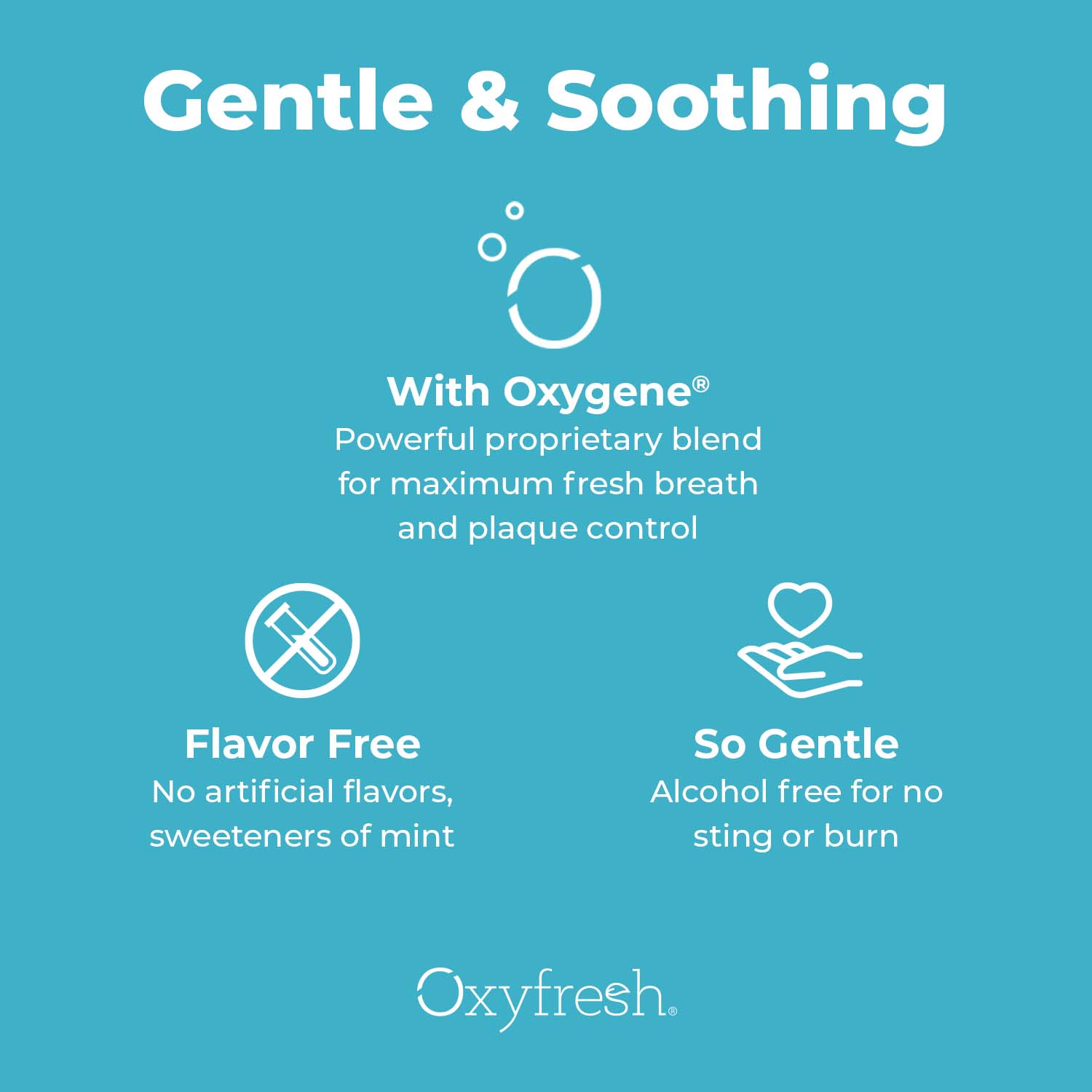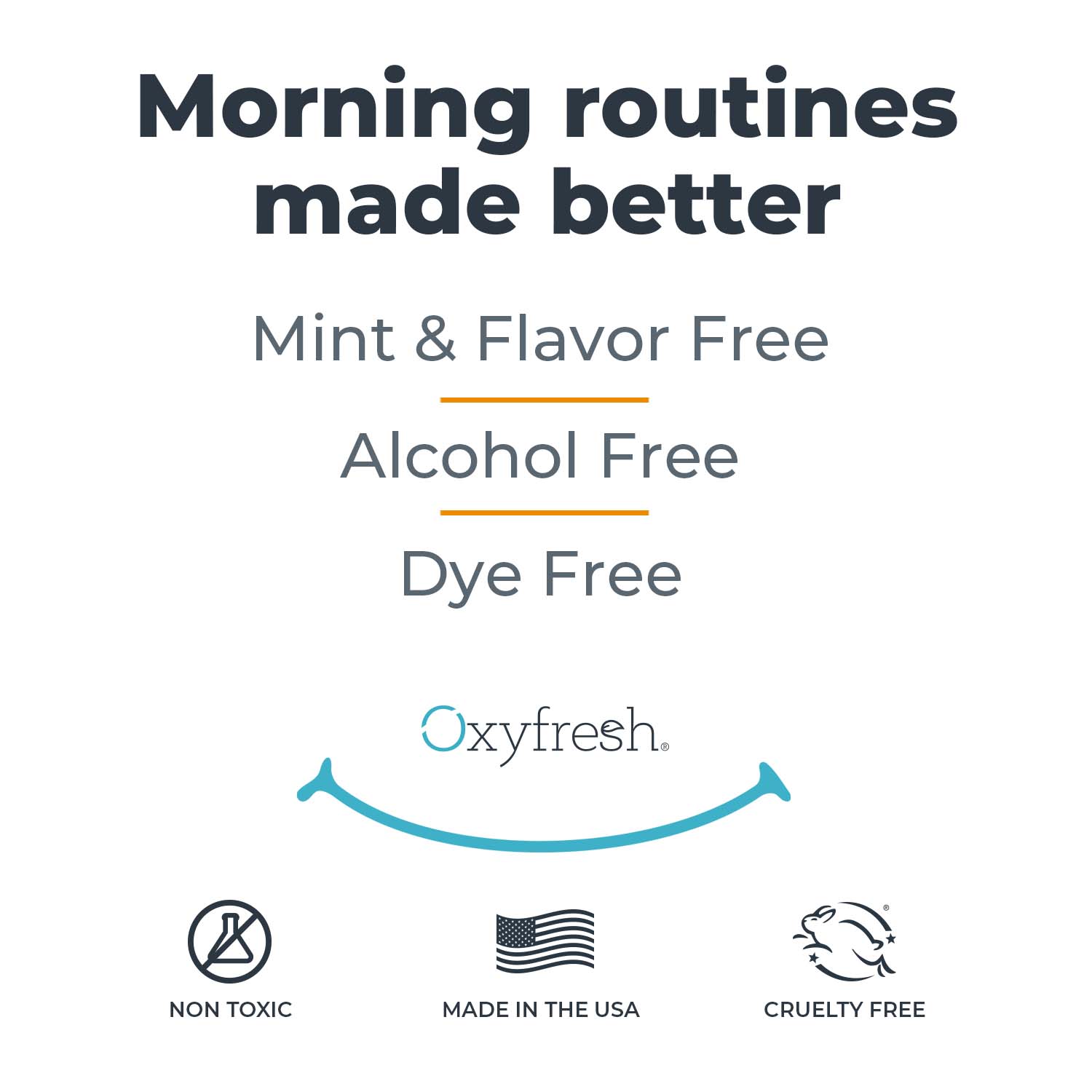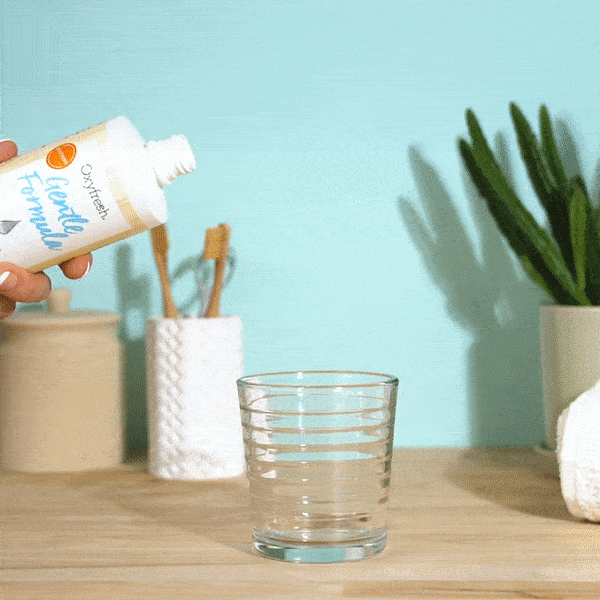 Gentle Formula Unflavored Fresh Breath Mouthwash | Fluoride Free
It's fresh breath, plain and simple. Uniquely free of flavors, our 16oz. Gentle Mouthwash is perfect if you don't like the taste of mint or sweeteners.

MINT-FREE FRESH BREATH – Our exclusive bad-breath fighter Oxygene® will instantly freshen your breath ... and keep it that way all day! No mint required!
FLAVOR FREE – Hey, some of us just don't like the taste of mint! Well, thanks to this flavorless mouthwash, all the "non-minters" in the house can get the perfect swish!
SO GENTLE – Alcohol free for no sting or burn, our mild mouthwash is a must if you have sensitive gums, are undergoing cancer treatment, or have allergies/sensitivities to sweeteners or flavors.
ULTIMATE PROTECTION – Proven to protect against plaque and bad breath, our Gentle Formula Mouthwash is the best swish ever for gentle, soothing and effective oral care.
IT WORKS – If you've tried everything else, you might as well try something that works! Trusted worldwide to gently clean teeth and just like all of Oxyfresh products, it is made in the U.S.A. with only the highest quality ingredients.

We took the best of science and nature to bring you a better kind of fresh with every single swish!

Ingredients: Water (Aqua), Potassium Sorbate, Sodium Benzoate, Stabilized Chlorine Dioxide (Oxygene®), Potassium Phosphate, Sodium Hydroxide.

Gluten Free
Oxygene® (Stabilized Chlorine Dioxide): It's our special ingredient that makes us different. Safe, non-toxic oxidizer neutralizes plaque- and bad breath-causing bacteria, leaving smiles fresh and clean.
Water: Good old-fashioned H20 is included, as it helps hydrate tissue, flush out plaque and bacteria, and deliver the Oxygene® to your smile.
Every day, of course!
Our Gentle Mouthwash is so soothing, you might sneak swishes in all day long! When you're done brushing, pour a couple capfuls into your favorite mouthwash cup and swish away! It only takes a minute to do its job, but you'll enjoy every second of it.

Bet you've never seen this disclaimer before!
This mouthwash isn't for pets, so paws off! If you're looking to freshen your pet's breath, try our tasteless and odorless pet mouthwash instead.
Works great and no strong flavors or flouride
This mouthwash is the best I've ever used. It has no flavor which is great and no flouride which is also great. Just <3 <3 <3 this mouthwash.
Awesome!
Took a few time to get used to because it truly has no flavor. It works though! My mouth feels fresh and clean for hours, even after drinking or eating. Got my whole family into Oxyfresh products and we are all loving it!
Fantastic
I was skeptical at first. Most unflavored/unscented products have some sort of flavor/scent. This one truly has no flavor. It leaves my mouth clean and refreshed. I actually look forward to using it. I look forward to using it long-term to see the difference it makes. I can already tell my mouth is cleaner when using it.
Love this mouthwash
I have been using this mouthwash for many years after first getting some from my dentist. There is nothing quite like it as all of the ones at the drugstore have strong, Unpleasant flavors.
Gentle Formula Unflavored Fresh Breath Mouthwash | Fluoride Free
Been using this product over 15 years
The best mouthwash
I have allergies and sensitivities and this is the only mouthwash I can use. I'm so happy I found it. It does an excellent job without causing me any harm. Please never change your formula. This is wonderful.
Amazing mouthwash
I have struggled with finding a good mild-flavored, non-mint mouthwash for years that actually works. This is the best hands down. It works amazingly -- very grateful my dentist introduced me to it.
Thumbs up!!
Finally found a mouthwash that my granddaughter loves to use. No burning, no mint flavor. Recommended by her dentist.
Simply The Best
We use the sample Mouthwash and Paste to give to our patients, and they always come back for more. It's a great way to introduce products to new patients. Barbara Lyda ' Andover, KS customer, 10 years