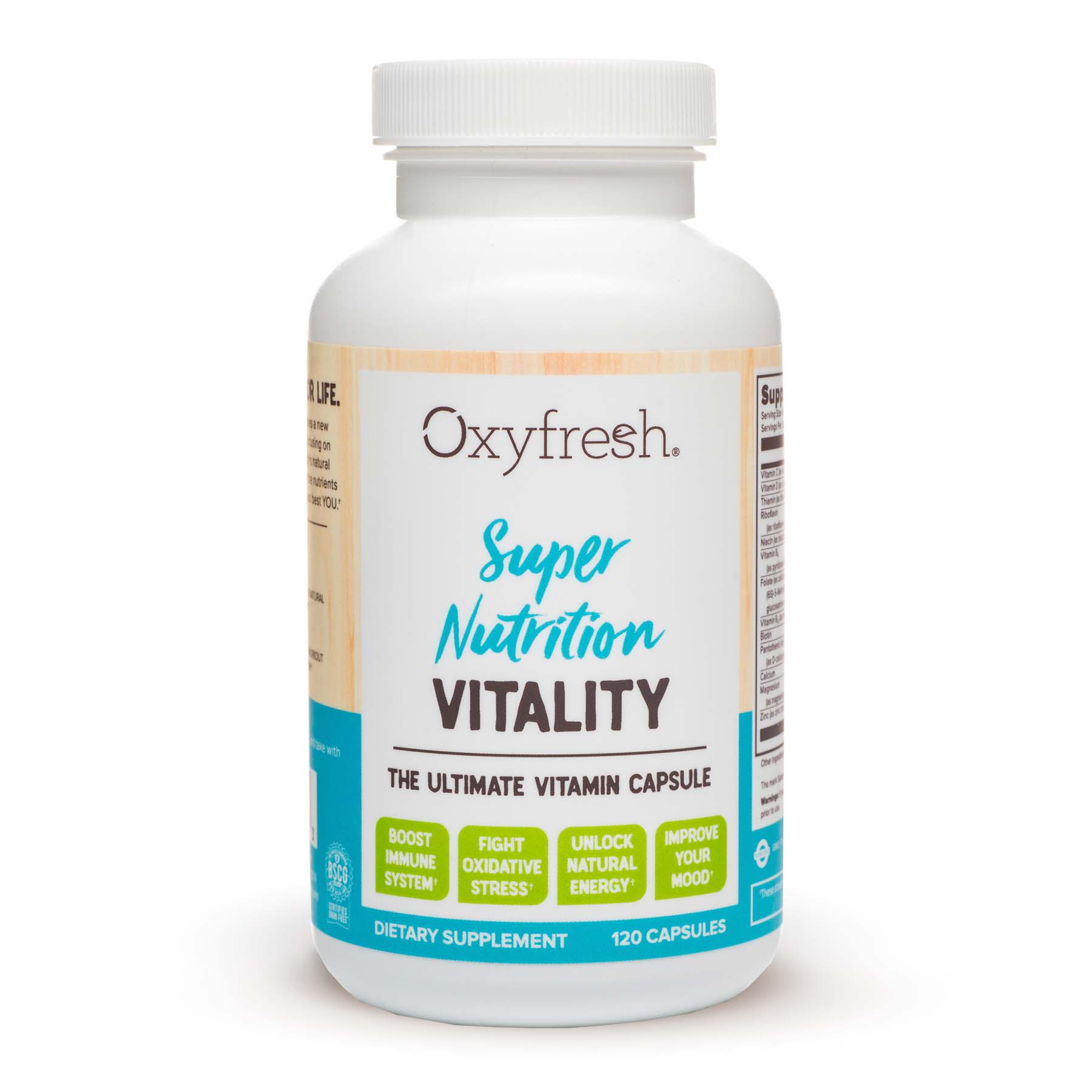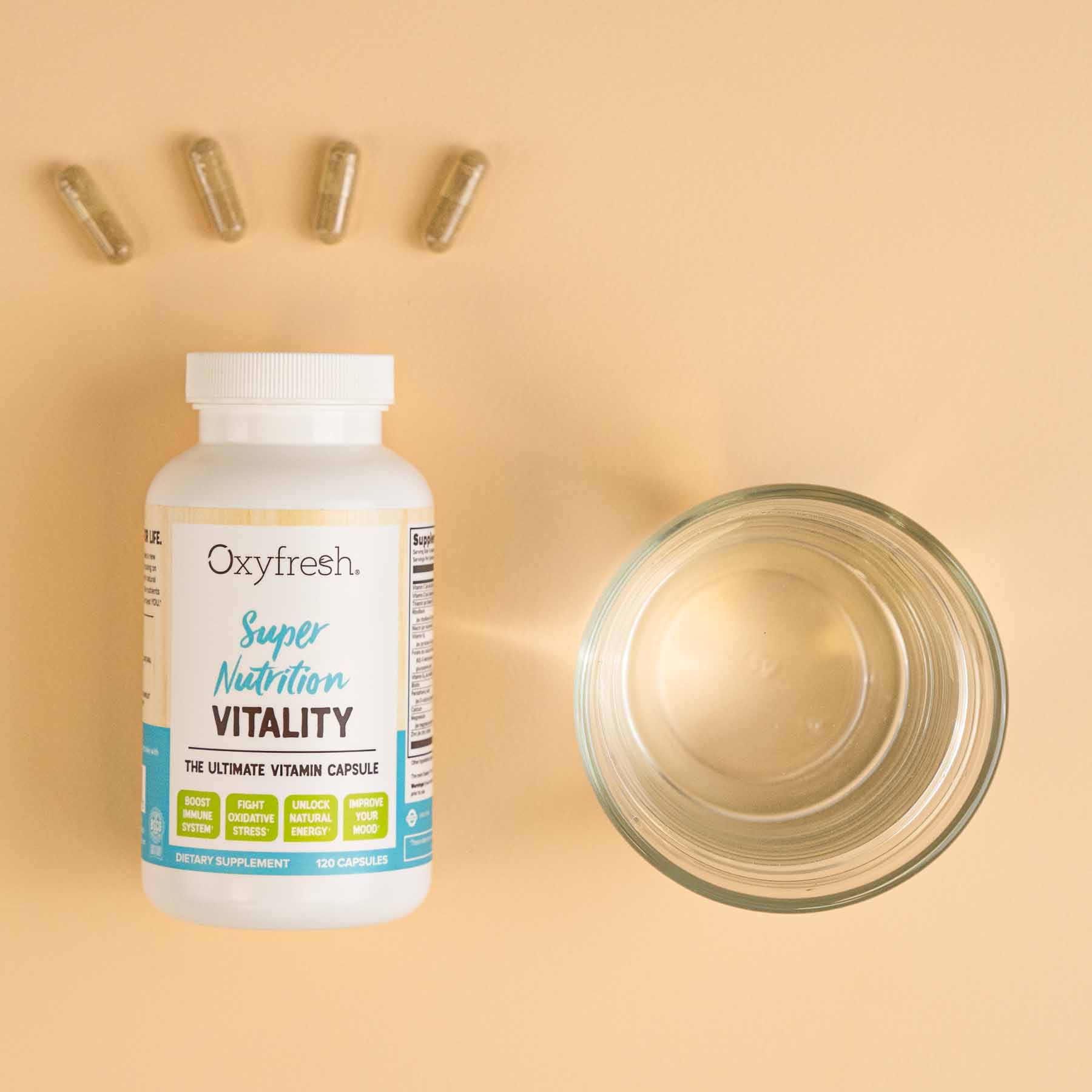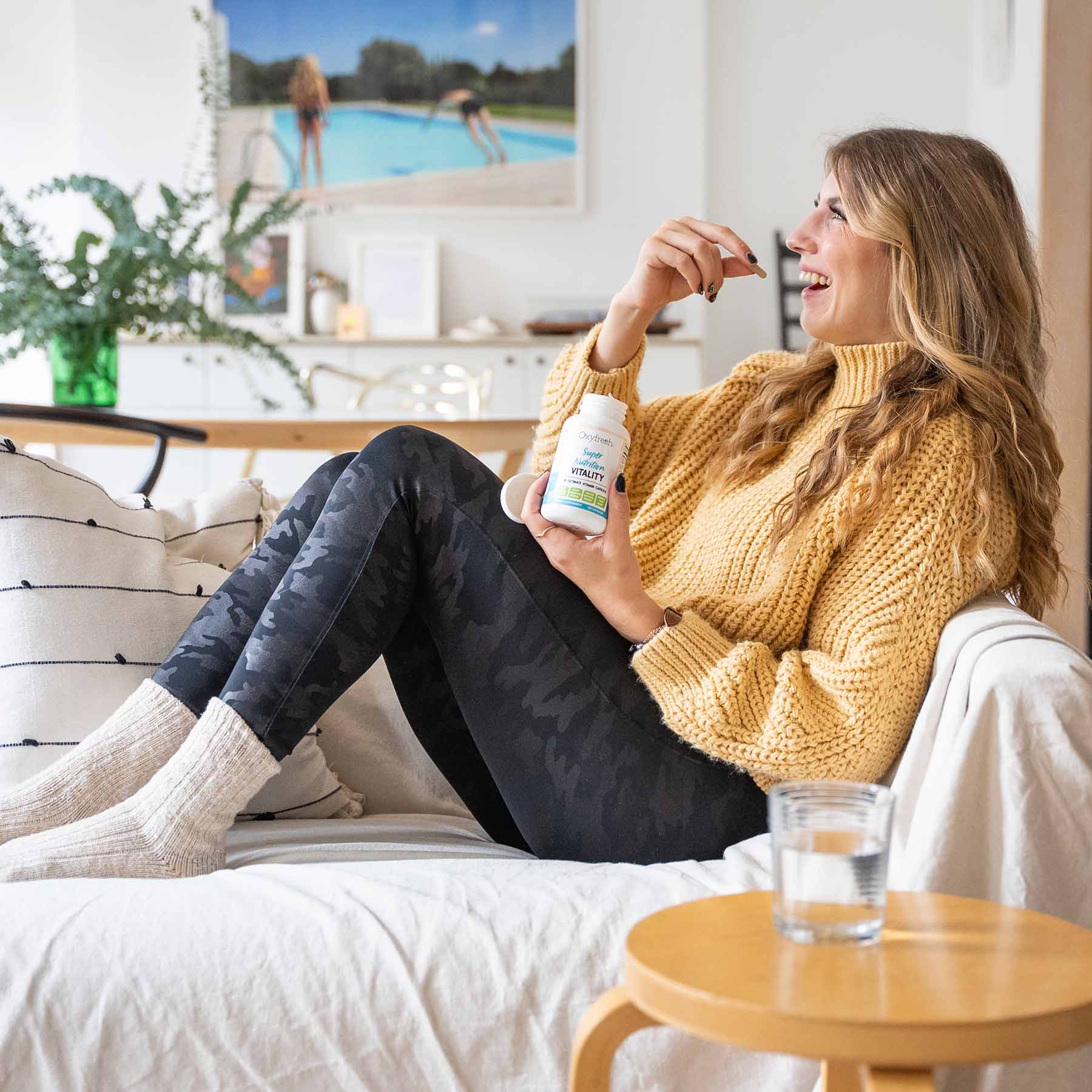 Vitality Vitamin Capsule | Gluten Free, Non-GMO
Today's nutrition is incompl–. Vitality fills in the blanks with a specialized combo of vitamins, minerals & antioxidants that work at the cellular level to boost your immune system, mood & natural energy.
ULTIMATE IMMUNE NUTRITION – No joyrides through the body here! Vitality is a highly bioavailable blend of vitamins, minerals & antioxidants that work at the cellular level for results you can see & feel.
HAPPY MOOD – You know the feeling you get on a warm, sunny day? There's science behind it! Vitality capsules have 2000 I.U. of vitamin D3, the superior form of the sunshine vitamin to support mood, immune system & bone health.
NATURAL ENERGY – Get off the jittery caffeine rollercoaster! Vitality's B complex blend of Niacin, Folate, B1, B2, B5 B6, B7 & B12 works at the cellular level for natural, no-buzz energy that lasts all day.
POWERFUL ANTIOXIDANTS – Superfruit blend with Saberry®, Goji Berry, Acai, Grape Powder, Wild Bueberry, Strawberries & more will fight free radicals like a pack of ninjas, supporting healthy cells.
BETTER ZZZs – No more pining for your pillow in the afternoon. Vitality supplement will keep you energized during the day, while helping you get more restful sleep at night. You'll love the difference!
Who knew one little capsule could hold so much good stuff? Vitality features the best of science and nature to bring you a supplement that works just as hard as you play!

Ingredients: Grape Seed Extract, Grape Skin Extract, Resveratrol (from Polygonum cuspidatum Root Extract), Grape Powder, Wild Blueberry Powder and Extract, Raspberry Powder and Seed Extract, Cranberry, Prune, Tart Cherry, Strawberry, Wild Bilberry Powder and Extract, Strawberry.

Other Ingredients: Hypromellose and silica.

Gluten Free

See the supplement facts for Vitality capsules here.
Best thing to happen to capsules ... since time

Take 4 capsules once or twice daily. Oh, an dtake with food for a happy tummy.
Changed my life
This product changed my life 13 years ago and I'm still on it to this day. I will always buy this!
It gave me the energy to do Kickboxing, and I lost over 60 lbs. I was hitting the snooze button 10 times and not getting up. now I wake up before the alarm and am ready to go! I've had fingernails for the past 13 years, I don't bite them off any more.
Vitality Vitamin Capsule | Gluten Free, Non-GMO
Great way to start the day
Been having my shake pretty much daily for the last few years. The taste is pretty good and the health benefits and energy has been great. Lost about 15Lbs too when I first went on it and have kept it off
Love this
I thought nothing would be better than the Vitality powder you mix, but I was wrong! Love the energy, focus, and did I say energy? This gives me. Love it!
Just started a few weeks ago.
I wanted a supplement that would make me feel better. I have been recovering from Long Haulers and since I started taking Vitality I have been getting my energy back.
Love it!
Feeling much more energetic!
Love this product
Makes me feel healthy and strong. Been using this product for about five years and I love it.
The BEST
Ive been taking these vitamins for 3years and they have been awesome for me!! Plan to continue with them daily forever or until I'm no longer able to!
Awesome daily vitamin
Most daily vitamins upset my stomach. This product did not, highly recommend!
Vitality
Just trying now - this product is for my son to use - he likes energy drinks and is willing to try this one out.