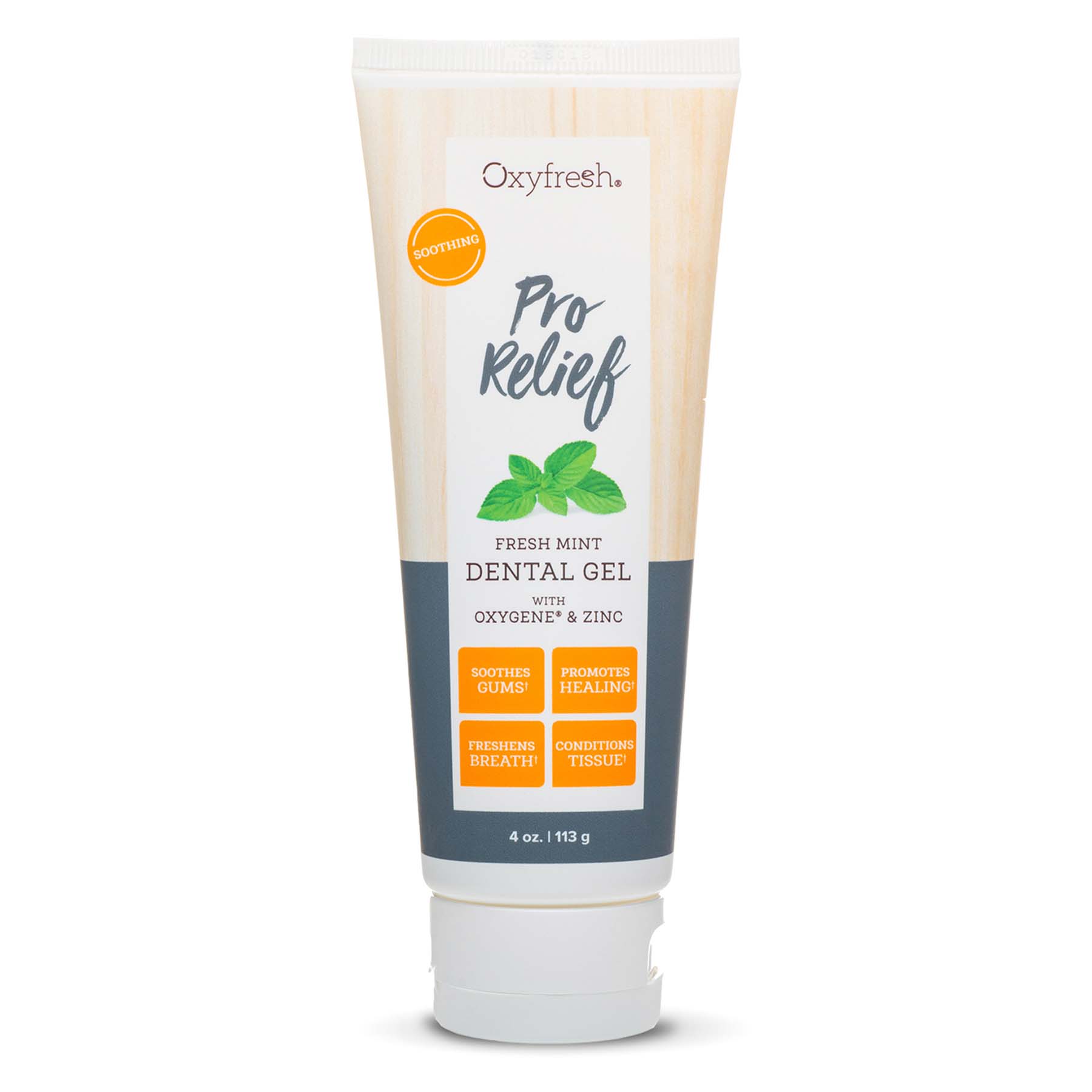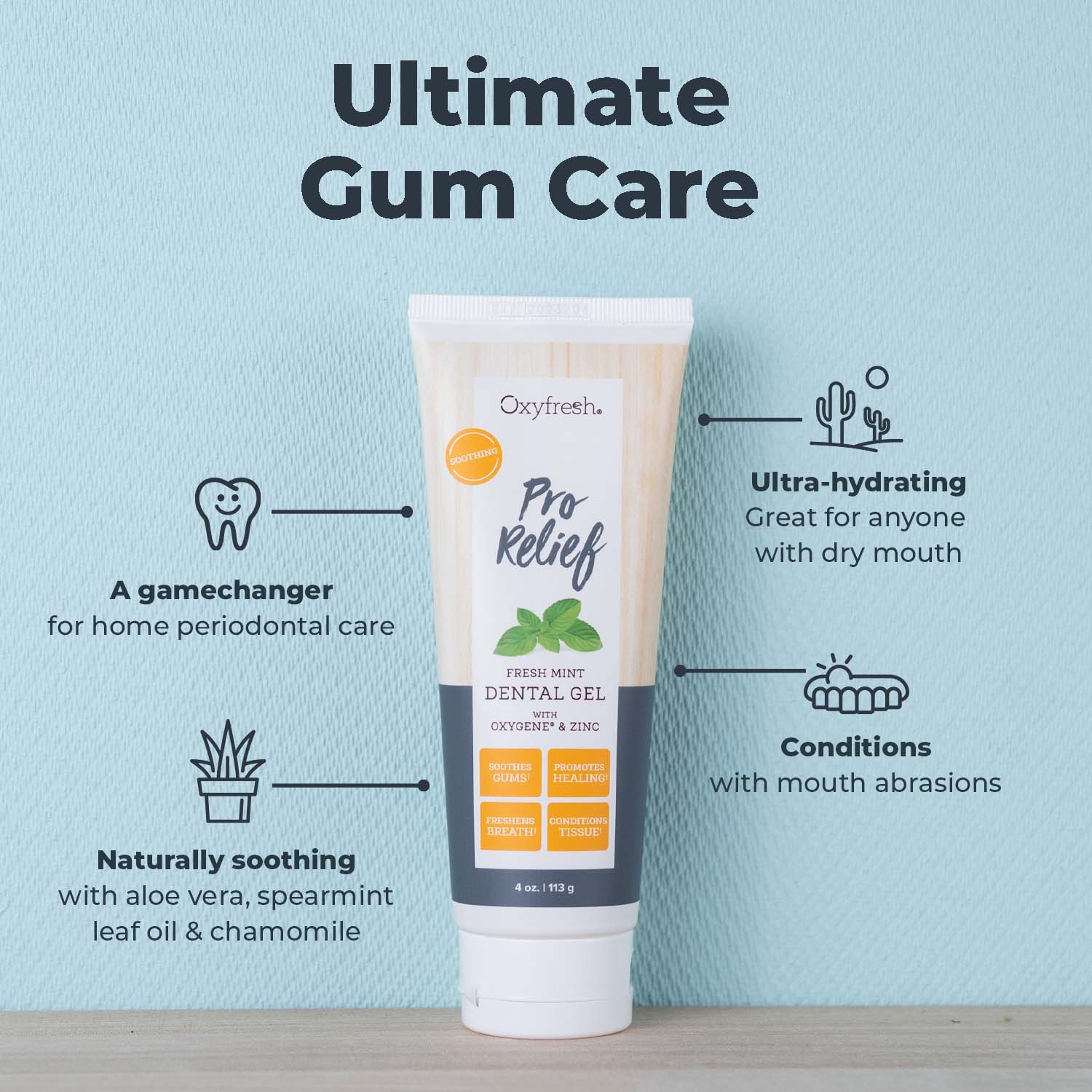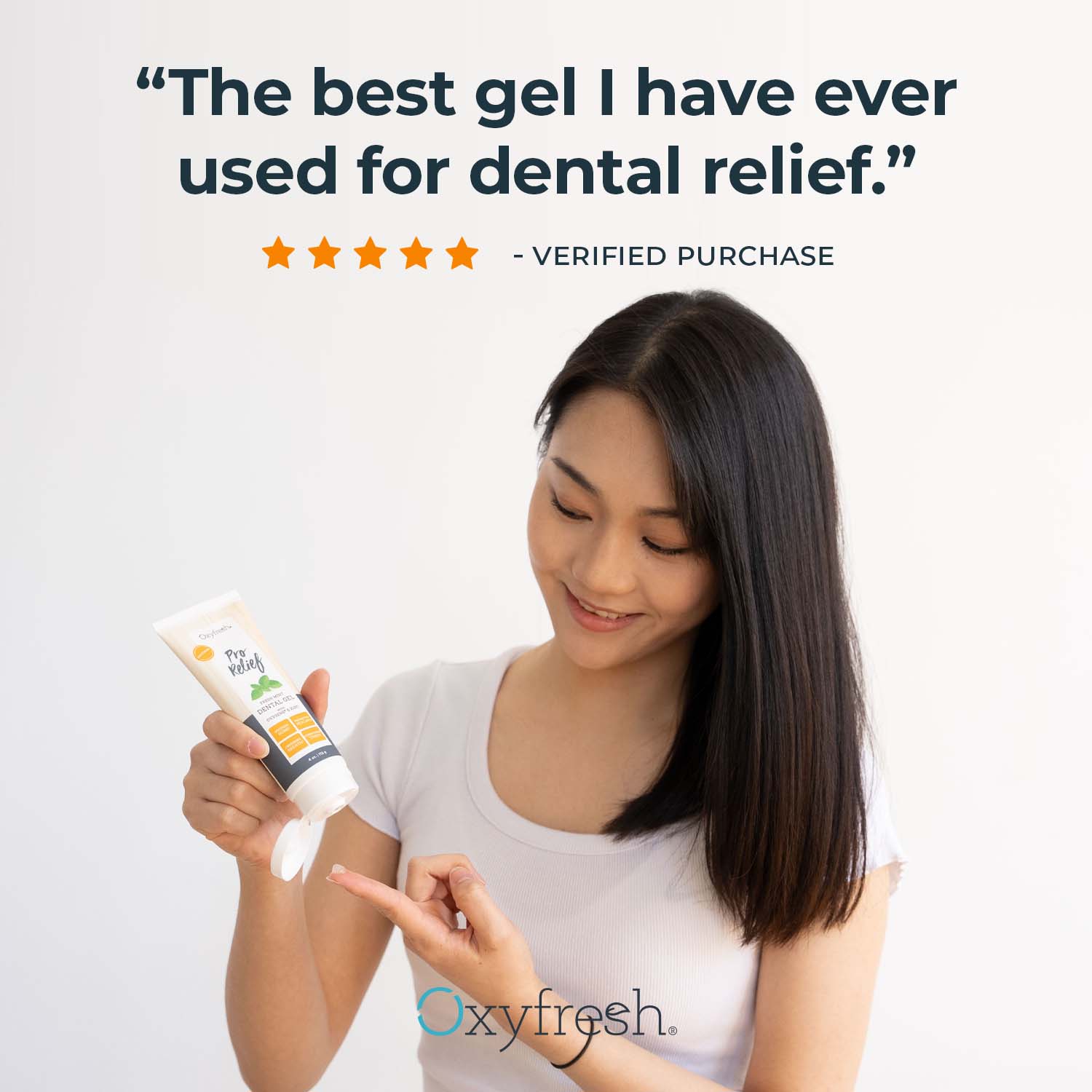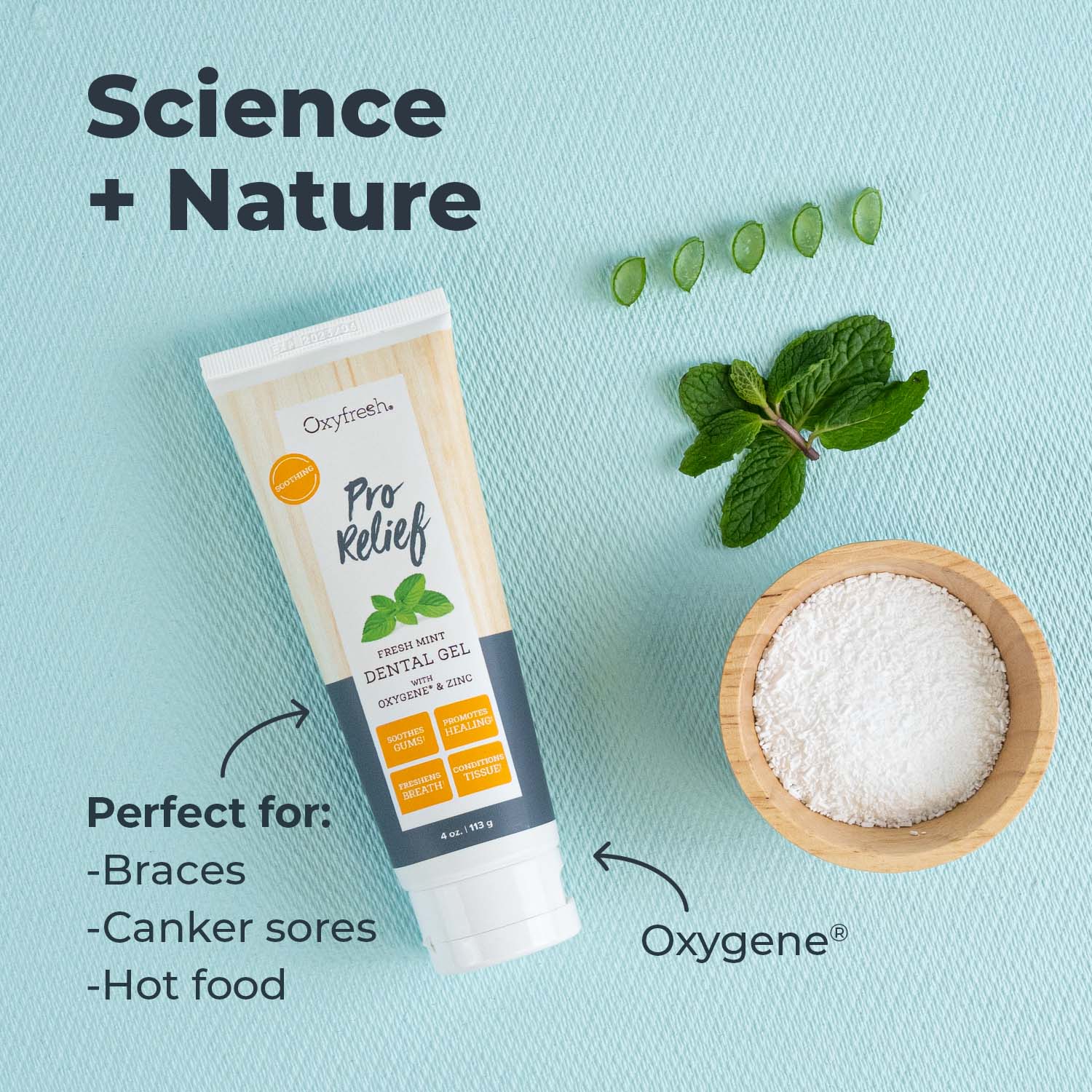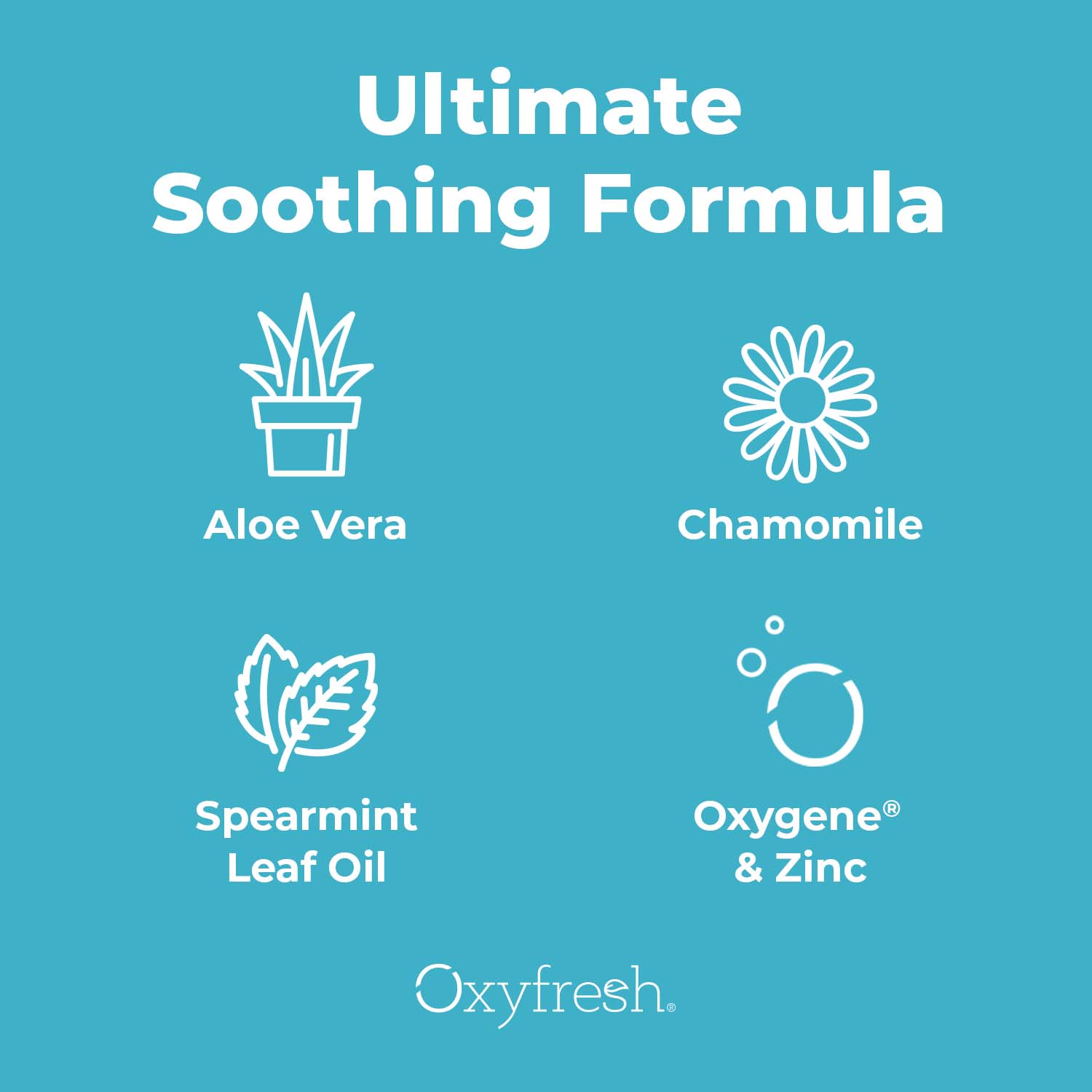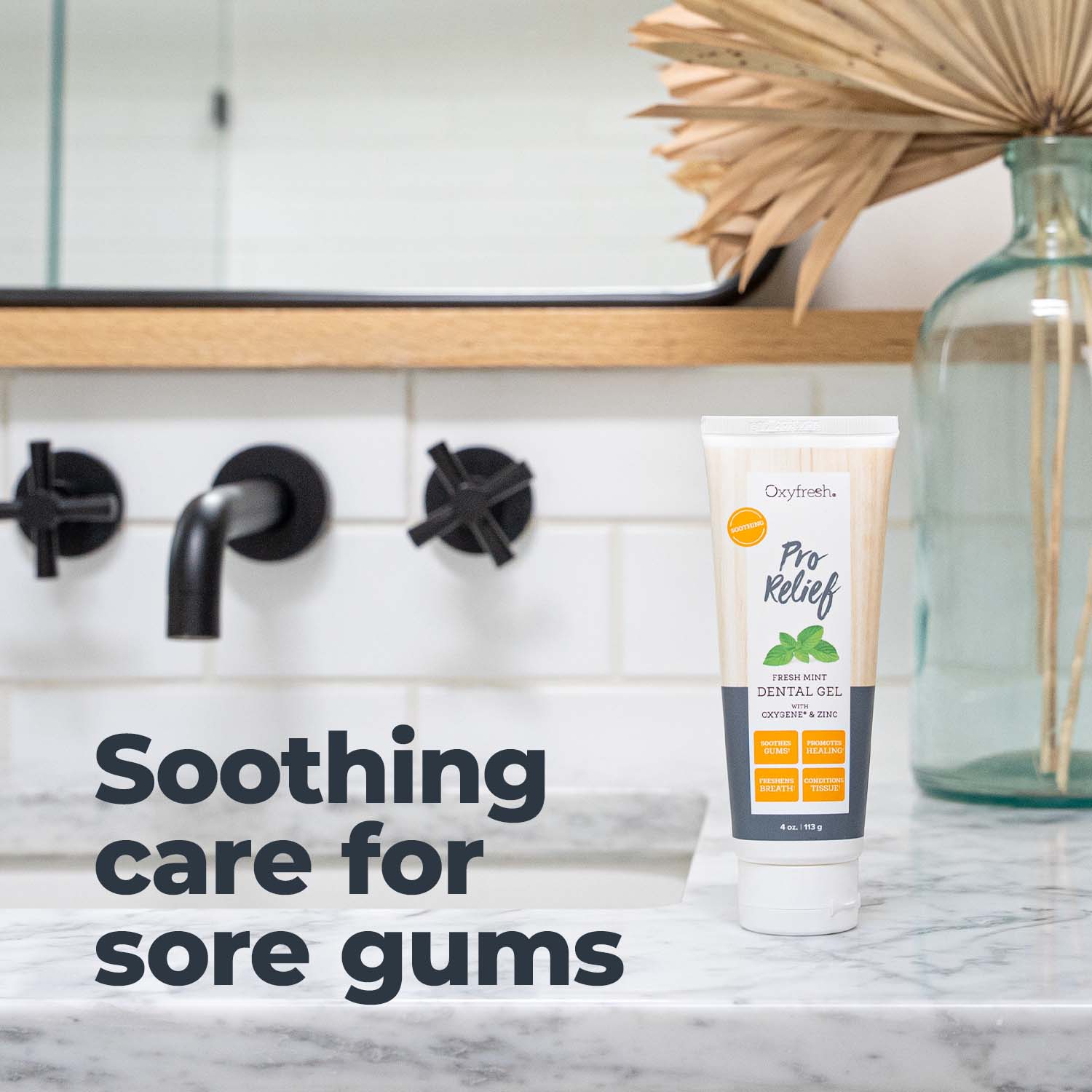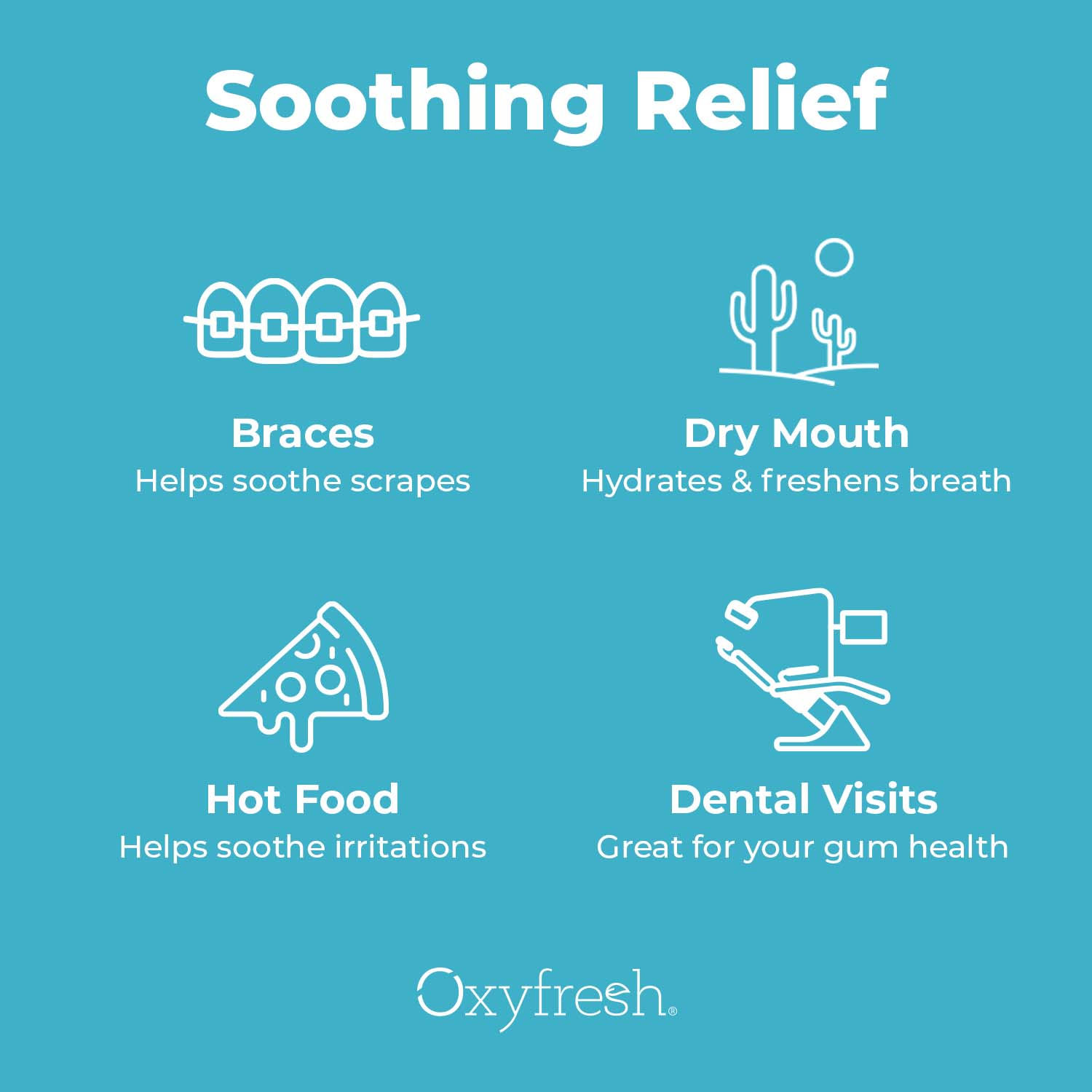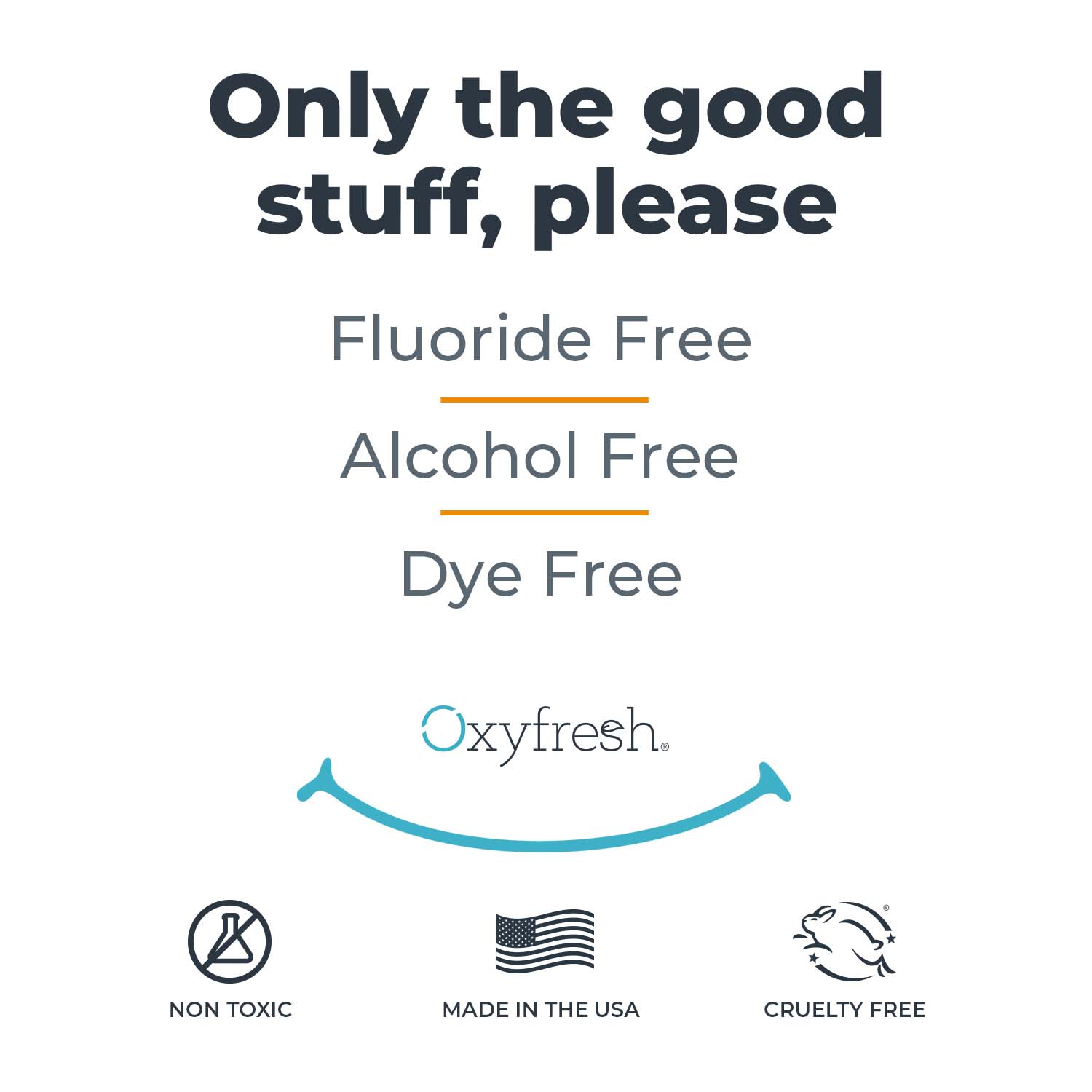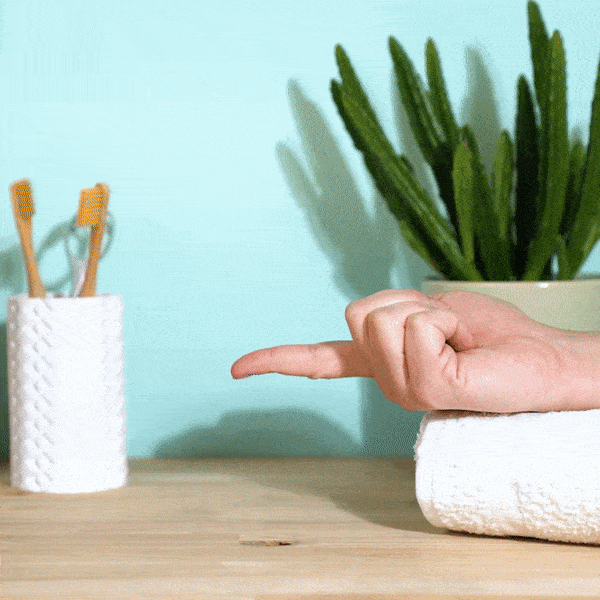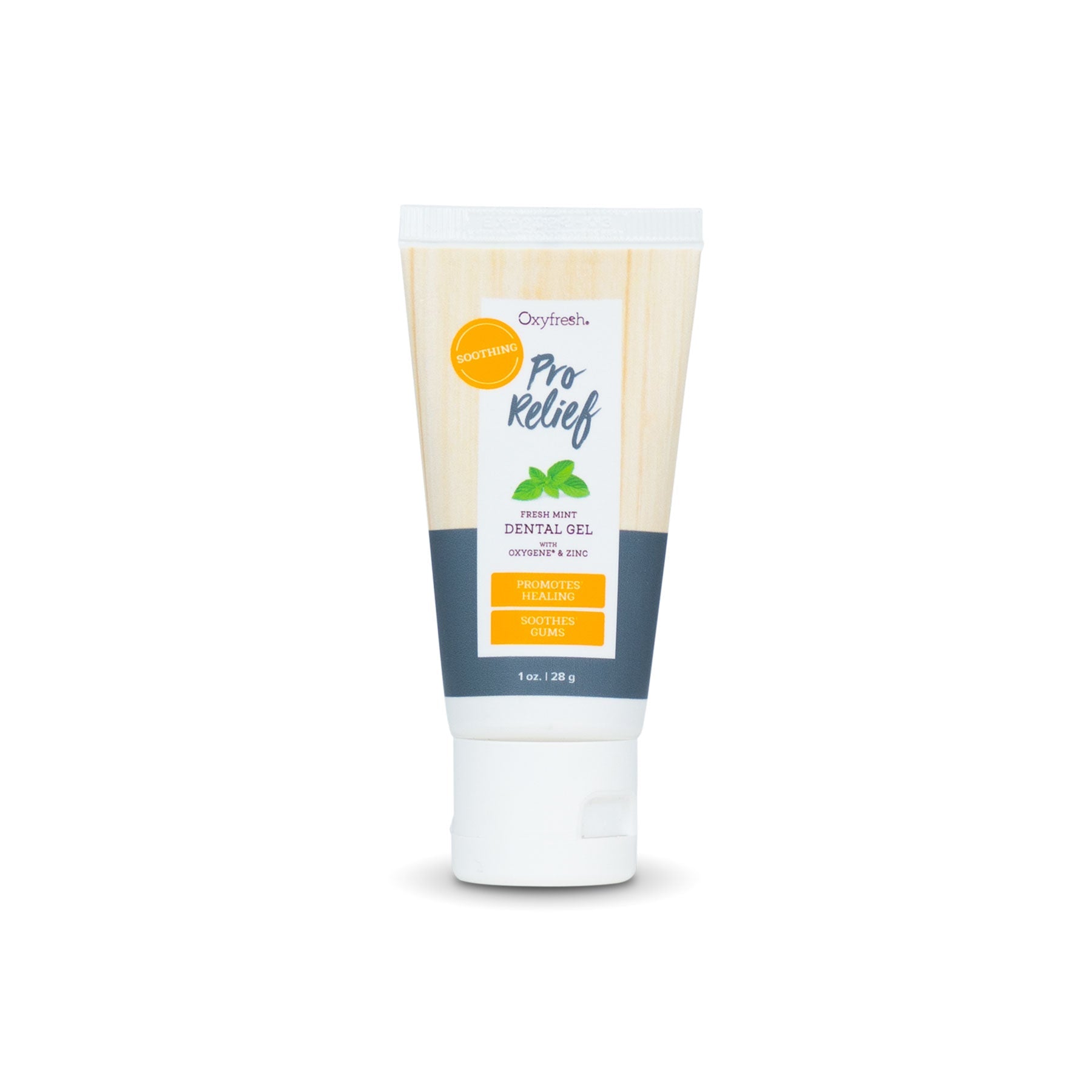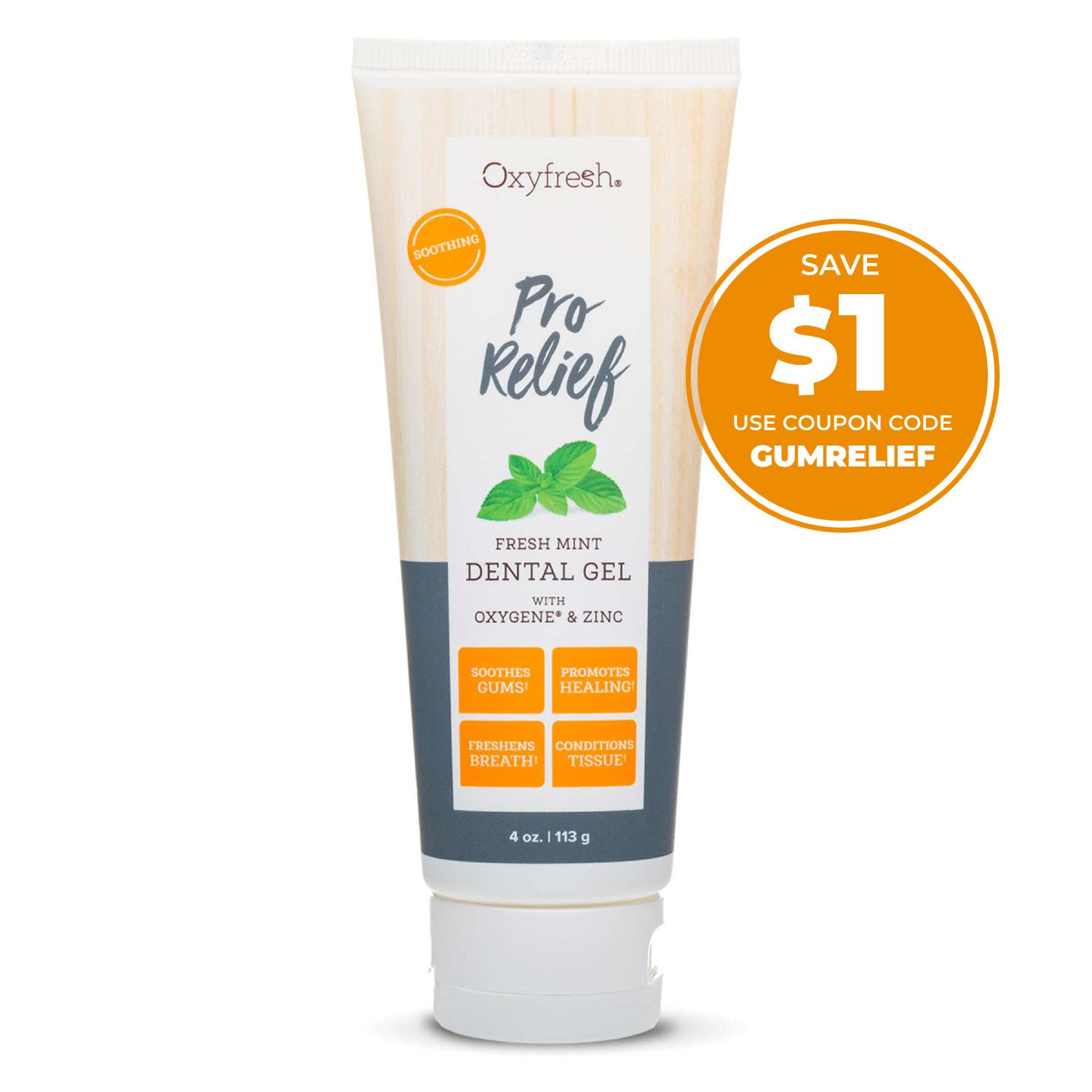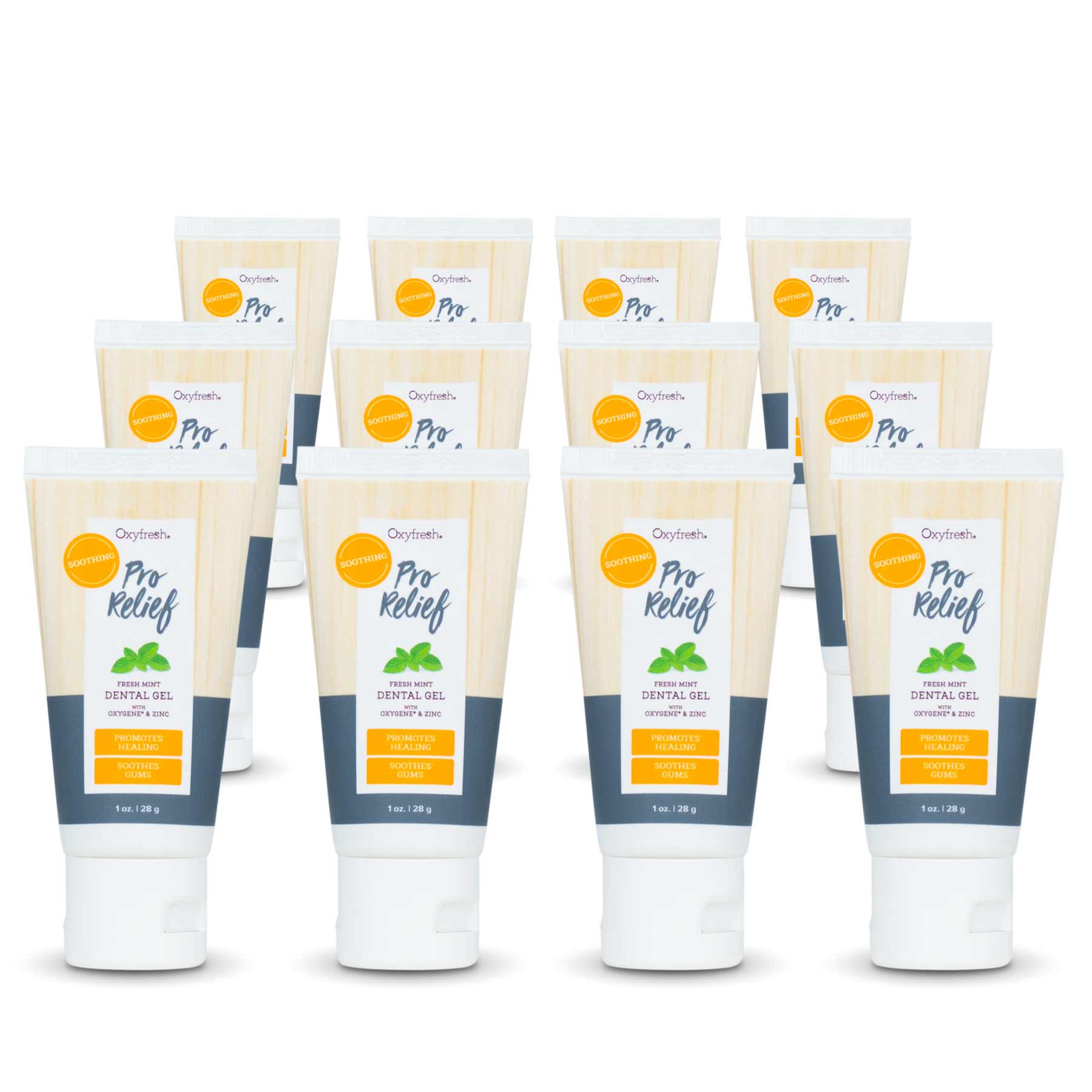 Pro Relief Dental Gel Soothing Formula | Ultimate Gum Care
When you need the ultimate soothing care for your smile, why trust an amateur? Go with what the pros use: Pro Relief Dental Gel with calming chamomile and aloe. It's clinically proven to make gums happy!

HELPS SOOTHE SORE GUMS – From trips to the dentist, new braces or run-ins with hot pizza slices, when your gums need instant TLC, nothing works better than our fast-acting oral gel with soothing aloe & chamomile.
ULTRA-HYDRATING – No one likes to feel like their mouth is full of wool. (That's baaad.) Seriously though, you'll love how hydrated and happy your gums feel with our moisturizing dentist gel.
PROVEN PERIO CARE – A gamechanger for home perio care, an independent clinical study showed our pro relief dental gel to reduce periodontal pocket depths by over 50% post-deep cleaning from the dentist (scaling and root planing – eek).
MOTHER NATURE APPROVED – Nature's natural soothers like aloe vera, spearmint leaf oil & chamomile are so fresh and pampering, it's like a spa day for your gums. No tip required.
FRESHENS TOUGH BAD BREATH – When you are dealing with some not-so-nice gum and tissue issues, your breath can be a little stinky. Our special ingredient Oxygene® actively seeks out bad breath compounds and – poof! – makes them disappear, just like magic.
With trusted ingredients that work wonders for gums, this is gel you can really, well, gel with!

Ingredients: Water (Aqua), Xylitol, Chondrus Crispus (Carrageenan), Stabilized Chlorine Dioxide (Oxygene®), Zinc Acetate, Folic Acid, Aloe Barbadensis Leaf Juice, Chamomilla Recutita (Matricaria) Flower Extract, Flavor*, Methylparaben, Propylparaben.
*Contains Spearmint Essential Oil. Gluten free.
Oxygene® (Stabilized Chlorine Dioxide): It's our special ingredient that makes us different. This safe, non-toxic oxidizer works instantly to neutralize the bacteria that cause plaque and bad breath.
Aloe: Soothes, promotes healing, and helps ensure nutrient absorption.
Chondrus Crispus: This seaweed extract helps to create the perfect texture while also providing soothing comfort.
Zinc: This amazing mineral counteracts Volatile Sulfur Compounds (aka bad breath bugs) and helps remineralize enamel, making this great for sensitive gums and teeth.
ALL BETTER
Liberally apply dental gel to affected tissue with a Q-tip (or be a rebel and use your finger). Leave on for several minutes, then spit out excess if needed. You can also leave on overnight.

Bet you've never seen this disclaimer before!
This gum relief gel isn't for pets. Xylitol is awesome for people, but not for our furry friends. They're also not a fan of mint, so if you're looking to improve your pet's smile, try our tasteless and odorless pet toothpaste instead.
Our " Go To "
We have been utilizing oxygene gel for over 15 years and, we give it to every third molar surgery case or soft tissue surgery case. It is amazing in his healing capacities. Thanks
We are glad to read how you enjoy our Dental Gel. Thank you for referring us to your patients and for the 5 star review!
A Breath Of Freshness
This gel was suggested to me by my dentist, and since I began using it, I have had fresher breath and healthier gums that never bleed now.
Yay! Thank you for sharing, we love to hear it. Nature's natural soothers like aloe vera, spearmint leaf oil & chamomile are so fresh and pampering, it's like a spa day for your gums. No tip required. ;)
This is really a great product it works so well I have told others about this how good it really works
Pro Relief Dental Gel
This product gave me immediate relief. It was amazing! This is how you spell relief!
It stinks!
It stinks so much that I can't get into my bathroom. Didn't expect this. Impossible to use.
Toothpaste and mouthwash
The toothpaste and mouthwash have greatly improved my gum health. I haven't needed any fillings for years either. It feels like my teeth have been professionally cleaned every time I use it. I would use it for the great taste alone. Love it!
Pro Relief Dental Gel Soothing Formula | Ultimate Gum Care
Wonderful results
We count this Gel as a "must have" dental product in our bathrooms.
Always soothing for sensitive or irritated areas.
Oxyfresh dental gel
Used it for years. Great product.
not used that long yet.
need to use longer to see if improvements