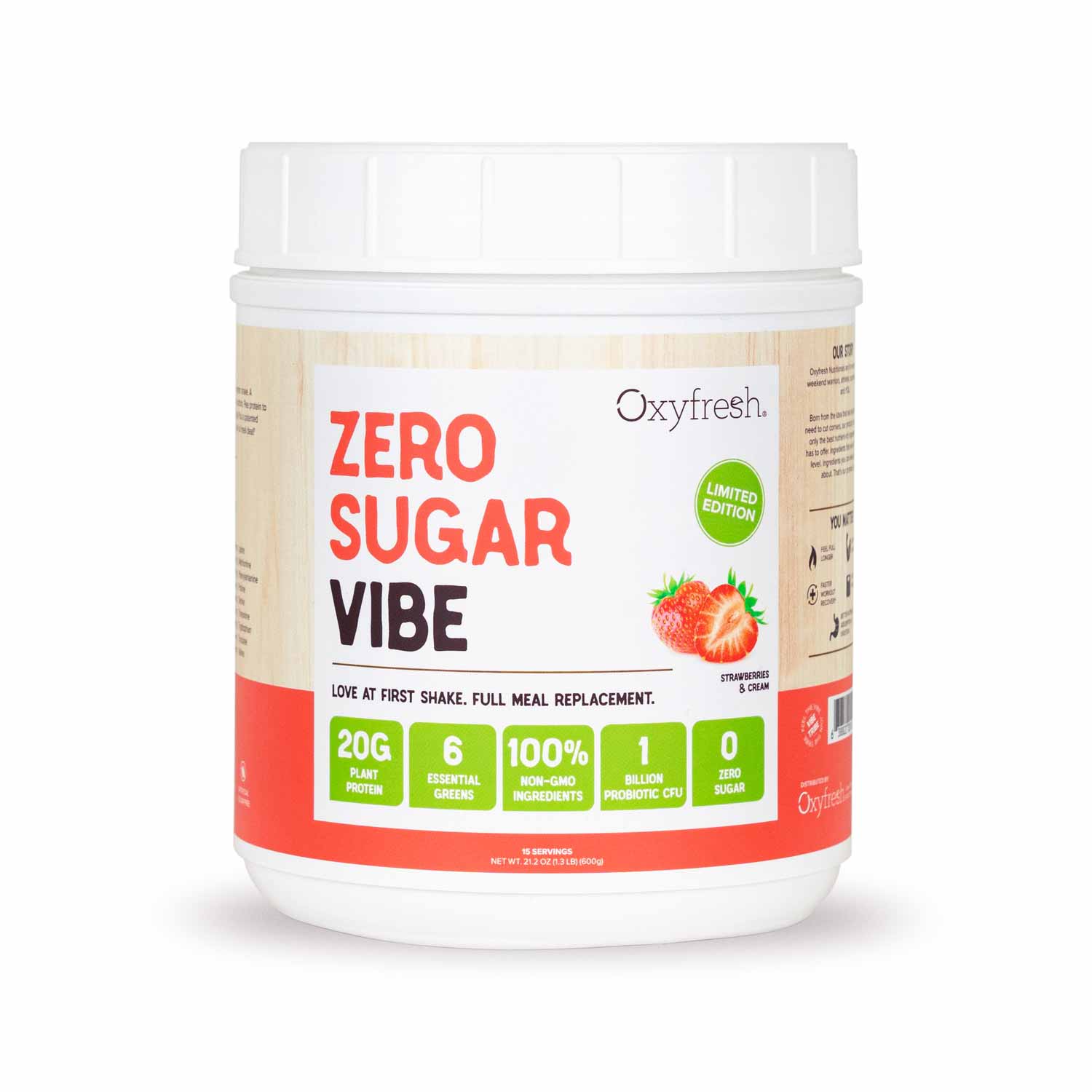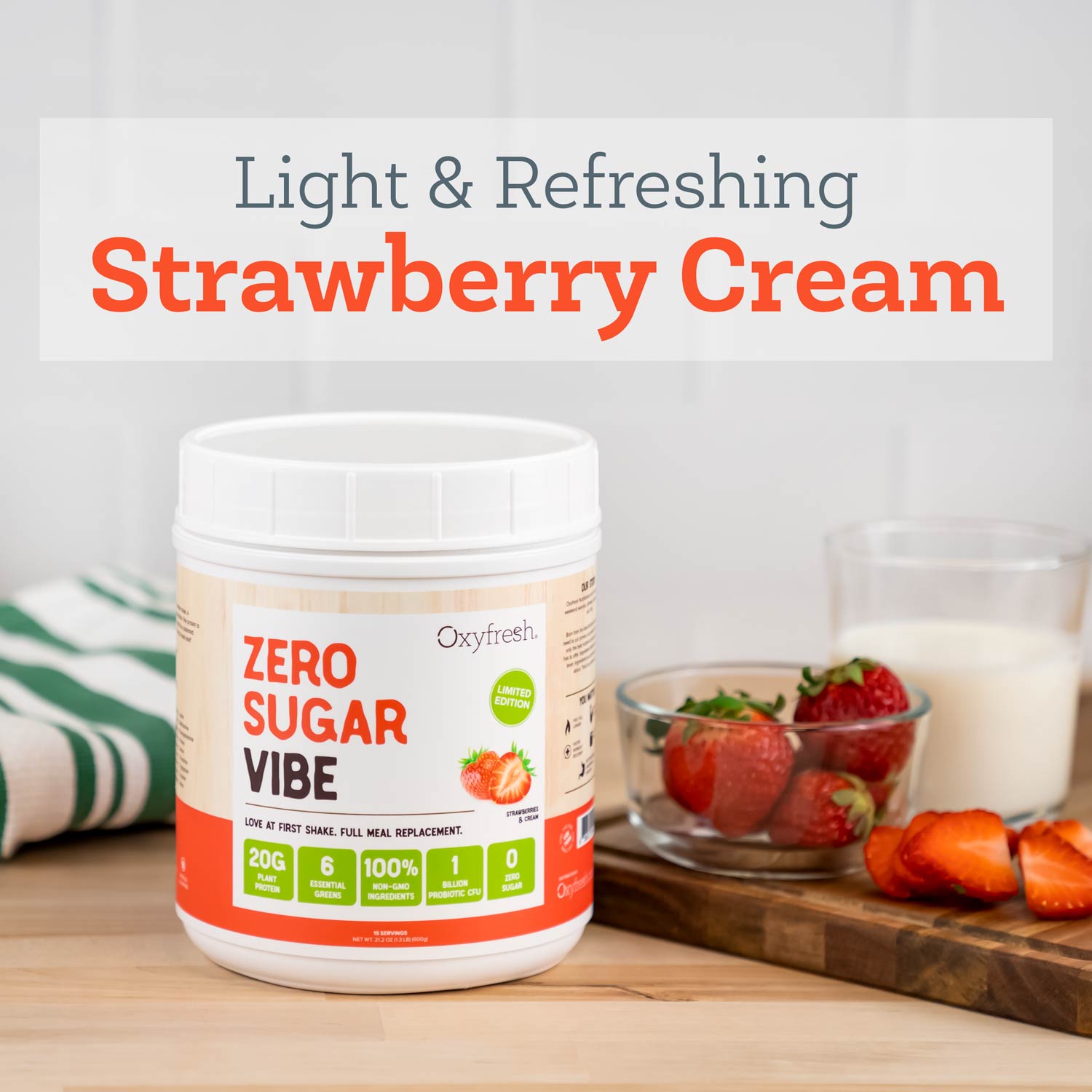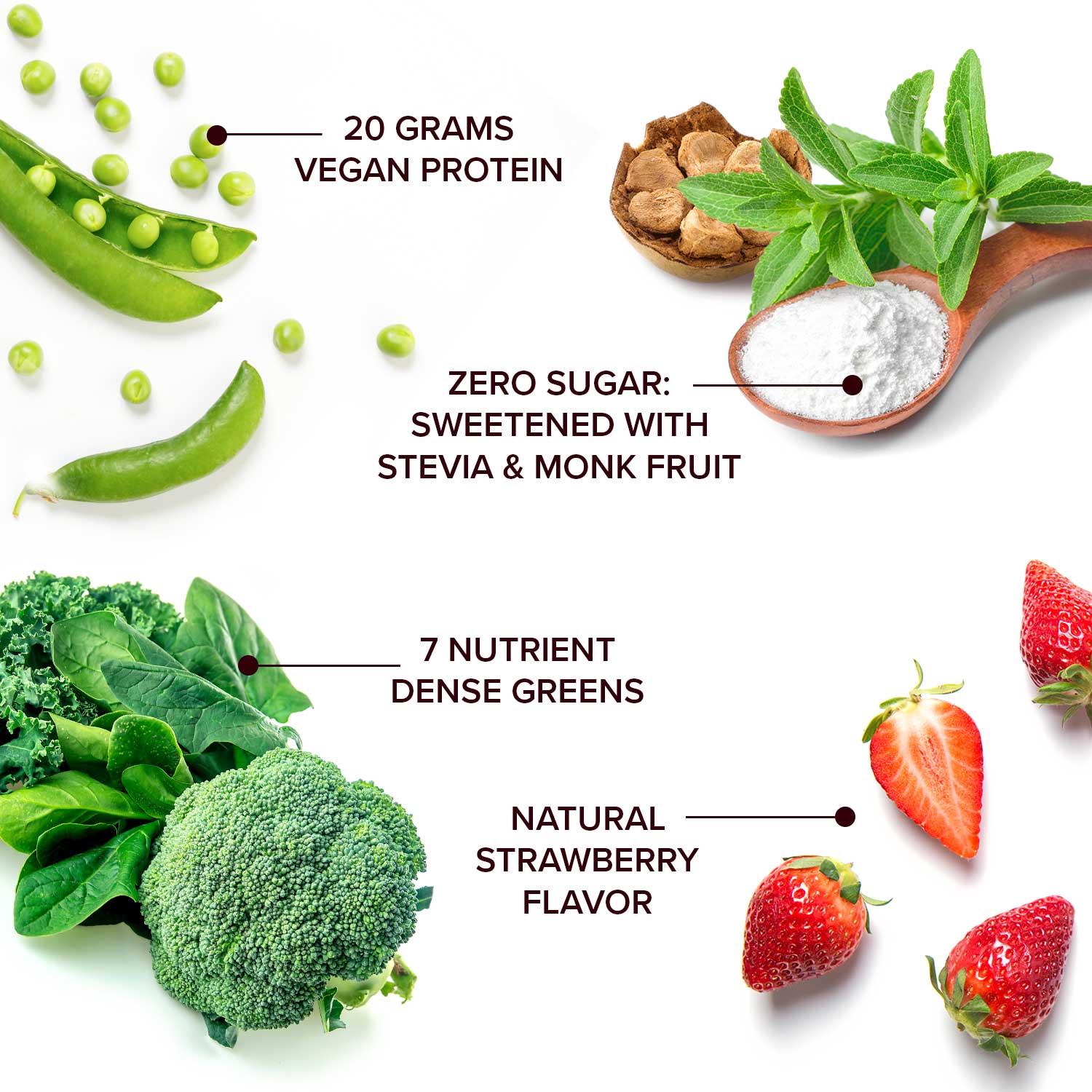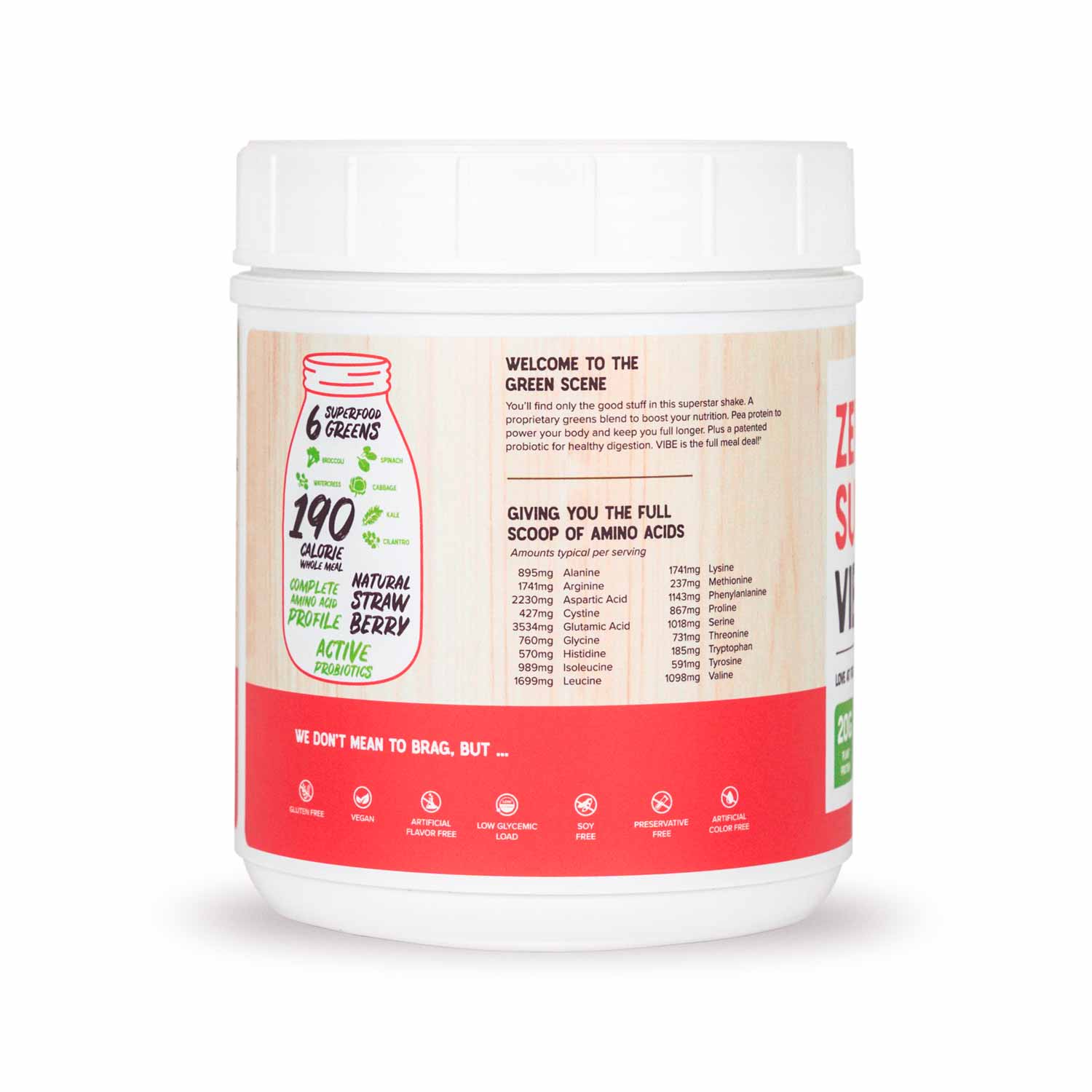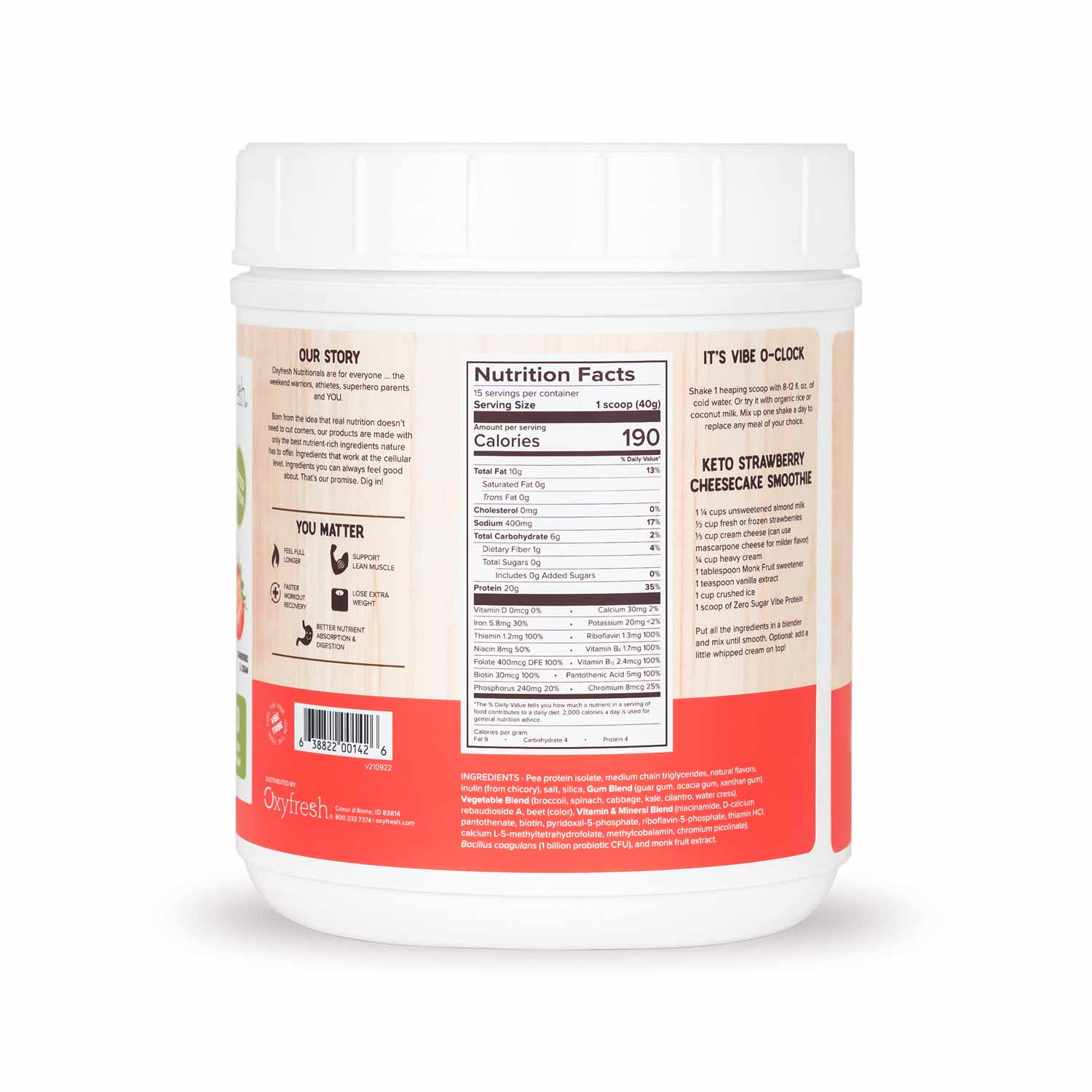 Strawberry Vibe Limited Edition Vegan Protein Powder | Sugar Free
Experience love at first shake with our light, fresh, strawberry-kissed Zero Sugar VIBE. Keto friendly, packed with veggie protein & greens, and so berry delicious, you won't even miss the sugar!
PLANT-POWERED PROTEIN – Whether you're rocking the keto lifestyle or wanting a way to support your muscles post-workout, Zero Sugar VIBE's got you covered with 20 g. of pea protein, 5 g. of carbs & a full amino acid profile.
ESSENTIAL GREENS – Get a full serving of nutrient-dense greens in each scoop to boost nutrition & help fight cravings: cabbage, cilantro, kale, spinach, watercress & broccoli. (But don't worry, it tastes amazing!)
ON-THE-GO NUTRITION – Ditch the sugary snacks and caffeine crash. VIBE no-sugar strawberry protein powder is a quick & healthy low-carb meal that will keep you full and energized for hours. Just mix with water and shake!
SUPPORTS GUT HEALTH – VIBE is pure feel-good nutrition with a patented 1 billion CFU probiotic, clinically proven to have the highest survivability on the market for better digestion and mood support.
GREAT SOLO OR IN SMOOTHIES – This light strawberry-cream shake naturally sweetened with stevia & monk fruit tastes great just mixed with water. Of course, you can shake it any way you like with coconut milk, peanut butter, seeds, etc.
Zero Sugar VIBE is a perfectly balanced full meal deal, made with only the highest-quality ingredients.

Limited Edition Strawberry VIBE Ingredients: Pea protein isolate, medium chain triglycerides, natural flavors, inulin (from chicory), salt, silica, Gum Blend (guar gum, acacia gum, xanthan gum), Vegetable Blend (broccoli, spinach, cabbage, kale, cilantro, water cress), stevia extract (rebaudioside A), beet (color), Vitamin & Mineral Blend (niacinamide, D-calcium pantothenate, biotin, pyridoxal-5-phosphate, riboflavin-5-phosphate, thiamin HCl, calcium L-5-methyltetrahydrofolate, methylcobalamin, chromium picolinate), Bacillus coagulans (1 billion probiotic CFU), and monk fruit extract.
Gluten Free

Strawberry Vibe is the real deal. Don't take our word for it, check out the panel.
Grab your favorite blender bottle and shake 1 heaping scoop with 8–12 oz. of ice-cold water. Or bust out your blender and get creative with add-ins like almond milk, coconut milk, berries, nut butters, seeds, etc. Any way you shake it, you'll love it!

Need some inspiration? Check out these top VIBE recipes.
Good stuff!
I LOVE this stuff! I have a shake for breakfast, just add it to almond milk. I'm never hungry in the morning, but I always enjoy my shake! PLEASE don't discontinue!
Great Vibe
No sugar with protein, essential amino acids and other healthy ingredients. I get a good vibe from this product.
Love it
Taste is amazing and one of the few ways I am getting good nutrition in my 5 yr old. I am hoping it stays.. I blend it with fresh cows milk and frozen fruit with cinnamon and a little honey and vanilla.. my boys do great w it.
I was super excited when I saw that there was a sugar free Vibe option to fit into my health journey
However it needs a bit more work as it is chalky and does not really taste good on its own. I am able to compensate for that with a yummy collagen and vitamin powder to add to it.
Love the chocolate and vanilla Vibe but didn't like the taste of the strawberry.
Strawberry Vibe
This is delicious! I use in smoothies with other fruits or berries and strawberry yogurt. I am hoping this will not be a "Limited Edition" and instead be a regular offering along with the chocolate and vanilla which are also delicious. I think Oxyfresh has the best ingredients, taste and consistency of the other powdered meal/protein shakes available and have been enjoying for over 3 years now.
Strawberry Vibe Protein Powder
This is delicious!!! I blend it with almond milk. It keeps me full for hours. I would definitely buy this option when available!!
Strawberry Vibe, Love the flavor and no sugar.
I really like the flavor and that it's sugar-free. I've been buying this flavor ever since it came out. I actually mix the strawberry and chocolate to get a strawberry/chocolate flavor.