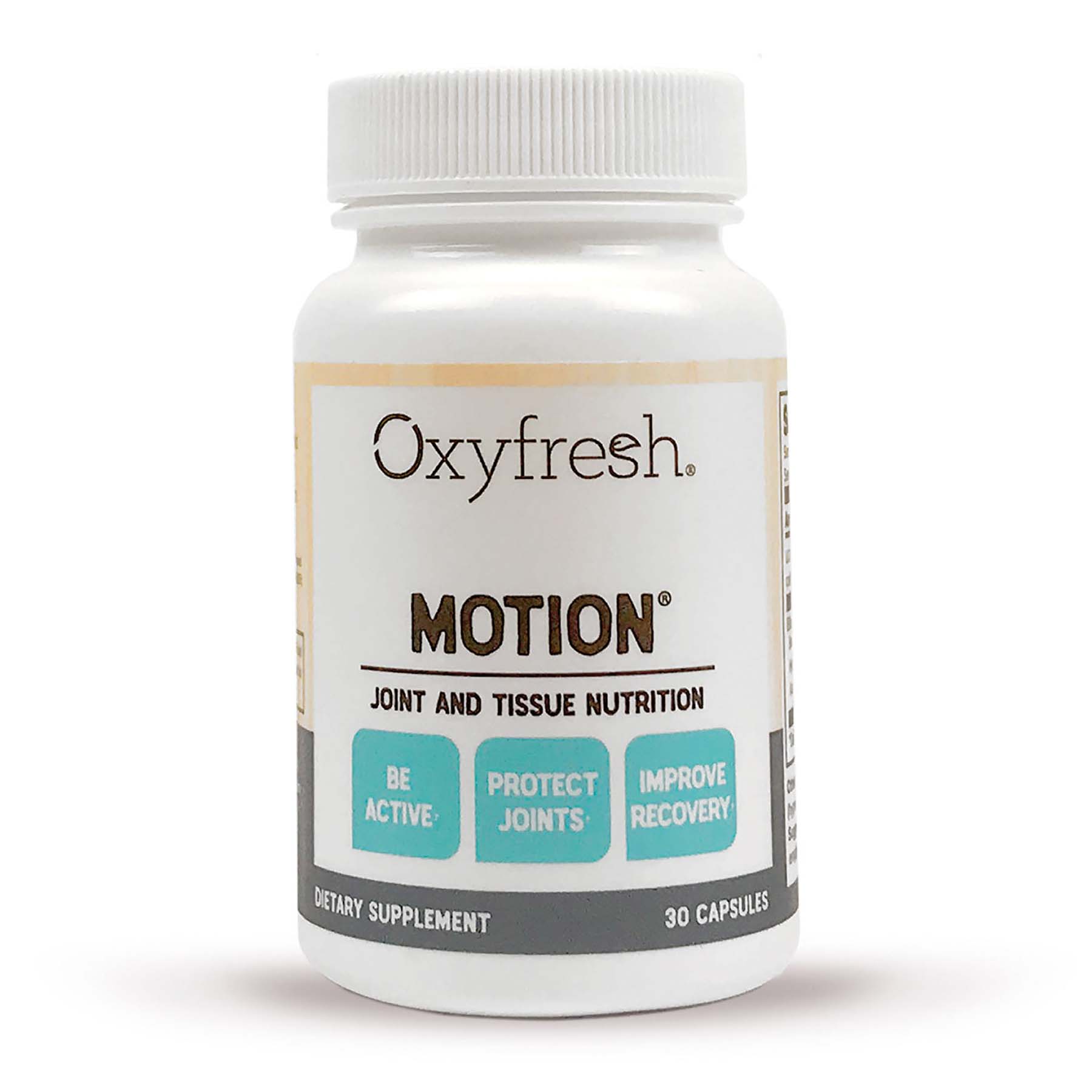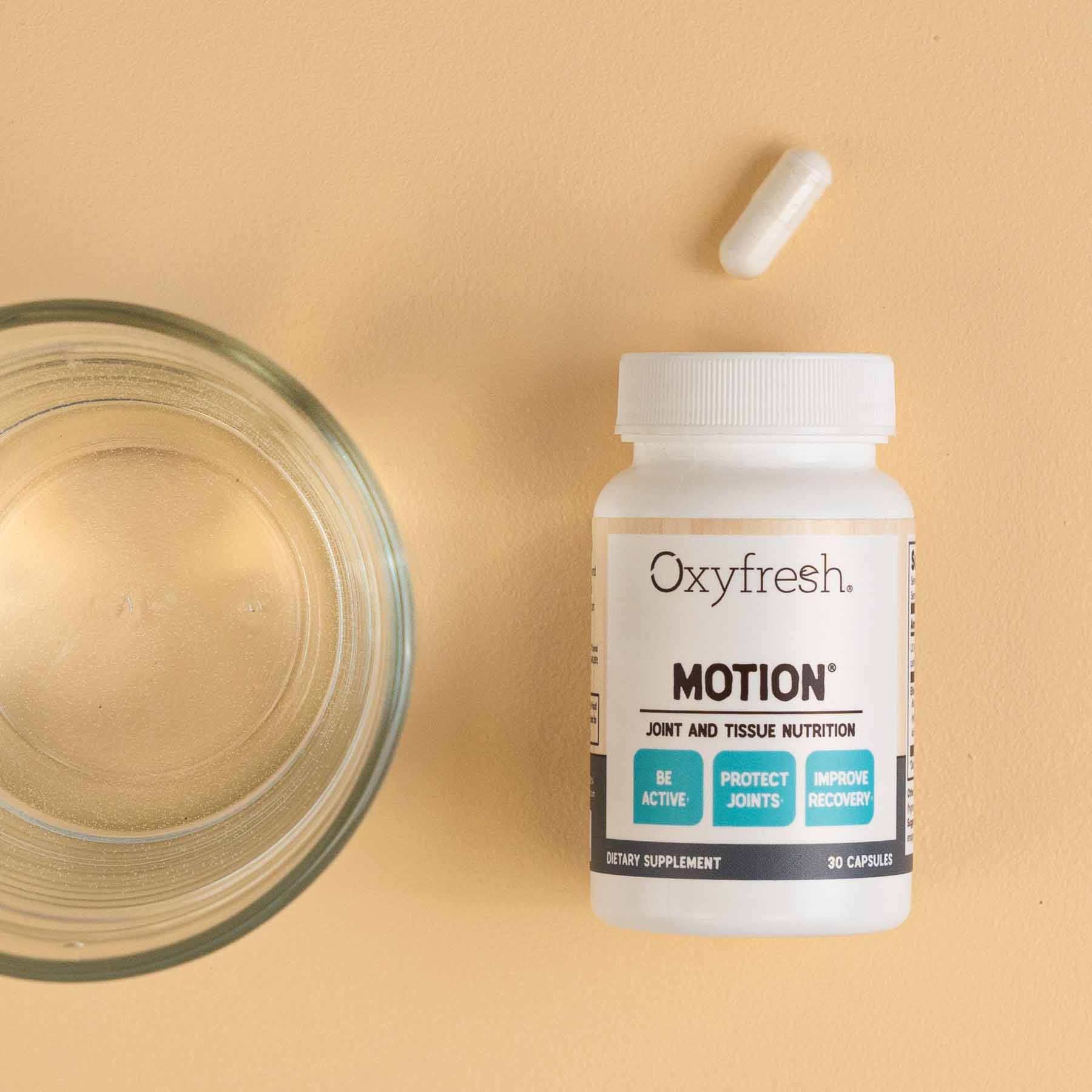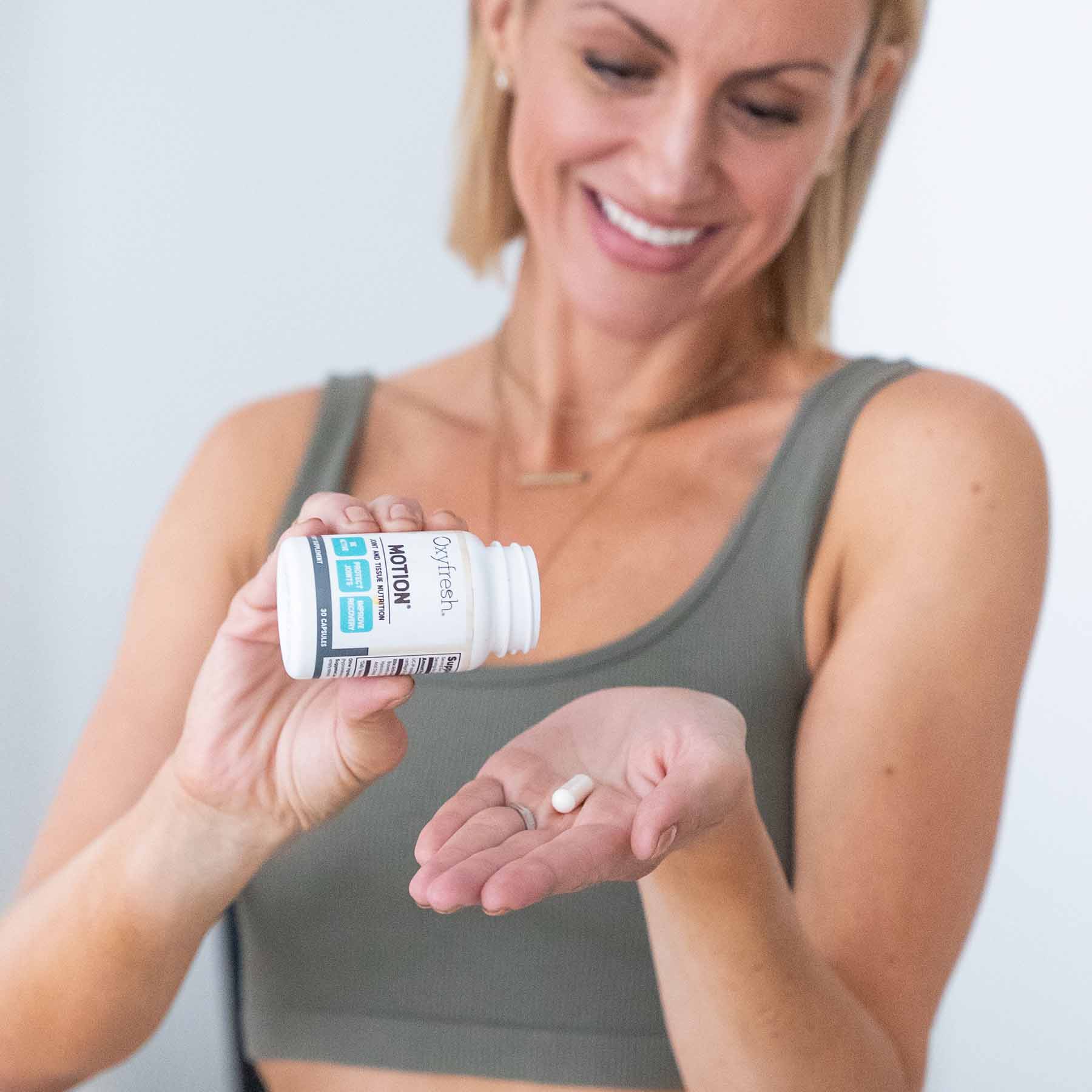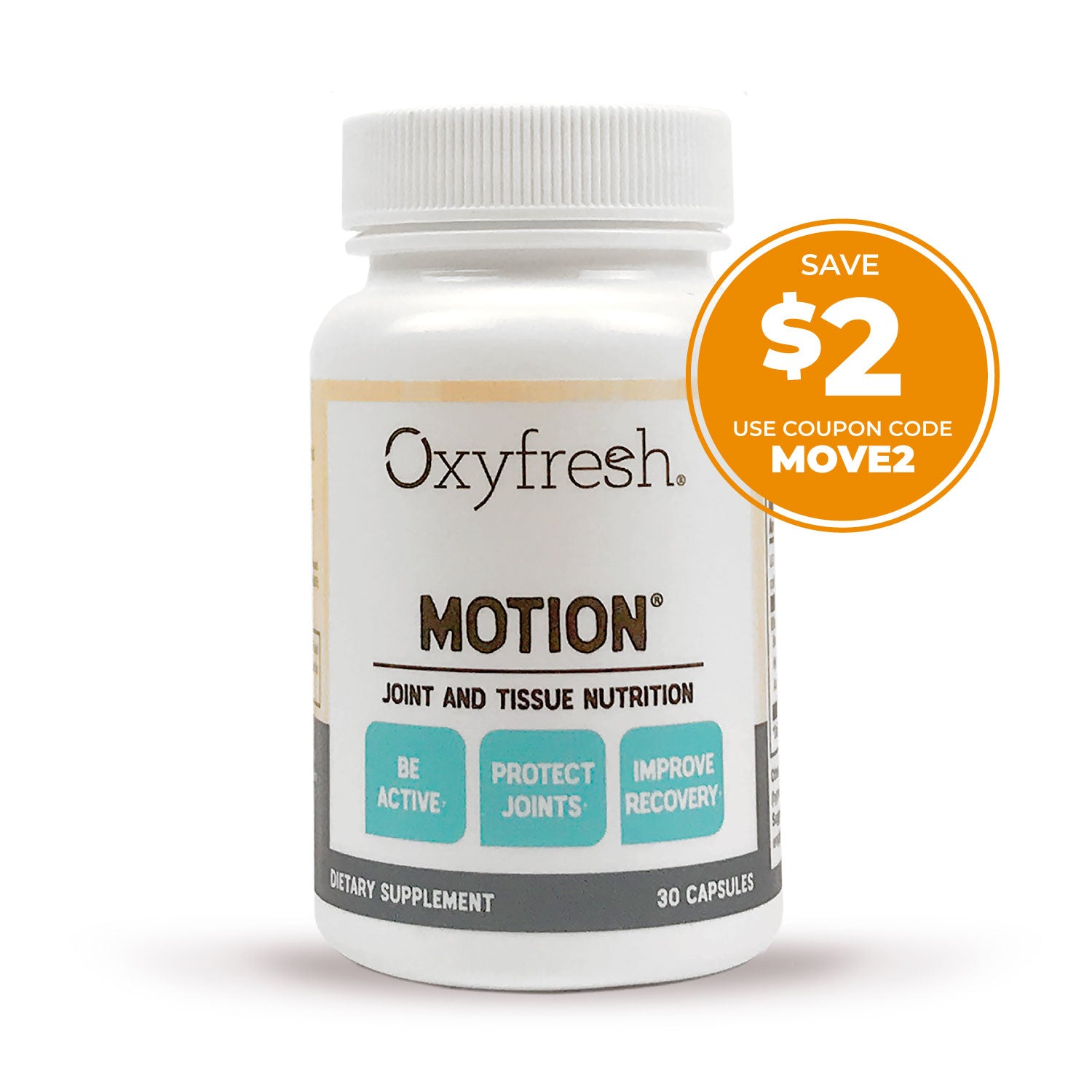 Motion Joint Supplement | Gluten Free, Non-GMO
Don't let joint discomfort keep you on the sidelines. Get back in the game with MOTION, a fast-acting joint supplement powered by a patented, all-natural collagen extract clinically proven to outperform glucosamine and chondroitin.
REDUCES JOINT DISCOMFORT & STIFFNESS – MOTION's patented collagen extract is clinically proven 137% more effective at reducing joint stiffness & 162% more effective at reducing joint discomfort after 90 days vs. glucosamine and chondroitin.
HELPS REBUILD JOINT CARTILAGE – Harvard studies show MOTION's UC-II® collagen to actually work WITH the immune system to help prevent the breakdown of joint collagen, halt the erosion of cartilage & trigger the rebuilding process.
ELITE ACTIVE BLEND – MOTION is your get-active potion with Boswellia, a well-known Ayurvedic herb that's been used for hundreds of years to help reduce inflammation & joint discomfort, plus hyaluronic acid to lubricate the joints.
ULTIMATE JOINT & TISSUE NUTRITION – Whether it's 18 holes or backyard baseball with the kiddos, MOTION joint supplement keeps you in the game longer, improving flexibility & mobility while strengthening ligaments & connective tissue.
PREVENTATIVE JOINT CARE – Nearly 1 in 4 people has arthritis, and not just our awesome seniors. MOTION protects against further wear & tear of cartilage and actually helps rebuild it, so you can keep doing the things you love.
MOTION combines the best of science and nature to help you play full-out without joint discomfort slowing you down.

Ingredients: UC-II® standardized chicken cartilage (10 mg total collagen)† Elite Active Blend Boswellia extract (65% boswellic acid), Hyaluronic acid sodium, Boron (as Amino Acid Chelate).

Other Ingredients: rice flour, vegetarian capsule (hypromellose and water).

Gluten Free

See the supplement facts here.
Let's Get Movin'

Take 1 capsule once a day on an empty stomach, then seize the day like the bada** you are.
Love Motion!!
This Motion supplement has given me more pep in my step and gets me through my day at work spent entirely on my feet on concrete floors!
Thank you Oxyfresh!
Main stay
We have used Motion consistently for the past seven years.
Knee pain
I have had knee pain since November. Finally saw a doctor three who ago who ordered physical therapy. They were supposed to call me to start the physical therapy and I haven't heard from yet. In the meantime I started taking Motion Sunday before last, and either the knees issue is resolving on its own or the Motion is helping. Probably a combo of the two. I am going to keep taking the Motion and hope I get some relief Friday all the inflammation I feel.
Surprised and pleased; good for aged knees
Aging Athlete with badly handled knee, ankle, and back injuries spanning half a century (for reference). Been taking daily for a month and have seen good results. Less knee pain (Osteoarthritis, torn meniscus, patella-femoral synd.), more ankle stability (avulse fracture, sprain, collapsed arch), more back strength, and overall fewer "surprise" shooting pains from my joints. I'm back to jogging, skiing, volleyball, and soon I'll restart basketball with my old buddies. Recommended.
Have noticed a difference
I can last a bit longer in the day before the pain gets to be too much. I'm hoping for an increased pain reduction as I use the product on a longer trial basis. I do plan to order more to see what happens. Having to take it on an empty stomach is a bit challenging. I take another supplement on an empty stomach. So, it's a timing issue, not something that bothers my stomach. But, because I noticed a difference, I plan to keep using it. It's not a grand difference, but it does help.
Update to 10/20 review
This stuff is unbelievable. Ordering the next 2 bottles. IT ACTUALLY WORKS!!!!
Has promise!
I have been taking Motion for 2 weeks now and I have seen improvement in joint pain and it does seem to help with inflammatory issues. The only draw back I have is that the pill is large and hard for me to swallow. It seems to stick going down but that could just be me. It was worth a try and only time will tell if I get the results I am hoping for from it. All the oxyfresh products I have bought seem to work very well!
So far.... awesome!!!!
Day 4 and already can tell a difference with the neck and knee pain. Nothing else over the counter has helped in the past. Will be anxious to see what day 30 brings.
Great product
I have been using this product for awhile. It helps to keep me going. I have issues with joint pain and tightness. Since I have been using this product it has helped me greatly reduce my joint discomfort.
Motion
I love all of the products I have gotten from Oxyfresh. Motion seems to be working for me- my joint paint has lessened!