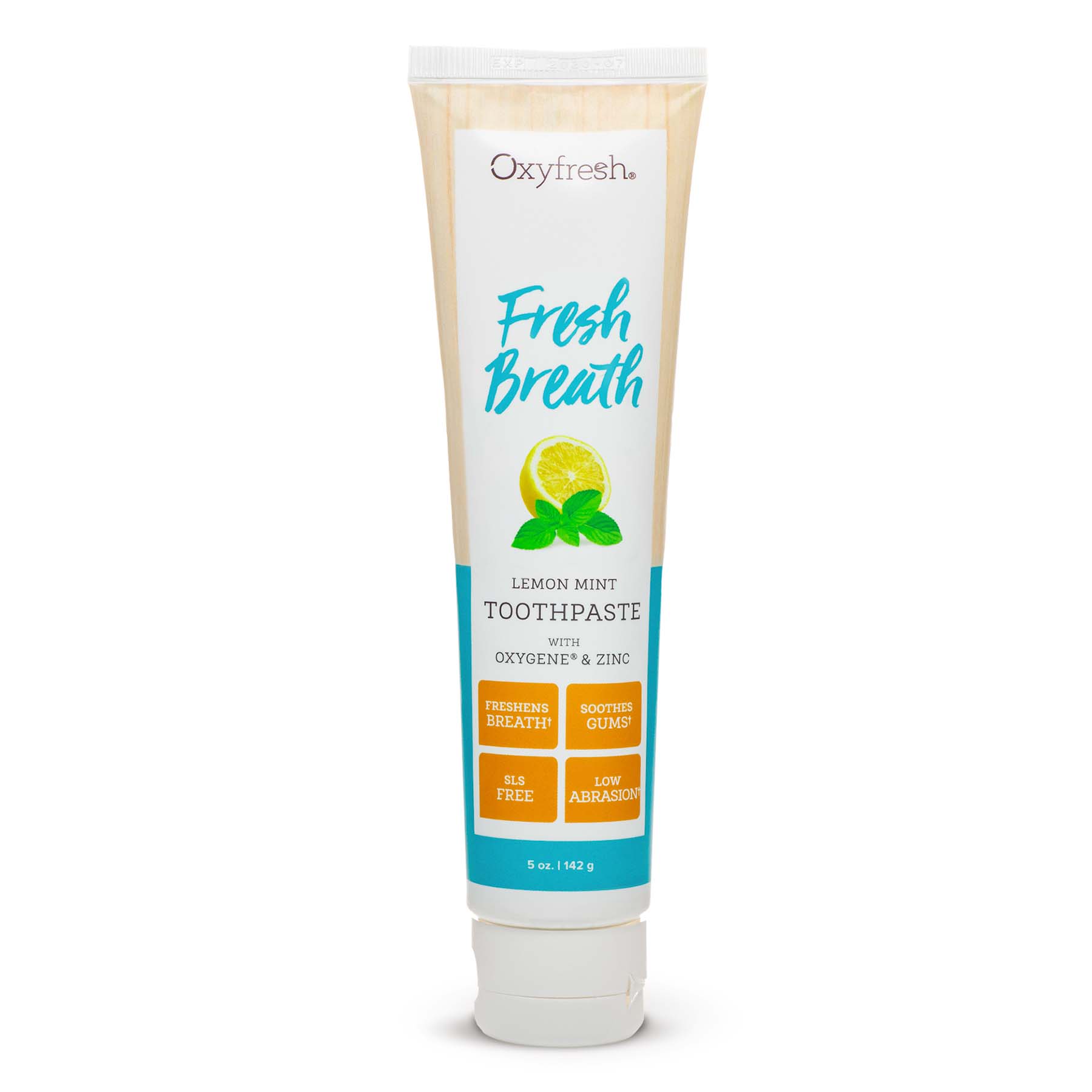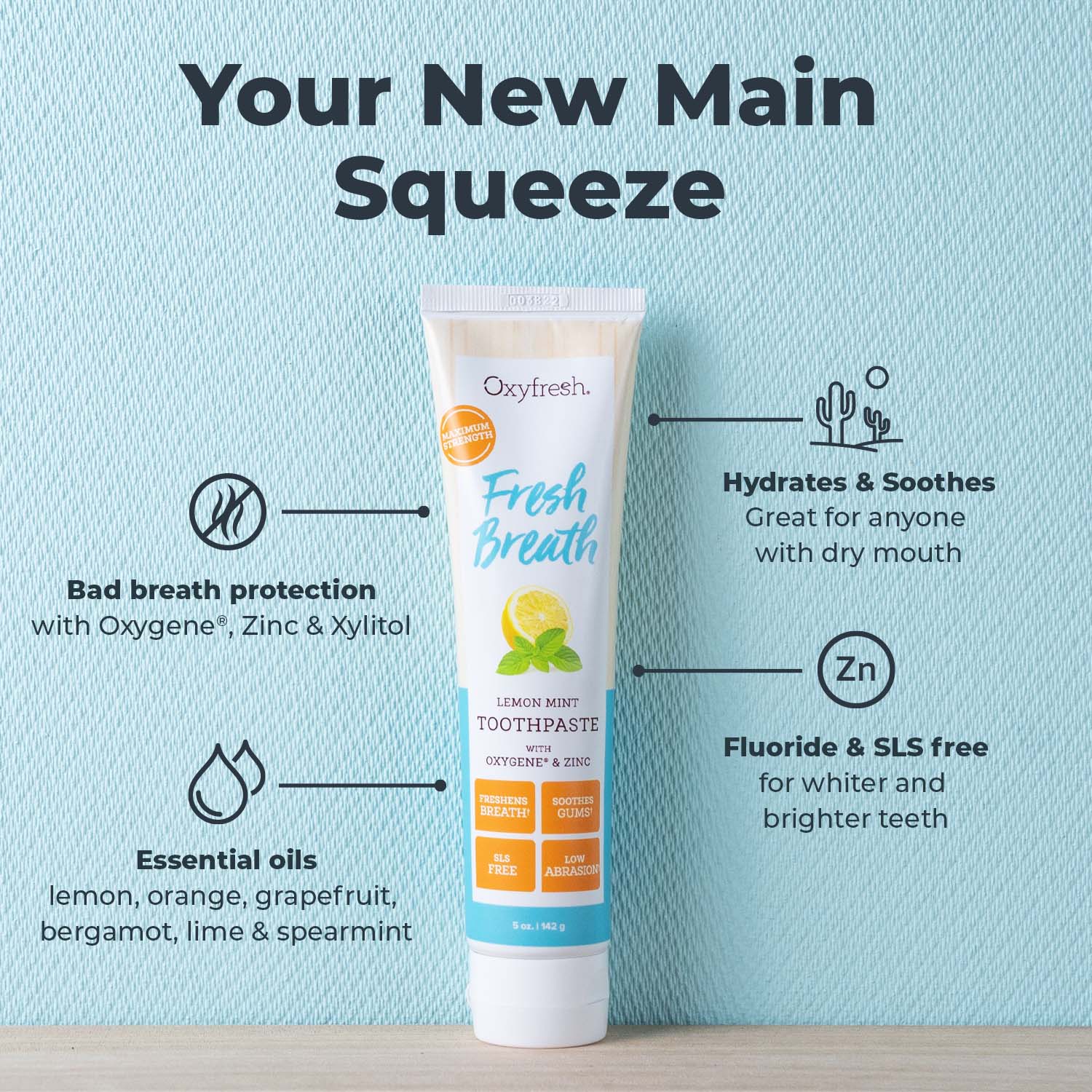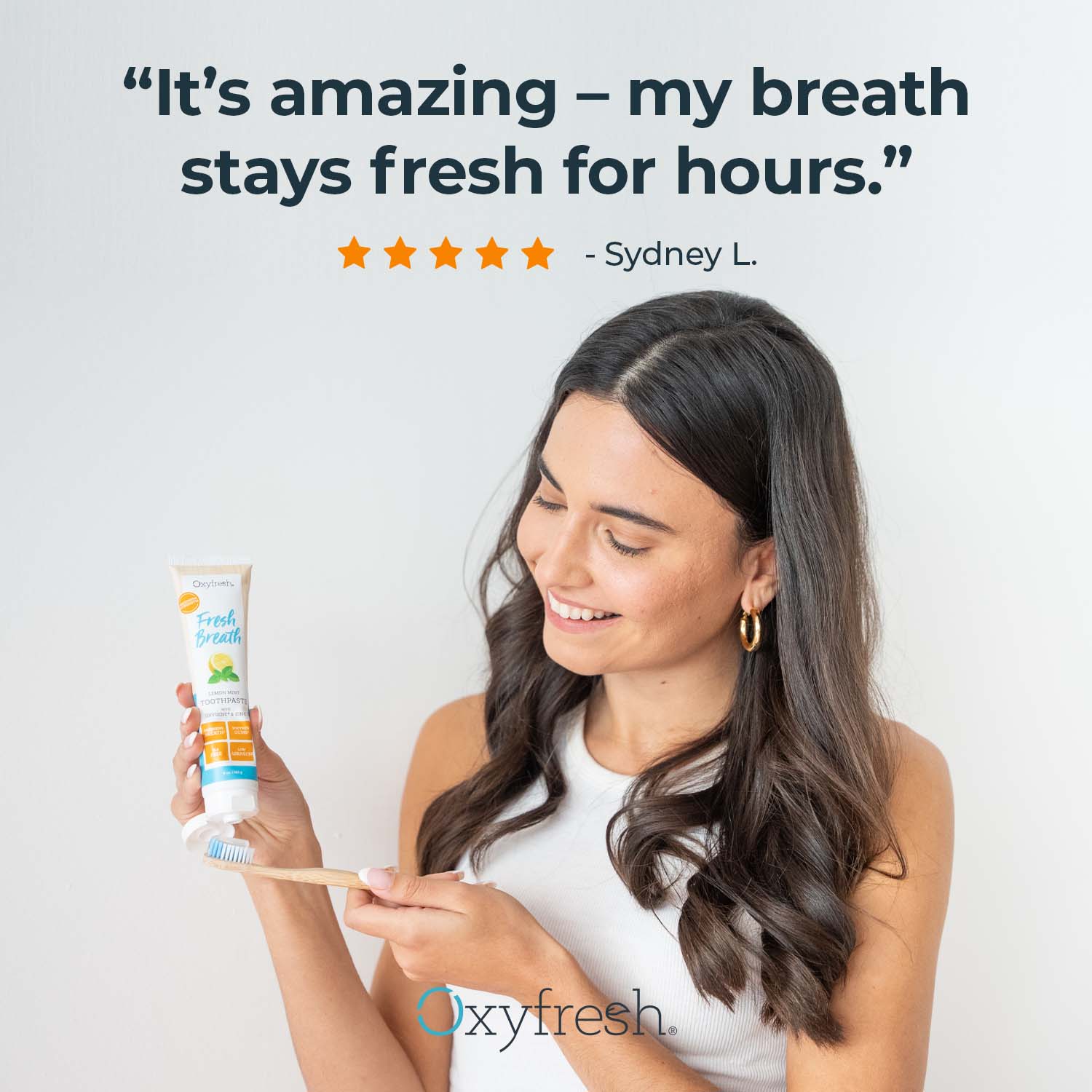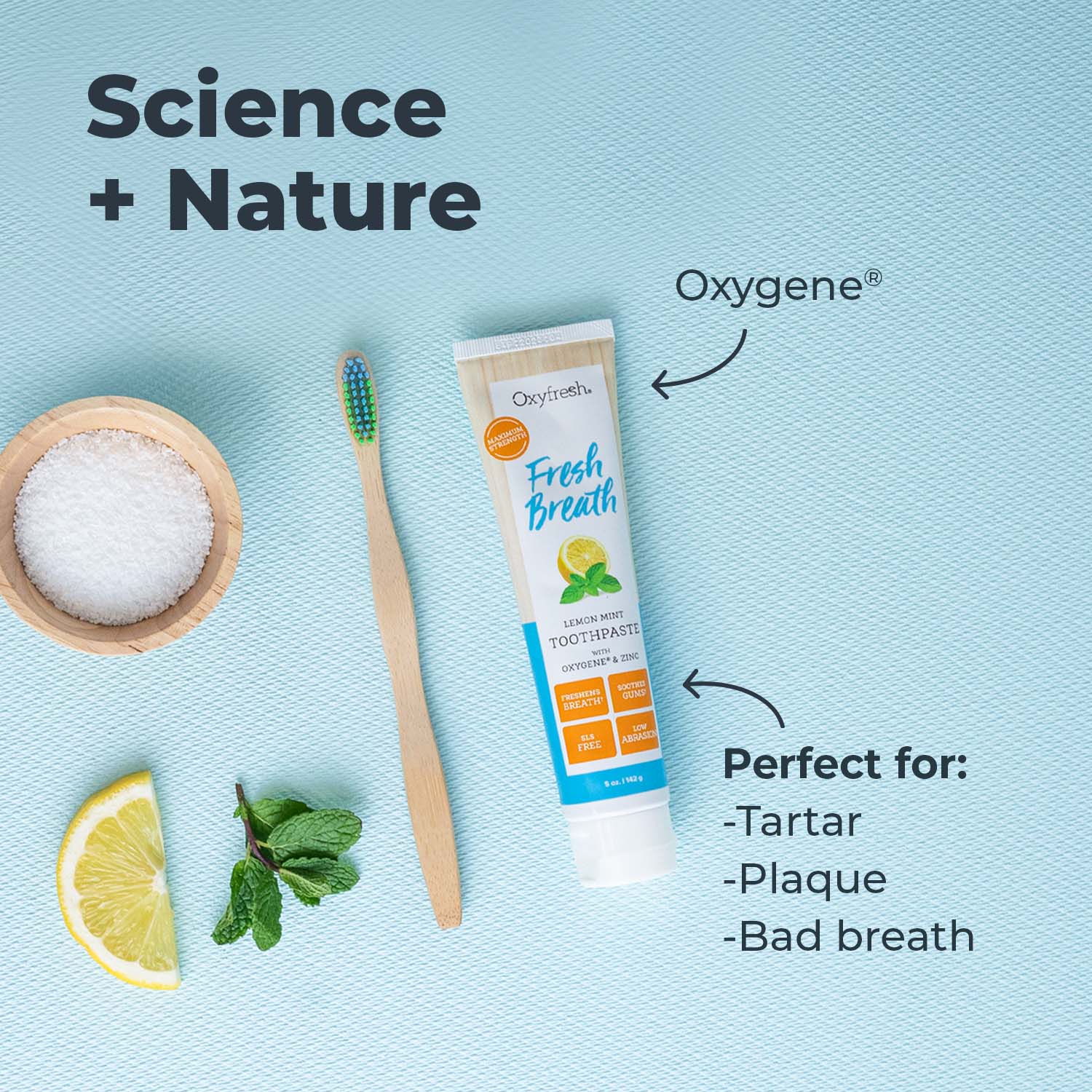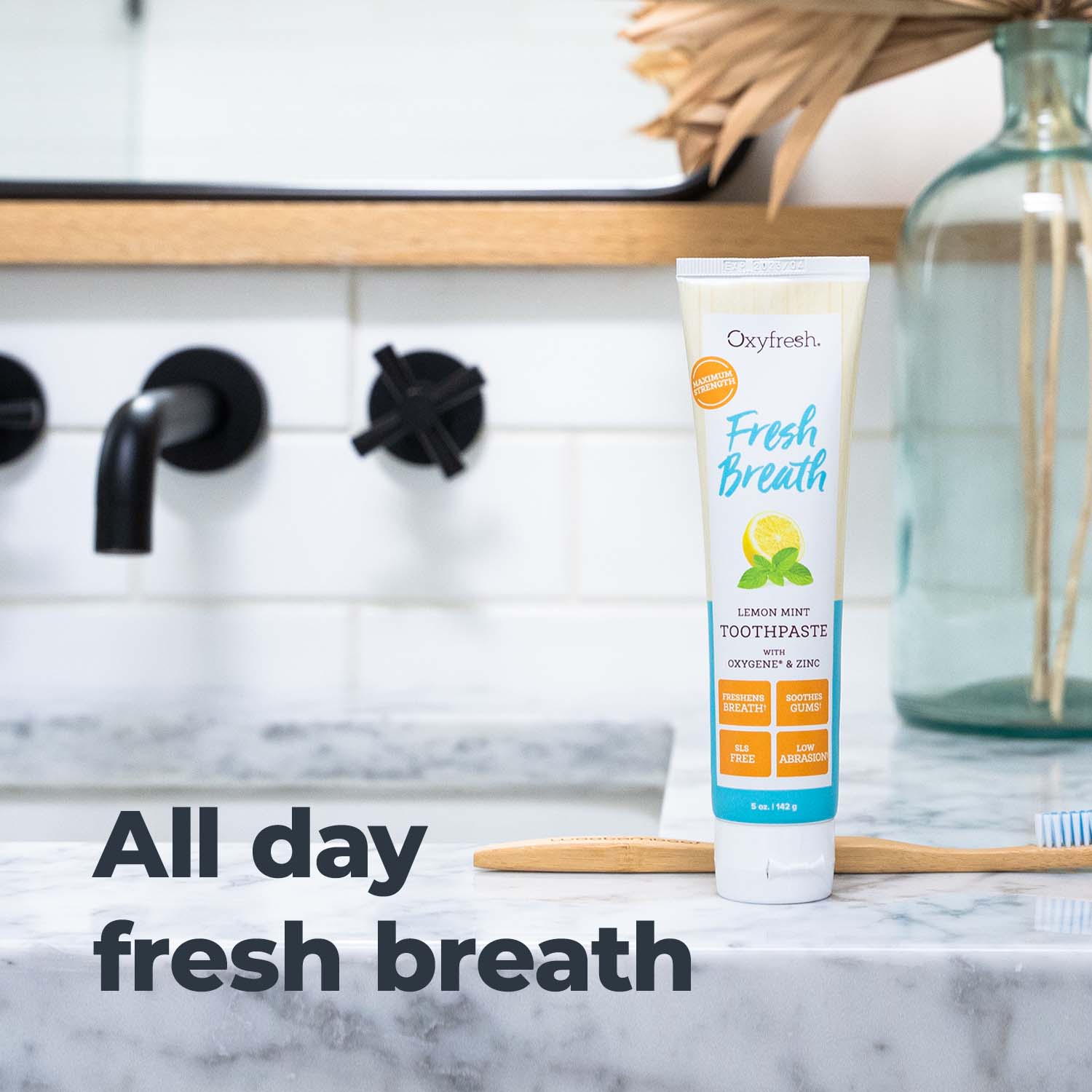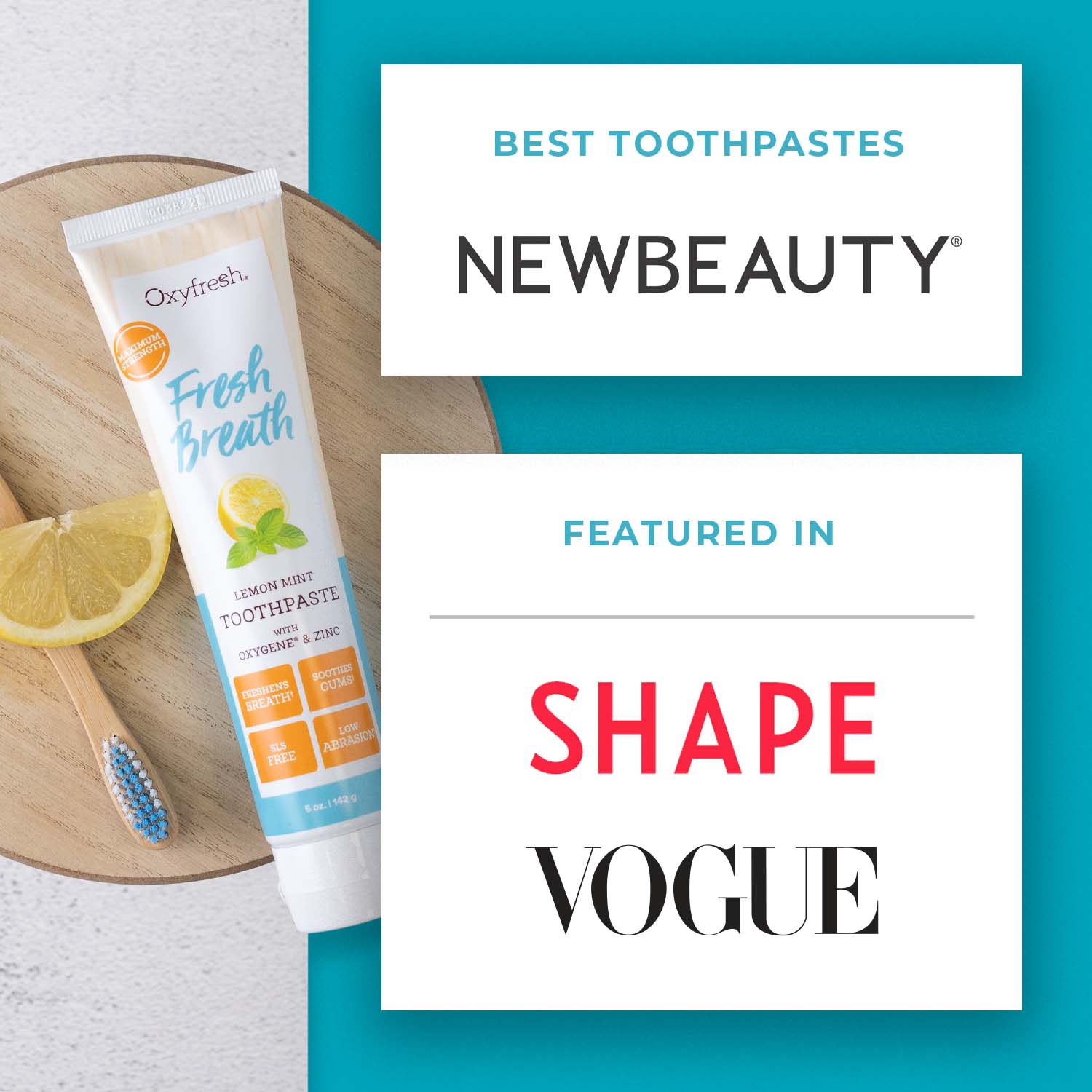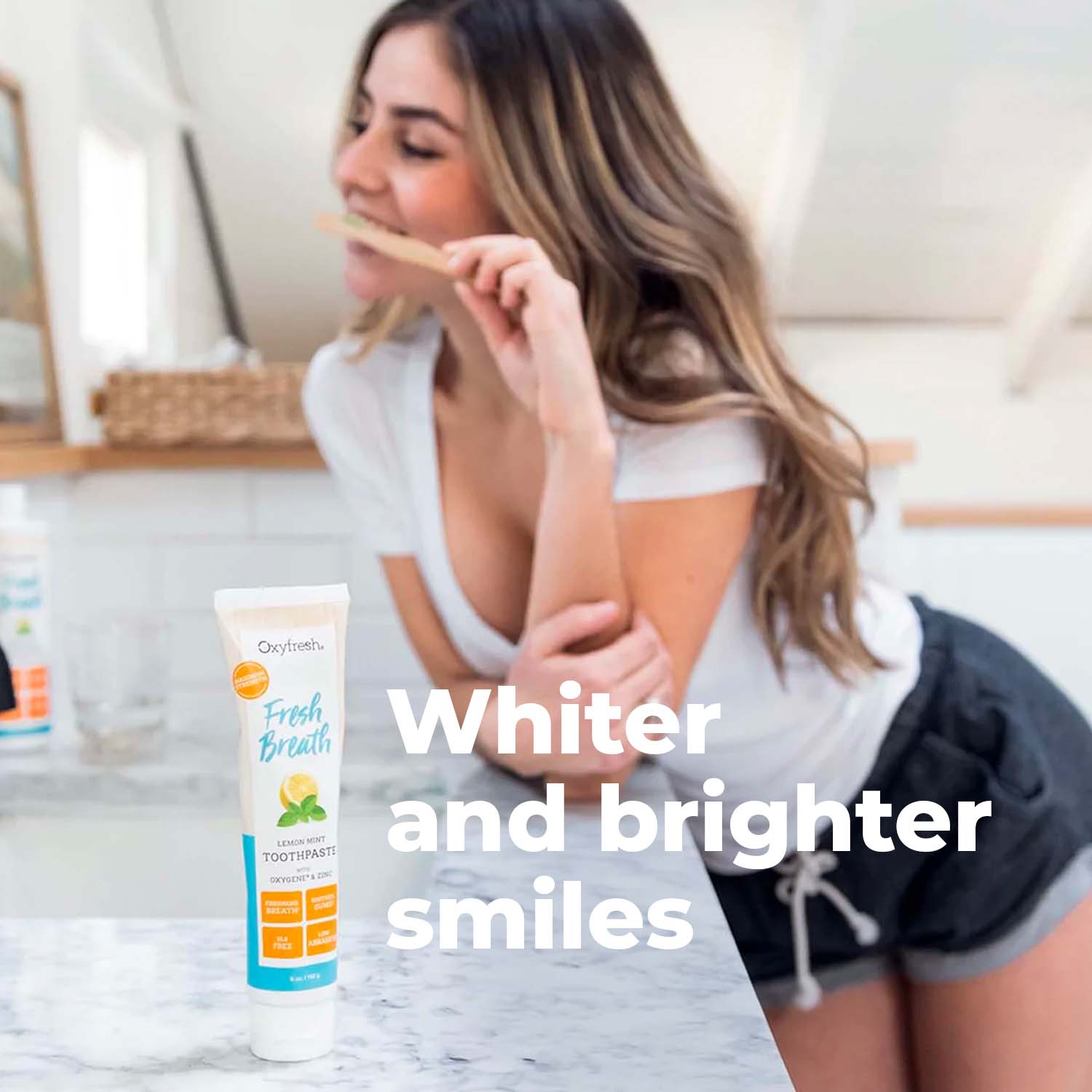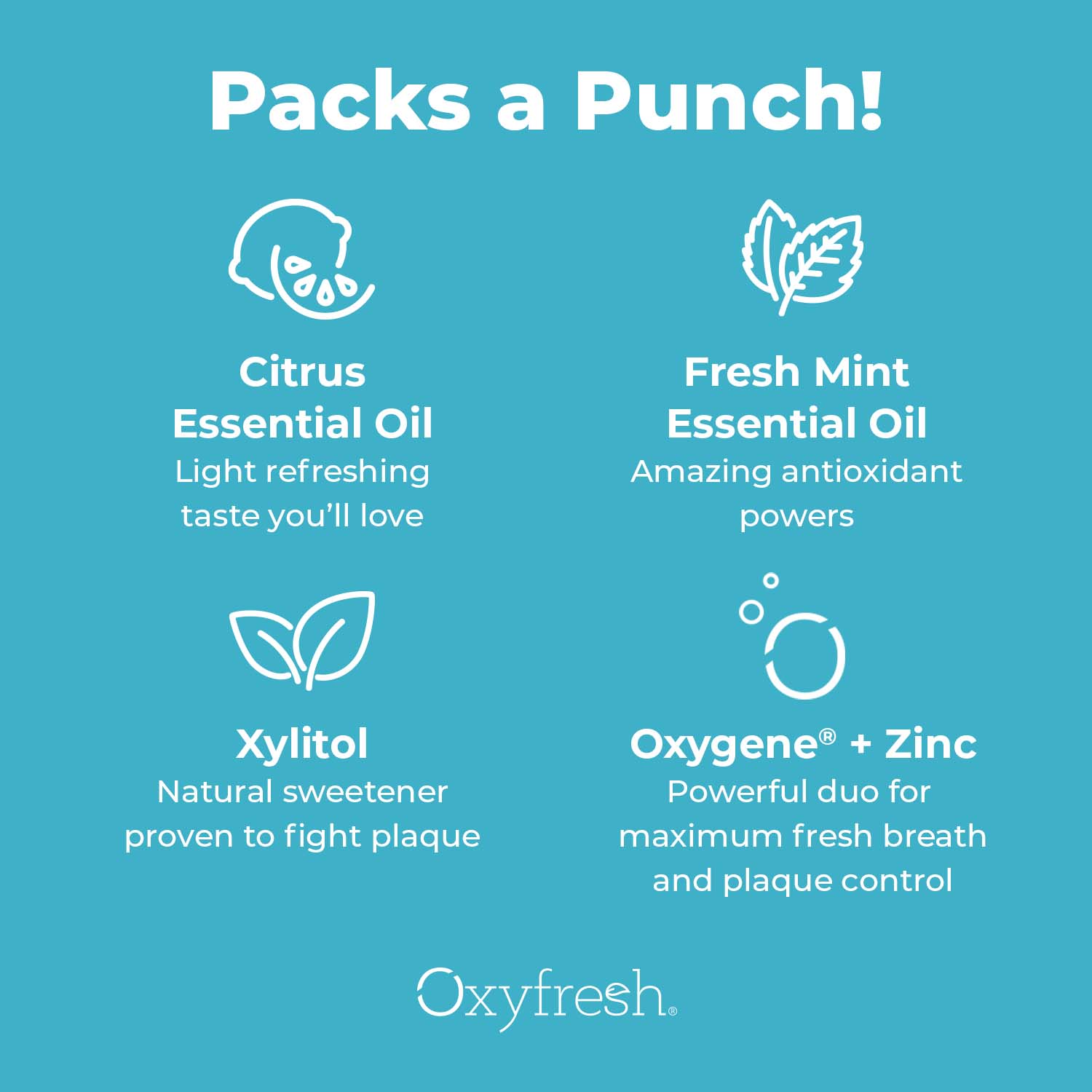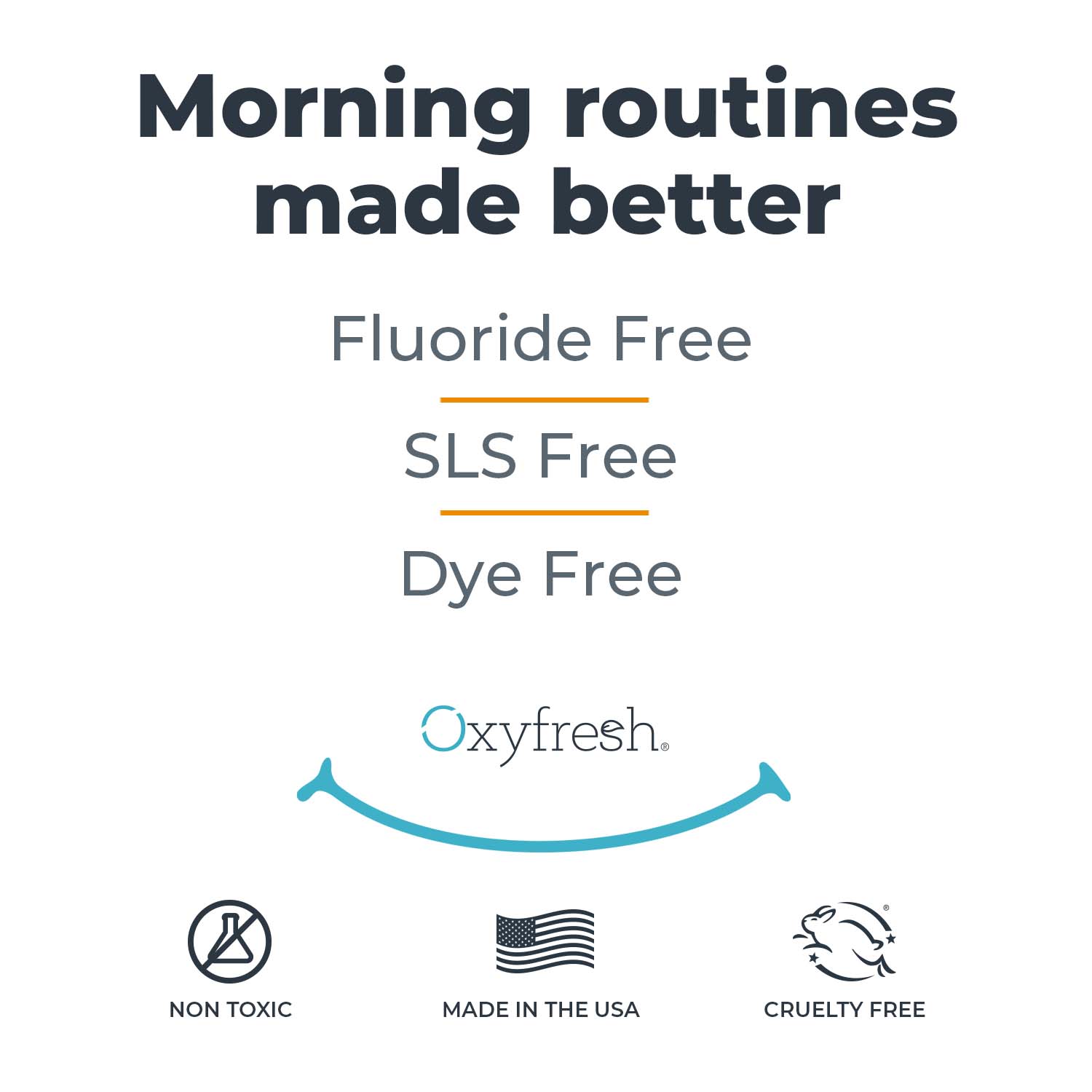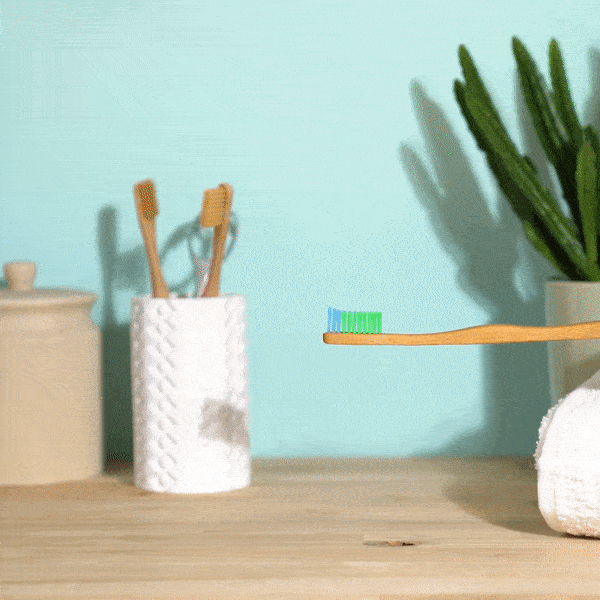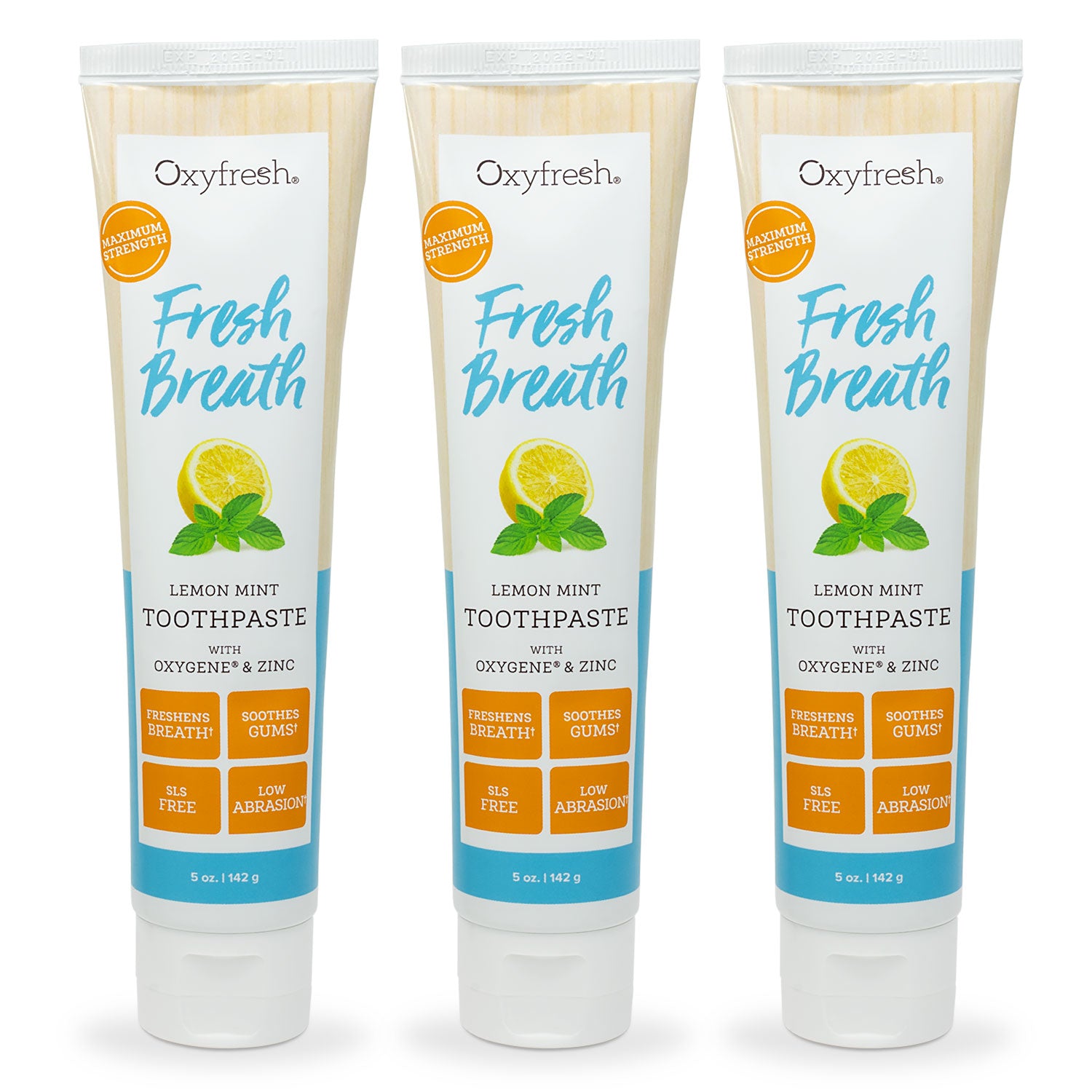 Fresh Breath Lemon Mint Toothpaste | 24 Hr Protection | Fluoride Free
Destined to be your new main squeeze, this is our most powerful formula in the lineup. Infused with zesty lemon mint essential oils plus zinc and Oxygene, this gel really packs a punch.
TRIPLE BAD BREATH PROTECTION – We used Oxygene®, Zinc and Xylitol in this formula to give you the ultimate protection against bad breath & tartar. Because you deserve more.

FLUORIDE & SLS FREE – Instead we use Zinc to remineralize your teeth and protect against cavities. Plus, our formula doesn't contain traditional foaming agents, so you won't regret using it with your electric toothbrush.
CLINICALLY PROVEN – Did we mention this stuff works? We put our formula to the test and the numbers were impressive. Our Lemon-Mint Toothpaste improved Gingival Index by 76%, and Plaque Index by 79%.
CRISP & REFRESHING ESSENTIAL OILS – We've tried a lot of lemons & mint ... trust us, we got it right! Infused with a delicate balance of lemon, orange, grapefruit, bergamot, lime, and spearmint essential oils to deliver a taste you can't resist!
IT WORKS – If you've tried everything else, you might as well try something that works! Trusted worldwide to gently clean teeth and just like all of Oxyfresh products, it is made in the U.S.A. with only the highest quality ingredients.

We took the best of science and nature to bring you a better kind of fresh every time you brush!

Ingredients: Sorbitol, Water, Hydrated Silica, Glycerin, Sodium Methyl Cocoyl Taurate, Flavor*, Xylitol, Chondrus Crispus (Carrageenan), Sucralose, Stabilized Chlorine Dioxide (Oxygene®), Zinc Acetate.
*Contains Lemon, Orange, Grapefruit, Bergamot, Lime, Peppermint, and Spearmint essential oils Gluten free.
Oxygene® (Stabilized Chlorine Dioxide): It's our special ingredient that makes us different. This safe, non-toxic oxidizer works instantly to neutralize the bacteria that cause plaque and bad breath.
Essential Oil: Nature's favorite freshener helps to hydrate, soothe and give you that clean, just-from-the-dentist feeling.
Xylitol: X marks the spot! Our natural plant-derived sweetener not only tastes great – it's clinically proven to help stop plaque.
Zinc: This mighty mineral is a must for non fluoride toothpastes, as it helps to freshen, remineralize and protect from decay.
Twice a day, of course!
A toothpaste so refreshing, you may actually want to brush the full 2 minutes! Apply a pearl-sized drop and brush each tooth using a GENTLE, circular motion. (We know you're tough, but teeth love a soft touch.) For the ultimate freshness, follow with our Lemon Mint Mouthwash.

Bet you've never seen this disclaimer before!
This toothpaste isn't for pets. Xylitol is awesome for people, but not for our furry friends. They're also not a fan of lemons or mint, so if you're looking to freshen your pet's breath, try our tasteless and odorless pet toothpaste instead.
très satisfait. J'aime ce dentifrice.
Healthy Matters
This is the best toothpaste ever! Cleans very well. Lasts long, and no more cavities. My dentist compliments how clean my mouth is every visit.
Good, but…..
Ordered one & had it sent to a friend. Then ordered another for me. I've been using it for years. I was introduced to it originally by my dentist's office. The toothpaste itself is good, but now that you're providing toothpaste for pets, your website has gone to the dogs (literally). At first I had trouble finding the dental products for humans. It's in another area. My friend hasn't said anything about it, I wonder if she looked it up online and thought I sent her dog toothpaste! Then it came in a box that said "Bark, Woof, Meow". Kinda makes a human afraid to use it! I think you should consider changing your website & when you send out the human kind, the box shouldn't say Bark, Woof, Meow. Such a turnoff! Geez 🙄
Good stuff
Cleans teeth very well. Tastes great and refreshens the breath very nicely, just like the mouth rinse. A fine product.
Amazing
Absolutely loves this toothpaste!!
great product
I was a distributor 30 years ago and loved the products and then moved on to other things and now I'm back to the great toothpaste for white teeth and healthier mouth.
My toothpaste ♥️
I really like this toothpaste- I have been using it for years! No other like it!!!!
When mailed to me it's very quick and I appreciate that-
Always fresh
I've been using this Lemon Mint gel for several years and I love the clean taste that keeps my mouth fresh. I appreciate the consistency and smoothness of gel v paste as well - makes it a treat to enjoy the morning rush!
Love Your Products
The only toothpaste I will use! This is the only toothpaste that doesn't cause a bad taste in my mouth. Fresh & clean. Love the mouth wash and additive to dogs water for fresh breath too!
Best Toothpaste Ever
The only problem with your toothpaste is, it's addictive. Once you used this product as well as the mouthwash you will be spoiled by clean teeth and fresh breath forever. My dog ( Pearly) is addictive to her doggie toothpaste and water additive as well. We're fans in case you couldn't tell. M