Daily Water Additive Stops Dog Bad Breath!

It's so easy! Just add one capful to their water bowl every time you refill it because it matters. Daily use can help prevent gum disease and support overall tooth and gum health. (16 oz.)
ELIMINATES DOG BREATH
FIGHTS PLAQUE & TARTAR
CLEANS WITHOUT BRUSHING
TASTELESS & ODORLESS
ALCOHOL FREE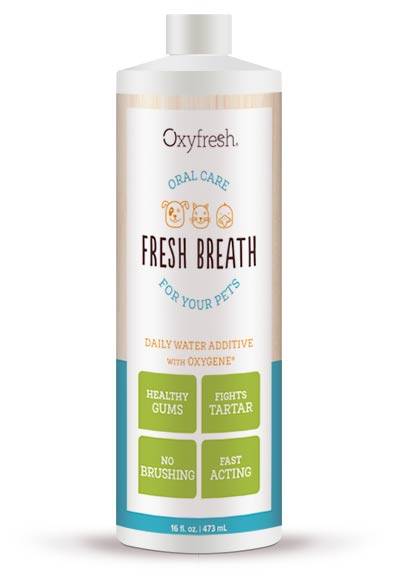 GET FREE SHIPPING
When you order 3 bottles. Use this code at checkout : FRESHDOG


Great checkups!
Terri Callaway - Greenview, IL / Customer Since 2012
The Pet Fresh Breath Water Additive works. I've been giving my dogs the solution their whole life and they have great check ups and have never had to have their teeth professionally cleaned.

Mouthwash for dogs
Joyce Loupe - Indian Lake Estates, FL / Customer Since 2013
Best stuff I have ever found to keep my pets' breath smelling fine and keeping their teeth clean. And so much easier than brushing! I bought the quart size the first time. Now I get the gallon, use the pump to fill the quart bottle, and add it to their water dispenser. LOVE IT!

Small dog miracle
Peggy Martin - Sevierville, TN - Customer Since 2017
We own three small dogs and bad breath and bad teeth has always been an issue. Once we started using Oxyfresh no more stinky puppy kisses. We also noticed it keeps the water bowl cleaner, no slime.

Only one dental cleaning in 5 years
Karon Brandt - Topton, PA / Customer Since 2011
Been buying this product for all of our dogs for about 15 years. Have 3 dogs at present; 2 5-year-olds and one 7. (Also had 2 dogs before that that lived to be about 14 years old.) Only needed one dental cleaning since we adopted the last 3 about 5 years ago. Our vet had recommended your product in their daily water bowls. Can go much longer times between dental cleanings.

Great for doggy breath
B.J. - Simpsonville, SC / Customer Since 2005
We've been using this for our dogs for several years now and have to say that when we miss putting it in their water or fail to order and run out...we can tell very quickly. It's so good for their teeth and gums! Highly recommend this product.
Our Story
Oxyfresh pet products are for every pet ... the cuddly puppies, comical cats, birds of a feather, snuggle bunnies, you name it.
Born from the idea that real pet care doesn't need to cut corners, our products are made with only the best ingredients. Ingredients you can always feel good about. That's our promise.
Bragging Rights
Our secret blend of Oxygene® and zinc acetate effectively eliminates bad pet breath and helps reduce plaque and tartar formation. This safe, non-toxic formula is the first line of defense against periodontal disease.
Pawsome Smiles
This proprietary blend of safe and effective ingredients has been supporting and boosting pet health for over 30 years, with reviews from people just like you.
Check out the 5 stars - Oxyfresh.com/Reviews
Just One Capful
It's so easy! Just add one capful per one liter of water. Add it every time you fill your pet's water bowl because it matters. Daily use can help prevent gum disease and support overall tooth and gum health.
Ingredients
Water (Aqua), Stabilized Chlorine Dioxide (Oxygene®), Zinc Acetate, Sodium Citrate, Chlorophyllin-Copper Complex, Sodium Benzoate, Sodium Hydroxide, Citric Acid.