Daily Water Additive Stops Cat Bad Breath!

It's so easy! Just add one capful to their water bowl every time you refill it because it matters. Daily use can help prevent gum disease and support overall tooth and gum health. (16 oz.)
ELIMINATES CAT BREATH
FIGHTS PLAQUE & TARTAR
CLEANS WITHOUT BRUSHING
TASTELESS & ODORLESS
ALCOHOL FREE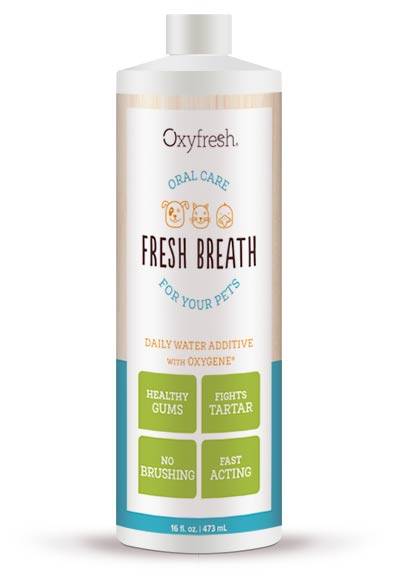 GET FREE SHIPPING
When you order 3 bottles. Use this code at checkout : FRESHCAT

My cat's teeth are perfect!
Connie D. - Orlando, FL / Customer Since 2008
The Pet Fresh Breath Water Additive has done wonders for my cats' teeth. Every time I go to my vet, the vet says their teeth are A1, in perfect condition.

Amazing product!
B. Bodenhamer - New Palestine, IN / Customer Since 2011
I cannot tell you how much the Pet Fresh Breath Water Additive has helped my 15 yr old cat! My Vet is in disbelief. Her teeth and her gums were in very bad shape. After giving her Pet Fresh Breath for just 1 year, her mouth is now absolutely perfect!

Teeth are clean and white
Linda Scheidt - Fort Myers, FL - Customer Since 2012
I've tried a number of solutions to help keep my cat's teeth clean, and this is the best one of all. I spray it full-strength on his teeth once, sometimes twice a day, and his teeth and gums are looking much better & his bad breath is gone.

Works so well
Barbara C. - Jupiter, FL / Customer Since 2010
The Pet Fresh Breath is working fantastic on my cats. I have two 8 year old cats and a two year old. The two 8 year old cats have been on the Pet Fresh Breath all their life. One of those two have had their teeth cleaned once which was last year. Otherwise it works so well I do not take them to the Vet to have their teeth cleaned.

Nothing but clean teeth
Phyllis W. - Port Saint Lucie, FL / Customer Since 2009
My vet recommended Oxyfresh Pet Fresh Breath several years ago when I first brought my newly found cat in for a check-up. After paying over $300.00 to have her teeth cleaned I purchased it and have been using it ever since. Every year after that has been nothing but clean teeth.
Our Story
Oxyfresh pet products are for every pet ... the cuddly puppies, comical cats, birds of a feather, snuggle bunnies, you name it.
Born from the idea that real pet care doesn't need to cut corners, our products are made with only the best ingredients. Ingredients you can always feel good about. That's our promise.
Bragging Rights
Our secret blend of Oxygene® and zinc acetate effectively eliminates bad pet breath and helps reduce plaque and tartar formation. This safe, non-toxic formula is the first line of defense against periodontal disease.
Pawsome Smiles
This proprietary blend of safe and effective ingredients has been supporting and boosting pet health for over 30 years, with reviews from people just like you.
Check out the 5 stars - Oxyfresh.com/Reviews
Just One Capful
It's so easy! Just add one capful per one liter of water. Add it every time you fill your pet's water bowl because it matters. Daily use can help prevent gum disease and support overall tooth and gum health.
Ingredients
Water (Aqua), Stabilized Chlorine Dioxide (Oxygene®), Zinc Acetate, Sodium Citrate, Chlorophyllin-Copper Complex, Sodium Benzoate, Sodium Hydroxide, Citric Acid.