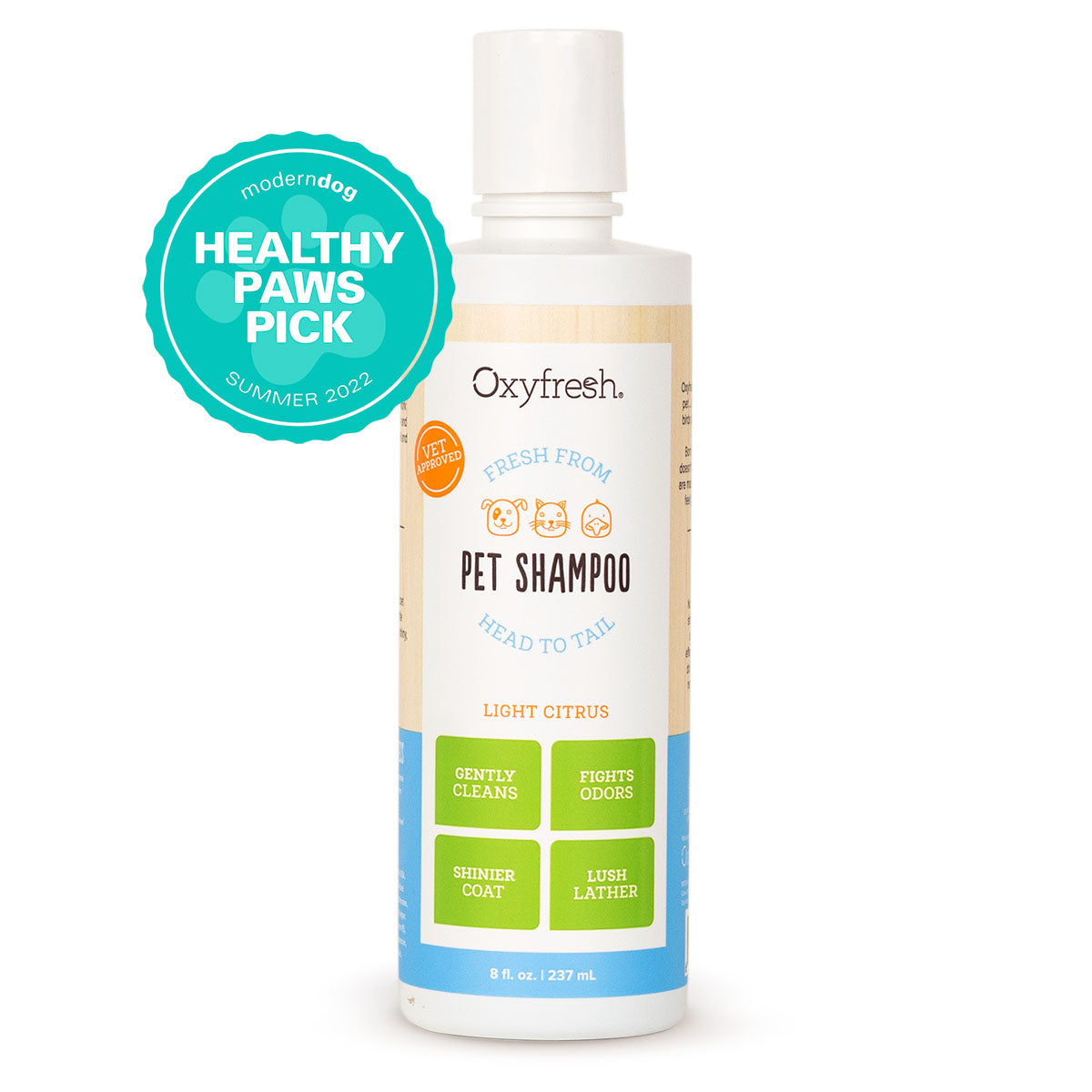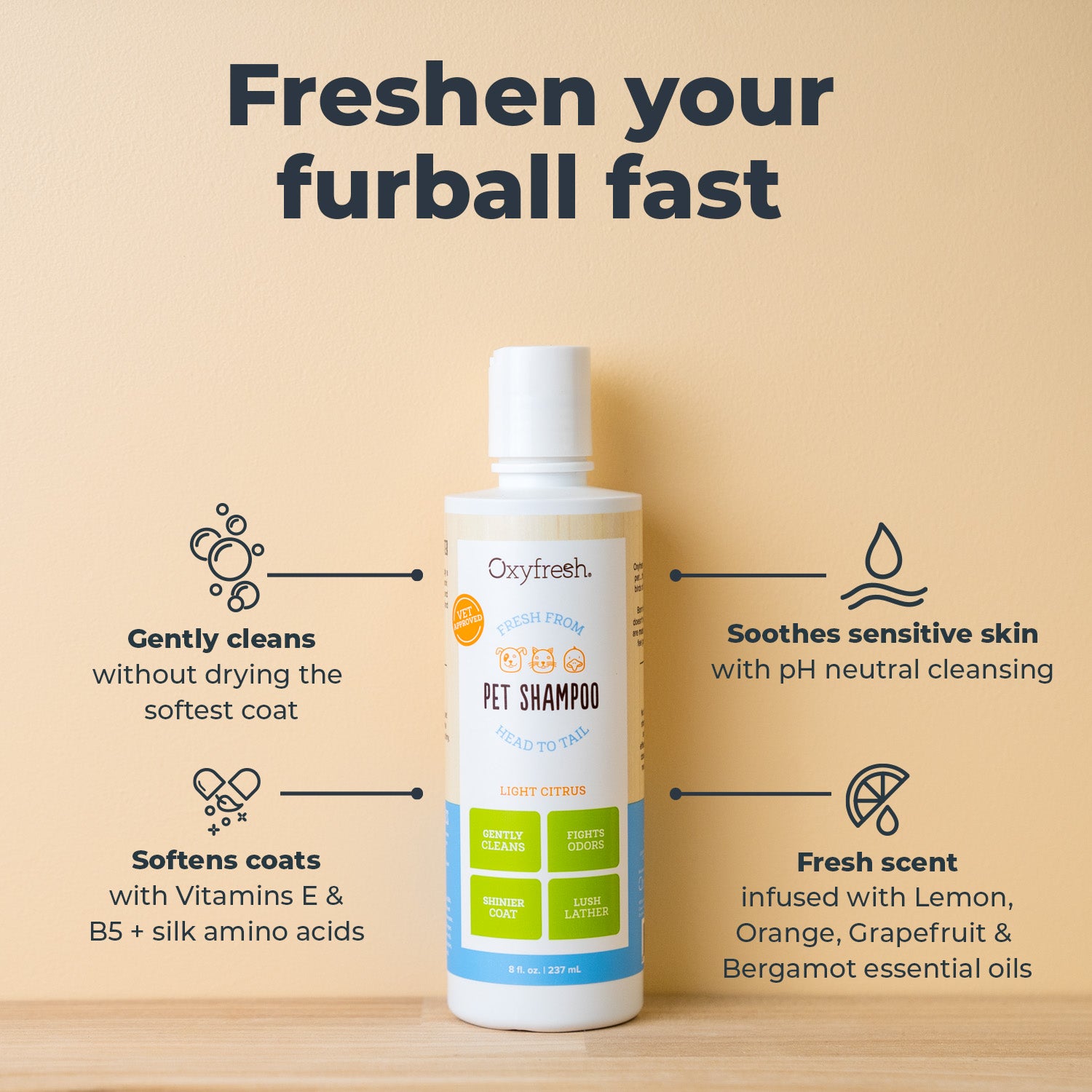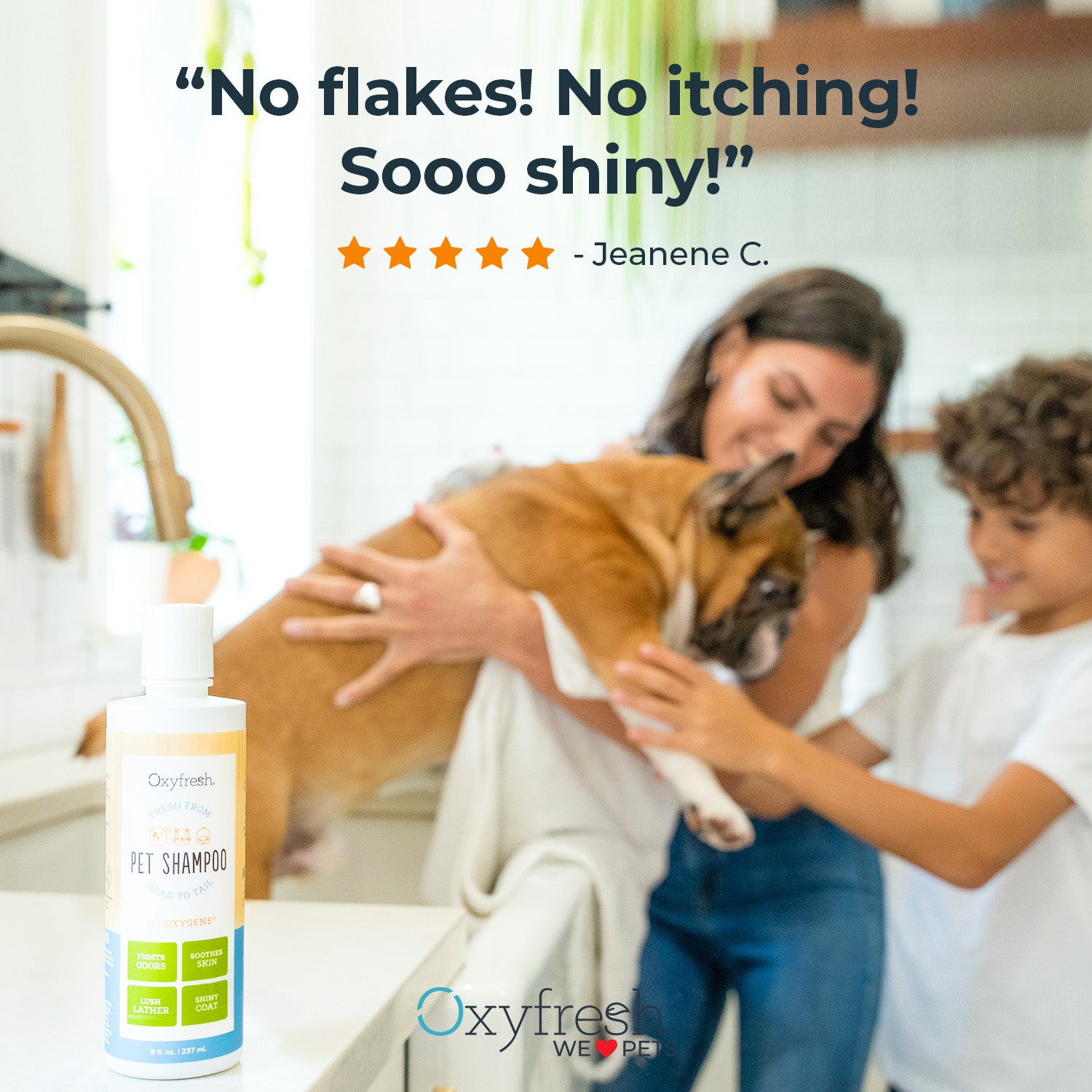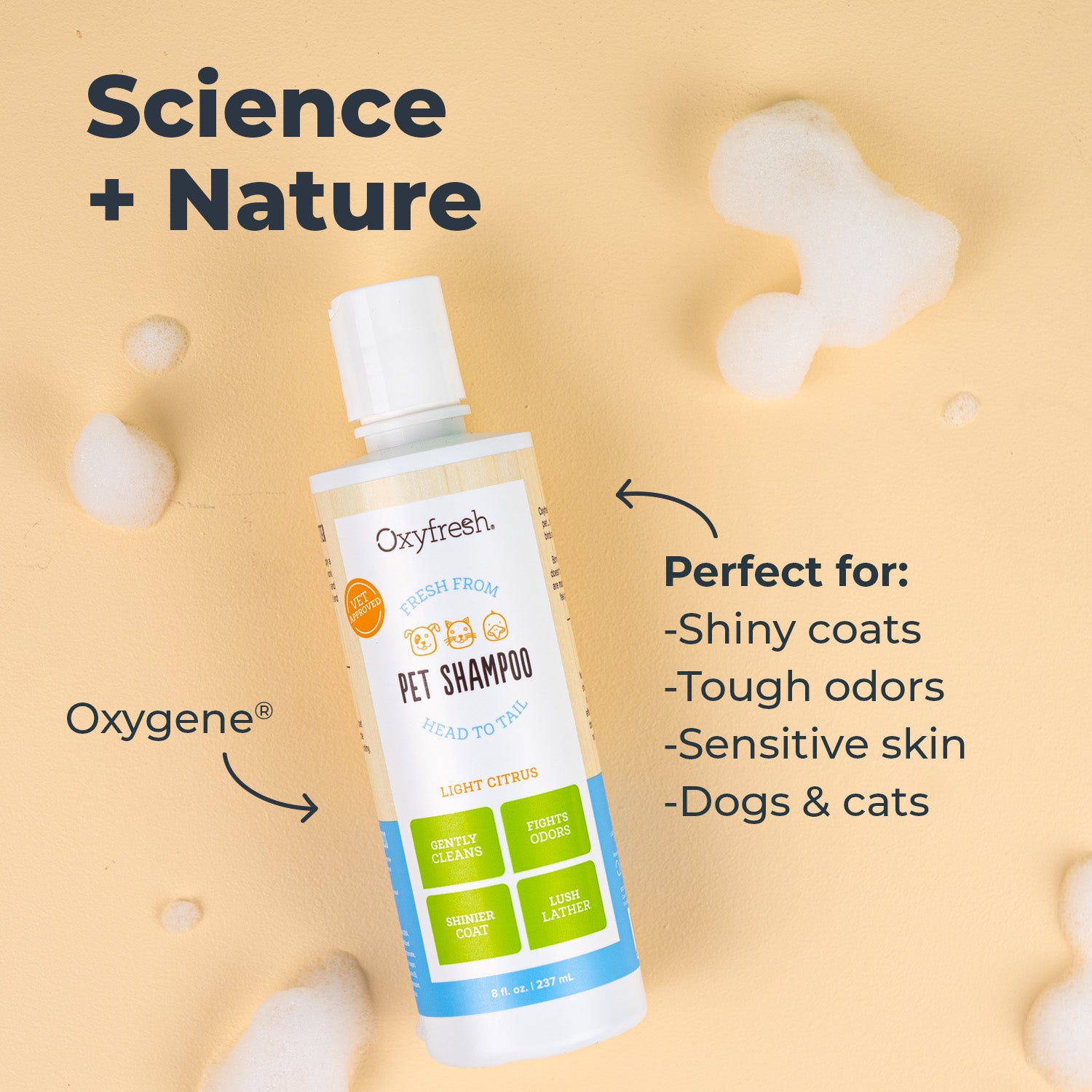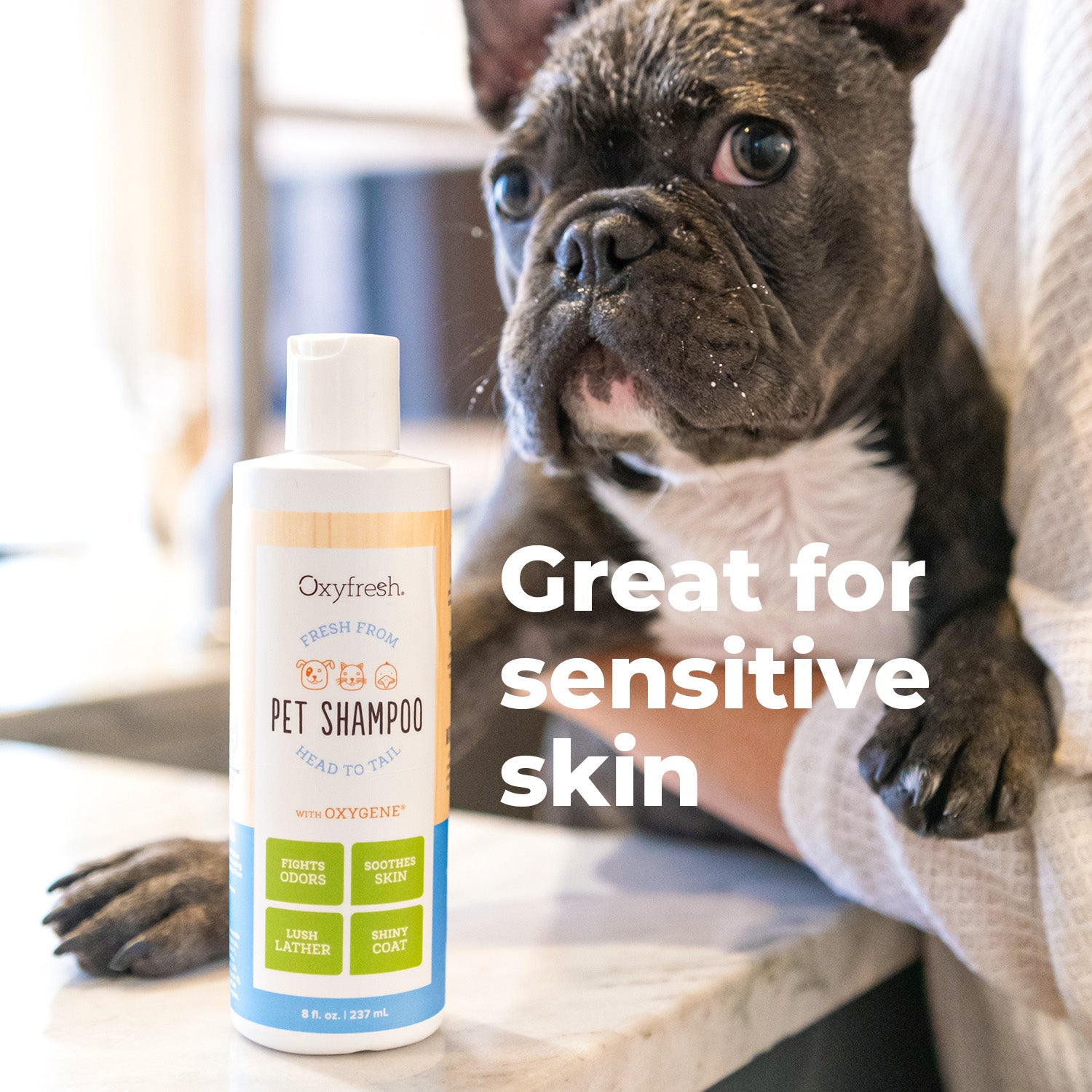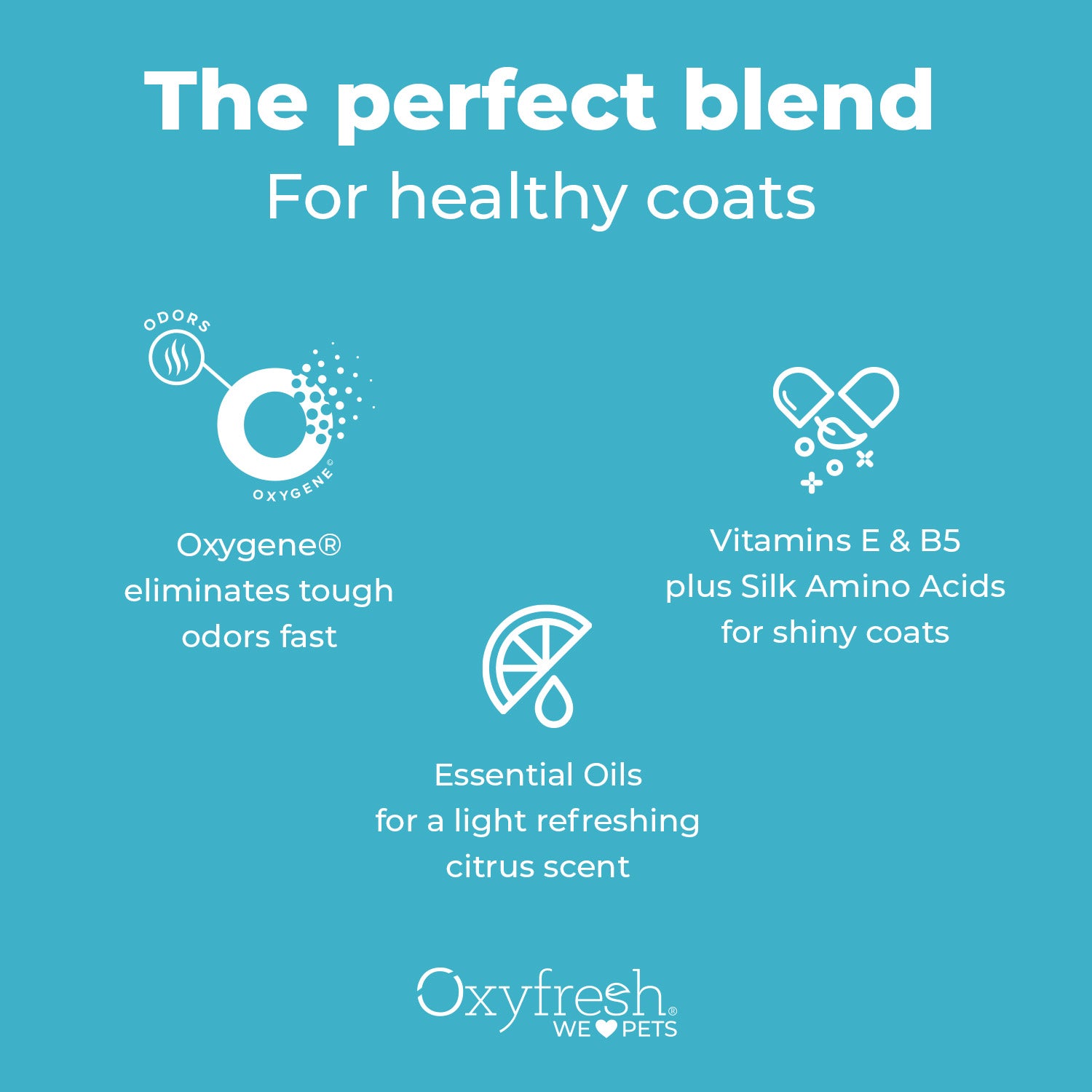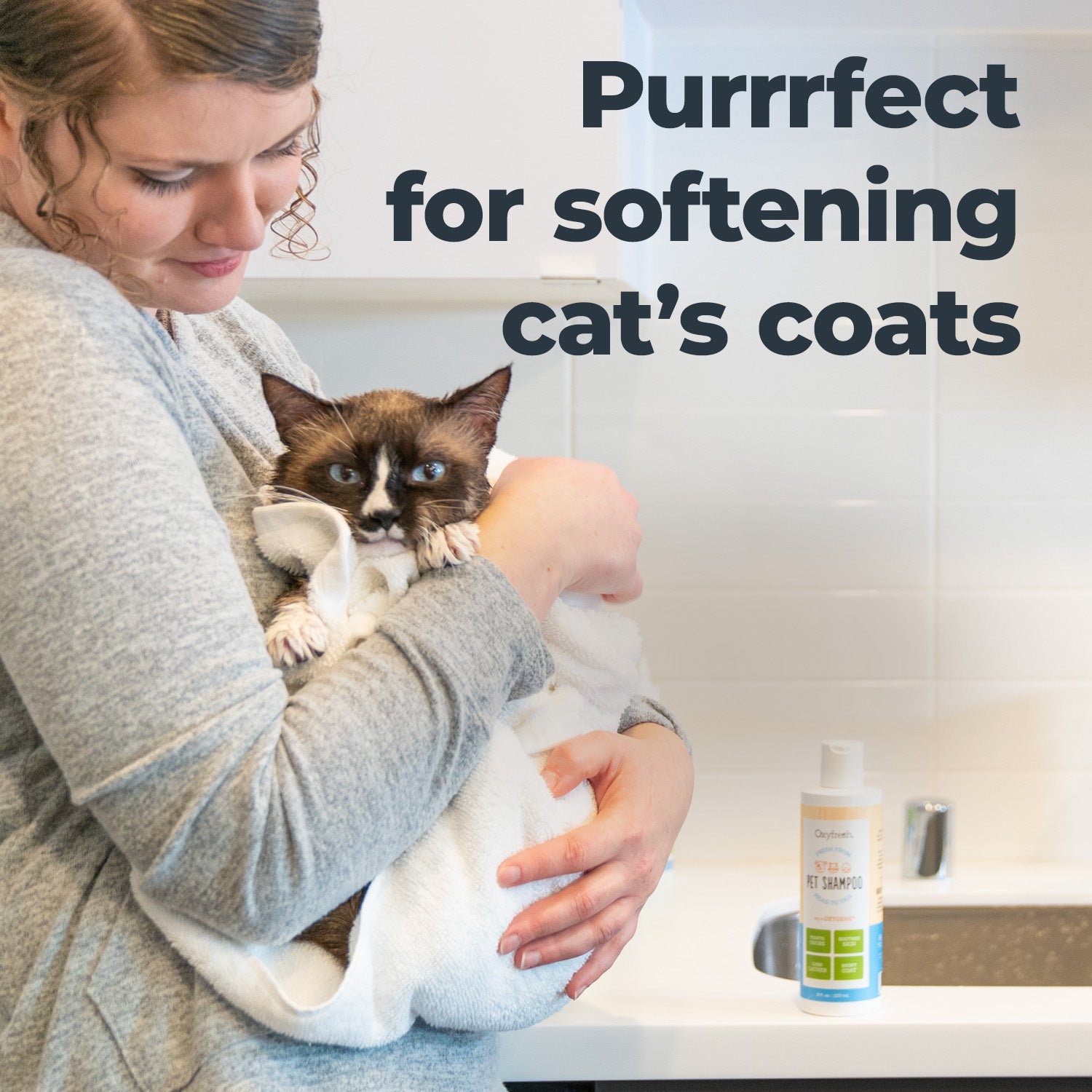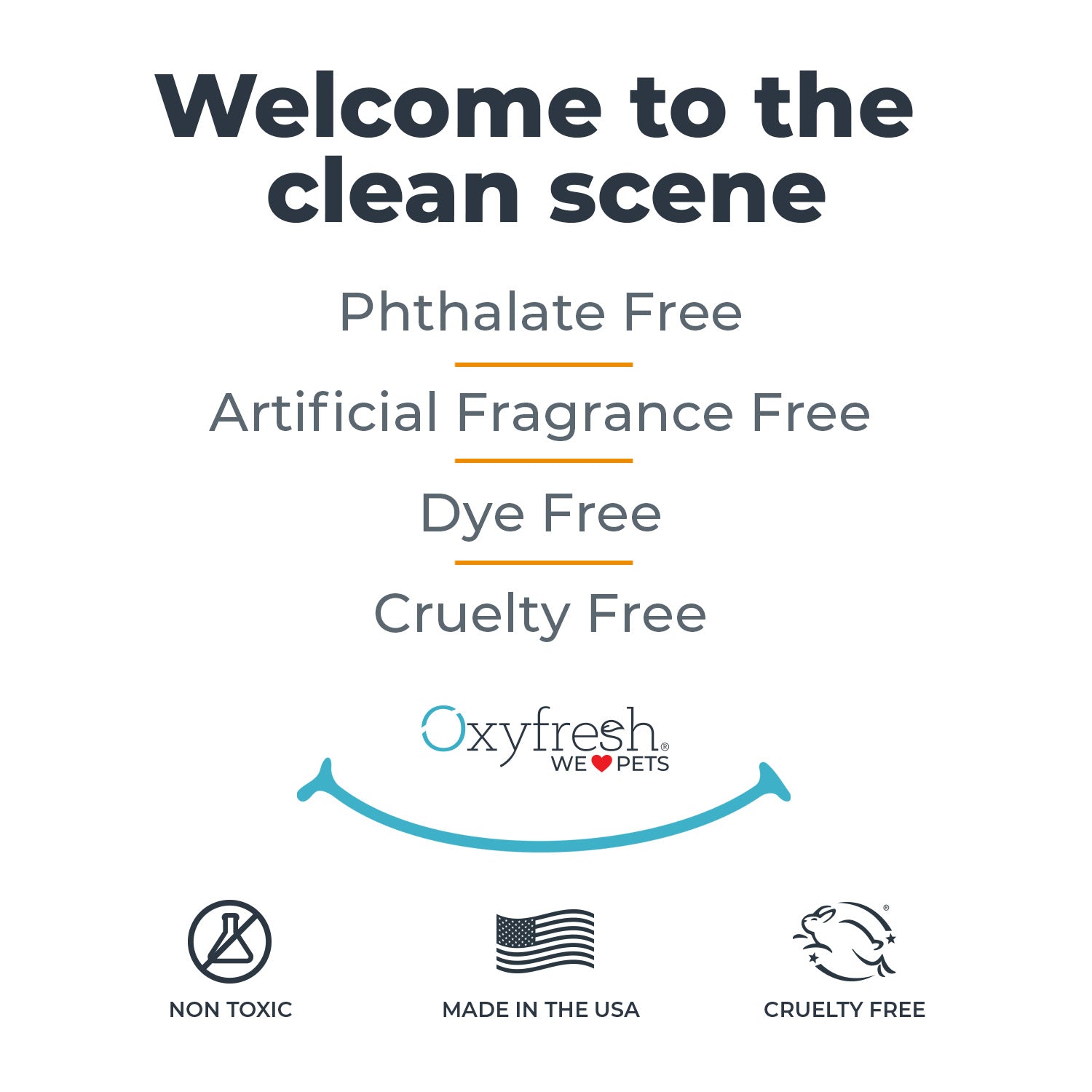 Advanced Pet Shampoo | Sensitive Skin Formula for Dogs & Cats
When you want to get your dirty bestie clean and smelling good in no time, stick with our advanced odor control pet shampoo. It'll leave your furball fresh, soft, shiny, and smellin' like light citrus, and, well ... a wet dog, but only for bathtime.

PERFECT DOG & CAT SHAMPOO FOR SENSITIVE SKIN - Our amazing formula gently cleans, smells light and fresh and gives your pet the softest clean coat. 
SOFT & SHINY COAT – pHorget everything you know about pet grooming and let's talk about pH. We keep our formula pH neutral, which is around 7, to be delicate on your pet's sensitive skin.
ITCH FREE & SOOTHING – Infused with Vitamins E & B5 plus a healthy dose of silk amino acids, our moisturizing dog and cat shampoo will turn your pet's dry & flaky coat into a soft and shiny bundle of love.
GROOMER APPROVED – There's a reason dog groomers are wild about our pet shampoo ... lovely lather, light fresh citrus scent & no skin irritation! It's as gentle on hands as it is on pets' coats.
IT WORKS – We're serious. Nothing works better. Trusted by pet parents to clean dogs and cats coats and just like all of Oxyfresh products, it is made in the U.S.A. with only the highest quality ingredients.
We took the best of science and nature to bring your pet a better kind of fresh with every bath.

Ingredients: Water (Aqua), TEA-Lauryl Sulfate, Coco-Glucoside, Cocamidopropyl Betaine, Fragrance (Parfum)*, DMDM Hydantoin, Methylparaben, Propylparaben, Tocopheryl Acetate, Calcium Pantothenate, Chlorophyllin-Copper Complex, Silk Amino Acids, Apple Cider Vinegar, Stabilized Chlorine Dioxide (Oxygene®), Sodium Chloride.
*Contains Lemon, Orange, Grapefruit and Bergamot essential oils
Lather Up!

So pampering, your pet may actually look forward to bathtime! Just apply a small amount to your pet's coat and work it into a lather. Let it soak in for 2–5 minutes. Rinse. Snuggle. Repeat as needed.
Fluffy pups!!
Love this pet shampoo! Our girls smell so good & are oh so soft after their baths. Great product!!!👏👏👏👍🏻
Great shampoo
Left my little dog looks super clean and it didn't make her itch afterwards. Will definitely keep using it.
The best shampoo
I have used it personally and professionally for years, since mid-ninty's...it gently deep cleanses, leaving healthy skin and a beautiful coat. My clients love it. I love it. It is also great on skunked dogs in conjunction with the pet deodorizer and I also use the oral hygiene to treat skunked dogs mouths and ear cleaner for ears. It works. Then I sell them deodorizer for continued home use. And those same products are amazing for every pet every day. BTW use pet shampoo on dog's feet and massage into pads to deodorize. These are and always have been the best products.
Super Clean!
My little white dog is quite scrappy! She loves rolling in the grass, walking in the mud or just getting dirty. I used the Oxyfresh shampoo today and she looks like a little, white snowball! Love this shampoo! It lathers great and she looks fantastic!
Itch free pet shampoo
Love the shampoo. My dog has allergies and scratches alot. This shampoo has helped with the scratching.
Great products that are easy to order on-line.
Great products that are easy to order on-line.
Oxyfresh Pet Shampoo
First time user and very pleased with the results. My dog's coat was so soft and shiny and a little goes a long way. Will use it regularly on my dog.
Great Customer Service
Love their products. Excellent customer service!!
Shiny,shiny shiny
Our dog was all flaky and itchy. We gave her two baths using this shampoo. The 2nd time we really worked it in good! Let it sit for a few minutes. No flakes! No itching! Sooo shiny!